As the pressure from work continues to pile, take a break to relax. And who better to keep you accompany than your furry little friend. However, finding the perfect movie to make it meow is no small feat. But the 15 best movies on cats featuring on this list are sure to do the trick. So grab a bowl of popcorn, turn on the laptop screen and take your pick for both you and your canine friend to enjoy. Happy watching!
1. Puss in Boots (2011)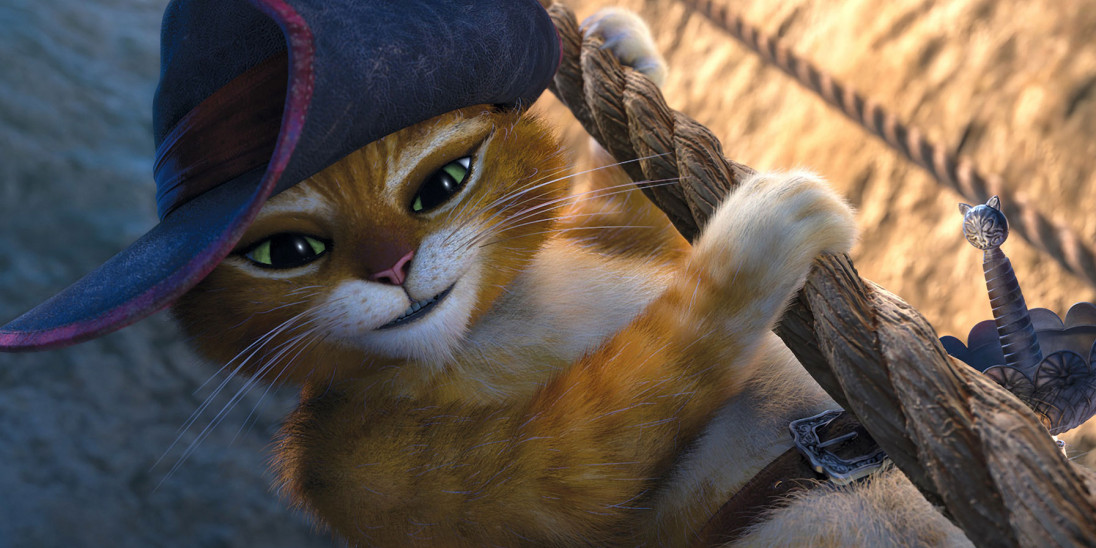 Source: intofilm.org
Director: Chris Mille
Writer: Tom Wheeler
Cast: Antonio Banderas, Zach Galifianakis , Salma Hayek
IMDb Ratings: 6.6
Rotten Tomatoes Score: 86%
Streaming Platform: Netflix
It is a great place to start with for any Shrek fans out there. Share the hilarious journey of Puss and his friends as they try to find magic beans. The animation in the movie is precise, and the fun is non-stop. 
2. Gremlins (1984)
Source: moviescore.com
Director: Joe Dante
Writer: Chris Columbus
Cast: Zach Galligan, Phoebe Cates, Phoebe Cates
IMDb Ratings: 7.3
Rotten Tomatoes Score: 85%
Streaming Platform: Amazon Prime Video
This 1984 classic is remembered for its dark sense of comedy. The next time you watch the film, though, look out for the cats. Notice how nobody tries to incur their wrath, not even the gremlins? Well, that is a lesson every cat owner will relate to.
3. Kedi (2017)
Source: youtube.com
Director: Ceyda Torun
Writer: Ceyda Torun
Cast: Bülent Üstün
IMDb Ratings: 7.7
Rotten Tomatoes Score: 98%
Streaming Platform: AmazonPrime Video
For every fan of documentaries, here is a film like none other. Knowing Istanbul, its rich culture and stunning landscape is always pleasant. But the experience becomes better if the story is told through the perspectives of the felines living in the city. Kedi is indeed one of a kind.
4. The Aristrocats (1970)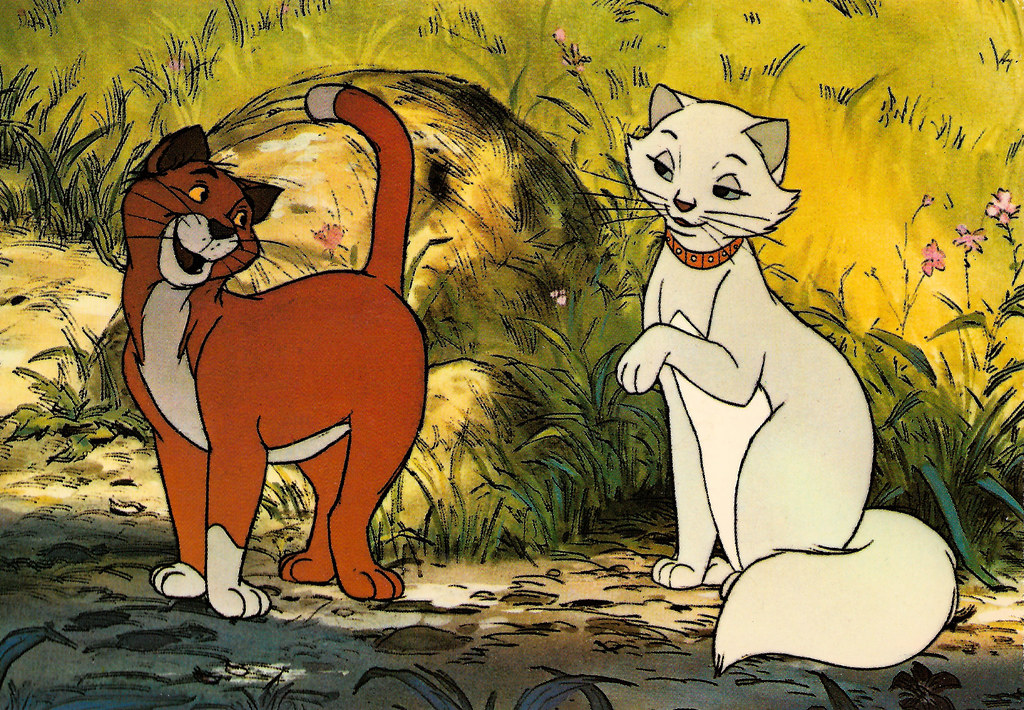 Source: flikr.com
Director: Wolfgang Reitherman
Writer: Ken Anderson
Cast: Phil Harris, Eva Gabor, Hermione Baddeley
IMDb Ratings: 7.1
Rotten Tomatoes Score: 64%
Streaming Platform: Disney Plus

 
Trust us, the movie's obsession with ats does not end in its title. A fun adventure pans out when four cats' owner lives behind all of her possession to her cats. But when the evil butler tries to stop that from happening, chaos reigns.
5. Keanu (2017)
Source: inverse.com
Director: Peter Atencio
Writer: Jordan Peele and Alex Rubens
Cast: Jordan Peele, Keegan-Michael Key, Tiffany Haddish
IMDb Ratings: 6.3
Rotten Tomatoes Score: 65%
Streaming Platform: Amazon Prime Video

 
Here is another movie that is the best of both worlds. Key and Peele turn up their humor level to the maximum as they try to find their lost kitten- Keanu. It is quite a height they have to reach to win back their furry friend in this good-hearted action-comedy.  
6. Oliver & Company (1988)
Source: imdb.com
Director: George Scribner
Writer: James Mangold
Cast: Joey Lawrence, Billy Joel, Cheech Marin
IMDb Ratings: 6.7
Rotten Tomatoes Score: 50%
Streaming Platform: Amazon Prime Video
What will happen if animals infest Dicken's Oliver Twist? Something cute along the line of Oliver & Company. Another Disney great, Oliver- a cat, finds himself in the Big Apple. And to the delight of most is surrounded by all types of animals.
7. Nine Lives (2016)
Source: metacritic.com
Director: Barry Sonnenfeld
Writer: Gwyn Lurie, Matt R. Allen, Caleb Wilson, Dan Antoniazzi
Cast: Kevin Spacey, Jennifer Garner, Robbie Amell, Cheryl Hines
IMDb Ratings: 5.3
Rotten Tomatoes Score: 50%
Streaming Platform: Amazon Prime Video

 
Many of us would want to experience the world as a cat. But Tom was certainly not one of them. Despite that, a curious joke of fate exchanges his body with a cat. The movie gives a vital lesson but with that quite a bit of laughter as well.
8. Hocus Pocus (1993)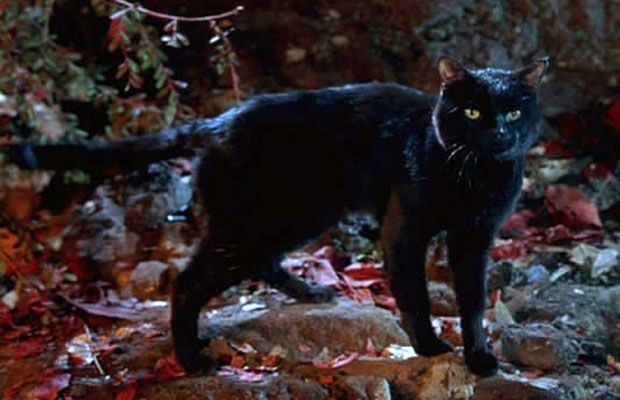 Source: intofilm.com
Director: Kenny Ortega
Writer: Neil Cuthbert and Mick Garris
Cast: Bette Midler, Sarah Jessica Parker, and Kathy Najimy
IMDb Ratings: 6.9
Rotten Tomatoes Score: 60%
Streaming Platform: Disney Plus
Nobody can quite forget Binx from this Halloween classic. The anthropomorphic cat makes a lasting impression in the movie. With many even agreeing it to be the best aspect of the movie. Nevertheless, it will always be good to catch up with this childhood classic.
9. A Street Cat Named Bob (2016)
Source: bbc.com
Director: Roger Spottiswoode
Writer: Tim John and Maria Nation
Cast: Luke Treadaway, Ruta Gedmintas, Joanne Froggatt
IMDb Ratings: 7.4
Rotten Tomatoes Score: 77%
Streaming Platform: Amazon Prime Video

 
The movie is as interesting as it sounds. Bowen is a street musician in London. While his life keeps spiraling down, his cat stops him from sinking further. A Street Cat Named Bob is a heartwarming story of love and support between a cat and its owner.
10. Legend of the Demon Cat (2017)
Source: torrentmovies.co
Director: Chen Kaige
Writer: Śramaṇa Kūkai
Cast: Huang Xuan, Shōta Sometani, Kitty Zhang
IMDb Ratings: 6.2
Rotten Tomatoes Score: 91%
Streaming Platform: Amazon Prime Video

 
Now let's head East for a moment to the city of Chang'an City. The entire city is stunned by the sudden appearance of a demon cat. But as he leaves behind a series of clues, the mystery behind the death of the Emperor's concubine is revealed.
11. Homeward Bound: The Incredible Journey (1993)
Source: mubi.com
Director: Duwayne Dunham
Writer: Caroline Thompson, Linda Woolverton
Cast: Michael J. Fox, Don Ameche, Sally Field
IMDb Ratings: 7.0
Rotten Tomatoes Score: 87%
Streaming Platform: Disney Plus
Animals have the great ability to fill your heart with joy. And that is on plentiful display in this 1993 classic. Three siblings – two dogs and a cat- overcome all odds to reunite with their family in California when they had gone on a holiday. The touching movie reminds everyone of the innocence of these animals once again.
12. African Cats (2011)
Source: yts.mx
Director: Alastair Fothergill and Keith Scholey
Writer: Alastair Fothergill and Keith Scholey
Cast: Samuel L. Jackson, Patrick Stewart
IMDb Ratings: 7.6
Rotten Tomatoes Score: 73%
Streaming Platform: Disney Plus
After the world of the reel, it is time to turn to the real world. Set in Maasai Mara National Reserve, witness the life of a mother cheetah and her cubs. The movie put forth a side of these majestic beasts we never knew existed. It is a heartwarming story with a scenic landscape behind it to win your heart.   
13. The Adventures of Milo and Otis (1986)
Source: wideopenpets.com
Director: Masanori Hata
Writer: Masanori Hata
Cast: Shigeru Tsuyuki, Kyōko Koizumi
IMDb Ratings: 7.0
Rotten Tomatoes Score: 80%
Streaming Platform: Amazon Prime Video
The Japanese film is one to be watched and rewatched a thousand times. No kidding. Milo and Otis find themselves away from their farm, straying in an unknown land. From there stars their journey of returning. The movie is a sweet and humble experience that needs to be savored.
14. That Darn Cat! (1965)
Source: imdb.com
Director: Robert Stevenson
Writer: Gordon Gordon, Mildred Gordon
Cast: Dorothy Provine, Hayley Mills and Dean Jones
IMDb Ratings: 6.8 
Rotten Tomatoes Score: 94%
Streaming Platform: Disney Plus
There is only one thing that steals the show in this film. No points in guessing who is that. The mystery plot of the movie is thoroughly enjoyable if you can look past the Siamese friend. A classical Disney production, the film never disappoints.
15. Burning (2018)
Source: sbs.au.com
Director: Lee Chang-dong
Writer: Lee Chang-dong
Cast: Yoo Ah-in, Steven Yeun, Jeon Jong-seo
IMDb Ratings: 7.5
Rotten Tomatoes Score: 95%
Streaming Platform: Amazon Prime Video
Based on the story by Murakami, Burning is a bone-chilling experience to sit through. It is a mystery/drama, so is the cat important? You bet it is. The cat is at the centre of it all.  
Finding a proper movie to sit through is hard. It is harder still to sit through a movie with your purring friend constantly grabbing your attention. But the vast range of movies listed here is sure to capture both of your imagination. There is one for every mood, and no chance of you being disappointed with any of those.