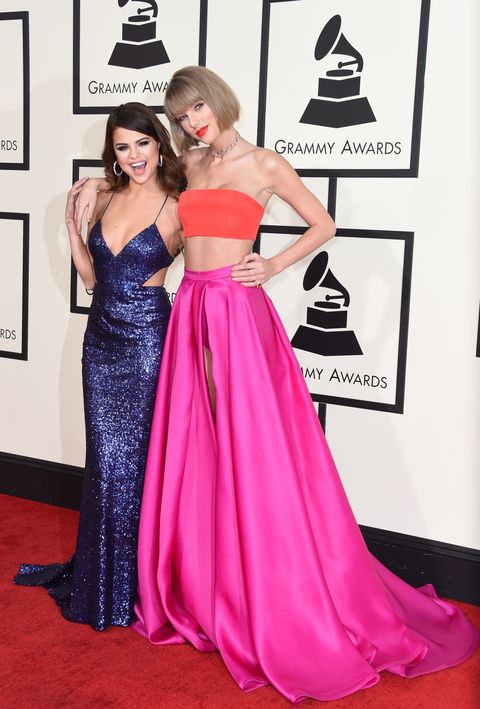 As everybody knows Taylor Swift and Selena Gomez are great friends of each other, but at this year's American Music Awards, they took their friendship to a whole another level. Both the pop stars were looking stunning as they walked down the red carpet.
The ladies were in-sync in their green dresses. Gomez showed up wearing a lime-coloured Versace Mini Dress which made a huge splash at the awards ceremony. The suit also featured gold medal details on one side. She also carried a short hairdo and satin green heels complimenting her outfit.
Then You Need to Calm Down star turned up the heat in her Julien MacDonald's Emerald green beaded design outfit. The black thigh-high boots she was wearing were the cherry on the cake to her ravishing outfit.
Besides their complementary outfits, the stars did not hold back in expressing their support towards each other throughout the entire ceremony. When Selena was opened with her performance on the stage, Taylor was nothing but her biggest fan.
Swift was practically cheering and screaming on her gal pal on Selena's "Lose you to lose me" and "look at her now". Selena also revealed a mirror-styled bodysuit in her energetic performance which was he fist live television performance in two years.
Selena too did not seem any less energetic in returning the favour when the "Blank Space" singer performed a medley of her popular songs "I Knew You Were Trouble", "Love Story" and so many other hits.
She donned a white shirt with album titles and phrases written on it. When Swift began singing "I Knew You Were Trouble" Selena and Taylor's mom, Andrea,  jammed along with her.
Though all this wasn't planned at all the gal pals did similar stuff during there performances too. Both had stunning outfit changes. They revealed exciting outfit changes where Selena wore a shiny silver piece by Christian Dior while Taylor donned a glimmering gold dress. The duo is the perfect example of friendship goals.