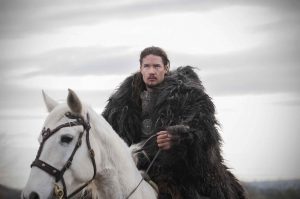 The Last Kingdom is worth a watch. It has a total of three seasons, and here we are with the news of the fourth season already! The series is based on Bernard Cornwell's The Saxon Stories novel series.
Netflix announced the fourth season back in 2018 only, and since then, we are waiting for it eagerly and wondering when the exact release date is? Keep reading!
Release Date
The series will be released in 2020. The exact date has yet not been finalized. Netflix has already begun with the shooting and is confirmed that it will consist of 10 episodes.
Cast
The next book adapted for the upcoming series is The Pagan Lord, which was published in 2013. The book jumps a decade after the first book.
If Netflix follows the same timeline, we might see a lot of new faces. This will also include Uhtred's children, who are now all grown-ups.
Alexander Dreymon will be returning as Uhtred of Bebbanbur, a little old maybe, given that almost a decade has passed. Uncle Aelfric, played by Joseph Millson, will also be returning.
With them, the returning casts include Ian Hart, the father Beocca, and Toby Regbo playing the role of Aethelred. Emily Cox will also be seen in the fourth season, reprising her role as Brida along with Timothy Innes played the character, Kind Edward.
Eliza Butterworth is also set to return for her role as Aelswith, joining her is Mark Rowley for his part of Finan and Millie Brady for Aethelflaed. We can also expect to see Magnus Bruun and Heppe Beck Laursen for the use of Cnut and Hasten, respectively.
Any new casts?
Netflix has confirmed two of the fresh faces. One of them being Stefanie Martini, who will be playing the role of Eadith. She will be shown as Aethelred's new love conquest.
Jamie Blackley will also be joining the cast as Aethelred's new right-hand man Eardwulf.