She-Hulk is joining the Disney+ TV show list.
The announcement came at Disney's D23 Expo in 2019. Kevin Feige said that Bruce Banner won't be the only Hulk from now. Apparently, according to Feige, the series is going to be unlike anything Marvel has done before.
There is little information available regarding the show currently. But, here is everything you need to know:
She-Hulk Cast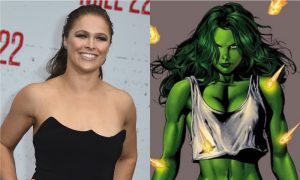 It is not particular as who will play the super-powered attorney Jen Walters.
But there has been an online campaign which endorses Brooklyn 99's, Stephanie Beatriz. Since then, Beatriz has said that she would be more than happy to play the role of She-Hulk. She has also upped her workout routine to meet the requirements for her to play the character.
Mark Ruffalo, the Hulk himself, has endorsed Tessa Thompson for the role of She-Hulk. It is not likely, of course since the actress plays the role of Valkyrie in the MCU already.
We do know that Jessica Gao, one of the writers from Rick and Morty, is the head writer for the show. Seeing that the show is in the hands of the Emmy winning writer, the fans can rest easy.
But this also shows that the possibility of the show being comedy oriented is high. As Gao mostly writes for comedy shows, She-Hulk could be more comedic than most of the MCU entries.
She-Hulk Plot
In the comics, She-Hulk is Jen Walters. Walters is a successful attorney who has defended countless superheroes in the Marvel universe.
After being shot due to a crime boss's orders, she undergoes an emergency blood transfusion. But since Bruce is the only one who matches her blood type, she gets some of his Hulk abilities.
However, unlike Bruce, Jen is herself when she turns into She-Hulk and doesn't have anger issues. She is also one of the superheroes who enjoys being one.
She-Hulk Release Date
It seems that the production for the show will end in 2020, according to Feige.
There is no release date for the show yet, but it will be some years before it releases.