One of the most essential characteristics of any character in Demon Slayer is their use of language. Each sword's color corresponds directly to the character's identity and manner of Breathing.
So, it is evident from a sword's hue whether or not its wielder possesses an exceptional quality. Therefore, the ranking of each blade according to its kind and color is given in the following article.
Every blade will be associated with a specific character. Therefore this list will also consider character strengths.
What is Demon Slayer About?
Tanjirou Kamado has provided for the family since his father passed away. As a result, the Kamado clan can lead a largely tranquil and content life despite living in poverty on a lonely mountain.
Tanjirou decides to walk down to the nearby town one day to sell coal for extra money. However, when night arrives,s when Tanjirou is returning, he is forced to seek shelter in the home of a strange man, who informs him that there are flesh-eating demons that lurk in the woods at night.
The following day, when he does get home, he finds his entire family dead, which is a horrible sight. Even worse, his sister Nezuko, who has been transformed into a vengeful demon, is the only one to have survived.
Tanjirou vows to exact revenge on his family and stand by his lone surviving sibling as he is overcome with wrath and hatred. Tanjirou will go to all lengths to defeat the demons and defend what remains of his beloved sister's humanity, working with the enigmatic outfit that calls itself the Demon Slayer Corps.
What Happens When The Color Changes?
Before continuing, it's important to remember that just because a sword changes color to black doesn't necessarily mean the person holding it is the best Demon Slayer. So fort,h to use ideally, the wielder must put in a lot of effort to develop their talents.
When the master swordsmith Hotaru Haganezuka says that the wielder, not the sword, is likely to blame if a weapon breaks, this point becomes abundantly evident.
So, What are Nichirin Blades?
Nichirin Blades are created in the realm of Demon Slayer using unique ores. They are entertaining since the color of each character's sword changes depending on their specialization. There are numerous top Demon Slayer swords, including the Yellow Nichirin Sword, Red Nichirin Sword, and many others in hues from yellow to red.
In that regard, let's look at the best swords in the Demon Slayer anime. Proceed at your peril.
There are anime and manga spoilers, so look at Demon Slayer Swords Ranked.
14. Light Pink Nachirin Sword
The sister demon slayers, Kanao Tsuyuri and Kanae Koucho evolved their joint Breathin. They use a light pink Nachirin sword that symbolizes the Flower and is descended from the Water Breathing.
13.Lavender Nichirin Sword
This blade represents the Serpent, so Obama Iguro's sword looks like a snake.
The techniques used in serpent breathing, which evolved from water breathing, are similar to the motions of the animal it portrays.
12. White Nichirin Sword
The mist, which Muichiro Tokito personifies in the manga and anime series, is symbolized by the white colors of the Demon Slayer sword.
Muichiro never allows his passions to cloud his judgment, often a quality connected with the mist of Breathing.
This color sword features wind-breathing-inspired skills.
11. Indigo Nichirin Sword
The Indigo Nichirin Sword is the first item, starting at position ten. It stands for the beast's hue. In the series, Hashibira Inosuke utilizes the Thunder Breathing Technique to control it. Inosuke created his own Beast technique, which is exclusive to him. 
His Beast Sword thus has jagged blades, as its nature would suggest. Inosuke claims that edges with chips are intended to deal more harm. Inosuke uses this to increase his monstrous perceptions.
10. Yellow Nichirin Sword
The sword used by practitioners of the Thunder Breathing Technique is known as the Yellow Nichirin Sword. This sword, which Agatsuma Zenitsu uses, improves his thunder breathing. As a result, Zenitsu's methods and maneuvers appear lightning and flash.
They are motivated mainly by speed. Zenitsu's Lightning Sword energizes as he engages his Breathing. All that is needed is a single cut in the blink of an eye!
9. Green Nichirin Sword
A demon slayer will typically become a master at wind breathing if their blade turns emerald green. The Wind Hashira, Sanemi Shinazugawa, is the most well-known demon slayer using this particular blade hue.
He can use his sword to inflict tornadoes of bladed slashes on any demon unlucky enough to come up against him.
A rowdy fighter named Sanemi Shinazugawa is utterly committed to destroying every demon on Earth. He fights brutally, and any monster that dares to stand in his way will be met with a hurricane of rage.
8. Grey Nichirin Sword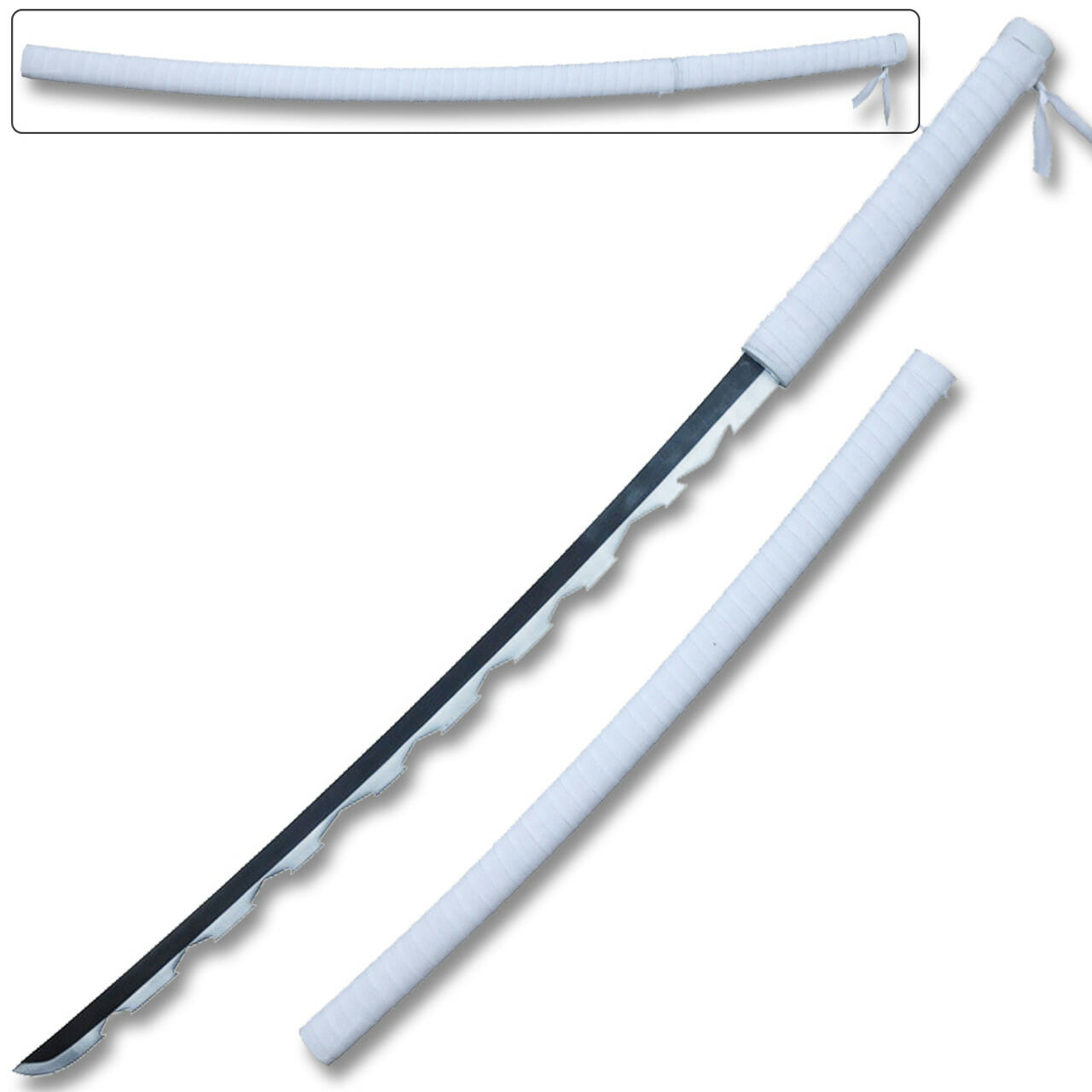 Himejima Gyomei, the greatest Hashira, owns the Grey Nichirin Sword.
The hue alludes to the Breath of Stone's might. But, instead of a sword, Gyomei's equipment consists of a flail and an ax.
It is undoubtedly one of the series' most lethal equipment and is at number six.
When this ax turned blood red during the battle with Upper Moon 1, its potency increased. His ax had severed Kokushibo's head and prevented him from regenerating.
7. Black Nichirin Sword
One of the best swords for demon-slaying is the Black Nichirin Swor,d, and a Demon Slayer with a limited lifeline uses this blade.
It is also the sword that Kamado Tanjiro, the series' lead, uses. It is thought to be a bad omen. This sword is vital because it may be used with multiple Breathing Techniques.
Tanjiro could perform the Dance of the Fire God and the Water Dance with this blade, associated with the Sun Breathing technique.
6. Pink Nichirin Sword
Kanroji Mitsuri is the only Demon Slayer known to use the Love Breathing Technique, a weapon resembling a whip. She uses quick whip-like movements to make her sword compatible.
Her weapon was described as having a gentle yet deadly blade. It wouldn't be incorrect to claim that her unique strength and build an account for much of the sword's significance. However, the sword is only usable by her. And it is difficult to avoid its strikes.
5. Amber Nichirin Sword
The only person to wield the Amber Nichirin Sword was Tengen Uzui, the former Sound Pillar. The Sound Pillar, who finished in eighth place, employed two chained-together swords.
They differed from other Nichiren Swords in that they were more prominent. The action scene with the Sound Sword will be included in the current Season 2 anime series.
He initially reads his adversaries' motions and turns them into sound. The Sound Sword then enables him to counterattack with beat-like attacks. It is believed that few people escaped its assaults.
4. Red Nichirin Sword
One of the best swords in Demon Slayer is the Red Nichirin Sword. It encourages the use of flame breathing. As a result, it embodies Flame Hashira: Rengoku Kyojuro's distinctive power and possesses Flame's traits.
Despite being the first Hashira to perish, Rengoku had unquestionably one of the most potent offensive powers. The most muscular Flame Breathing Technique served as the foundation for Flame Breathing.
Rengoku's sword can never contact the blood-red blade or leave a mark. He could maneuver the Upper Moon 3: Akaza into a tight spot by himself.
3. Blue Nichirin Sword
Tomioka Giyu, the Water Pillar, wields either the Blue Nichirin Sword or the Water Sword. His mentor, Urokodaki Sakonji, a former Water Pillar, also possesses this kind of blade. Use the sword by making gliding, flexible motions.
It is a typical Nichirin Katana in every way. When this sword first came into contact with the blade of Wind Hashira, it too once briefly turned scarlet red.
2. Purple Nichirin Sword
Purple Nichirin Sword is yet another top Demon Slayer sword. It indicates that the Moon Technique was created more recently than the Sun Technique.BladeThee Upper Moon 1: Kokushibo, its only user, utilized Swordr.
In terms of power, he was second only to Kibutsuji Muzan. This Purple Sword could break all the records set by the swords above. The Moon Breathing Technique has sixteen different forms, which is the most.
The Purple Nichirin Blade, which Kokushibo wields, is a modified version of the sword he carried as a human. His blood and flesh were in it.
Conveniently and expertly. They could be shaped as you wanted. Therefore, it was virtually unbreakable.
1. Crimson Red Nichirin Sword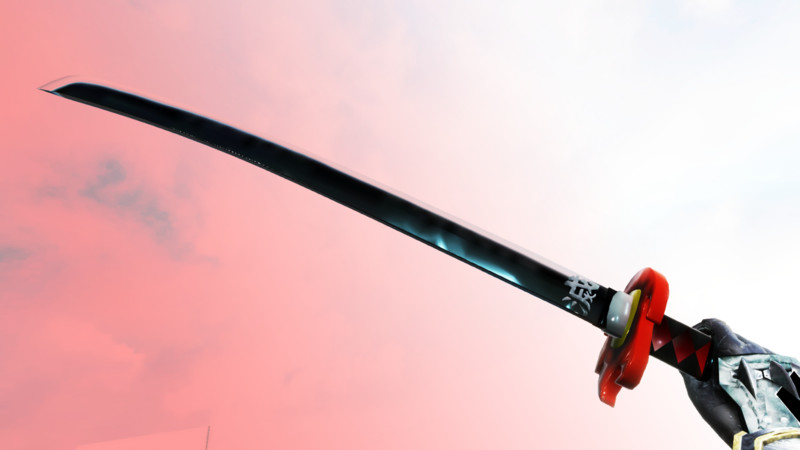 Crimson Red Blade is the most powerful sword ever created in the Demon Slayer Universe. It is claimed to have a small population of users.
Only three red Red Sword users—Tsugikuni Yoriichi, Kamado Tanjiro, Tomioka Giyu, Muichiro Tokito, Iguro Obanai, Himejima Gyomei, and Shinazugawa Sanemi—were mentioned in the entire series.
Only users who possess tremendous expertise may produce this blade. This sword's ability to provide lethal land damage to demons renders it unbeatable.
It inhibits the Demons' capacity for regeneration and has the power to prevent burned wounds from healing.
We'veendedf our list and sincerely hope you enjoyed learning about the potent Nichirin Swords. In 2020, the Demon Slayer manga by Gotouge Koyoharuendedd. 
Even though the series' fans bid farewell with a satisfying conclusion, they cannot be stopped watching it.
Demon Slayer Season 2; How Did It End?
Nezuko saves Inosuke and Tengen Uzui in the season 2 finale of "Demon Slayer: Kimetsu no Yaiba" by using the Blood Demon Art to remove the poison from their bodies as they breathe. After ensuring his friends are secure, Tanjirou and Nezukosearchg for Gyuutarou and Daki to see if the demons are still alive.
The Demon Slayers even manage to simultaneously slit the throats of the brother-and-sister team with their Nichirin Swords after having to defend themselves from Gyuutarou and Daki's vicious assault. Gyuutarou, though, makes one final desperate attack just before being beheaded.
Although he is later killed, Tanjirou, Zenitsu, Tengen, and Inosuke are about to be gravely hurt by the blood swords he releases when Nezuko steps in.
Fortunately, she uses her Blood Demon Art to protect the blood blades from slicing his brother and companions into bits. Tanjirou is unexpectedly disturbed by Zenitsu's call for assistance after realizing he is safe.
Inosuke's heartbeat is weakening with each passing second; the protagonist discovers this when he first sees his companion. The brother-sister team later evolved into strong demons who, over several decades, killed several Hashira.
However, the years of brutality and tyranny Gyuutarou and Daki endured secretly while residing in Rashomon River Bank influenced their decision to join Muzan Kibutsuji's armies. Ultimately, their hatred of the world played just as much of a role in transforming them into actual demons as how necessary it was for them to accept the invitation to join the Demon Lords' troops.