Ghost Adventures is a supernatural and reality TV show that debuted on the Travel Channel. The series premiered on 17th October 2008. All of the "best ghost adventures episodes" star ghost hunters and paranormal investigators Zak Bagans, Nick Groff, Aaron Goodwin, Billy Tolley, and Jay Wasley as they explore ghostly locales.
Fans either chuckle at Zak Bagans' occasionally dramatic personality and the dubious veracity of specific supernatural proof, or they embrace the series for what it is and sacrifice their skepticism for a few moments.
Bagans and his paranormal team have traveled to distant, potentially ghostly places across the country for nearly fourteen years and 300 episodes, learning a little historical background before locking themselves in overnight to be frightened silly by every cold location and bump in the dark they confront.
It's a tried-and-true technique as amusing as conjuring up a Bloody Mary at a sleepover. Here are the best ghost adventure episodes of all time!
20. Twin Bridges Orphanage (Season 13, Episode 8)
The episode of twin bridges orphanage uses an alarming environment, an isolated government-run orphanage.
Its collapsing walls and open corridors are disturbing enough without realizing the facility has a dark history of abuse. The ghost adventures crew, together with psychic Deanna Jaxine Stinson, hideaway on an especially freezing night, equipped with motion detectors and an Ovilus, a gadget that allows ghosts to interact through a word dictionary (sort of like an electronic Ouija board).
When Deanna's Ovilus spits forth the names Harriet and Ann, it begs the issue of whether these women were orphanage staff or students.
19. The Washoe Club Final Chapter (Season 16 Episode 7)
Zak, Nick, and Aaron return to Virginia City, Nevada, the site of their first investigation and documentary. An old mining town where they conducted their first supernatural research in search of the spirits of the Washoe Club.
The boys are moved to tears by a profoundly personal message and have a difficult conversation with the ghosts. The vengeful spirits of the mining town have been waiting for the crew's comeback. They'll get another chance to confront Zak, Nick, and Aaron during the Washoe Club lockdown.
18. Painted Lady Brothel (Season 21 Episode 3)
A former customer expressed his distaste when a New Mexican guy bought a deserted saloon and brothel only to convert it into his new home.
While sleeping, owner Jesse Herron senses dark energy bearing down on him, and his dog subsequently develops a bleeding cut on his neck. Initially, he suspected it is the ghostly remains of a woman slain in that brothel by an abusive husband, but a neighbor (who also claims to be a psychic medium) informs him that the place is haunted by angry, masculine energy. When this angry frontier ghost harasses the crew, they request the help of this psychic neighbor to enter the house and defend the owner.
17. Upper Fruitland Curse (Season14 Episode 8)
The ghost of a faceless young boy haunts a Navajo family living on a reservation in New Mexico. The Harris family has each had an odd, intrusive encounter. When the GAC installed video cameras around the property, they captured what seemed to be a four-legged shadow emerging from the ground and vanishing into the night.
Even if Zak pushes a bit too hard to create a connection to Navajo traditional ideas, it's one of the most horrifying video footage evidence the show has ever presented.
16. Haunted Harvey House (Season 11 Episode 5)
Fred Harvey, a renowned southern hotel entrepreneur, settled at the Castaneda Hotel in Las Vegas in the 1890s. The structure has fallen into decay in the decades since it closed in the 1940s, populated only by the disgruntled spirits of its former inhabitants and workers, the famed "Harvey Girls."
For collecting evidence, Zak and the GAC barricade themselves in to see whether anyone else is still inhabiting the room. The crew stops by the surprisingly open Plaza Hotel across the street to track down a ghostly child searching for her grandmother; Zak tries to trap the child by bribing her with a soft toy.
15. Goodwin Home Invasion (Season 20 Episode 5)
In this episode, the crew searches and investigates paranormal activity at the Las Vegas home of a fellow crew member Aaron Goodwin's father, Don, and the touch of the spirit is close to home.
Aaron approaches the spirits, a tiny girl's ghost, and a "witch" with no eyes or mouth and asks probing questions such as, "What's with the no eyes or mouth?"
Meanwhile, Zak feels abnormally sleepy, collapsing first on the stairway and then on a bed as their motion sensors and EMFs (electromagnetic field meters) fail throughout the house. The fact that the GA team and the haunting party are family relatives makes up for the venue being a somewhat ordinary suburban home.
14. Lost Souls of Berkeley (Season 21, Episode 12)
The Berkeley, a refurbished 1800s ferry, was previously haunted. However, after months without visits due to COVID-19 shutdowns, its personnel think the hauntings have become more intense in solitude.
Zak Bagans and the crew investigate the unexplained sound of footprints on metal and cold places and record two prominent cases of EVP, or electronic voice phenomenon, in which a recorder picks up numerous voices and noises that cannot be heard otherwise.
This was quite bizarre. GAC's digital recorder records an ear-paining scream that no one else could hear the first time. A voice is heard saying, "Cake," in response to Zak's question about what the spirits would prefer. I'm the same way, mate.
13. St. Ignatius Hospital (Season 18 Episode 8)
St. Ignatius Hospital in Washington state has been closed since 2000, and until 2018, the local chamber of commerce offered guided tours of its rumoredly haunted walls.
Was it because the hospital spirits becoming too ferocious?
The GAC believes so, as they first keep together inside rather than breaking off to investigate for safety grounds. After Bagans captures an EVP that appears to address him by name, the team is attacked by a "demonic" entity that wraps icy, ghostly tentacles around Bagans and GAC member Billy Tolley.
12. Pasadena Ritual House (Season 19 Episode 7)
The GAC attends a seance in the Victorian-style Pasadena home of occultist Richard Lael Lillard at the start of their lockdown. Lillard is forthright about his Satanist beliefs and how his rituals may take him down dark and dangerous paths.
As fears grow about the terrible, potentially demonic power they may release, a spirit appears to attach itself to Aaron Goodwin, attempting to communicate. A spin of the Ouija board indicates that Aaron is the intended recipient of the spirit's intentions. Even if it is "Ghost Adventures," some forces may not be tried and tested.
11. Old Lincoln County Hospital (Season 14, Episode 4)
Out of the many abandoned buildings, the crew visited this abandoned building in Fayetteville, TN, that has become a hotspot for ghost hunters and paranormal enthusiasts, thanks to its background as a hospital for the mentally ill, which gives it an intensified air of anguish and hostility. Because the hospital was the town's principal employer for over 70 years, nearly everyone in Fayetteville is connected to it.
In the hallways, the GAC encounters what they think to be the spirit of a little girl. In an attempt to speak with the child spirits, Aaron resorts to possibly the most tried and true method of persuading children to obey directions: bribery with sweets, one of the many memorable events of ghost adventures.
10. Mayhem in Millville (Season 21, Episode 10)
In this ghost adventures episode, the ga crew visited a descendant of the historic Jessop polygamist sect in Utah, which had over 200 family members—leader Joe Jessop had five wives and 239 grandkids. Cindy Lou Hensen's residence in Millville, Utah, was inspected by Bagan and his crew. To begin, they might hear a voice asking them to "go out" throughout their tour of the residence.
Later, they catch a glimpse of light shining through a closet door that had been nailed shut for 40 years. Bagan, suffering from an upper respiratory ailment, led the inquiry via walkie-talkie from a van outside. When he inquired about Jesus, the malignant power said, "Let God Thank."
9. Hell Hole Prison (Season 12 Episode 8)
Yuma Territorial Prison in California gained the moniker "Hell Hole" due to its severe temperatures and even worse penalties for its inmates. The conditions are ideal for a typical GAC investigation. For most of the episode, that is precisely what it is, but near the episode's conclusion, Zak and his team grow intrigued by the Yuma jail band's background.
They are drawn to a stage by the faint sound of music, where their heat-sensitive equipment records numerous jail band-shaped anomalies that appear to be playing for their visitors. It's one of the show's most iconic scenes, a great blend of the show's one-ghost-fits-all philosophy with the history of a particular location.
8. Horror at Joe Exotic Zoo (Season 21 unique)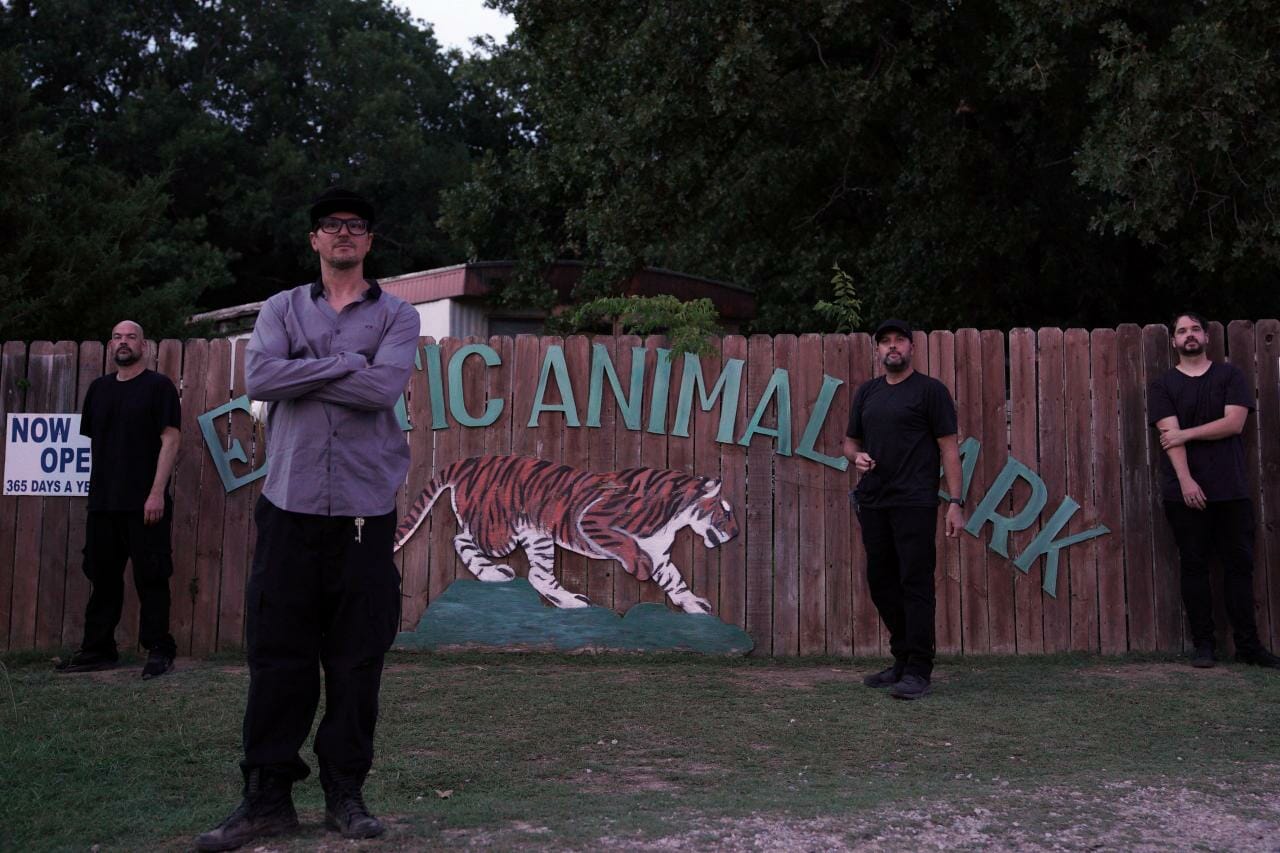 This Halloween special was one of the finest ghost adventure episodes. It follows the GAC's investigation of the animal park, the convicted big game collector Joe Exotic is the owner, which follows the 2020 Netflix smash documentary "Tiger King."
While they are officially on-site to investigate a rumored haunting by Travis Maldonado, the team captures nothing more than the filthy, overcrowded compound's overwhelming negative feelings. In one instance, Joe Exotic's former zookeeper Erik Cowie, who has been chauffeuring the crew around the region, can't suffer the horror any longer and proceeds away from the room; Cowie might be dead less than a year later.
7. Idaho State Tuberculosis Hospital (Season 18 Episode 12)
Talking about the best ghost adventure episodes, the Idaho tuberculosis hospital is a must. A family of 12 people turned this former tuberculosis hospital into an inn. Still, they and their employees are terrified by an angry male presence who appears to be a relic from the hospital's more horrible days.
The GAC speaks with a housekeeper, they saw these shadow figures, and they tear up at the recollection of his savage energy. There are kid ghosts in the mix, with likeliness to their previous abandoned hospital event and some unexpectedly legible EVP recordings of the spirit they seek. Furthermore, Billy's untimely sneeze pulls Zak out of his wits.
6. Stone Lion Inn (Season 14 Episode 1)
It's unusual to see a polite poltergeist at a Satan worshipper's haunted hotel, but that's precisely what the GAC finds at the renowned Stone Lion Inn in Guthrie, Oklahoma.
Becky Luker, the current owner, runs the Inn as a bed and breakfast and puts on a regular murder mystery performance at a local cemetery, where some suspect the ceremonies she conducts are satanic rites. A door inexplicably opens on its own as the GAC explores the Inn.
In most episodes of "Ghost Adventures," it would be enough steak, for instance, but then Zak asks if whoever power opened the door could lock it again. Surprisingly, the force gives way, and the door shuts. Ranch Island is a community south of Las Vegas where the ghost of a suicide victim seems imprisoned. While the GAC investigates, Dark energy seizes Zak and believes he is in contact, if not outright possessed, by this bound spirit.
5. Curse of Ranch Island (Season 24, Episode 6)
Ranch Island, a place South of Las Vegas, hosts the imprisoned ghost of a man who killed himself. Black energy overtakes Zak while the GAC investigates and feels he is in contact, if not outright possessed, by this chained soul.
As the alleged ghost pounds down on his shoulders and envelops the team in icy patches, Jay Wasley builds up an experimental energy circle using a Tesla coil. "We've come to assist you!" Aaron shouts something into the night. "Nothing else!" exclaims the group. While the final component isn't always correct, the first is genuine. It's unusual for the GAC to come to the assistance of the living rather than the deceased.
4. Ireland's Celtic Demons (Season 10 Halloween Special)
The GAC travels to Ireland in this two-hour Halloween special to explore the country's rich, spooky legends, visit haunted castles, and, if time allows, sneak in a quick doorway to hell.
Even the show's famously grainy nighttime shooting can't take away from the beauty of the video of the Irish scenery in this segment. The Irish location allows Zak and company to perform their shtick with fresh paranormal cliches. There's a sense that they're simply tourists being duped here — as when they visit a "pagan witch" to perform a welcoming spell as part of the admission ceremony to explore Krohne Cave (the portal above to hell).
3. Cerro Gordo Ghost Town (Season 22 Episode 3)
Zak Bagans wears flannel and a wide-brimmed hat for a journey to a famed California supposedly haunted ghost town, where he scours the ground with a metal detector in search of antique weaponry; he discovers a nail.
As the ghost adventures crew lowers a camera and recording recorder down Cerro Gordo's almost 1,200-foot-deep mine shaft to try to entice any restless spirits into identifying themselves, an invisible force tugs at the camera, downright frightening Billy and the rest of the crew. It was said that many mining accidents had occurred in the Cerro Gordo ghost town, one of the most haunted locations.
2. Lewis Flats School (Season 18, Episode 8)
Next on the list of Ghost Adventure episodes. Despite its title, the Adobe Deli Steakhouse, where the restructured Lewis Flats School formerly stood, is the epicenter of the hauntings.
Employees at the steakhouse have described a slew of bizarre incidents involving the animal heads adorning the restaurant's walls, its Native American pottery collection, and the owner's mementos from local heinous murders. Furthermore, the territory was the scene of several deadly clashes between white conquerors and Apache war parties before New Mexico's admission to the Union.
1. Route 666 (Season 13 Halloween Special)
This 2-hour Halloween special from 2016 is one of the finest ghost adventure episodes, portraying Route 666 as the ultimate expression of the program's rural Americana philosophy, in another instance of the show blazing across all cylinders.
The episode featured a few of the most memorable moments of paranormal activity. As supernatural negative vibes threaten to spill over into violence, the GAC tackles ghosts and each other as they journey across Texas to explore a trio of haunted places – the De Soto Hotel, Concordia Cemetery, and Goatman's Bridge.
Aaron Goodwin makes the ill-advised step of breaking away from the group on Goatman's Bridge; only they push to the ground by an unseen force.
Read More: 20 Best Schitt's Creek Episodes You Can't Miss