In the John Wick movies, dozens of weapons have been used, and many of the weapons stood out during that time! John Wick guns are termed as the most popular when it comes to action movies. There are four John Wick movies, and in each of them, he used a wide variety of guns to assassin his enemies.
Many of the weapons used in the movie are very powerful; the deadly ones are personally used by John Wick, who is known for thinking out of the box. John Wick does not need a gun exactly to kill his enemies; even a pencil in his hand is a huge threat to his enemies' life.
15. Walther CCP (John Wick: Chapter 3- Parabellum)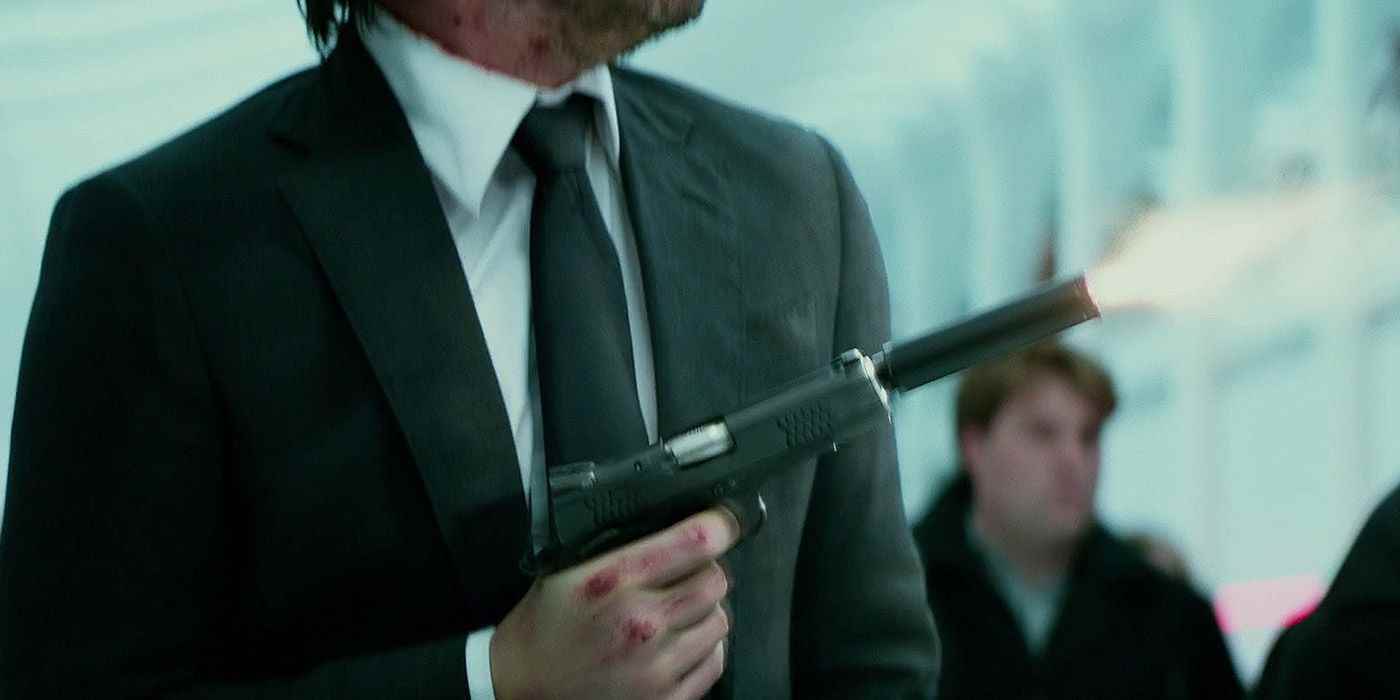 Scene Number: Third Chapter
Weapon Used: Walther CCP
Feature: Weighs 635.02 grams (lightweight)
Trigger Pull: 26. 24 N
Taking away his target's gun and using it against the target is one of John Wick's strategies. In the third chapter, John Wick takes his assassin's gun, which is a Walther CCP, when the assassin tries to attack him with it.
There are many versions in CCP, which include a duotone version which is made with stainless steel.
14. Glock 26 (John Wick)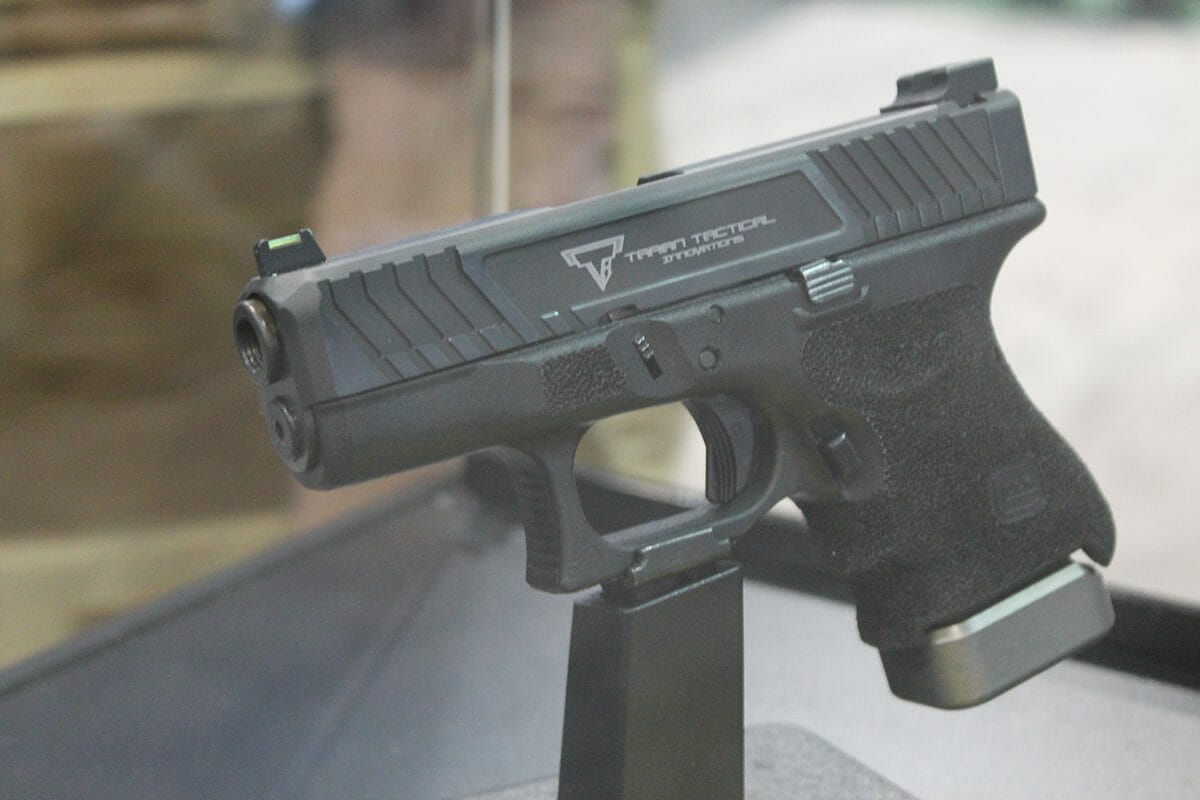 Scene Number: Chapters 1, 2, 3
Weapon Used: Glock 26
Feature: Weighs 739 grams
Trigger Pull: 26 N
John has used the Glock 26, which is the simplest of all that he has used. Glock 26 can be put under the category of his favorite handgun. In the first movie, there is a scene that is memorable among the scenes of the movie; John Wick uses the Glock in a bathhouse, making the movie one of the best among action movies, and special mention for very good fight choreography.
Wick chases the man who killed his dog, which was very beloved to him; he killed over a dozen henchmen with his weapons.
13. Remington 1875 (John Wick Chapter 3 – Parabellum)
Scene Number: Chapter 3
Weapon Used: Remington 1875
Feature: Weighs 1043.26 Grams
Trigger Pull: Nil
Though there are a lot of advancements that have been made in gun designs in the last few years, the classics can never be beaten.
The killer, during a shootout, uses one of the classics, brandishing it; this took place at the museum for antique weapons. Tuco makes his own Colt Navy by using parts from three separate guns, while Wick is also trying to modify the Remington 1875.
12. Kimber Warrior (John Wick: Chapter 2)
Scene Number: Chapter 2
Weapon Used: Kimber Warrior
Feature: Weighs 1077. 28 Grams
Trigger Pull: 20.01 N
In Chapter 2, John receives a Kimber warrior from his supplier; he tears into an art exhibit and uses his handgun to take out a plethora of skilled and very well-armed gunmen. John reloads his weapon as a firefight is going on; he does a one-hand press check which makes it the coolest moment of the movie.
The gun is easy to field-strip as it is a customized 1911 based on MCSOCOM ICQB.
11. TTI SIG Sauer MPX Carbine (John Wick: Chapter 3- Parabellum)
Scene Number: Chapter 3
Weapon Used: TTI SIG Sauer MPX Carbine
Feature: Weighs 2700 grams
Trigger Pull: 21.12 N
John never misses a chance to flaunt his signature weapon stance, also because it is a part of his character. John Wick wields an assortment of assault rifles. In a fight taking place at the New York Continental, John uses an MPX Carbine, along with a laser module and an MRO sight.
The MPX fires 9x19mm, 357 SIG rounds. It features a 14.5″-16″ barrel and can also fire 10, 20, or 30 rounds, depending on the choice of the magazine capacity.
10.Heckler Koch P30L (John Wick)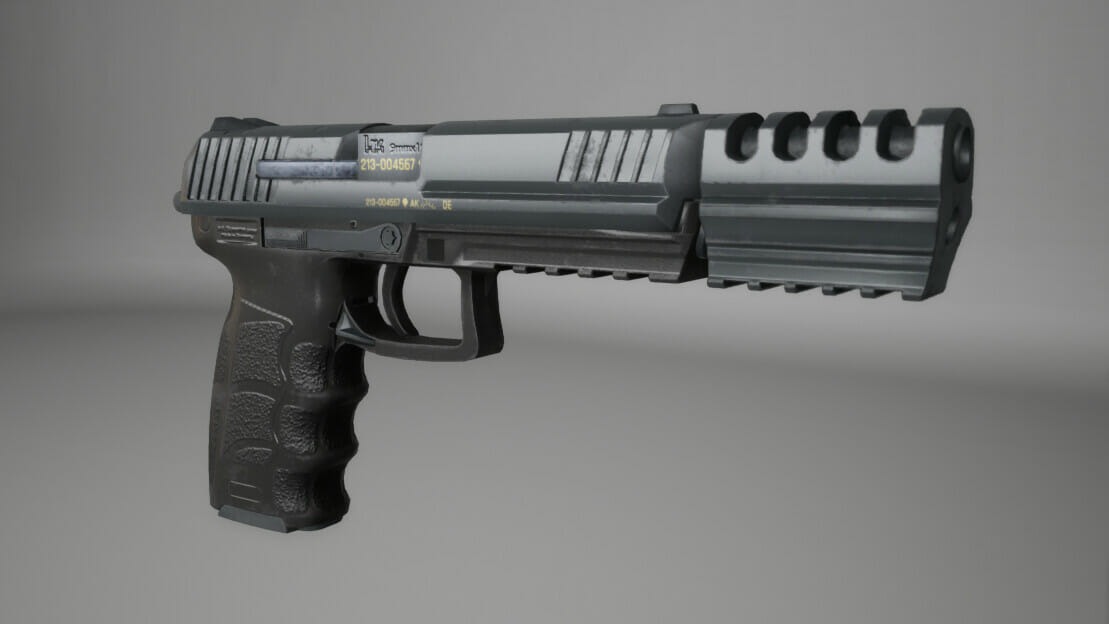 Scene Number: Chapters 1, 2, 3
Weapon Used: Heckler Koch P30L
Feature: Weighs 598 grams
Trigger Pull: 27.5 N
The first film uses "gun-fu" as a trademark of the series. The original handgun choice was the Heckler Koch P30L. John used this handgun in all three movies, and every time he used it, it was not a great time for his victims.
A hexagonal muzzle shape for a Heckler Koch P30L makes the gun look cool among all of John Wick's guns. Heckler Koch P30L fires .40 caliber S&W rounds with a maximum of 13 shot rounds in a 15-round mag.
9. Coharie Arms CA 415 (John Wick)
Scene Number: Chapter 1
Weapon Used: Coharie Arms CA 415
Feature: Weighs 3600 grams
Trigger Pull: 34 N
John lures his enemies to a church and unloads them with a very powerful automatic rifle, the Coharie Arms CA 415. In the market, this is one of the most effective rifles for tactical innovations in the assault, along with a menacing look.
Though the production model of CA 415 was originally made with a vertical grip and holographic sight, in the film, the model is more of a shortened barrel so that it becomes more stable to use.
The fire rounds depend on the type of auto modes it uses; it completely depends on the preference and the tactical innovations.
8. Kimber Solo CDP (John Wick: Chapter 2)
Scene Number: Chapter 2
Weapon Used: Kimber Solo CDP
Feature: Weighs 481.94 grams (without magazine)
Trigger Pull: 31 N
John did not just use Kimber Solo CDP but also another assassin who was gunning for his blood. The female assassin hides this gun inside her violin, attempting to stay blended with her surroundings, which can be considered cool in its special way.
The CDP contains a small frame; it is a compact pistol with a capacity of 6 shots. They are popular for people who need personal protection; the small size of the pistol helps them conceal it inside of a purse or a coat.
7. TTI TR- 1 Ultralight (John Wick: Chapter 2)
Scene Number: Chapter 2
Weapon Used: TTI TR 1 Ultralight
Feature: Weighs 2902.99 grams
Trigger Pull: 11.12 N
In the second movie, Wick is fighting in an underground catacomb out of force; this is a great scene. However, the serial killer knew there would be a battle beforehand, so he hid several weapons to prepare for his exfiltration. TR1, which is by Taran Tactical Innovations, is one of the hidden weapons.
The original production version is different from the film version; in the film, the gun has a collapsible stock, and the pistol has a vertical foregrip along with a PRI Compensator. The pistol can be easily controlled as it is a compact pistol.
6. Kel Tec KSG Shotgun (John Wick)
Scene Number: Chapter 1
Weapon Used: Kel Tec KSG Shotgun
Feature: Weighs 3129.78 grams
Trigger Pull: 31 N
The Kel Tec KSG is a modernized pump-action shotgun; they designed it for maximum stopping power, has refined stability, and has less chaotic recoil.
The KSG is not a double-barreled shotgun. However, people tend to mistake it for a double-barreled shotgun because of its twin tube magazines that have been located underneath the barrel. In the first film, after John Wick kills an enemy in a battle outside the church, he takes it from the enemy.
5. Smith & Wesson SW1911SC "E-Series" (John Wick: Chapter 2)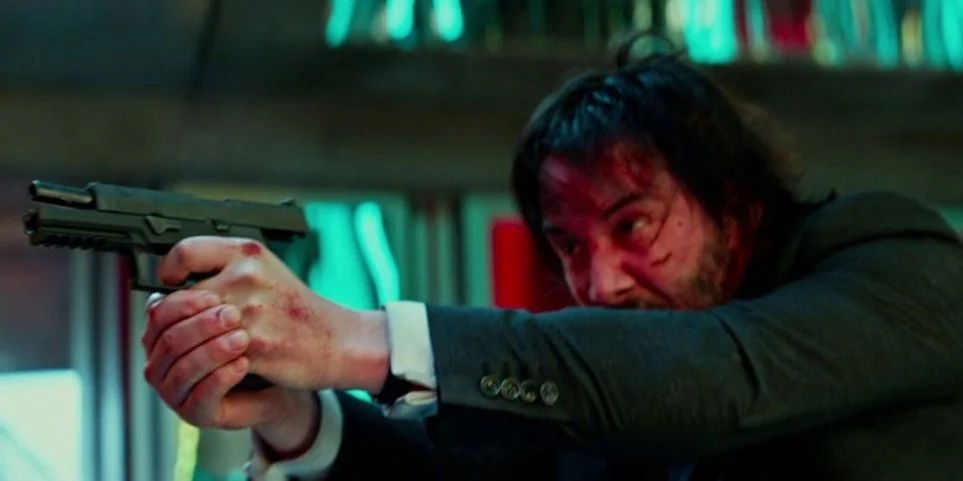 Scene Number: Chapter 2
Weapon Used: Smith & Wesson SW1911SC "E Series"
Feature: Weighs 816. 46 grams
Trigger Pull: 1.10 N
John earns the ire of fellow assassin Cassian, who is one of the most dangerous criminals in the film. Cassian and John even up with each other when Wick fires Cassian with an E-series SW1911SC that has an outfitted suppressor module.
The sound of gunshots is not able to muffle because no silencer is capable to that extent, which makes the scene a humorous one.
4. Benelli M2 Super 90 (John Wick: Chapter 3 – Parabellum)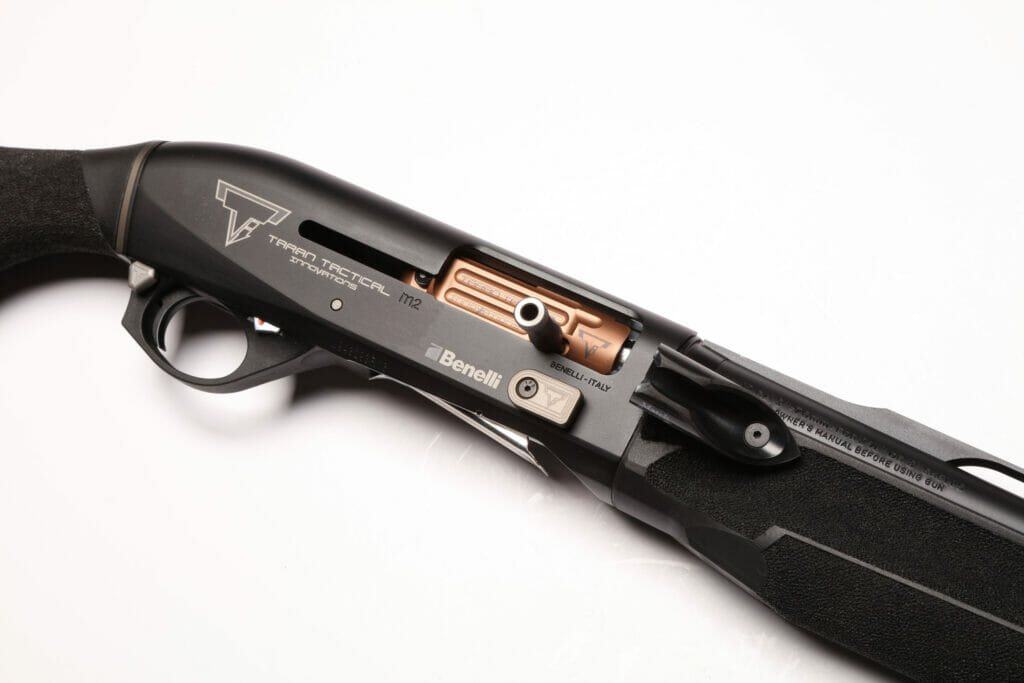 Scene Number: Chapter 3
Weapon Used: Benelli M2 Super 90
Feature: Weighs 3039.06 grams
Trigger Pull: 22.86 N
The final battle that takes place in Chapter 3 starts out looking grim for the protagonists of the series. In the Continental Hotel, a large team of assassins is loaded with heavily customized weapons to murder Wick; Wick tries to fight them off by shooting back at them and realizes that their armor is completely bulletproof.
John Wick picks out a Benelli M2 Super 90, as he has to even up the fight against the enemies with their armor; the gun he uses is loaded with armor-piercing rounds. The guns are of two types, that is, tactical and field models. It is also semi-automatic, which makes it easier to use in combat.
3. A Pencil (John Wick: Chapter 2)
Scene Number: Chapter 2
Weapon Used: A pencil
Feature: Nil
Trigger Pull: Nil
In the first movie, there was a statement that said that Wick was seen killing three men with just a pencil; in the second film, the opening scene is a foreshadowing of him using a simple pencil as a weapon is done. John Wick is desperate to keep himself alive, and for this, he kills his enemies, which you can see in this classic tale.
Two assassins cornered John Wick, and he did not have many options to grab the only weapon that he could find near him.
Having the experience of killing 3 assassins with a pencil before, he did not have much difficulty in handling the two, even though he had severe wounds.
2. Knives (John Wick: Chapter 3- Parabellum)
Scene Number: Chapter 3
Weapon Used: Knives
Feature: Nil
Trigger Pull: Nil
The ammo runs out, and the would-be assassins need to rely on whatever they can get on their hands. Even if there are no pencils, Wick might find some knives which are a trusted alternative. When the battle that took place in the antique store is looked into, we can see that John Wick is been gifted with his talents.
John Wick knows how to use knives during a fight; in the scene, he is not left much with a choice; it depicts one of the tensest battles of the franchise, which is also the most gut-wrenching kill.
1. The Car (John Wick: Chapter 2)
Scene Number: Chapter 1
Weapon Used: Mustang
Feature: Nil
Trigger Pull: Nil
When we look at the history of cars that have been used in moves, The Bullitt Mustang is one of the best cars, Mach 1, which is of John Wick's, is yet to make the list of best cars!
In the second film, Wick finally gets back his prized car. Call it unfortunate; his car was guarded by a safe house that was filled with bad guys, which meant a fight on top of all the things that he had already gone through.
After getting back his car, John Wick uses his famous Mustang to kill the henchman in brutal ways; the car is a mess as the scene comes to an end.
Weapons Used in John Wick Guns
John Wick Guns is a great movie if you are an action movie fan and, most of all, if you have a keen interest in guns. John Wick is the hero of the movie; he can be termed as a bad guy, as he does kill a lot of people with deadly and powerful weapons. He uses various other guns for his survival, like Beretta 92FS Inox, Glock 17, Glock 19, Sniper rifles, arsenal firearms, desert tactical arms DTA Stealth Recon Scout, Sig Sauer, and Kimber Warrior.
John Wick is a very smart man, too; if he does not find any weapons, he still manages to keep himself safe; he carries a backup gun, but still, who can predict the odds? Some guns used in the movie have such high capacities, and there are also guns with not-so-high capacities. This show, when it appeared on the big screen, did receive a lot of appreciation!