King of the Hill, a Fox Broadcasting Company animated comedy developed by Mike Judge and Greg Daniels that ran from the 12th of January, 1997, to the 6th of May, 2010. It is about a propane dealer Hank Hill who lives on Rainey Street in Texas with his wife Peggy, son Bobby and his feckless niece Luanne.
Despite his cliched ideas on God and country, Hank is straightforward and sees this world plainly. Mike Judge voices Hank Hill, Kathy Najimy, and Johnny Hardwick is credited for the voice acting of Dale Gribble. Brittany Murphy plays Luanne Platter, and Pamela Adlon voices Boby Hill. Stephen Root plays Bill, and Toby Huss stars as Kahn.
This show ran for 13 seasons. Here are the top 20 King of the Hill episodes to help you understand why it is one of the finest and one of the most beloved animated sitcoms of all time. The list of best episodes:
20. Aisle 8A (Season 4, Episode 5)
The 5th episode of the 4th season of King of the Hill, ' Aisle 8A. It aired on the 7th of November, 1999.
This episode was about Kahn and Minh, who travel to Hawaii so that Kahn can give a speech for his job. During that time, while Kahn and Minh are away, Kahn asks Hank Hill to look after Connie, who is thrilled to be living with Bobby, but then he turns angry and harsh when he gets to know that she got her first period. Hank is entrusted with dealing with Connie's problem. He tries his hardest to manage the situation in the best way possible but fails miserably.
19. Nancy Boys (Season 4, Episode 21)
This King of the Hill episode aired on the 30th of April 2000.
With "Nancy's Boys," the long-running, convoluted love triangle between Dale Gribble, his wife, Nancy, and her "healer," John Redcorn, gives a new turn to the story. When Hank is offered a romantic evening for four at That's Amore, Hank decides to bring Dale, Bill, and Boomhauer. However, at Peggy's request, he chooses to take someone else. Dale invites himself and Nancy, who was expecting to stay the evening with John Redcorn, but Redcorn encourages her to go along so he can have his own night. But this is how John becomes the odd man out. When Dale starts his long-dormant love relationship wi him, this comes back to bite.
18. Livin' on Reds, Vitamin C, and Propane (Season 8, Episode 7)
This episode aired on the 14th of December 2003.
Season 8's "Livin' on Reds, Vitamin C, and Propane," one of the greatest episodes of the show's later years, sees Hank pursuing his childhood ambition of driving a big rig. As Hank's mother is supposed to shift, Hank learns that this is the best opportunity to complete his dream. It's like "Sorcerer," except instead of nitroglycerin, it's sofas. Then Bobby decides and joins them and develops a habit of sipping coffee on the road, but well, there was a twist, things tend to go very wrong when Dale, Bill, and Boomhauer sneak into the rear; this was one of the funniest moments of the sitcom. Peggy and Luanne, during all of this, put their songwriting skills to the test by attempting to produce a Christmas carol.
17. The Exterminator
This was the 14th episode of the 5th season of The King of the Hill. It aired on the 4th of March 2001.
Dale Gribble, Hank's high-strung, conspiratorial next-door neighbor, is known for being an exterminator. So it's kind of a shock when Dale has to put his insect repellent away to look for an office job after the chemicals he employs at work start to corrode his nostrils. When the corporation puts him in charge of dismissing workers, he finds a way to put his elimination abilities to good use. Still, when the workplace is overrun with cockroaches, he has to do some actual murdering. Fortunately, Dale does not require chemicals to complete his mission.
16. A Beer Can Named Desire (Season 4, Episode 6)
This aired on the 14th of November, 1999.
When talking about the best episode of King of the Hill, This episode has a B-plot that is just as interesting as the A-plot. Hank finds he won a ticket to Louisiana and a chance to compete for $1 million at the upcoming Saints-Cowboys game in the major emphasis of the show with a chance at becoming a rich Hank Hill. He can either toss a football through a big Alamo Beer can or allow former Cowboys quarterback Don Meredith to take the shot for a smaller reward. The Hills stay with Bill's aunt in the opulent Chateau Dauterive in New Orleans, where three widows fling themselves at the single Bill. The only issue is that two of them are cousins, while the other is blood-related.
15. Love Hurts and So Does Art (Season 3, Episode 18)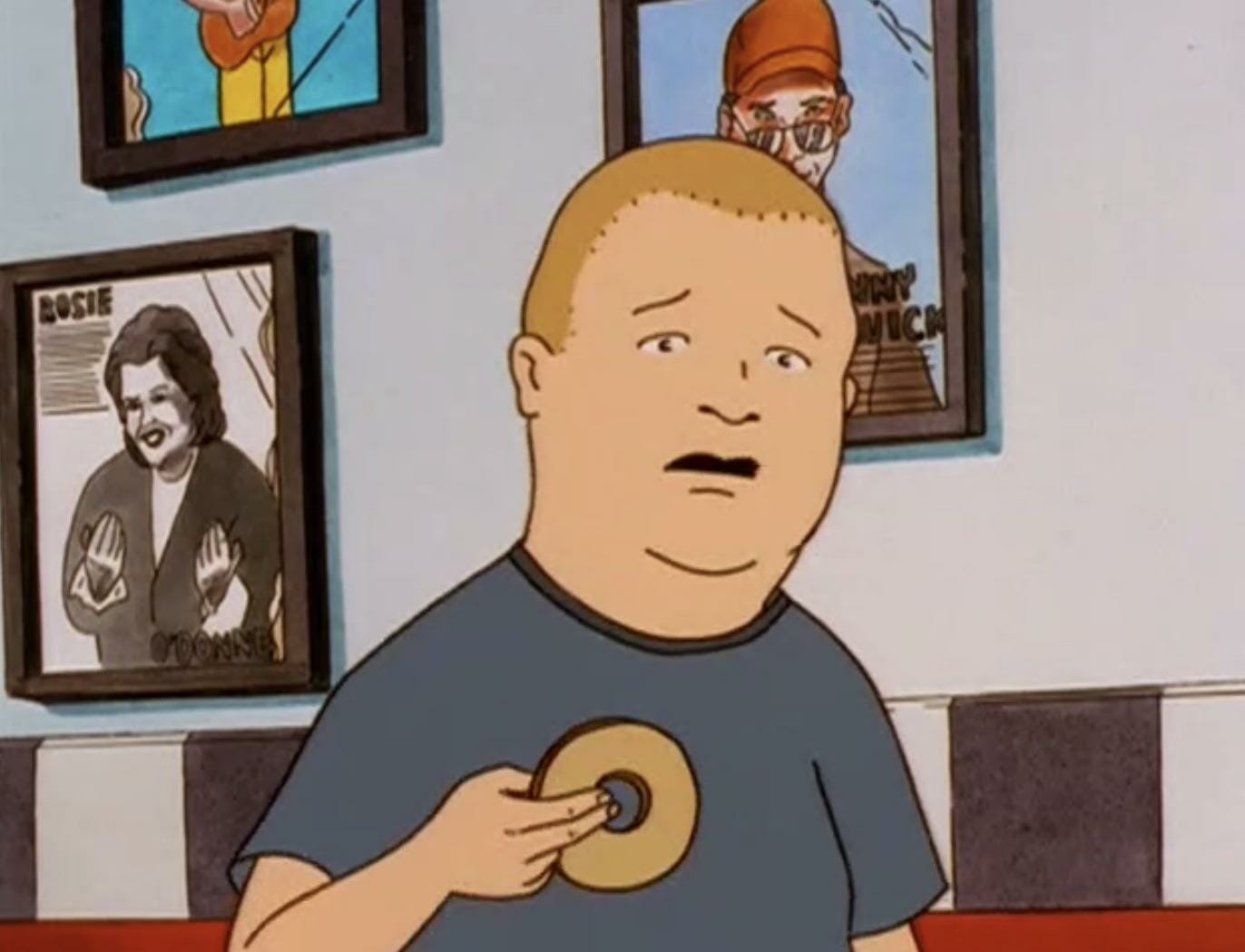 This was aired on the 23rd of March 1999.
Bobby and Connie's romance strikes a hitch when he refuses to take her to the school dance. He consumes organ meats at the newly established Show 'Biz Deli' to drown his sorrows, resulting in a terrible attack of gout. Bobby exploits his imprisonment in an electric wheelchair as an excuse to skip the dance, but if he wants to keep Connie, he'll have to play through the agony. In the meantime, Hank finds and goes to an art gallery in the hopes of seeing his high school football photo, only to learn it's actually an x-ray of his colon taken when he was constipated.
14. Jon Vitti presents: 'Return to La Grunta' (Season 3, Episode 16)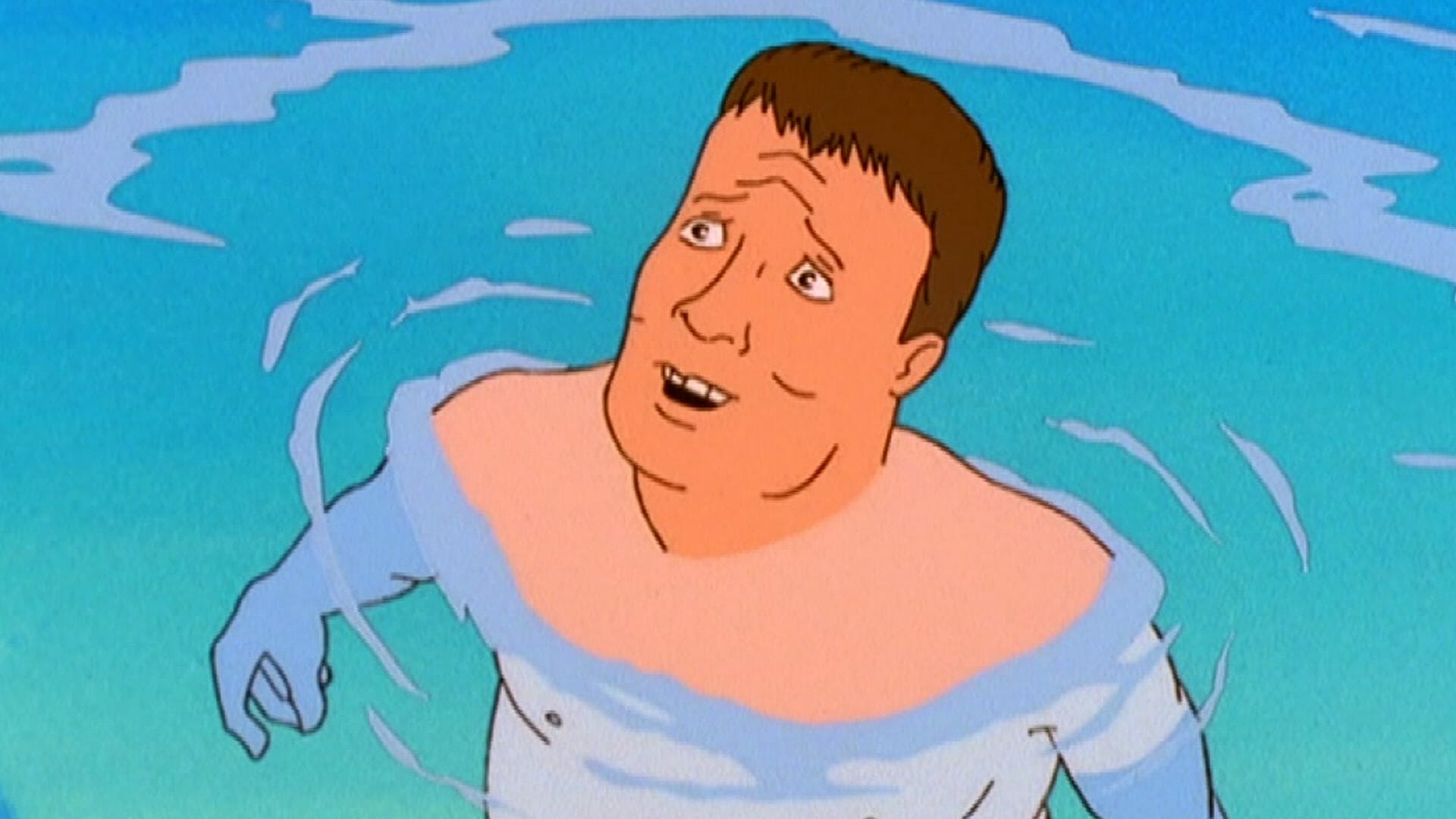 This episode was aired on the 23rd of February 1999.
On "King of the Hill," Hank's humiliation in difficult circumstances is a regular source of comedy, most notably (and strangely) in "Jon Vitti Presents: 'Return to La Grunta." Luanne wants to thank her uncle for obtaining her a job as a golf course drink lady at a country club with a thank you gift. Despite Hank's request for a complimentary round of golf, she instead gives him a dolphin encounter, which takes an unexpected turn as the dolphin becomes sexually aroused in the tank. Hank intends to keep the event a secret, but when he witnesses Luanne being tormented at work, he reconsiders. This was undoubtedly a great episode.
13. Propane Boom (Season 3, Episode 1)
This aired on the 15th of September 1998.
The second season of "King of the Hill" concluded with a mystery. Buck Strickland is forced to close Strickland Propane as the Mega-Lo Mart begins providing the valuable gas at a discount in the "Propane Boom." Despite his dislike for the shop, Hank takes the new position despite Luanne's hopes of using her connection with Mega-Lo employee Buckley to acquire a job selling propane. Buckley's ineptness causes the Mega-Lo Mart to blow up during a Chuck Mangione performance, and fans have to wait four months to learn what happened to Hank and Luanne.
12. Pretty, Pretty Dresses (Season 3, Episode 9)
This aired on the 15th of December 1998.
The sad story of Hank's divorced neighbor William Dauterive has brought the King of the Hill to the most disturbing moments. "Pretty, Pretty Dresses" sees his holidays a bit bluer as his separation from Lenore approaches. Hank tries to boost his spirit at night by preparing meals for his house, but this doesn't really help any family. Bill slaps himself on the chest, and Hank takes a hard hit with hard affection. Despite that, Bill does not even get the chance to wear a dress called "Lenore." This will destroy Hank's Christmas party.
11. Bobby Goes Nuts (Season 6, Episode 1)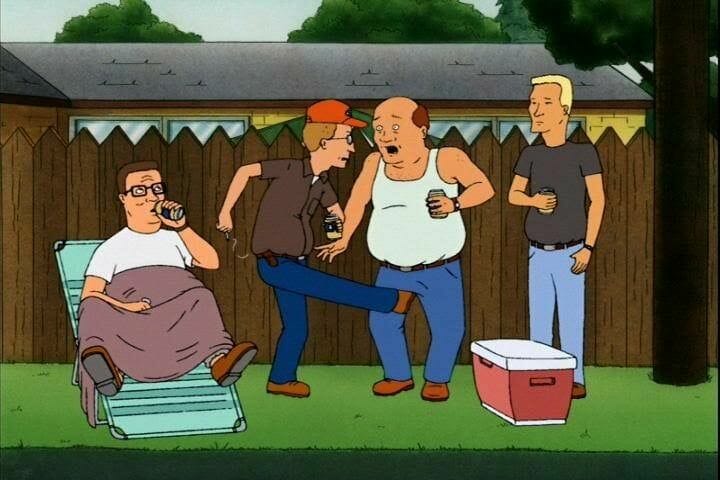 This episode was aired on the 11th of November 2001. It was one of the very best episodes of the show.
Each and every fan of "King of the Hill" can recall where they were when they first heard Bobby exclaim, "That's my purse!" I don't know you!" When Hank's kid is tormented by Connie's want to be suitor, Chane Wassanasong, in "Bobby Goes Nuts," he enrolls him in a YMCA boxing class. Bobby instead enrolls in a women's self-defense training, where he learns to defend himself by kicking opponents in the groin. When he becomes famous at school for doing just that, Hank makes an attempt to teach the young Hill how to defend himself correctly but then gets kicked. Bobby Goes Nuts is definitely a must-include in the best King of the Hill episodes.
10. Hanky Panky (Season 4, Episode 13)
It aired on the 6th of February 2000.
The series sees the character of Buck Strickland as being divorced. Buck Strickland confronts divorce from his wife, Miss Liz, when his affair with Debbie Grund is revealed to the public. He sells Hank his beloved Sugarfoot's Barbecue business, which is conveniently across the street from Debbie's apartment, in order to save his things throughout the divorce procedures. Miss Liz and Debbie are soon throwing themselves at Hank, who develops a smoking habit to calm down. Peggy takes over as general manager of Sugarfoot's, where she discovers Debbie's death slumped over in the garbage next to a shotgun.
9. Hank's Dirty Laundry (Season 2, Episode 7)
Aired on the 1st of March 1998.
Speaking of a time capsule, the episode demonstrates an early period in which video rental was available. Is it really simple, and I found it incredible that an ordinary movie would have disastrous consequences for the day after. In the 1970s, Hank learned that his credit score had dropped by nearly 50% and that his account was due for renewal. The climax of the film thickens after revealing that the tape is pornographic, and Hank says he didn't buy the cassette. Immediately he redoubles his action and starts a personal protest.
8. Hilloween (Season 2, Episode 4)
This episode aired on the 26th of October 1997.
As Hank struggles to find his way through an increasingly upset society, this show frequently mocks blatant hypocrisy. In "Hilloween," he clashes with the newly arriving youth group pastor, Junie Harper, played by Sally Field, over the haunted mansion he's building for Bobby's school. Luanne is persuaded that enjoying Halloween is a pathway to Hell after attending a convincing Bible study session conducted by Junie. She attempts to save Bobby's soul by transporting him to the mayor's Hallelujah Home, which she constructs after successfully closing down the school's haunted house—Hank protests by wearing his boyhood devil costume and trick-or-treating.
7. To Sirloin With Love (Season 13, Episode 20)
This final episode of season thirteen, as well as all of Season 13, "To Sirloin With Love," is a good finale overall. This aired on the 13th of September 2009.
The story itself might seem cliché unless it followed a usual formula in sports and musical performance. Still, it is rather an interesting story about the harsh, unforgiving world that ranks meat. It contains clever satirical humor on fierce competition, corruption, and a strong reliance on underdogs. But the very heartfelt bit about this was Hank deciding after 13 years to get in touch finally.
6. High Anxiety (Season 4, Episode 14)
In one of the most iconic episodes of 'King of the Hill,' Hank was reportedly a suspect who murdered his coworkers Debbie and David. Hank had also been drinking marijuana in the room at the time of the attack and had not known the marijuana. Hank's lack of explanation for the crime has led Gayle to a re-arrest. Hank will either admit to using drugs or face sexual assault charges if convicted. This episode is an unforgettable story, and the way Hank gets up high is a hilarious experience.
5. Returning Japanese (Season 6 Episode 22)
The Hill family goes to another country for some cultural conflicts and unexpected findings. Hank's father, Cotton Hill, longed for his lost love, Michiko, a Japanese woman he met while serving in World War II in "Returning Japanese." After Peggy writes an op-ed about their relationship in the Arlen Bystander, the Hills win a trip to Japan to find Michiko and reconcile her with Cotton. While there, Hank discovers a startling discovery: Junichiro, his half-brother. Elsewhere, Bobby falls in love with a Japanese schoolgirl through an arcade step-dancing game.
4. I Don't Want to Wait (Season 5, Episode 3)
This episode of "King of The Hill" is about some of the more embarrassing events of childhood that everyone recalls.
Our hero returns from summer vacation feeling happy about his personal growth, only to be disappointed when he encounters his pal Joseph, who has grown approximately a foot taller and grown a mustache. On the other hand, Joseph appears to be tremendously resentful of Bobby's self-assurance and cleverness. It's clear who has the upper hand in the long run.
Related: King Of The Hill (1997-2010): Where Can You Watch It Online? What Is It About?
3. A Fire Fighting We Will Go (Season 3, Episode 10)
"A Fire Fighting We Will Go" uses flashbacks and many perspectives to tell the story of how Hank, Dale, Bill, and Boomhauer burned down the Arlen Fire Department. When Bill volunteers as a volunteer fireman, all the neighbors decide to join him. They encounter Chet Elderson, Arlen's oldest living firefighter, who insists on leaving his neon Alamo Beer sign plugged in despite the fact that it is a fire danger.
Despite Hank's professionalism in handling the new role, Dale, Bill, and Boomhauer create havoc with their ineptness, including breaking a hydrant and spoiling Chet's funeral. During their watch, the fire station burns down, possibly owing to Dale's cigarette meaning, Boomhauer's tanned bed, or Bill's almost-burned pizza.
2. Square Peggy (Season 1, Episode 2)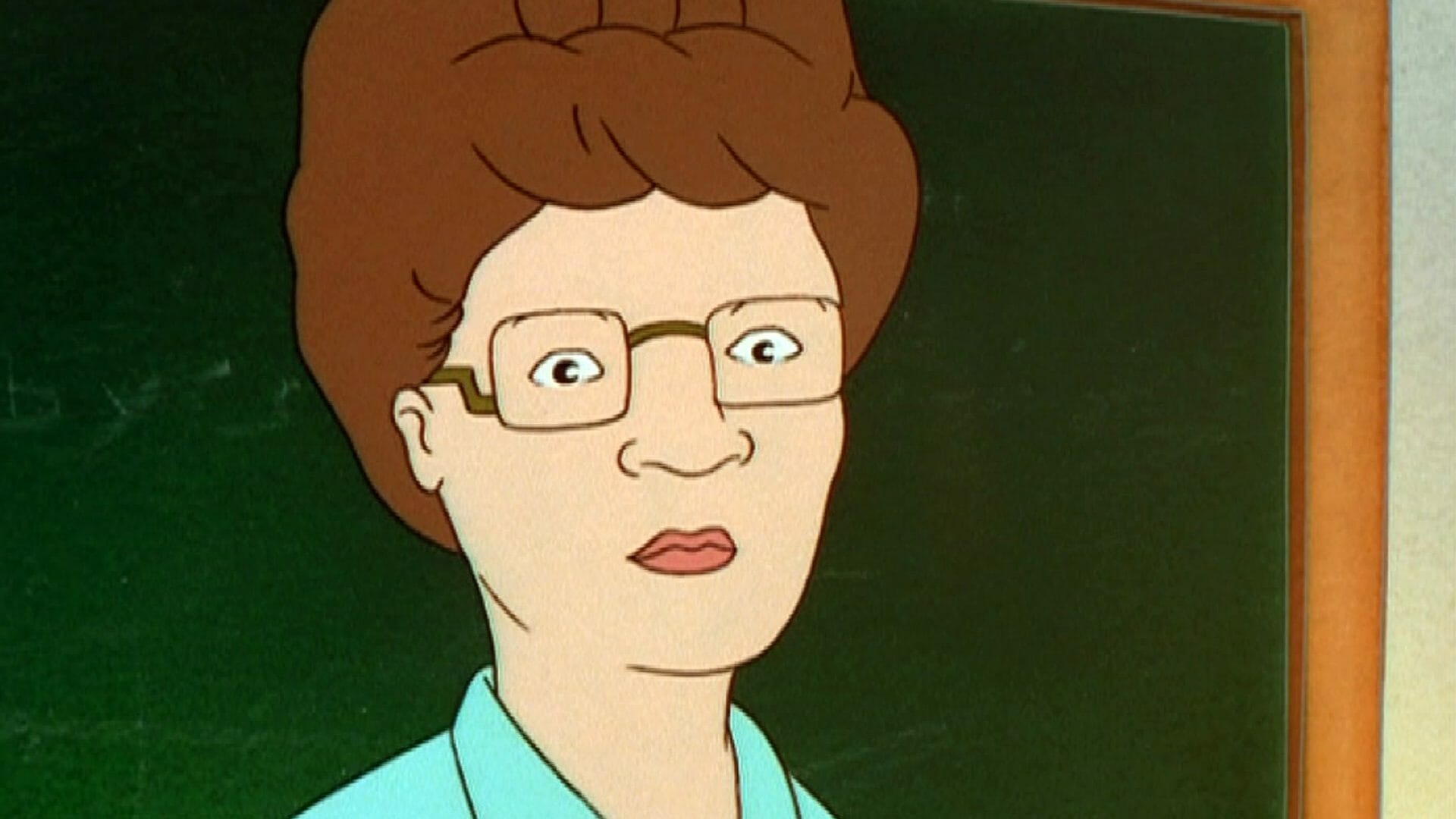 It's strange to imagine that sex education is still a contentious issue. Even though it was the first episode of the sitcom after the pilot, it was so brilliant that it secured the show's future success.
It's a fantastic episode because parents, students, and instructors can all connect to Peggy and her family's struggles with a number of challenges relating to the scholastic application of this contentious subject. Peggy and her friends are taking a closer look at what they learned as children, which strengthens her commitment to teaching the school's sex education class.
1. Ho Yeah (Season 5, Episode 13)
Certainly the best episode ever, With "Ho Yeah!" Hank is thrust into one of his most humiliating circumstances ever, yet he rises to the challenge admirably. Peggy is taken with Tammy Duvall (Renée Zellweger), Strickland Propane's newest employee who intends to acquire her GED one day. When she discovers Tammy is homeless, she offers her a room in the Hill House and agrees to tutor her.
Hank quickly takes to his new border, where he is always meeting exciting new men. He even offers to arrange dates for her with some of his most valuable clients. Tammy is soon revealed to be a prostitute, and Hank has been unintentionally pimping her out. Hank must don his own cheetah hat and scare her old pimp, Alabaster Jones, out of town when he comes hunting for her. This episode starred Snoop Dogg.