Let's talk about the best Robin Williams movies! For the people who aren't aware, Robin Williams was a stand-up comedian and actor from the United States. He rose to prominence as a result of his outstanding acting abilities and impeccable wittiness. His most noteworthy films are 'Dead Poets Society' (1989), 'Jumanji' (1995), and 'Night at the Museum' (1999).
Robin Williams started his professional career performing stand-up comedy at several places, along with the Comedy Club. He gradually transitioned to television and eventually to movies. His first notable job was in 'Popeye' (1980), when he provided the voice for the title character.
Early Life
Robin McLaurin Williams was born in Chicago, Illinois, on July 21, 1951, at St. Luke's Hospital. His father, Robert Fitzgerald Williams, was a key executive in Ford's Lincoln-Mercury Division. His mother, Laurie McLaurin, was a prominent model in Jackson, Mississippi. Williams attended Lake Forest's Gorton Elementary School for primary school and Deer Path Junior High School for high school.
He describes himself as a shy child who did not overcome his nervousness until he joined his high school acting club. When he was 16 years old, his father retired early, and the family went to Tiburon, California. Williams attended Redwood High School in nearby Larkspur after the family's relocation. Williams enrolled in Claremont Men's College in Claremont, California, but then because he was an acting enthusiast, he dropped out to pursue acting further. In 1973, Williams received a full scholarship at the Juilliard School in New York City. He was one of 20 freshmen admitted into the program. During the summers of 1974, 1975, and 1976, Williams served as a busboy at The Trident in Sausalito, California. He left Juilliard during his freshman year in 1976 on the advice of Houseman.
Career
In 1976 Williams began doing stand-up comedy in the San Francisco Bay Area. He debuted at the Holy City Zoo, a San Francisco comedy club. Williams relocated to Los Angeles and continued to do stand-up comedy at venues such as The Comedy Store. In 1977, he was seen by TV producer George Schlatter, who requested him to participate in a revival of his show Laugh-In. Williams earned a Grammy Award for Best Comedy Album in 1979 for recording his live appearance at New York's Copacabana. Robin Williams' first film performance was a minor role in 1977. Can I Do It… 'Til I Need Glasses?'
His first major break came when he appeared in the film Good Morning, Vietnam, and for his role, he received an Academy Award nomination for Best Actor. Robin Williams starred as Adrian Cronauer in this movie.
Filmography
For "Good Morning, Vietnam," "Dead Poets Society," and "The Fisher King," Robin Williams received rave reviews and Oscar nominations for Best Actor. He was nominated for Best Supporting Actor for his performance in "Good Will Hunting," for which he also garnered a SAG award. But, while he was tearing our hearts in tragedies, he was busting us up in comedies like "Mrs. Doubtfire," "The Birdcage," "FernGully," and, of course, the animated blockbuster "Aladdin."
It's still difficult to accept that Williams is no longer with us. Fortunately, he left us varied masterpieces to remember him by. Here's a look back at the 25 Robin William movies, ranked from worst to best.
The 25 Best Robin Williams Movies Ranked
25. Jack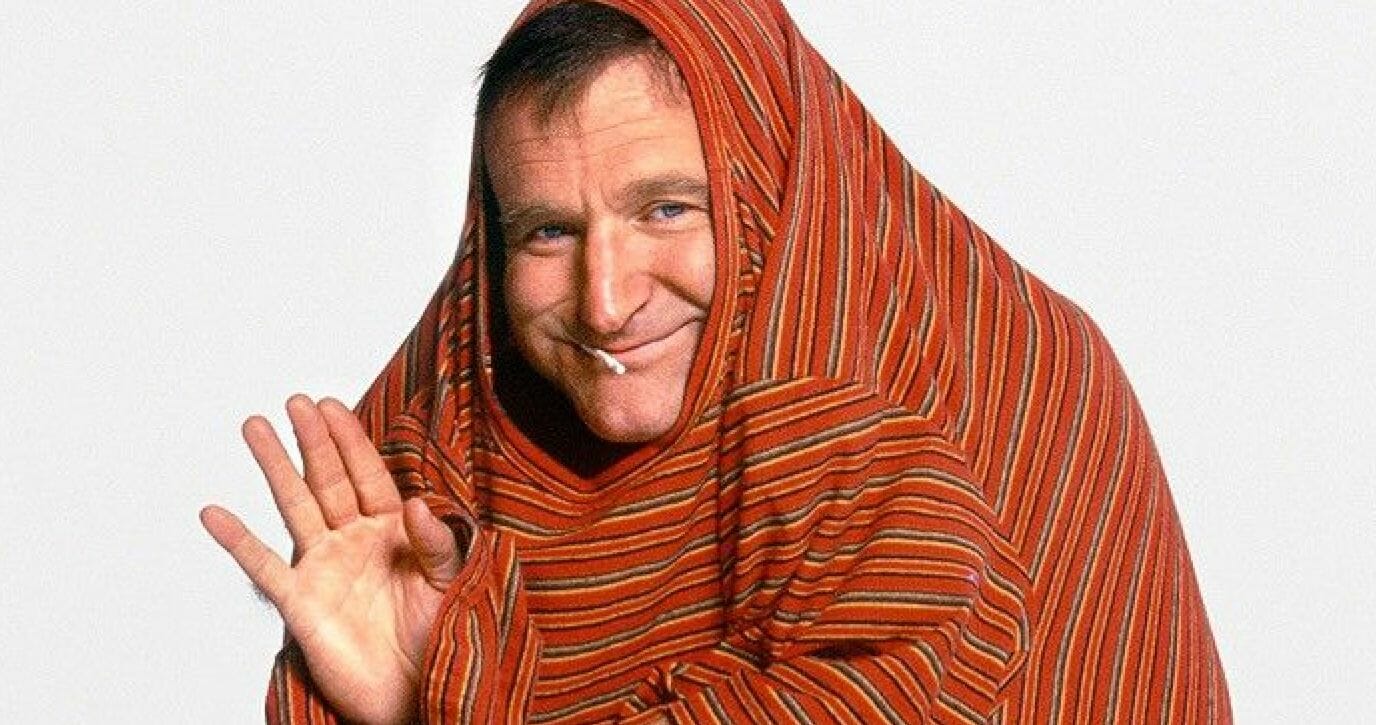 Directed By: Francis Ford Coppola
Cast: Robin Williams, Jennifer Lopez
IMDb Rating: 5.8/10
Rotten Tomatoes Rating: 17%
Platforms Available: Disney +, Prime Video, Apple TV
A youngster appears like a 40-year-old man when he begins fifth grade at school after already being homeschooled due to an odd disease that has matured him four times quicker than the average human being.
24. Death to Smoochy
Directed By: Danny DeVito
Cast: Robin Williams, Danny DeVito, Edward Norton
IMDb Rating: 6.3/10
Rotten Tomatoes Rating: 42%
Platforms Available: Prime Video, Apple TV
Williams breaks free in a scene-chewing masterpiece in wrath, obscenity, and egomania and has the time of his life. Rainbow Randolph, who steals every scene in Danny DeVito's undervalued cult comedy Death to Smoochy, is a children's entertainment who is dismissed when an FBI sting operation exposes Randolph as guilty of bribery. Randolph is enraged and driven insane by jealousy when his successor, "Smoochy the Rhino" (Ed Norton), takes his specific time and audience. He attempts to destroy the Rhino's career at any cost.
23. Happy Feet
Directed By: George Miller
Cast: Robin Williams, Elijah Wood, Brittany Murphy
IMDb Rating: 6.4/10
Rotten Tomatoes Rating: 76%
Platforms Available: Apple TV
Williams is typically at his finest in animated movies, where he is free to let his brilliant imagination go wild. He plays a range of characters in George Miller's Oscar-winning "Happy Feet," including Cletus, Ramón (an Adelie penguin), Lovelace (a rockhopper penguin), and the film's narrator. Williams had a cameo in "Happy Feet Two," his final animated picture, before he died in 2014.
22. Cadillac Man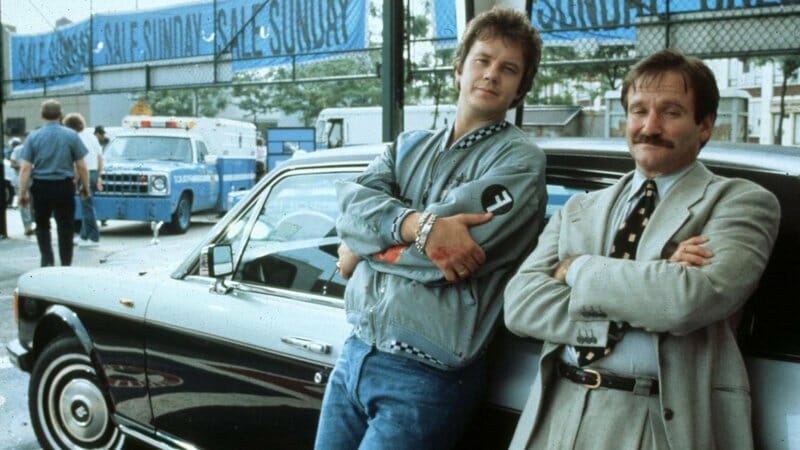 Directed By: Roger Donaldson
Cast: Robin Williams, Tim Robbins, Pamela Reed
IMDb Rating: 5.7/10
Rotten Tomatoes Rating: 55%
Platforms Available: Prime Video
Joey is a car salesman with an ex-wife, a troubled daughter, a girlfriend, a marital lover, and a $20,000 debt to the mob… and he's just 24 hours away from ending his job! Thank God all of his problems will be solved by a crazy who kidnaps him as a hostage!
21. Patch Adams
Directed By: Tom Shadyac
Cast: Robin Williams, Philip Seymour, Monica Potter, Daniel London
IMDb Rating: 6.8/10
Rotten Tomatoes Rating: 22%
Platforms Available: Google Play, iTunes
"Patch Adams," another great Williams smash, is a biographical drama based on the true story of Dr. Hunter "Patch" Adams, who was a patient in a psychiatric institution but decided to devote his life to medicine by demonstrating kindness to his patients, an attitude that did not sit well with the powers that be. While solidly established as a biography, "Patch Adams" allowed Williams to showcase his considerable improv comic abilities. Williams received his eleventh Golden Globe nomination for his role as Patch.
20. What Dreams May Come
Directed By: Vincent Ward
Cast: Robin Williams, Cuba Gooding Jr
IMDb Rating: 7/10
Rotten Tomatoes Rating: 53%
Platforms Available: Apple TV
It's difficult to see "What Dreams May Come" without feeling melancholy, knowing what Williams' horrible fate would be. Having said that, it's still a magnificent film with a very emotional plot, even if the finale leaves us a little disappointed
Williams plays Chris Nielsen, a pediatrician who is killed in a vehicle accident. He awakens in a Heaven reminiscent of his spouse Annie's (Annabella Sciorra) colorful watercolor paintings, complete with actual paint for him to experiment with. Annie commits herself and falls into Hell, distraught at the deaths of her hubby and their kids (who died in another automobile accident four years previously).
Despite the protests of his heavenly companion, Albert, Chris ventures into the abyss to save his wife.
The film is worth seeing if only for the incredibly magnificent (and Oscar-winning) special effects and set design. Despite the fact that the climax tries too hard to be pleasant despite the tragic subject matter, everything that comes before it tugs at our heartstrings because of Williams' empathic performance.
19. Hook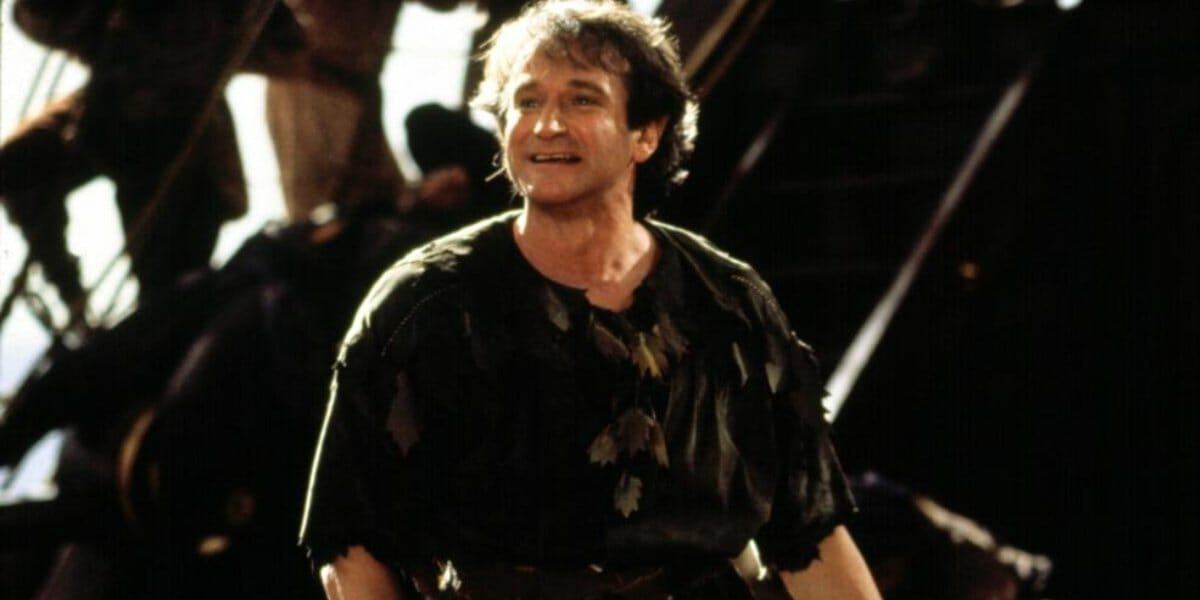 Directed By: Steven Spielberg
Cast: Dustin Hoffman, Robin Williams
IMDb Rating: 6.8/10
Rotten Tomatoes Rating: 29%
Platforms Available: Disney +, HBO Max
The admiration for "Hook" is greatly determined by how old you were when you watched it back. If you're an adult and a movie critic in 1991, you most likely didn't enjoy it. But if you were a kid, Steven Spielberg's fantasy epic was perfect, and Williams became your decade's Peter Pan.
Williams portrays Peter Banning, a wealthy lawyer who spends little time with his children, Jack (Charlie Korsmo) and Maggie (Amber Scott). When his children are abducted by the wicked Captain Hook (Dustin Hoffman), he discovers that he is the small boy who never wanted to grow up… until he left Neverland for Manhattan. To save the day, Peter will need a few flying lessons, some fairy dust from Tinker Bell (Julia Roberts), and the assistance of the Lost Boys and their new commander Rufio (Dante Basco).
18. Toys
Directed By: Barry Levinson
Cast: Robin Williams, Joan Cusack, LL Cool J
IMDb Rating: 5.1/10
Rotten Tomatoes Rating: 29%
Platforms Available: Disney +
Barry Levinson's "Toys" is an exception in Williams' career since the picture was not a critical or commercial success despite being directed by Oscar-winner Barry Levinson. Still, Williams, as the son of a toy billionaire whose been passed over to inherit the firm, conveys a sense of wonder and resolve to see that injustice is righted, a mission that immediately wins over the audience.
17. Night at The Museum
Directed By: Shawn Levy
Cast: Ben Stiller, Owen Wilson, Robin Williams
IMDb Rating: 6.4/10
Rotten Tomatoes Rating: 43%
Platforms Available: Hotstar, Apple TV
Shawn Levy's comedy-fantasy picture about a museum security guard (Ben Stiller) who discovers that even after dark, the artifacts come to life, along with a wax model of President Theodore Roosevelt, was one of Williams' biggest blockbusters (Williams). As Roosevelt assists the night watch in foiling a robbery scheme at the museum, he looks to be having a great time playing the Rough Rider.
16. Bicentennial Man
Directed By: Chris Columbus
Cast: Robin Williams, Sam Neil
IMDb Rating: 6.9/10
Rotten Tomatoes Rating: 36%
Platforms Available: Prime Video
This film covers the 'lives' and times of the main character, an android who is bought as a home robot trained to perform mundane jobs. Within a few days, the Martin family recognizes that their droid is unlike any other, as Andrew begins to have emotions and creative cognition. In a two-century-long narrative, Andrew learns the complexities of mankind while attempting to prevent those who made him from killing him.
15. Popeye
Directed By: Robert Altman
Cast: Robin Williams, Shelley Duvall
IMDb Rating: 5.3/10
Rotten Tomatoes Rating: 63%
Platforms Available: Prime Video, Apple TV
Opinions to Robert Altman's "Popeye" vary greatly (thus the 61 percent Rotten Tomatoes rating), with some hailing it as wonderful and others dismissing it as monotonous. Whatever your feelings on the film as a whole, you can't help but be impressed with Williams' amazing portrayal of the cartoon sailor. It's even more astounding, given that it was his first leading part in a feature picture.
Based on E.C. Segar's popular comic strip, it follows a powerful sailor guy as he travels to Sweethaven, a coastal town, in pursuit of his lengthy Pappy (Ray Walston). He meets the charming Olive Oyl (Shelley Duvall), the hamburger-obsessed Wimpy (Paul Dooley), and the pirate Bluto there (Paul L. Smith). It is up to Popeye to put an end to Bluto's campaign of terror, which is escalating.
14. Mrs. Doubtfire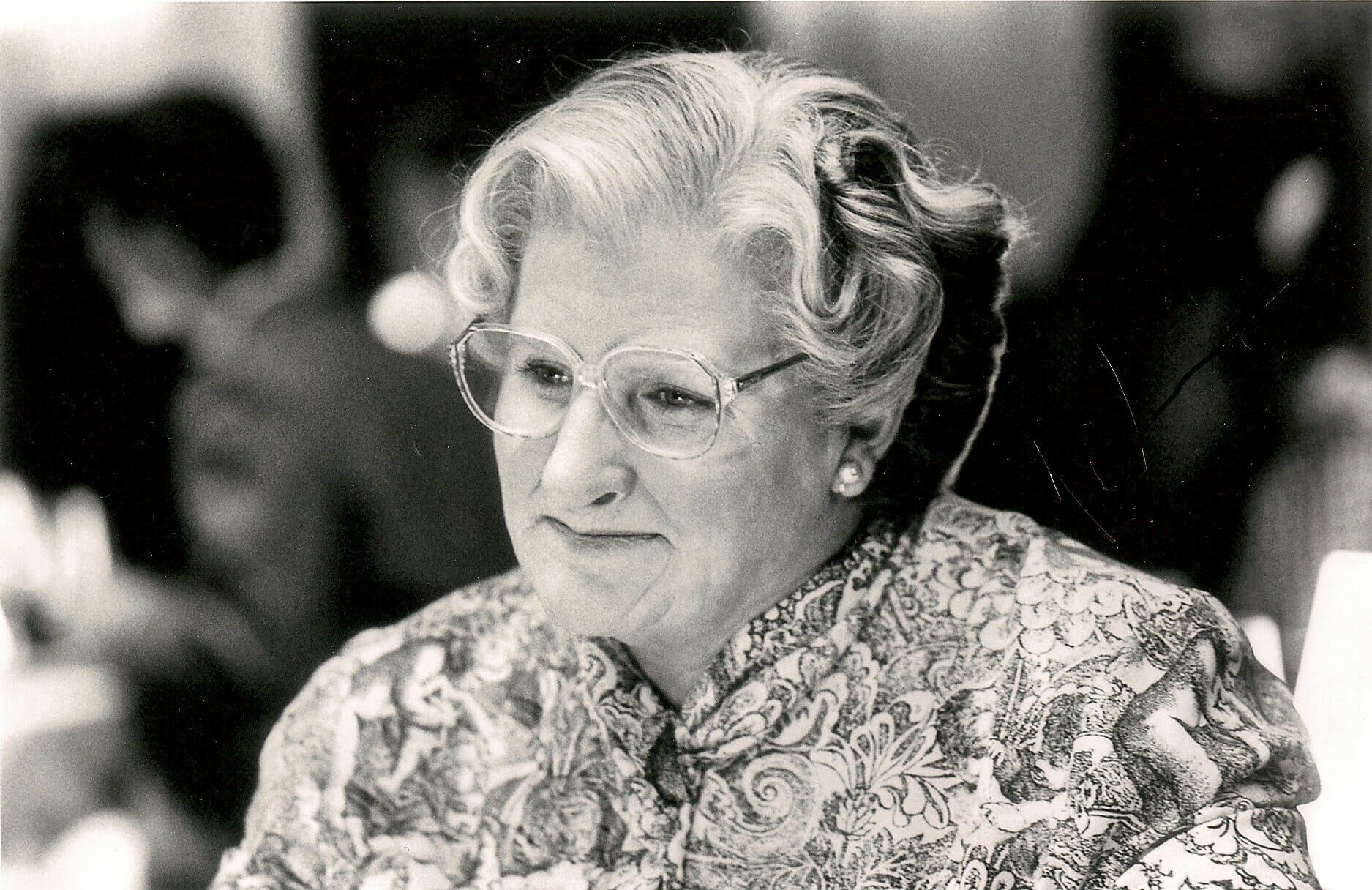 Directed By: Chris Columbus
Cast: Robin Williams, Sally Field, Pierce Brosnan
IMDb Rating: 7/10
Rotten Tomatoes Rating: 72%
Platforms Available: Hotstar
When Williams passed in 2014, fans paid their respects by laying roses at the San Francisco mansion that served as the exterior for "Mrs. Doubtfire." It was more than simply a nod to a Bay Area neighbor (Williams lived in Tiburon, a city in Marin County, for many years); it was also a testimonial to the film's cultural significance.
Few characters were as memorable for Williams as Daniel Hillard, a voice actor who goes to desperate lengths to spend time with his children after a terrible divorce. How desperate are they, you ask? He dons heavy makeup, a bulky coat, and a false English accent to portray Mrs. Doubtfire, an old British babysitter hired by Daniel's unwitting spouse (Sally Field) to care just about the house while Daniel is away.
On the outside, this appears to be nothing but an opportunity for Williams to portray a witty character. But beneath the surface lies the narrative of an immature man who matures by portraying a lady (kinda like Dustin Hoffman in "Tootsie"). "Mrs. Doubtfire" was indeed a box office smash that resulted in Williams a Golden Globe nomination for Best Comedy/Musical Actor. Although he did not receive an Oscar nomination, the picture easily won the trophy for makeup.
13. The World According to Garp
Directed By: George Roy Hill
Cast: Robin Williams, Mary Beth Hurt, John Lithgow
IMDb Rating: 7.1/10
Rotten Tomatoes Rating: 74%
Platforms Available: iTunes, Google Play
Williams makes his dramatic acting debut with this lyrical rendition of John Irving's best-seller. The film, directed by George Roy Hill, polishes down a few of the novel's sharper edges, favoring whimsy over cynicism. So who better to play the main role than that wackiest of Hollywood actors?
He plays Garp, whose extreme feminist mother (Glenn Close, making her feature film debut) had him out of marriage while working at a hospital in WWII. He grows up to be a renowned fiction writer, but his mom outshines him in her own book. This politically divisive women's liberation manifesto elevates her to the status of an icon. Her house becomes a shelter for battered women, including a transsexual former football player (John Lithgow). Meanwhile, Garp marries and also has kids, though his spouse (Mary Beth Hurt) is unfaithful. Williams nearly acts as a surrogate for the audience, calmly observing the various personalities who thread out and into his life's story. He manages his wild energy while gracefully allowing his co-stars to steal the spotlight.
Nonetheless, he remains the core of the film, which could have devolved into anarchy if he hadn't been present.
12. The Birdcage
Directed By: Mike Nichols
Cast: Nathan Lane, Robin Williams, Hank Azaria
IMDb Rating: 7.1/10
Rotten Tomatoes Rating: 81%
Platforms Available: Netflix
It's not often an American adaptation of an international success that becomes much more popular than the original, but that's exactly what happened with "The Birdcage." It's a tremendously hilarious comedy of errors that comes as close to craziness as it can without going fully off the rails as the Oscar-nominated French comedy "La Cage aux Folles."
Williams plays Armand Goldman, the owner of a gay bar in South Beach whose major draw is the drag queen Starina, portrayed by his life partner, Albert (Nathan Lane). Val (Dan Futterman), Armand's son, returns home with significant news: he's marrying the daughter (Calista Flockhart) of a hardline Republican senator (Gene Hackman).
Val urges his father to disguise his extravagant lifestyle for only one night when the senate and his spouse (Dianne Wiest) visit for dinner. That, however, is easier than it sounds.
Although the protagonists may easily have become insulting stereotypes, director Mike Nichols and author Elaine May endow them with real compassion. Williams is particularly good, holding back his more enthusiastic inclinations to represent the story's grounded center. The all-star cast won the SAG Ensemble Award, making it the first (and so far only) picture to accomplish so without receiving an Oscar nomination for Best Picture.
11. One Hour Photo
Directed By: Mark Romanek
Cast: Robin Williams, Connie Nielsen, Michael Vartan
IMDb Rating: 6.8/10
Rotten Tomatoes Rating: 81%
Platforms Available: HBO Max
You can practically hear the cries of shock from spectators when they saw Williams for the first time in 2002's "One Hour Photo." Despite having more than demonstrated his dramatic acting abilities, none he had done previously indicated the depths he would pursue here and in "Insomnia" the following year.
One Hour Photo is a highly frightening psychological drama directed by Mark Romanek about a lonely photo technician named Sy (Williams). With really no family or friends of his own, he becomes fatally fascinated with the Yorkins, especially Nina (Connie Nielsen) and Jake (Dylan Smith), who often use his services. When he discovers that Will (Michael Vartan), his husband, is committing adultery, the self-appointed "Uncle Sy" resorts to worrying measures to take his revenge.
While the plot twists may be cherrypicked, there's no denying the impact of Williams' frightening performance, which demonstrates a range that viewers may not have thought was possible. We may also credit the film for his humorous "acceptance" speech at the Critics Choice Awards, which he gave after losing both to Daniel Day-Lewis ("Gangs of New York") & Jack Nicholson ("About Schmidt").
10. Dead Poets Society
Directed By: Peter Weir
Cast: Robin Williams, Ethan Hawke, Robert Sean Leonard
IMDb Rating: 8.1/10
Rotten Tomatoes Rating: 85%
Platforms Available: Play Movies & TV, Apple TV, Prime Video
In terms of motivating films, "Dead Poets Society" is quite much just the gold standard, thanks in large part to Williams' portrayal as the fiery teacher at its heart. John Keating was the standard by which we compared our favorite teachers, the ones who urged us to "seize the day" & live amazing lives.
Peter Weir directs it and takes place in the late 1950s in a stuffy all-boys prep school. The pupils (including Ethan Hawke, Robert Sean Leonard, Josh Charles, and Gale Hansen) are enchanted by their mysterious new English instructor, who teaches Shakespeare through Marlon Brando's impersonations. His unconventional practices, which include tearing pages from textbooks, find him in hot water.
When the students climb up on their desks and yell, "O Captain! My Captain!" as Keating is escorted out of the class, you can't help but be moved. It's no surprise that Williams received his second Oscar nomination for Best Actor for the part. The film was also nominated for Best Picture and Best Director, and it won Best Original Screenplay.
9. The Fisher King
Directed By: Terry Gilliam
Cast: Robin Williams, Jeff Bridges, Mercedes Ruehl
IMDb Rating: 7.5/10
Rotten Tomatoes Rating: 84%
Platforms Available: Prime Video, HBO Max
Although he is most known for transferring his firepower stand-up comedic skills to the film, Williams' serious work was rarely appreciated by Oscar voters. Terry Gilliam's "The Fisher King" is an anomaly, allowing him to blast to the heavens while drawing him back for some softly heartbreaking emotional moments.
Jeff Bridges plays Jack, a radio host who destroys his job after unintentionally persuading a listener to embark on a killing spree. Out of his luck and working at a video shop with his fiancée (Mercedes Ruehl, who wins an Oscar for her portrayal), he is saved from suicide by Parry (Williams), a psychologically ill homeless man on a search for the Holy Grail.
When Parry learns he is solely responsible for his present demeanor, Jack assists him in putting his life back together, allowing him to win the love of a nice, timid girl (Amanda Plummer).
William's wild energy is a wonderful fit for Gilliam, who is known for his psychotic tendencies. With its mix of fantasy, romance, farce, and tragedy, it's a miracle the picture does not really spin completely out of control, yet it all comes together brilliantly. In addition to his Oscar nod, Williams received a Golden Globe nomination for Best Comedy/Musical Actor for the role.
8. Moscow on The Hudson
Directed By: Paul Mazursky
Cast: Robin Williams, Paul Mazursky
IMDb Rating: 6.5/10
Rotten Tomatoes Rating: 86%
Platforms Available: Apple TV, HBO Max
Paul Mazursky's "Moscow on the Hudson," released around the end of the Cold War, gives a genuinely empathetic picture of the immigrant journey that is more relevant today than in 1984. Given his impersonation ability and soft, goofy appeal, it's difficult to envision anybody else at the center.
He portrays Vladimir Ivanoff, a Russian musician on tour with a Moscow circus in New York City. He defected from the Soviet Union whilst shopping at Bloomingdale's and made every effort to fit in. Along the way, he talks to people from all around the world who are also immigrants. Mazursky portrays America as the melting pot it is by filling the principal cast almost exclusively with international players.
7. Awakenings
Directed By: Penny Marshall
Cast: Robin Williams, Robert De Niro, Penelope Ann Miller
IMDb Rating: 7.2/10
Rotten Tomatoes Rating: 89%
Platforms Available: Netflix
Although Robert De Niro received the majority of critical acclaim for his transforming portrayal in "Awakenings," Williams is his equal in every way. The film was the first time he demonstrated his ability to hold our attention without using a single one-liner. It's a talent that would come in useful as he embarked on darker assignments.
It's a striking dramatization of Oliver Sacks' 1973 book of the same name, directed by Penny Marshall. Williams portrays Sacks' proxy, Dr. Malcolm Sayer, who found in 1969 that the experimental medicine L-Dopa may "awaken" comatose victims of the 1920s encephalitis epidemic. After being paralyzed since infancy, another patient, Leonard (De Niro), gets a fresh lease on life, but the drug's effects are unpredictable.
While Leonard's journey is the most spectacular, Malcolm's journey is equally vital to the success of the plot. As his patients revive from their comas, he begins to loosen himself up to the outside world, even embarking on a romance with a sweet caregiver (Julie Kavner, known best for playing Marge Simpson). The part earned Williams a Golden Globe nod for Best Actor, but De Niro received the Oscar nomination.
6. World's Greatest Dad
Directed By: Bobcat Goldthwait
Cast: Robin Williams, Alexie Gilmore, Daryl Sabara
IMDb Rating: 6.9/10
Rotten Tomatoes Rating: 88%
Platforms Available: iTunes
In what turned out to be his final act, Williams frequently played to the darkest side of his nature. Never before has he used that so wonderfully as in Bobcat Goldthwait's blistering satire, which unfolds almost like a humorous "We Need to Talk About Kevin."
Williams plays Lance, a high school poetry instructor with a drawer full of unpublished manuscripts in "World's Greatest Dad." Kyle (Daryl Sabara), his son, is the most despicable child this sad sack has ever had. When Kyle is killed in a terrible accident, Lance makes a phony notebook to give his kid some dignity in his final moments.
The phony journal turns the extremely disliked youngster into a martyr, and his father finds himself now the center of attention, winning points with his lover Claire (Alexie Gilmore), an art teacher.
The movie takes an unsettling look at our propensity to mythologize the deceased, no matter how nasty they were while they were still living. It could have all gotten too difficult to witness if it weren't for Williams' outstanding performance.
5. Good Morning Vietnam
Directed By: Barry Levinson
Cast: Robin Williams, Forest Whitaker, Bruno Kirby
IMDb Rating: 7.3/10
Rotten Tomatoes Rating: 91%
Platforms Available: Prime Video
Williams' dynamic lead performance in Barry Levinson's comedy-drama earned him his first Oscar nomination. "Good Morning, Vietnam" makes the most of all of the actor's strengths — his command of mimicry, his inexhaustible improvisational vitality, and his deep empathy — to produce a tour-de-force display for him.
During the Vietnam War, he portrays Adrian Cronauer, a rambunctious DJ assigned to US Armed Forces Radio. Cronauer wields humor as a weapon, riffing for hours on end in front of the microphone for the entertainment of American troops fighting in battle. But as the realities of war strike him, his armor of perceiving it all as a joke begins to deteriorate.
Williams is brilliant in part in Good Morning Vietnam, which Roger Ebert described as "far and away the best job [he] ever has done in a film." That's because "his own techniques have been used against him," he explained. It's a wonderfully candid performance from an actor who frequently used his own humorous ability as a shield. In conjunction with the Oscar nomination, Williams won a Golden Globe and contended for the role at the BAFTAs.
4. Insomnia
Directed By: Christopher Nolan
Cast: Al Pacino, Robin Williams, Martin Donovan
IMDb Rating: 7.2/10
Rotten Tomatoes Rating: 92%
Platforms Available: HBO Max
Who would have guessed that Williams, an artist who emanates warmth and goodness from every fiber of his being, could play a crazed killer? Christopher Nolan, fortunately for us, understood that potential and utilized it to a powerful advantage in this tense thriller.
Christopher Nolan's Insomnia is an adaptation of the 1997 Norwegian movie of a similar name. It stars Al Pacino as Will Dormer, an L.a. homicide investigator who is investigating a murder in an Alaska fishing community in which the light never sets. He inadvertently shoots and murders his buddy (Martin Donovan), who was scheduled to witness against him, while concerned with an Internal Affairs inquiry and a lack of sleep. The murderer approaches him, mystery author Walter Finch (Williams), who uses Will's crime to gain publicity.
Williams and Pacino are compelling as characters who have violated their morality in identical ways, with one finally making peace with his wickedness and the other still struggling to do the right thing. Their sequences are intense, with Williams playing with Pacino like a cat with a mouse caught in its claws. Williams was famous for making us laugh, but he could also make us tremble.
3. Aladdin
Directed By: Ron Clements, John Musker
Cast: Robin Williams, Scott Weinger
IMDb Rating: 8/10
Rotten Tomatoes Rating: 95%
Platforms Available: Disney +
Though not the best voice-over delivery in history, Williams' amazing portrayal of the genie in "Aladdin" established the standard for all future superstar castings in animated features. Without him, you can't conceive Eddie Murphy playing "Shrek," Ellen DeGeneres in "Finding Nemo," Tom Hanks throughout "Toy Story," or any number of other wonderful animated performances. His performance in the role had such an impact that he received an honorable Golden Globe award.
Every '90s kid remembers the plot of this Disney classic: a street kid nicknamed Aladdin falls in love with a gorgeous princess Jasmine and seeks to win her heart via the use of a magical lamp and a genie who gives him three wishes.
Williams lends his frantic energy to the character, bringing the improvised riffs of his stand-up performance to the rigorously structured world of cartoons. It's a stunning true masterpiece that has introduced Williams to a whole new audience.
2. Jumanji (1995)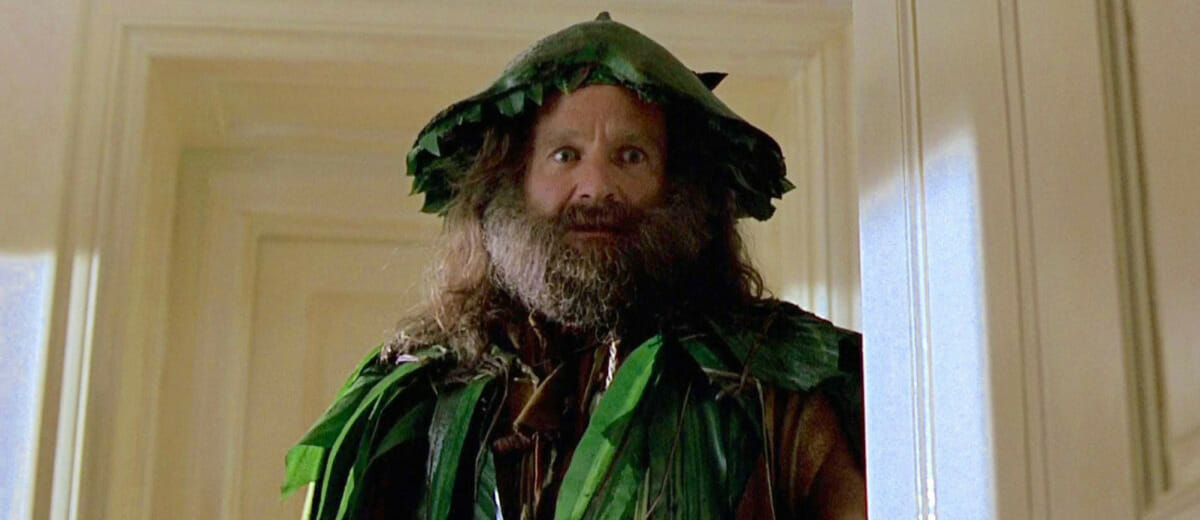 Directed By: Joe Johnston
Cast: Robin Williams, Kirsten Dust, Bonnie Hunt
IMDb Rating: 7/10
Rotten Tomatoes Rating: 55%
Platforms Available: Netflix
Although Dwayne Johnson's "Jumanji: Welcome to the Jungle" (2017) proved to be the bigger smash, Williams' original prepared the way. Williams portrays Alan in Joe Johnston's film, who was lured into the game called Jumanji as a child and returns as an adult 26 years later. Despite not being a critical success, Williams earned positive reviews, and the picture has become a favorite among family audiences, according to anecdotal evidence.
1. Good Will Hunting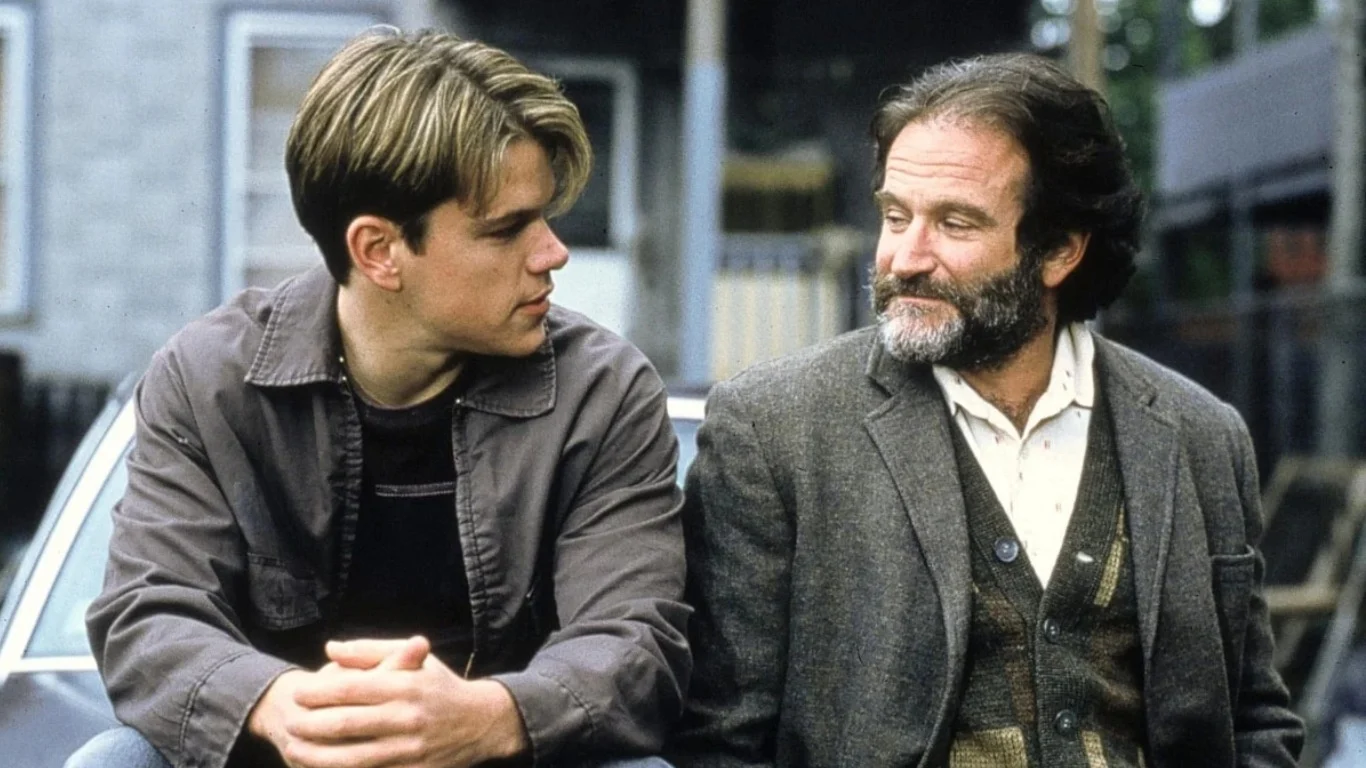 Directed By: Gus Van Sant
Cast: Robin Williams, Matt Damon, Ben Affleck
IMDb Rating: 8.3/10
Rotten Tomatoes Rating: 98%
Platforms Available: Prime Video
It's difficult to pick only one of Williams' performances as his best because he succeeded at many different topics.
If it isn't his best performance, "Good Will Hunting" captures much of what makes Williams a special entertainer: his warmth, wit, and empathy. It's an outstanding supporting performance in Gus Van Sant's uplifting movie around an MIT janitor (Matt Damon) who is a secret math genius. Dr. Sean Maguire, the school's psychologist, is played by Williams, and he helps him discover his maximum potential before he tosses it all away.
The film created stars Damon & Ben Affleck, who won the Oscar for their original script, but it's Williams who wrenches our hearts as a guy who faces his own issues while caring for a patient. It's no surprise that the part earned him a long-overdue Academy Award nomination for Best Supporting Actor.