Romance is everywhere, and whether you are looking for a tear-jerker, a feel-good movies, or an all-around wholesome tale, Netflix has the right pick for you. Romantic movies are a great option for date night or even if you are single and on the lookout for love, here is the list of 20 Best romantic movies on Netflix Australia.
So regardless of who you are watching with, grab some great snacks curl up in your bed, and choose one of the movies from the below compilation list of romantic movies that will make you believe in love and its overwhelming power.
20. Love, Guaranteed
Director: Mark Steven Johnson
Writer: Elizabeth Hackett, Hilary Galanoy
Cast: Rachael Leigh Cook, Damon Wayans Jr., Caitlin Howden, Jed Rees, Lisa Durupt
IMDb Rating: 5.6/10
Rotten Tomatoes: 56%
Where to watch: Netflix
A pro bono lawyer Susan investigates a popular dating site, "love guaranteed". Her client Nick has been on 986 dates with no luck in finding his love. They both decided to meet the founder of the site, Tamara Taylor who offers money to settle this case outside the court; they rejected the offer.
As Susan and Nick develop feelings for each other, she feels that this might go against their court case; starts maintaining distance from Nick. Susan wins the case by presenting Nick's ex-fiancee before the defense.
Finally, Nick confesses in the courtroom that he has fallen in love with Susan, withdrawing the lawsuit. And it's a happy ending for them and the viewers.
19. The Half Of It
Director:

Alice Wu

Writer:

Alice Wu

Cast: Leah Lewis, Daniel Diemer, Alexxis Lemire, Enrique Murciano, Wolfgang Novogratz, Catherine Curtin
IMDb Rating: 6.9/10
Rotten Tomatoes: 97%
Where to watch: Netflix
This coming-of-age film explores friendship, love, and sexuality while depicting a unique love story between a high-school introverted girl who writes ghost-writes love letters for cash and one of the girls a boy is paying her to write for.
The half of it revolves around the life of Elli Chu. She is an introvert student with no friends; lives with her father to help him and performs his duties. To earn extra income, she writes homework papers for her classmates.
Paul Munsky approaches her, asking her to write a love letter to Aster Flores, his crush. She refuses. But later realizes that she has to pay the bills and accepts the offer. Elli communicates with Aster pretending to be Paul.
The twist comes when Elli starts developing a romantic feeling for Aster. Also, Aster comes to know the truth behind the love letters and texts. She snaps at Paul and leaves. While Ellie was leaving the town, Aster tell her that she might have had feelings for Elli; she will see Elli in a couple of years.
18. Hitch
Director: Andy Tennant
Writer: Kevin Bisch
Cast: Will Smith, Eva Mendes, Kevin James, Amber Valletta, Michael Rapaport
IMDb Rating: 6.6/10
Rotten Tomatoes: 69%
Where to watch: Netflix
Alex 'Hitch' Hitchens calls himself a "date doctor" and makes a living by teaching men how to woo and date the women of their desire. But when he meets a woman who does not easily fall for his tricks, he finds himself confused but falling for her.
His present client Albert Brennaman, a nerdy accountant wants Alex's help to reach out to Allegra Cole, a wealthy and beautiful girl. At the same time, Alex is struggling with his issue. He has a crush on a gossip columnist, Sara, who has to publish about Allegra.
This man who is an advisor for other people who are in search of love now needs his service. Will Alex be successful in winning Sara's heart? Watch Hitch to find out what happened to Alex and Sara.
17. P.S. I Love You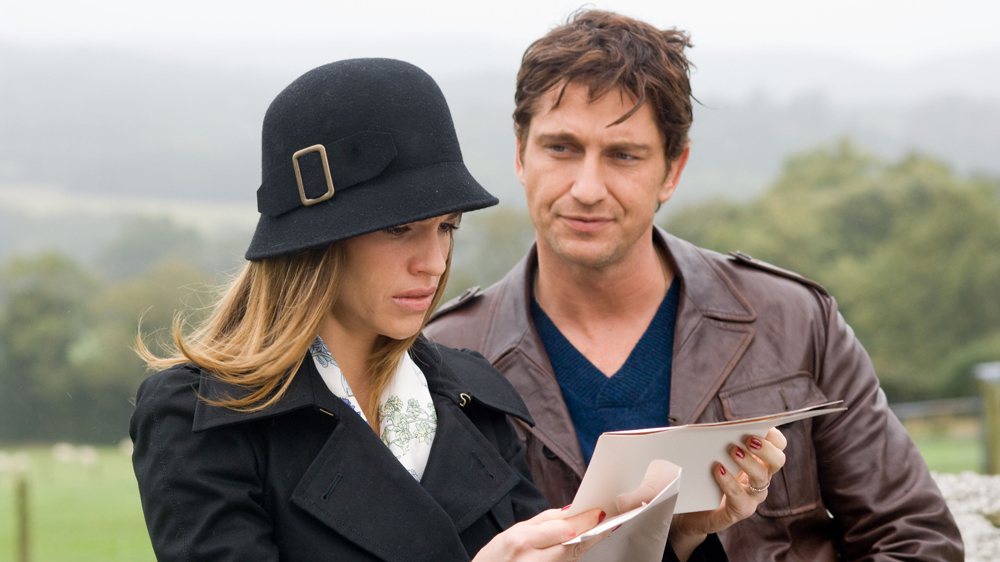 Director: Richard LaGravenese
Writer: Richard LaGravenese
Cast: Hilary Swank, Gerard Butler, Lisa Kudrow
IMDb Rating: 7/10
Rotten Tomatoes: 25%
Where to watch: Netflix, Amazon Prime Videos
As a woman loses her husband to a fatal illness, her journey to move on is aided by letters she receives from him now and then to help her move on. It is an ode to how even when people die, love does not.
Holly Kennedy, a beautiful and smart woman is married to the love of her life. She is living the life of her dreams when Gary, her husband dies of illness. One of the best and most classic love stories available on Netflix Australia.
There are a series of letters that Gary wrote which are delivered to Holly at certain points of her life. These letters become a source for her to move ahead in life and choose the best for herself. Each letter ends with the same sentence, "P.S. I Love You".
16. Silver Linings Playbook
Director: David O. Russell
Writer: David O. Russell
Cast: Bradley Cooper, Jennifer Lawrence, Robert De Niro, Jacki Weaver, Anupam Kher, Chris Tucker
IMDb Rating: 7.7/10
Rotten Tomatoes: 92%
Where to watch: Netflix
Silver Linings Playbook is an American e of the rom-com and one of the top romance movies on Netflix Australia. Based on Matthew Quick's novel of the same name, this movie revolves around Pat, a man with bipolar disorder.
There is nothing more for Pat to lose. After returning from the mental hospital, he tries to get back on track. He meets a strange girl Tiffany who is struggling with her own problems.
When Pat (Bradley Cooper) meets Tiffany (Jennifer Lawrence), he takes her up on the offer to help him reconnect with his wife, in exchange for which he will do something very important for her- dance for a competition with her.
15. Set It Up
Director: Claire Scanlon
Writer: Katie Silberman
Cast: Zoey Deutch, Glen Powell, Taye Diggs, Lucy Liu
IMDb Rating: 6.5/10
Rotten Tomatoes: 92%
Where to watch: Netflix
When two overworked and underpaid assistants connect and talk about their respective bosses, they decide that setting them up might be the best way to catch a break. What ensues is a "meant to be" love story.by
Harper Moore is the assistant to Kirsten Stevens and Charlie Young is the assistant to Rick Otis. One day they meet accidentally while buying dinner for their bosses. Harper, having no cash to buy the dinner, borrows one meal box from Charlie.
The other day when they meet, there is a casual discussion between them about the personal lives of their bosses. Harper says that both their bosses should start dating. Charlie supports this saying that if they start dating, they will get less time for work.
14. The Wedding Planner
Director: Adam Shankman
Writer: Michael Ellis, Pamela Falk
Cast: Jennifer Lopez, Matthew McConaughey, Bridgette Wilson-Sampras, Justin Chambers, Alex Rocco
IMDb Rating: 5.3/10
Rotten Tomatoes: 17%
Where to watch: Netflix
Mary is doing her dream job as a wedding planner. She's passionate, ambitious, and knows what to do to make her work stand out. Her life takes an interesting turn when she falls in love with a handsome doctor.
The handsome doctor happens to be the groom of one of the biggest wedding events of her career. Will Mary confess her feelings to the groom or walk him down the aisle and let him marry his popular girlfriend?
When the man of her dreams turns out to be her richest client's fiancé, Mary Fiore (Jennifer Lopez) must nip her feelings in the bud and get to work. But what is love if it can be controlled so easily?
13. The Prom
Director: Ryan Murphy
Writer: Bob Martin, Chad Beguelin
Cast: Meryl Streep, James Corden, Nicole Kidman, Keegan-Michael Key, Andrew Rannells, Jo Ellen Pellman, Ariana DeBose
IMDb Rating: 5.9/10
Rotten Tomatoes: 54%
Where to watch: Netflix
When a high schooler is denied the opportunity to take her girlfriend to the prom in her conservative town, a group of oppressed Broadway actors who are losing their fame take this as an opportunity to rise again. In the story of love overcoming intolerance and differences, music makes everything better.
12. Always Be My Maybe
Director: Nahnatchka Khan
Writer: Randall Park, Ali Wong, Michael Golamco
Cast: Ali Wong, Randall Park, James Saito, Michelle Buteau, Vivian Bang, Daniel Dae Kim
IMDb Rating: 6.8/10
Rotten Tomatoes: 90%
Where to watch: Netflix
This story of childhood friends who reconnect long after their fallout proves that love never dies only takes a backseat. Despite their very different places in life, the two find themselves falling for each other just like they once did 15 years ago.
Sasha, a celebrity chef returns to San Francisco after 15 years and is now running her restaurant. She bumps into her childhood friend who is now a musician and works for his dad. Will they be able to connect again? Will there be a new love story? One of the best romantic movies on Netflix in Australia. Stream to find out how far this story goes.
11. Someone Great
Director: Jennifer Kaytin Robinson
Writer: Jennifer Kaytin Robinson
Cast: Gina Rodriguez, Brittany Snow, DeWanda Wise, Lakeith Stanfield, Peter Vack
IMDb Rating: 6.1/10
Rotten Tomatoes: 83%
Where to watch: Netflix
A romantic comedy created by Director/writer Jennifer Kaytin, Someone Great is about a young woman, Jenny who is working at a famous magazine and is all ready for a change of place. But her boyfriend, instead of doing long-distance, dumps her.
When Jenny (Gina Rodriguez), a music journalist, is dumped by her long-term boyfriend, she decides to move to San Francisco. As her one last outrageous adventure, her two best friends and her go to New York, where there might be more than what meets the eye.
10. Holidate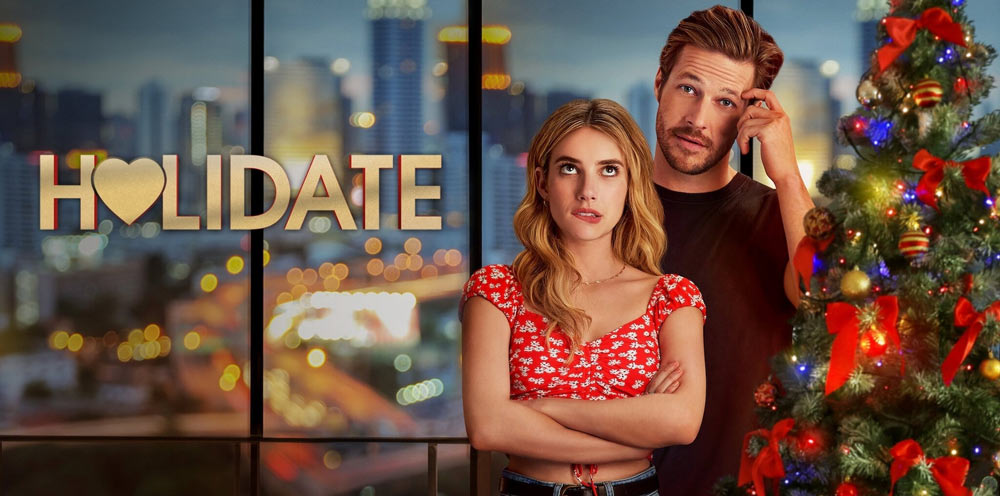 Director: John Whitesell
Writer: Tiffany Paulsen
Cast: Emma Roberts, Luke Bracey
IMDb Rating: 6.1/10
Rotten Tomatoes: 43%
Where to watch: Netflix
Two strangers, Sloane and Jackson meet accidentally at the gift exchange counter. Sloane starts talking about aunt Susan which gives Jackson an idea. He offers Sloane to become each other's "Holidate". This way Sloane can avoid her family's embarrassments and Jackson can avoid attachments.
With no one to take home every year, the two agree to be each other's dates for every upcoming holiday. They spend New Year's Eve together. The only complication is, that they begin to fall for each other.
9. About Time
Director: Richard Curtis
Writer: Richard Curtis
Cast: Domhnall Gleeson, Rachel McAdams, Bill Nighy, Tom Hollander
IMDb Rating: 7.8/10
Rotten Tomatoes: 70%
Where to watch: Netflix
About Time is a British science-fiction movie with a rom-com element in it. This 2013 release is about a man having the ability to time travel. He uses this supernatural power to look back into his past and improve his future.
When a man with the ability to time travel decides to pursue his romantic interest and the woman of his dreams, nothing can come in his way, not even time itself. On the way, love teaches him more lessons than he thought it could, about himself and the world.
A romantic comedy movie about a couple with an incredible plot and theme that will make the audience go woo!
8. 50 First Dates
Director: Peter Segal
Writer: George Wing
Cast: Adam Sandler, Drew Barrymore, Rob Schneider, Sean Astin, Blake Clark, Dan Aykroyd
IMDb Rating: 6.8/10
Rotten Tomatoes: 45%
Where to watch: Netflix
50 first dates, released in 2004 is an American rom-com and one of the best romantic movies on Netflix. It is a story of Henry, a playboy who finally decides that he should settle down; falling in love with an art teacher, Lucy.
When Henry (Adam Sandler) finally finds himself the woman of her dreams, he discovers that to keep her, he must win her over every day. Since Lucy (Drew Barrymore) suffers from short-term memory loss, she can never remember meeting him but falls for him each time she does.
7. My Week With Marilyn
Director: Simon Curtis
Writer: Adrian Hodges
Cast: Michelle Williams, Kenneth Branagh, Eddie Redmayne, Dominic Cooper, Julia Ormond
IMDb Rating: 6.9/10
Rotten Tomatoes: 84%
Where to watch: Netflix
Colin (Eddie Redmayne) is an aspiring director who is on the set of a film starring Marilyn Monroe (Michelle Williams). The bond he forms with her over the duration of the shoot will change how he views love and partnership forever.
6. To All the Boys I've Loved Before
Director: Susan Johnson
Writer: Sofia Alvarez
Cast: Lana Condor, Noah Centineo, Janel Parrish, Anna Cathcart, Andrew Bachelor
IMDb Rating: 7/10
Rotten Tomatoes: 96%
Where to watch: Netflix
To all the boys I've ever loved is one of the best movies on Netflix you will find if you are in search of some romantic elements. Lara Jean, as a teenager, wrote love letters to the boys she has ever loved, secretly.
Her life turns upside down when her little sister, Kitty posts all the letters to the respective boys. Lara jean kisses one of her crush, Peter when she saw Josh approaching her. Peter and Lara Jean make a deal to fake a relationship to make Gen, Peter's ex-girlfriend jealous.
When love letters are never meant to see the light of day reach the addressees, Lara Jean (Lana Condor) is left to pick up the pieces and patch up the past coming back to her. In this whirlwind of old and new love, there are three movies that will back to high-school romance and its innocence.
5. Eat Pray Love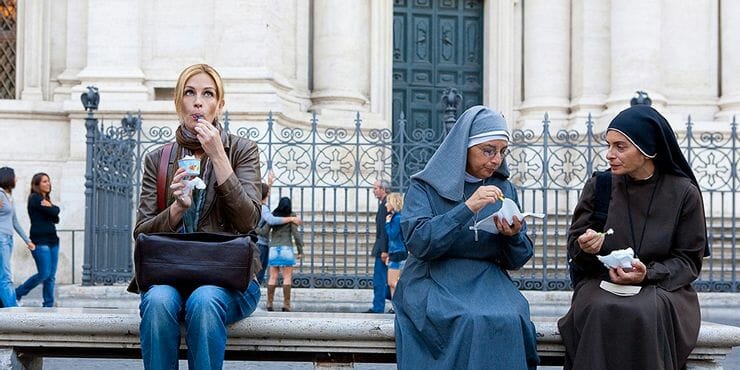 Director: Ryan Murphy
Writer: Ryan Murphy
Cast: Julia Roberts, James Franco, Richard Jenkins, Viola Davis, Billy Crudup
IMDb Rating: 5.8/10
Rotten Tomatoes: 36%
Where to watch: Netflix
As the name suggests, Eat Pray Love is an aesthetically framed movie about a divorcee, Liz Gilbert. Liz owns everything that a modern woman wants. But unhappy with her marriage and confused with her life, she sets off on a journey.
During her entire journey, she visits places trying to get out of her comfort zone. She finds the nourishment of eating good food in Italy; the power of prayers in India; And the balance of true love in Indonesia.
4. The Tourist
Director: Florian Henckel von Donnersmarck
Writer: Florian Henckel von Donnersmarck
Cast: Angelina Jolie, Johnny Depp, Paul Bettany, Timothy Dalton, Steven Berkoff
IMDb Rating: 6/10
Rotten Tomatoes: 20%
Where to watch: Netflix
The Tourist is about a man named Frank Tupelo, a mathematics teacher, visiting Europe to deal with a heartbreak. Elise Clifton-Ward, a British woman is being followed by the French police. Alexander Pearce is Elise's lover and the most wanted fraudster; He is believed to have done plastic surgery.
Reginald Shaw is also in search of Pearce; sends a letter to Elise to choose a man from Italy and make the police believe that he is her lover. She selects Frank; lures him and lets the Russians believe that Frank is the one they want.
The story is a mix of romance and sex scenes, making it a total adult watch. Watch the movie to know if Frank will be able to get out of this trap.
3. Marriage Story
Director:

Noah Baumbach

Writer:

Noah Baumbach

Cast: Scarlett Johansson, Adam Driver, Laura Dern, Alan Alda, Ray Liotta
IMDb Rating: 7.9/10
Rotten Tomatoes: 94%
Where to watch: Netflix
The story is about theatre director Charlie and his wife, Nicole, a movie actress, The plot shows the breaking up of a marriage. Even after a number of marital meditation sessions, things do not turn out to be good between the two.
Knowing how bad divorce can be, they decide to work on their relationship; for the sake of their son. The marriage story isn't just a normal story of a marriage ending up in divorce. But it shows how difficult it can be to end a relationship.
The involvement of lawyers in the whole cased makes the situation worse. A true classic in all senses which will make you feel the worth of every relationship you have.
2. Friends With Benefits
Director: Will Gluck
Writer: Will Gluck, Keith Merryman, David A. Newman
Cast: Justin Timberlake, Mila Kunis, Patricia Clarkson, Jenna Elfman, Bryan Greenberg
IMDb Rating: 6.6/10
Rotten Tomatoes: 68%
Where to watch: Netflix
Jamie Rellis, a recruiter who is New York-based, wants to hire Dylan Harpe, a Los Angeles-based art director. Two of them become friends after knowing that they share so much in common. Soon they decide to take their friendship to the next level.
But wait! what's the catch here? Both of them decided to not attach emotionally. They decided to remain in friends with benefits relationship. With sex involved in any friendship, comes complications.
They are seen trying hard to not fall in love with each other but destiny had other plans. Stream Friends With Benefits to know about the complicated friendship between Jamie and Dylan.
1. The Guernsey Literary and Potato Peel Pie Society
Director: Mike Newell
Writer: Kevin Hood, Don Roos, Tom Bezucha
Cast: Paula Mazur, Mitchell Kaplan, Graham Broadbent, Peter Czernin
IMDb Rating: 7.3/10
Rotten Tomatoes: 81%
Where to watch: Netflix
Juliet Ashton, a writer by profession starts exchanging letters with a resident of Guernsey Society. She decides to visit Guernsey and conduct a research on the people about the experiences of Nazi-occupied Guernsey.
She meets the local people of the island and finds her life-long friend in them. This is one of the historic romantic movies on Netflix.
Romantic movies, taken well and executed to perfection, are commendable works of art. Regardless of your day, it will uplift your spirits. It can cheer you up after a bad day and make a good day even better. Love knows no boundaries, and even if you are crying with a tub full of ice cream over the boy that ghosted you. However, romantic movies will make you smile, laugh, and cheer for the couple on screen that are killing it.