Tattoos are often misrepresented because sometimes we cannot read the deep meaning behind the tattoo or the ambiguity in the appearance. However, Storage Stars lead Brandi Passante didn't let anyone misrepresent her or her tattoo and very well explained the deep meaning behind it.
Brandi Passante is in the news for her new tattoo on her finger, viral because of its simplicity and elegance. The Tattoo was designed in such a way that it was reflected as a "Free Bird" concept, but Brandi Passante rectified everyone by conveying the actual meaning of the Tattoo. The Tattoo is of one Word called "Free," and from the last letter, there arises a bird flying high. To which netizens referred to as Free Bird, but its actual interpretation is something way different.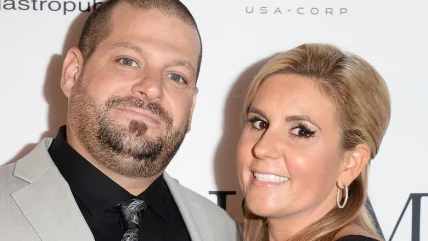 Brandi Passante said that the Tattoo signifies her battle won against Domestic Violence and leading a Free, Non-violent Life. The statement referred to Brandi's relationship with her long-term co-star Jarrod Schultz who shared the same stage in the show Storage Stars. They were in a relationship since 2010 until Brandi Passante told the media about their breakup on the premiere night of Season 12.
Reportedly, they separated prior two years ago from the revelation and still maintained the chemistry as a happy couple throughout the Show. Many Storage Wars Fanatics blundered them by considering them both as Married Couples even if they never tied a knot.
Things got worse between them after Brandi Passante filed a Domestic Violence Case Against Jarrod Schultz. The Incident took place in front of Orange County Bar, where Passante and her friends were enjoying, and Schultz arrived and created a nuisance and turmoil. He started howling in his highest voice on Passante, allegedly shoving her. Eventually, Brandi Passante called Police, and an immediate arrest took place.
However, Schultz defyingly denied the allegations and pleaded guilty upon asking the court to dismiss the case and acquit him.
Brandi Passante being a strong woman, came out of Domestic Violence and considered celebrating National Domestic Violence Day in October to reciprocate the actual meaning behind her tattoo. Many Fans mistook the tattoo for Lynyrd Skynyrd's popular single "Freebird," released in 1977.
However, Brandi said that her tattoo interprets her as a free soul who defeated Domestic Violence and got rid of a Toxic Relationship with her Storage Stars Co-star. She felt extremely happy for destroying her inner fear, which didn't let her embrace life and be forever grateful.