Julia Ducournau has directed and penned yet another project by the name Titane. The film made its first appearance on July 13, 2021, at Cannes Film Festival and had Agathe Rousselle in the lead role who essayed the character of Alexia, who has a titanium-plated fitted in her head after surviving a fatal accident in childhood.
The director Julia Ducournau also won the Palme d'Or during the Cannes, thus making her the 2nd director (female) to win the top award of the festival. Let's see what Titane is all about.
Who are All Seen in Titane?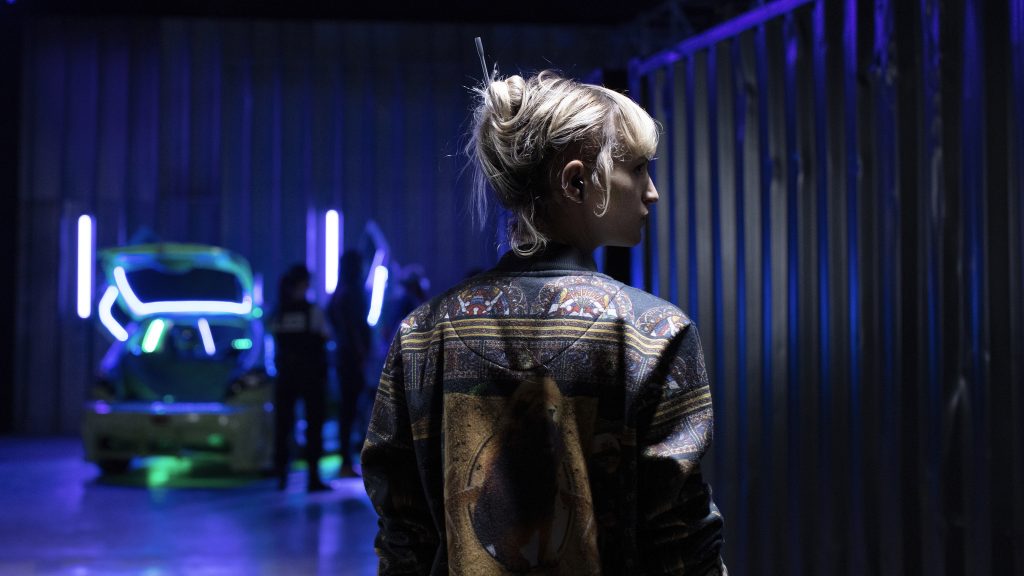 Agathe Rousselle essaying the role of Alexia
Laïs Salameh essaying the role of Rayane
Garance Marillier essaying the role of Justine
Vincent Lindon essaying the role of Vincent
Bertrand Bonello essaying the role of Alexia's father
Céline Carrère essaying the role of Alexia's mother
Thibault Cathalifaud essaying the role of Alexia's fan
Adèle Guigue essaying the role of young Alexia among others.
What is the Storyline of Titane?
After surviving a fatal car accident as a child, Alexia gets a titanium plate fitted in her head. As she grows up, she turns into a sexy model who appears in the motor shows. One night on forcibly being kissed by one of her fans who followed her, she murders him. It later comes out that she is a serial killer who had killed a lot of individuals in the past months. Her parents, whom she lives with, seem to be unaware of her doings and know nothing about her connection with the crimes.
Sometime soon, Alexia learns about her pregnancy and uses her hairpin to abort the child but terribly fails. She is then seen at a party where she kills Justine, her co-worker at the motor show, and various other guests. Later she sets her home on fire, locking her parents inside. Knowing that she is now on the search radar of cops, she conceals her identity and turns into a boy named Adrien, who supposedly went missing ten years ago. Vincent, Adrien's dad, then misunderstands Alexia to be his son and refuses to go for DNA analysis.
By profession, Vincent was fire Captain, where he took his son Adrien and introduced him to his co-workers. He makes sure no one talks anything about his son as he fully believes him to be his son. Highly disturbed by Vincent's over possessiveness, Alexia tries to run away but decides to stay after looking at his condition after overdosing on steroids.
One day after coming to know about her gender, Vincent is taken aback but promises to look after her. He helps Alexia give birth but loses her in the process. Saddened by the loss, Vincent decides to look after the baby, who is seen to have a spine made of titanium.
What do Fans have to Say About Titane?
Julia Ducournau, who is the maker of the movie Raw, fails to add an emotional plot to her recent project Titane. Although her former work did a commendable job by nicely portraying the protagonist's feelings, she fails to do so in Titane. The lead, Alexia, is seen battling her own unanswered thoughts as her character lacks proper development.
Receiving 85% Rotten Tomatoes ratings, 7/10 IMDb score, and 74% Metacritic scoring, the movie somehow fails to tell the viewers what the protagonist's intentions are. However, Rousselle does the commendable job of essaying Alexia as well as Adrien onscreen. This movie can be a decent watch for the lovers of the body horror genre, trying to convince the audience what love can also mean.