The popular Netflix series, Altered Carbon, is coming back with the second season, and this time, it is said to elevate with developments in cast and plot.
Altered Carbon is a 23rd-century cyberpunk based on a novel with the same title written by Richard Morgan. This television web series is packed with the futuristic plot in which we see how digitalized consciousness and humans' souls and minds can be transferred or 're-sleeved' into an artificial body after physical death. So the plot revolves around the humans reaching the level of immortality and the thrill that follows.
The first season aired in February 2018, and it has already been a long time. The shooting for the second season started in February 2019, and it got wrapped up in June. Now Netflix has finally announced its comeback, and we can watch this show finally after two years, in February 2020.
We can safely expect some changes with the show's cast. In the first season's end, we saw that Kovacs gave back the Joel Kinnaman-looking 'sleeve' and left in search of his lost love Falconer as we have also seen that in this twisty sci-fi, human minds keep uploading in sleeves of different ages, genders, or races, which leaves room for re-casting to happen in the show. Thus, Anthony Mackie will replace Joel Kinnaman for the role of Takeshi Kovacs in season two. The second will also introduce some new faces, including Simone Missick, Torben Liebrecht, Dina Shihabi, and possibly more.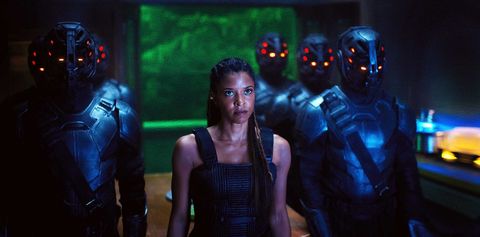 There hasn't been much disclosure about the plot of the second season. Still, we are guessing that the story will probably follow the havocs looking for his love Falconer and this season will not be as excellent the adaptation of the novel as the first one. There are some expectations about this season adapting Richard K. Morgan's second book Broken Angels, which is, basically, thirty years ahead of the first book, and it also involves another planet and uplifted mishaps.
That's all so far. The author has stated that there is a scope for this series containing five-season if the show runs well. But for now, we are only aiming to watch more misadventures of Kavos.