Amanda Holden, the famous actress and media personality, is known for her versatility in the British entertainment industry. She has also been there as a judge on Britain's got talent and is quite vocal on social media with her pursuits. With about 1.7 million followers on Instagram, she is indeed one of the most liked personalities on the internet. She often posts pictures of herself, flaunting her body figure.
On Wednesday, she posted an Instagram story highlighting chill vibes while posing alongside the pool in a black swimsuit and getting preparing for an all-over tan. She didn't fail in flaunting her proportionately beautiful frame as she sunbathed in the resort during her luxury holiday in Corfu, Greece. She captioned the photograph 'Another tough day' while making the most out of the sunshine break. Britain's Got Talent judge also shared a snap of herself water-skiing with a life-jacket on.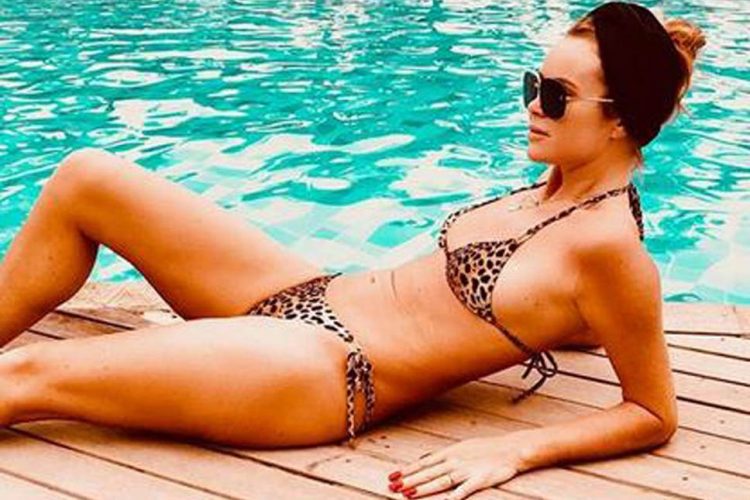 On Monday, she had shared another make-up free selfie dressed in a bikini on Instagram as she continued her stay in Greece. The radio host put a '#chill' thread on her post as she posed beautifully, revealing her near-to-perfect physique in a pink bikini while taking a dip in the pool. Another post of hers drove her followers all haywire as she posed featuring a stylish floral print pattern swimwear.
She appeared stunning in the snap, where she posed with a cheeky smirk while her hand was raised and resting on rocks. Amanda also came out clear on Instagram, proudly sharing a beautiful photograph showing three generations of females in her family from her Greek holiday.
The glam in her photograph was simply undeniable as she posed exquisitely in a sunny location with her mother, who's currently 71, and her two daughters, Lexi and Hollie, who're 15 and nine, respectively. The BGT judge stood in the center dressed in pink while her mother stood on her right. Lexi stood on the left, and Hollie could be seen in front of them.
All four of them stood in a beautiful scenic landscape there, which complimented their wholesome smiles. She simply captioned the snap: 'Family'. The social media and television sensation never fails in keeping her followers up to date with all her endeavors, particularly when they involve going on staycations and trips. Her steamy posts from Greece got the pulses of her followers racing. They flooded the comment sections with loads of love and admiration.
She undoubtedly seemed sensational in her stunning white dress as she posed perched on the comfortable rear end while heading for dinner. She captioned her photo with the hashtags' taxi', 'family', and 'dinner'. She paired up her placid white dress with a classy pair of sunglasses, and her hair left out open, swaying with the wind.