With podcasts mostly being informative or fun, who expects them to be scary? Well, one of such podcasts is Archive 81 which has been haunting its listeners for the past few years. Since Rebecca Sonnenshine thought that the podcast wasn't enough. She went ahead and created a Netflix adaptation to keep its viewers up all night. With the horrifying series which created such hype, the viewers are expecting a season 2 to come out soon. But is the horror podcast going to get its season 2? Or are they just speculating for it to be dropped?
Facts or Speculations? 
No one expected the science-fiction series to have such a huge and outstanding response when it was dropped early this January 14thon Netflix. The fans had speculated for the second season to be out in March, but that's really not going to happen. As we saw from other previous hit shows it usually takes them a year to drop out after Netflix confirms their renewal with them.
As of now, there is no news of Netflix confirming their renewal with the show for a second season. It's totally nothing to be concerned about as the show has already had such a good response in terms of views. So, we can confirm that somewhere in the near future there will be a renewal of the contract. We could expect to see the new season early next year.
What Will Season 2 Be About? 
If a season 2 does come out, we are surely going to see a role reversal.  Melody has come to the present day and Dan has been sent back years. With the horrific demon still lurking, they now also have to worry about Samuel who is still somewhere close. Since Samuel is a part of the story, there is also a very huge chance that Davenport is going to make its appearance and is going to be a major part of the 2nd season.
With not many questions being answered in the 8 scary episodes of season 1, the viewers are left with many cliff-hangers from the first season but we all know that the tension and suspense will make the new season even better to watch.
What is Season 1 About? 
the series revolves around an archivist who takes up the job of restoring damaged videotapes with not knowing what the future holds for him, he gets pulled into a vortex of mystery. He then uncovers the truth about the missing director and the demonic cult he was looking into.
As he slowly makes progress, he realizes the horrors connected to the family and how he realized he is being watched at every step. With so many things happening in the story, each episode ends with a shocking truth, giving the viewers the excitement to go ahead for watch the next episode even if they are losing their minds.
With the reuniting of Melody and Annabelle, we hear Annabelle say that kaelego is waiting for her in the other world. Annabelle hands over a box of tapes to Dan that jess leaves for him. The tapes show the struggling of Melody while she tries to save jess.
The ritual continues only with a different sacrifice and we see Iris appear and the ritual ends up in flames. Dan then goes ahead to try the ritual along with Mark. But they are interrupted by Bobbi who reveals shocking truths to the viewers. He also sends Dan to the other world.
With Dan being able to meet his family in the other world and save Melody, gets caught up inside with Kaelego chasing him. The most shocking part of the episode is when Dan wakes up in the hospital. But only to realize it is the year 1994.
Cast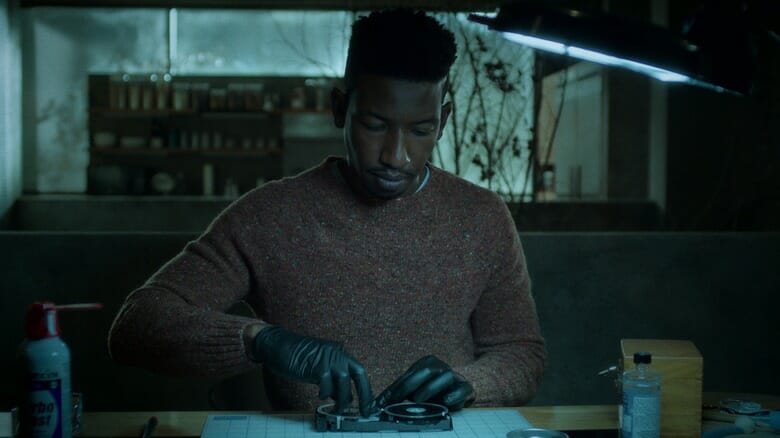 Mamoudou Athie who plays the main character Dan Turner uses his sharp attention to detail and takes the case of the tapes to uncover what befell his family. Dina Shihabi plays Melody Pendraswho is the kind of character to put others in front of herself even if her life is in danger. Samuel Spare is played by Evan Jonigkeit.
His character is that of a mysterious tenet whose dark secrets get revealed later on in the story. Mark Higgins, who is Dan's best friend who helps him with the case is played by Matt McGorry. Virgil Davenport is played by Martin Donovan, he is a wealthy and strong founder of LMG. He is the one who approaches Dan with the tapes and also has many secrets hidden.
Annabelle Cho is Melody's loyal roommate; she gets pulled into danger because of her interests at the Visser. Her character is played by Julia Chan. Jess Lewis played by Ariana Neal, is a teen who runs errands for the people in the Visser. Jess becomes vulnerable to the dangers of the apartment complex as she is very innocent.