Black Monday is a dark comedy TV series. It dates back to 19th October 1987, when the worst stock market fall took place. Though there's no evidence of how to occur, even today. Or who caused it to happen.
Season one showcased Blair Pfaff, an ambitious stockbroker. After a series of preposterous events, he winds up working for Maurice Monroe, an established stockbroker.
Blair undergoes several pressures but is determined to prove that he can withstand every challenge and obstacle because he thinks he's made for that environment. And at the same time, he tries to maintain his engaged life too. Monroe thinks of using Blair to fulfill his needs and buying Blair's fiance's company.
Monroe fails to realize the genuine talents of his people. There's a lady named Dawn Darcy who seems to feel this the most, and her husband only wishes for her to have children. Hence it's sad and complex at the same time.
Black Monday Season 4: Renewed Or Cancelled?

Black Monday takes down the masks on the real incidents that actually happened a long time ago. It consists of Monroe and his complete set of outsiders laden in a boys club and super engaged in initiating a state of chaos.
The first season dawned in January 2019. And was open to the critics and the audience, and with that said and done, they've completed three seasons so far. And by now, curiosity is bound to kill the cat as we're expecting season 4 to be here any moment.
Black Monday Season 4: Release Date
With season 3 appearing in May 2021, we're just glad to know that there's season 4, too, though there's no official announcement for it by now. Though low on rating, it has gained a lot of attention because of the political scene involved in it, and with such a good plot, it will give rise to more seasons too.
Following the release pattern of the show, every spring, there's a new season, so we're counting on 2022 to give us some really good news.
Black Monday Season 4: Cast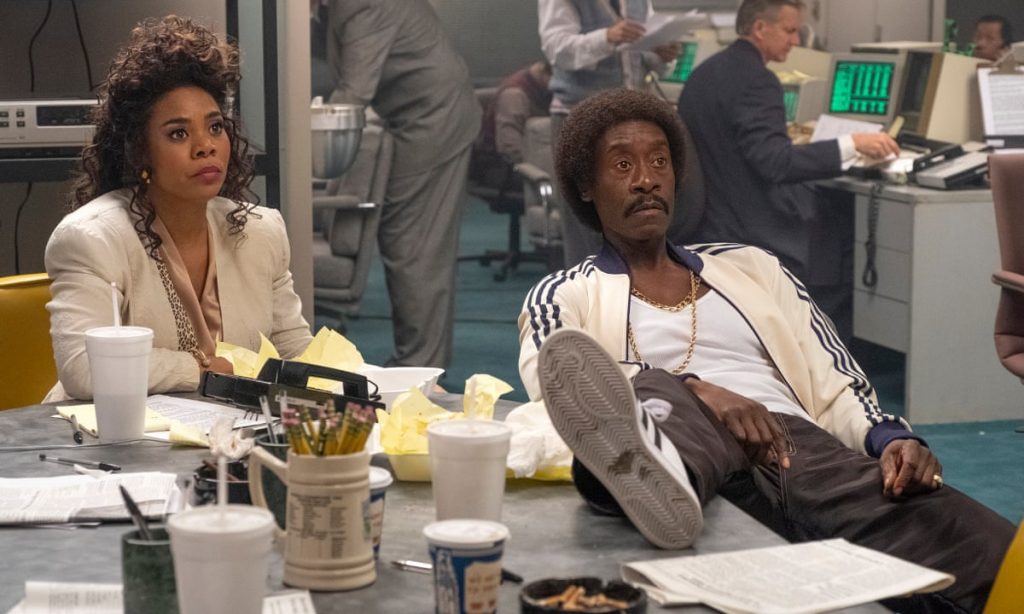 Avenger's very own Don Cheadle will be playing the role of Maurice Monroe, the leader of the group. Andrew Rannells will play Blair Pfaff, the graduate who's been forcing responsibilities on himself just to prove his worth, regardless of whether he can do it or not.
Regina Hall to play Dawn Darcy, yet another individual fighting for her identity to be recognized by her boss who would not take her talents for granted, and she might feel just a little more appreciated at his workplace. Casey Wilson is Blair's fiance and quite a wealthy lady who doesn't lack anything so far.
Other cast members are still within the four walls of the closely-knit surprise box, which is yet to be opened. However, the arrival of certain new faces must not be the talk of the town.
Black Monday Season 4: Plot 
Season 2 ends on a grieving note when Dawn lays down the ultimate sacrifice of his life for black Monday, and Monroe takes up the leadership of the company.
Season 3 revolved around his new life and his new set of enemies all charged up to bring him down.
Here we might see Blair's fiance trying to be on her own without any such support. It would definitely be a tough time for Monroe as Larry, as promised, is all set to bring Monroe and his team down brutally. Though Larry made some mistakes in the past, he acknowledged his mistakes in the past, but his anger is venting out like a storm, and it doesn't look any good.