When it comes to support or honor someone, Ciara is always the first in line. The "Level Up" singer paid tribute to her late husband, Russell Wilson, by wearing his jersey's number at the Met Gala 2021. Besides that, she was also very supportive of her BFF, Vanessa Bryant's daughter, Natalia Bryant, at her first Met Gala debut. The 18-year-old model made her debut on the red carpet on September 13, Monday, and slew her look in the 60s inspired Conner Ives' dress.
Although it was Natalia's first time, she looked absolutely stunning and drop-dead gorgeous in that sequined balloon dress. She paired her look with pink heels, subtle makeup, and a half-open, half-tied hairstyle. All eyes were on Natalia while she walked the red carpet all through the event.
Ciara is Extremely Happy for Natalia Bryant
Speaking about her BFF's daughter's debut, Ciara said she is very happy for Natalia Bryant to have her first Met Gala experience. Although Natalia is quite young, she very well managed to slay her look at the red-carpet event.
The "Level-Up" singer praised her confidence and the way she was carrying herself. Access Hollywood guest correspondent Preston Konrad asked Ciara if she had any advice for all those freshmen at the Met Gala 2021. However, she didn't speak much about everyone, and she very particularly addressed Natalia Bryant.
Besides that, she also said that Natalia is a trailblazer and such a rockstar. "She's got this!" Just like Ciara, Natalia's mother, Vanessa Bryant, is also very proud of her eldest daughter. She is definitely making her mother and her late father very proud.
Check Out Ciara's Look at the Met Gala 2021
The singer paid tribute to her late husband Russel Wilson as he wore his jersey's number in a neon green, football-inspired dress. Besides that, she also carried Wilson's Super Bowl ring and a football-shaped crystalized clutch. We must say, the mother of three was looking extremely gorgeous in the waist-cut neon green dress.
Moreover, she paired the look with a ponytail slicked at the back with two three locks hanging on her face. She wore her husband's Seattle Hawks jersey number 3 in order to pay tribute to him. Moreover, she highlighted her makeup with shades of neon green all over her eyes. Her dress had details on the side, dramatic shoulder pads, a train, and her husband's jersey number at the front.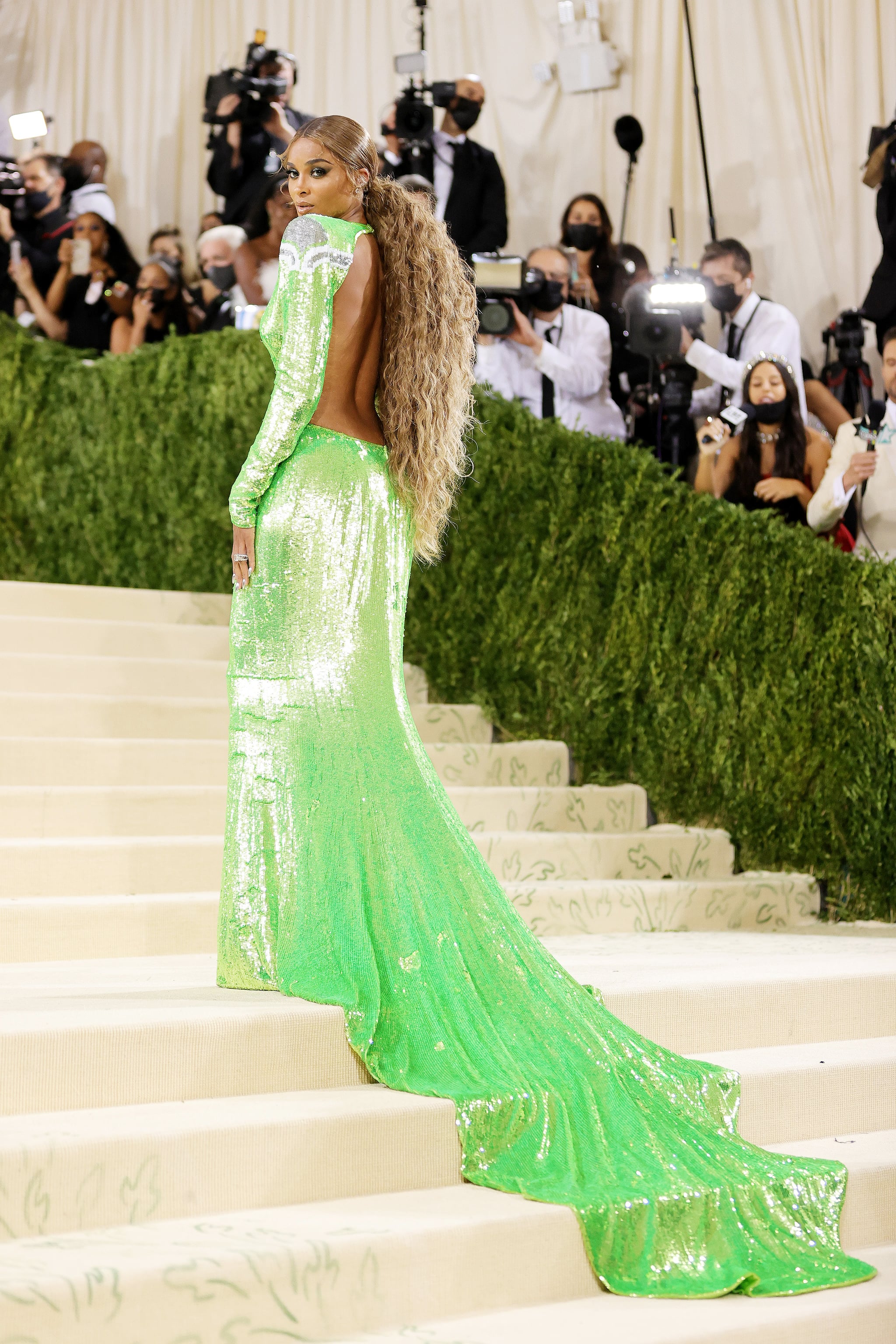 Peter Dundas did a Great Job
Ciara was wearing Peter Dundas's dress to Met Gala 2021. Speaking about him, the singer said that it was her third Met with Peter. Moreover, Peter is such an incredible designer who customized this dress especially for her. Furthermore, she added that fashion is an inevitable part of her now. She looks back at old pictures just to think what she was thinking of at that time. Besides that, she also said that one grows by challenging themselves every now and then.
She hailed the theme, "In America: A Lexicon pf Fashion," as she wore her husband's number jersey-inspired dress along with a football clutch and Super Bowl ring. What is America without football? Henceforth, Ciara made a smart choice.