David Cronenberg, also known as the body horror master made his return after eight years to direct a new movie. He directed his last movie in 2014 "Maps to the Stars" which flopped at the box office and he took a long break before coming back to the direction, his latest movie is Crimes of Future. From all the bits and pieces present online we can safely say that fans will get exactly what they expect from a Cronenberg movie.
The movie will make its appearance sooner than you think and it will be a fun addition to the 2022 releases.
Release Date
Movies will expand in near future but until then they will release on 3rd June in the US. Reports indicate the movie will initially release only in Los Angeles and New York and later on 10th June it will get released in other parts. It is still unclear if the dates will be the same for the markets outside of the US including the UK.
Before it is made open for the spectators, the movie is set up for Cannes Film Festival 2022. This Cannes Film Festival 2022 will be from 17th May to 28th May.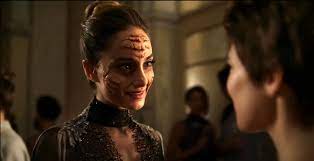 Plot
When we sit for a David Cronenberg movie we already have a good idea of what we are getting ourselves into, a unique interesting movie. Other directors' projects can be iterated as unnatural, weird, visceral, or skin slithering. His latest project will fall nicely right into his library with other projects.
The official synopsis by Neon suggests that adaptations to the synthetic environment by the human species push the body to experience new changes and mutations. Saul Tense a celebrity performer artist along with his partner Caprice shows the metamorphosis of his body organs. A detective investigator, Timlin from National Organ Registry precisely tracks their activities. A shady group comes to light who wants to use Saul's stardom to reveal the next big thing in human evolution to the public.
 Any Trailer?
Yes, several trailers have been released which gave us first looks at various movie characters.
CRIMES OF THE FUTURE – Official Redband Trailer
Cast
Cronenberg has teamed up with his most regular, Viggo Mortensen who is the protagonist. He plays Saul Tenser, he is a performer who shows audiences his metamorphosis skills.
You have seen the pair working together on projects like Eastern Promises, A Dangerous Mind, and, A History of Violence. Mortensen has plays Aragorn in Green Book, Captain Fantastic, and Lord of the Rings. The latter two also earned him Oscar nominations.
Léa Seydoux will play as Caprise. You have seen her before in 2 James Bond instalments No Time to Die and Spectre and other notable performances in 2021's The French Dispatch, The Lobster and Blue is the Warmest Colour which won Cannes.
Kristen Stewart will play Timlin, an investigator. It is her first movie after her Oscar-nominated performance Spencer. She made her Hollywood debut in the famous Twilight Movie franchise. She is also admired for her parts in Still Alice, Personal Shopper.