Dolly Parton's choice to finally post her husband Carl Dean has gone viral on the internet. Fans of the country artist reacted positively to finally seeing the mysterious man's face.
Dolly Shares the Photo of Her Mystery Husband!
Dolly Parton sparked a social media frenzy with her recent tweet, which she dedicated to her lifelong love, Carl Dean, whom she has famously kept private. "Find you a mate like my Carl Dean," the 75-year-old wrote. Dolly uploaded a snapshot of her hubby holding her hand as they both gazed at the camera.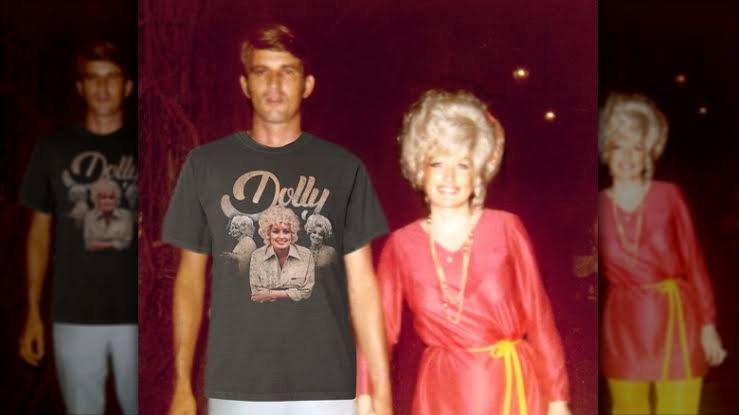 The country music legend superimposed her face onto her husband's T-shirt from her current collection in a funny twist. Dolly's decision to post her husband on her primary account startled and amused the Internet in equal measure. One person remarked, "Dolly Parton doing a spouse reveal after 50+ years is so iconic."
Another user remarked, "Dolly Parton's ultimate launch of her 55-year-old husband is so iconic." While the sweet disclosure enthralled viewers, they were also surprised to learn that Carl is attractive. Another person tweeted, "I'm so glad knowing Dolly Parton had a handsome hubby this whole time."
Dolly Reveals the Face of Her Mystery Husband
Carl Dean and Dolly Dean got married in the year 1966. In the year 2016, the couple renewed their vows to commemorate their 50th wedding anniversary, a move she jokes dubbed her Carl's "second wife." In the year 2020, the activist, actor, and 11-time Grammy winner discussed her husband's decision to remain in the background and support her.
She told Entertainment Tonight that she knew a lot of people thought that he didn't exist over the years because he didn't want to be in the spotlight at all. She went on to say that this is something her husband despises, and it's just not his personality. She explained that her husband says that he didn't pick this world; instead, he picked her, and she picked that world. Her husband also thinks that they can, nonetheless, live their lives separately and together as well.