The cliff-hangers in Outer Range were numerous. When Perry (Tom Pelphrey) plunged into the time-traveling vacuum, where did he go? What will Amy (Olivia Abercrombie) do now that she has been reunited with her mother? Is she on her way to becoming the enigmatic Autumn we've come to know? How will the Abbotts bounce back?
There's still a lot of stuff to unscroll. Although the plot becomes rather muddled, the premise and execution remain engrossing. If only to tidy up loose ends, it would be cruel to deny viewers a second season. Unfortunately, no word on whether the western sci-fi thriller will be renewed for a second season as of yet, but stay tuned for further information.
Outer Range Season 2 At Amazon Prime?
No. Not yet, but it is sure for all of us that, we don't want Josh Brolin's thriller series to end just like that. Amazon Prime Video hasn't made any decisions regarding the series which is not a piece of good news but the series was titled "Outer Range Season 1" on the press site, which is good news showing that Season 2 might be on the way.
Overview Of The Series
Outer Range is an American sci-fi thriller series developed by Brian Watkins and starring Josh Brolin. On April 15, 2022, it aired on Amazon Prime Video.
Following the arrival of Autumn, a vagrant with a connection to Abbott's ranch, a mysterious black void in the field is discovered by Royal Abbott, a Wyoming rancher struggling for his land and family. While the Abbott family deals with the loss of their daughter-in-law Rebecca, they are driven even closer to the breaking point when a rival family, the Tillerson's, attempts to take over their land.
Why There Should Be A Season 2?
Outer Range's last two episodes, which premiered on Amazon Prime on Friday, include a series of dramatic events. Autumn, the enigmatic visitor to the Abbott ranch, turns out to be Amy Abbott, all grown up. Now, we won't get too bogged down in the weeds about what happened or didn't happen in the season finale because the point of this story is to figure out whether or not there will be a second season of Outer Range.
So, here's the fastest account of what happened. Autumn is Amy, as it turns out. Amy's mother unexpectedly reappears and whisks her away. Perry remains in the Hole, which appears to have vanished for the time being. Isn't Royal from 1886? Those are the major events but the season finale leaves us with so many unanswered questions that we need season two to get some answers.
Where To Watch Outer Range Season 2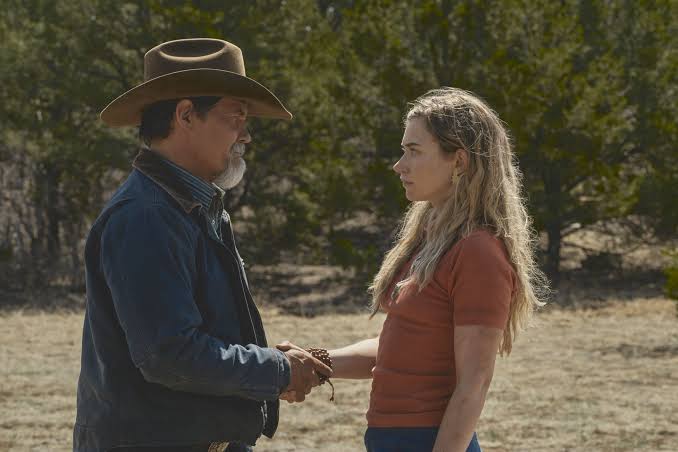 Outer Range Season Two will be available on Amazon Prime Video if it is to be released. Up until now, there is no news of it being aired.
On Friday, April 15, 2022, Amazon Prime Video premiered Outer Range. After then, two episodes were broadcasted weekly on Fridays until the Season 1 finale on May 6. Amazon Prime Video is the only place where you can see the show.