It is obvious for stars to create a fancy turmoil to gain publicity, but Majorie Harvey, who is Steve Harvey's wife, shut down an entire aquarium for her grandkids. And shouldn't she? She got the money, the fame, and the name.
Steve Harvey, who is known for his hosting in the show Family Feuds, it is pretty obvious that they got the power to shut down an entire aquarium for their grandkids. Majorie Harvey became the center of discussion as she posted a picture of herself and her grandkids. Thus, it caused a stir on the internet. Fans got no chills.
The Harveys Day Out. Is it?
The news shook the internet that Majorie Harvey shut down an entire aquarium for her grandkids. Majorie Harvey took to Instagram to share their jolly experience at the Georgia Aquarium. The 56-year-old Majorie shared a picture of her and her granddaughter posing for the picture at the aquarium.
In that snapshot, Grandma Harvey and Grand Daughter Lori were dressed up in black clothing. And the other grandkids of the Harveys were dressed up in vibrant and colorful tops and pajamas.
Apart from the pictures Majorie shared, she also shared a peppy video in which her two granddaughters were inside the aquarium surrounded by dolphins. They enjoyed it wholeheartedly.
Are Fans Happy About The Fact That The Harveys Shut Down An Entire Aquarium?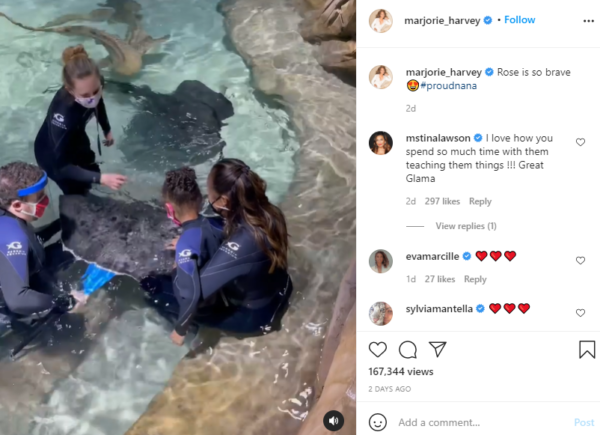 The fans seem agitated as How can Majorie Harvey shut down an entire aquarium for their fun only? Fans criticized her actions and called her distasteful. And not only this, fans reacted heavily by saying that she has no class in flaunting her riches; this is not right. They called her selfish even though it was a sweet gesture of her towards her grandkids.
But being flashy about her wealth and her husband's name and fame is termed distasteful and awful by some fans. Some fans were happy that the Harvey's had a gala time. On the other hand, some were agitated and told her to stop bragging about her wealth.