Snowpiercer season 3 episode 6 will release this February 28, 2022. The post-apocalyptic dystopic thriller began the premiere of season 3 on January 24, and the series an interesting mix of sci-fi, politics, and suspense. Graeme Manson and Josh Freidman are the developers of this series.
The show follows Snowpiercer's passengers, onboard on this gigantic, continuously moving train. The last of the remaining survivors on the global wasteland indulge in the politics of survival, social injustice, and class struggle as they are on this globe-spanning train. The Snowpiercer series is a reboot of the movie of the same name. As the sixth episode for season 3 will release soon, here are the key details.
When will Episode 6 Release?
The sixth episode of the ongoing season for Snowpiercer will be dropping this February 28, 2022. New episodes of this thriller will release weekly on Mondays. It will premiere at 9 pm ET or 8 pm CT on the original network, TNT. Like the previous seasons, the episode count for the running season is 10. Season  3 will continue its premiere till March 28, 2022. The running time of these episodes falls anywhere between 44 to 51 minutes.
Where can You Watch Episode 6?
In the US, the episodes will be available on the TNT (Turner Network Television)  network. Netflix distributes the show to a global audience. The episodes will release a day after it airs on the TNT network. Thus, you will get to catch up with the sixth episode on March 1, 2022. You can stream TNT via Sling TV, and FuboTV (which is available with a free trial). After the 7-day free trial, the standard monthly subscription plan costs $64.99.
What will happen in Episode 6?
The forthcoming episode is titled, "Born go to Bleed." The teleplay of the episode is by Tiffany Ezuma. The previous episode was dense with its multiple plot lines. The 6th episode will explore The truth behind the plan to kill Layton. Was the explosion caused by Pike? Layton's ambitions to overtake as the leader of the Snowpiercermay have prompted Pike to do so.
It is yet to be found out who is the true perpetrator of the crime, which will happen in episode 6. As per the synopsis, as the bomber comes to light, Layton must revisit his previous choices and should make an irreversible decision.
What Happens in Episode 5?
Erica Watson directed the fifth episode, "A New Life," and features a teleplay by Adam Starks. It was dropped on February 21, 2022. With much difficulty, Liana is born to Zarah. Pike's displeasure with Layton's leadership is apparent. An explosion takes place when Layton arrives at the railroad car. In a way, it implies that this explosion involves Pike.
Is the Show Going to Renew for Season 4?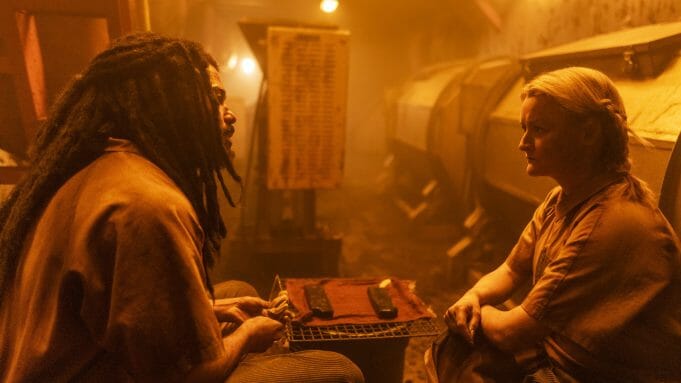 It is thrilling for the fans of the post-apocalyptic drama series, Snowpiercer to know that it is now greenlit for a fourth season. David Deegs, who stars in the series, made the announcement bringing the news to the 'loyal fans.' He adds that with each season, the series gets more bigger and 'Snowpiercery-er.'