The American actress and singer Dove Cameron is a famous Disney Star. She gained popularity from Descendants, where she portrayed the role of Mal. She started her career in 2007. The Liv and Maddie star came out to be queer and shocked everyone.
She has been in two long-term relationships till now. Both were her co-stars. One from Liv and Maddie and one from Descendants. She will also be playing the prominent role of Bubbles in the upcoming Powderpuff movie.
But, the question of who she is dating right now remains unanswered? So, let's find out the truth.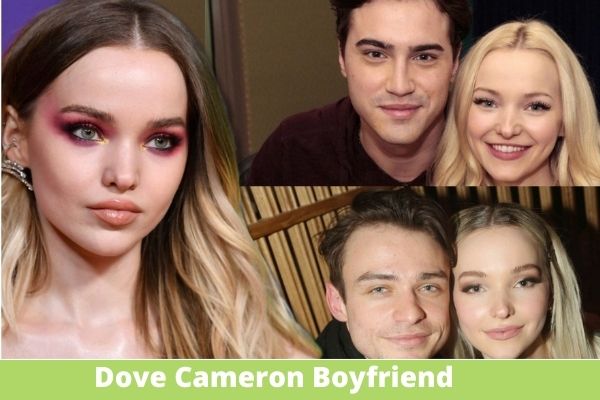 Who is Dove Cameron dating in 2022?
It seems that Dove is not dating anyone as of 2022. She has made no official announcement of being dating anyone since her split with Thomas Doherty in December 2020. Thomas was Cameron's co-star in Descendants.
She said that this was a lot easier when she had a very public boyfriend because everyone just knew everything.
Her past relationship
As we said, she had only dated two people all her life. Both were her co-stars—Ryan McCartan and Thomas Doherty from Liv & Maddie and Descendants.
Here are the details:
Dove Cameron and Ryan McCartan
Dove and Ryan have dated each other for three long years. They started their love story on the sets of Liv and Maddie in 2013 and announced their split in October 2016.
It was said that they split up because she cheated, although Dove responded with "toxic people" on social media, applying that McCartan was lying.
They were also engaged. And she almost walked down the aisle for him.
Dove Cameron and Thomas Doherty
Cameron met Thomas on the sets of Descendants. Both played the lead role in the movies. They gained instant popularity, and fans showered all their love on them.
They started dating in 2016 and split up in December 2020, almost after four years. In an interview, she did say that if she wanted to get married, she would only marry Thomas.
In November 2019, she also said that she is with Thomas because he's just pure, loving, selfless, generous, and kind. She added that Thomas's life is about what he loves, and she felt lucky to be loved by someone like that.
When they split, they took it to social media and said that the decision was incredibly difficult, but they still have a love for each other and will remain friends. They also thanked the audience for giving them privacy at that time.
Their split surely came as a complete surprise to everyone.
Although they got split up in December 2020, Dove didn't make any statement till March 2021. She wrote that they know there have been some rumors and confusion about the status of their relationship, and they wanted to set the record straight.
Is Dove Cameron queer?
Yes! Dove Cameron went live on Instagram and said that "Guys, I needed to explain something to you." "Maybe I haven't said it, but I'm super queer. This is something I want to represent through my music because it's who I am".
She said that she had hinted about her sexuality many times, but she was just afraid to spell it out.
I think by this, she meant the tweet where she wrote, "me when I date a man? me when I date a woman". In this post, someone commented that This is a confession? to which she said Girl, I have been Bi. That tweet is no longer available now.