Who is Khloe Dating Now?
Khloe Kardashian is an American media personality and a model. Khloe gained fame when the reality television show, Keeping Up with the Kardashians started in 2007. Khloe starred in the show along with her family. After appearing in the show in 2007, Khloe featured in other spin-off series like Kim And Khloe Take Miami, and Kim And Khloe Take The Hamptons.
Khloe participated in the reality TV show The Celebrity Apprentice and hosted the X-Factor US edition with Mario Lopez. She wrote the book Kardashian Confidential in 2010 and hosted a talk show in 2016 called Cocktails with Khloe.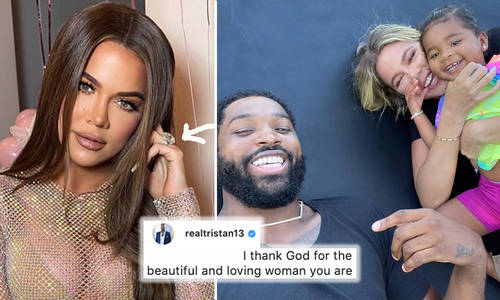 Khloe Kardashian started dating the basketball player Tristan Thompson back in 2016. The two of them had a kid together and they named her True Kardashian. But the couple broke up in 2019 after allegations of Thompson cheating on her.
The couple gave their relationship another chance in 2020 but they broke up again in 2021. Are they back together again or is Khloe now dating someone else? Khloe Kardashian is not dating anyone as of now. Her four years-long relationship broke off recently and she is single now. However, she is putting herself out and trying to find a date and move on from her previous relationship.
Hulu's The Kardashians
The new streaming series launched on Hulu, The Kardashians spilled beans on Kourtney's love life and her relationship with her daughter's father, Tristan Thompson. The couple has had a long, complicated, on-and-off relationship with each other. They have a four-year-old daughter True Kardashian. When Khloe was pregnant with True, there were rumors that Tristan cheated on her. This led to their split in 2019.
Who did Tristan Cheat on Khloe With?
During Khloe's pregnancy in 2019, it was rumored that Khloe's boyfriend Tristan cheated on her with the American model Jordyn Woods. Jordyn was Kylie Jenner's best friend back then. After these allegations, Khloe and Tristan split but they got back together in 2020, during the pandemic as they wanted to give their relationship another chance.
Why Did Khloe Breakup With Tristan?
Khloe Kardashian and Tristan Thomson got back together in 2020 but the couple has broken up once again. Episode one of The Kardashian revealed the complications of Khloe and Tristan's relationship. Khloe did not want to give up her relationship with Tristan and she tried to make it work multiple times.
She said that things are optimistic for the future of their relationship and that Tristan is taking therapy and is trying to be a better person for her.
The multiple times cheating was not enough for Khloe to break up with him. Things got out of hand when another scandal came to the limelight. Tristan cheated on Khloe again when the Instagram model, Maree Nichols claimed that Tristan is the father of her child.
Initially, Tristan denied the accusations but Nichols warned him that he can sue him with childcare services. Later, a paternity test revealed that Nichols was right and Tristan was truly the father of her child. When Khloe came to know that Tristan had impregnated another woman, she broke up with him for good.