Millie Bobby Brown got into stardom at a very young age. The Stranger Things star has been rumored to be dating Noah Schnapp, but sorry to break it to you guys, but No! She is not dating Noah. Although their cute videos from the premiere of Stranger Things have been going viral for a long time, they have never dated each other.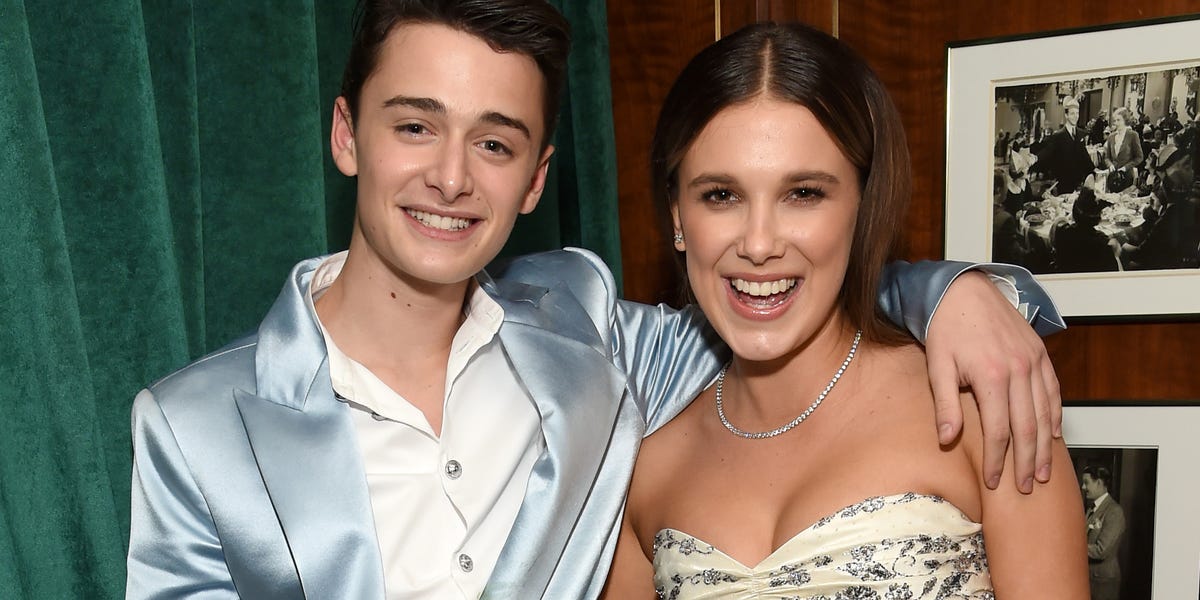 Their interviews and care for each other showed they are good friends. The audience shipped them, but no, she doesn't love Noah. In an interview, she says they had a plan if they didn't get married till they were 40, then they would live together but like in different rooms, of course! And it will be completely platonic.
So, who is she dating then?
Who is Millie bobby brown dating?
Currently, Millie Brown Bobby is dating Jake Bongiovi. Jake is the son of the musician Bon Jovi.
When did they meet?
We have no information on how they met. The assumption is that maybe they met through some familiar friend. They both have a big name in the industry at a very young age, so they have been in the same circle or party.
How long have they been dating?
The first glimpse of their friendship (later, relationship) was seen on Instagram when Jake shared their photo with the caption BFF in June 2021.
That was the first they were seen together.
Although at the start of their public appearance together, they said they were just friends. Later, they made it public with cute Instagram pics, birthday wishes, matching outfits (a goal for many of us out here, wink emoji inserted!), and of course, the official red carpet they are indeed dating.
The timeline
After that, in October 2021, they again posted a photo together saying "Friends."
In November 2021, Millie Bobby Brown shared a picture of them at the London Eye. It was a blurred picture where Millie was wearing a brown sweater; fans were sure it was Jake in that photo. They hugged each other, and Jake gave a cute kiss to her.
In response, Jake posted a photo with the caption, "We are starting a band; send names." In that photo, they could be seen having coffee.
In December 2021, they both were seen spending holidays together.
Then came Millie's 18th birthday in February 2022, and they dressed up as Barbie and Ken. They both looked marvelous. Millie had blonde hair like Jake.
Although, it was clear from the pictures of Millie's birthday that the couple has so much going on with them. They made it official on the red carpet of BAFTAs in March 2022. They appeared together wearing black and white outfits.
In May 2022, Millie shared a picture of them wishing Jake a happy birthday. She added that she couldn't wait to fly to the moon and back with him!
After that, Millie took Jake to the premiere of Stranger Things Season 4. Again, they were wearing matching outfits. Since then, they have been very open about each other and expressed their love on social media.