Young Sheldon is a CBS sitcom and a spin-off prequel to one of the most popular shows, The Big Bang Theory. Initially, the show started as a special preview. But in November 2017, Young Sheldon premiered as a full series. After gaining a lot of popularity, the sitcom is in its fifth season. Young Sheldon Season 5 aired on October 7, 2021, and has completed airing 15 episodes. Episode 16 of the show is right around the corner. If you are wondering about the release date of episode 16, then follow our article to know more.
In the article, we have covered everything you need to know about Young Sheldon Season 5 Episode 16.
Release Date
The new episode is set to release on March 10, 2022. In the coming episode, Sheldon explores the stock market with Meemaw.
What To Expect After A Long Hiatus?
Young Sheldon's show revolves around Sheldon Cooper and his eccentric life. He lives in Texas with his family. He dedicates himself to solving complex equations and problems, whereas people around him go to church, enjoy sports, and indulge in other entertainment.
On top of that, he is narcissistic, abnormally rational, and puts science before anything else. His family struggles to deal with his crazy behavior. However, over time, he learns to feel empathy and compassion.
Episode 16 will release on March 10, 2022, and we expect it to be another fun episode with Sheldon's eccentric replies and questions to the people around him. Meemaw and Georgie run a laundromat business that caught the interest of two of the Cooper kids. In the promo, it is revealed that Sheldon and Missy receive money from Meemaw.
Sheldon immediately utilizes the money he got from Meemaw in the stock market. He buys shares of Radio Shack. We don't know about Missy's plans on utilizing the money. It will be interesting to watch how a little kid's business venture will turn out.
What Happened In Episode 15?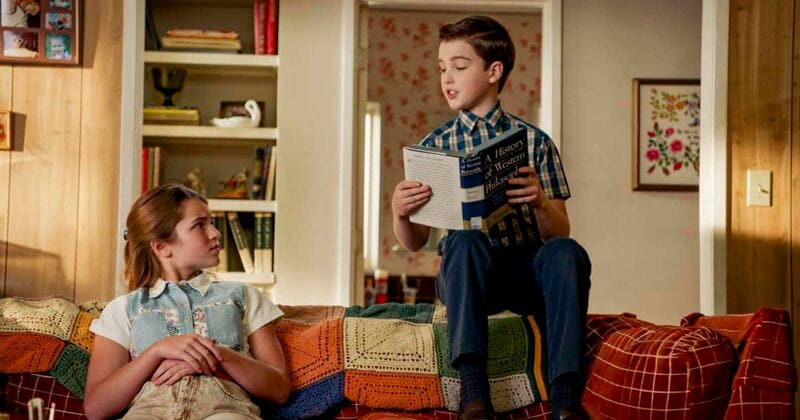 Previously on Young Sheldon, Sheldon goes on a 3-days science trip with Drs. Sturgis and Linkletter. However, Sheldon's presence is not welcomed by Linkletter. Meanwhile, Georgie lies about his new girlfriend's age. Mandy is much older than George. However, it seems that she will catch on to Georgie's lie in the coming episodes.
Sheldon is not happy with the new doctor. Dr. Lee joined the team of Dr. Sturgis, Dr. Linkletter, and Sheldon after the trio couldn't conclude the project. Dr. Lee did not implement any of Sheldon's ideas making him upset. Sheldon tried to make some modifications, but all of it was in vain. Meanwhile, Mary wins $500 from a lottery, and she kept the money for better use. George realized Mary seems happier while talking to Pastor Rob.
Cast
The top cast of the show includes Iain Armitage (Sheldon Cooper), Zoe Perry (Mary Cooper), Lancer Barber (George Cooper Sr), Montana Jordan (George Cooper Jr), Raegan Revord (Missy Cooper), Annie Potts (Meemaw), Matty Hobby (Jeff Difford), Wyatt McClure (Billy Sparks), Craig T. Nelson (Dale Ballard), Wallace Shawn (John Sturgis), Edge Begley Jr (Grant Linkletter), Ava Allan (Jana Boggs), Ryan Phuong (Tam Nguyen), and Reb Mc Entire (June).
Where to Watch?
You can catch the new episodes free on CBS and CBS's official website. If you don't have access to CBS, then you can stream it online on Amazon Prime Video.