21 is a movie directed by Robert Luketic who is known for his works like Legally Blonde and Paranoia. 21 is adapted from the very popular best-selling book by Ben Mezrich, published in 2003, called Bringing Down the House.
Although fans of the book say that the movie did not stand up to the hype of the book, which did extremely well. They know what the assignment was about and the readers could feel the adrenaline rush as each page turned.
The movie had its theatrical release on March 28, 2008, worldwide. From July 22, 2008, it was available to stream online on various platforms.
The name of the movie 21, gets its inspiration from the game itself. 21 is a popular name given to Black Jack by many people.
Is it Based On Real Life?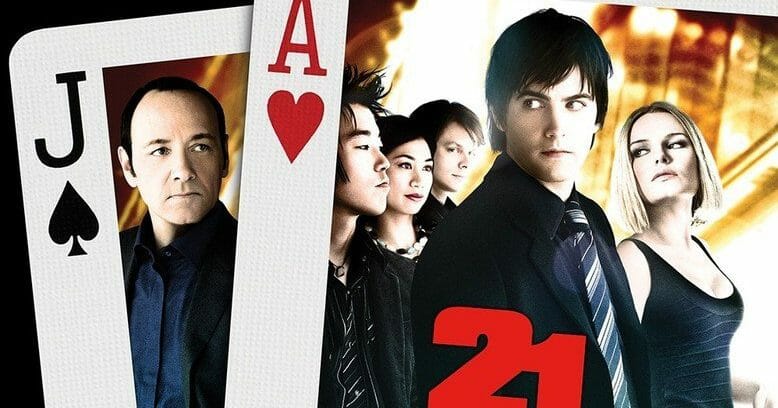 Yes, the book is inspired by the six MIT students, who used their skills to cash millions from the Las Vegas casinos. The book did a good portrayal of the rush and the mind work which seemed lacking throughout the movie.
The book does not mention that the original team started operating as early as 1979. Even after the MIT team was caught, a new team was formed immediately consisting of students from MIT and Harvard.
The movie adds drama to the story which sidetracks the story from its plot of amazing mind games and adrenaline rush. It kind of dampened the story.  The real Jane Willis never fell for Ben, it was all made up why did the director mess a perfect plot?! It was actually frustrating.
Even the real team was not led by any Math professor or any other professors but a group of three people led the team. They even changed the story of the characters to shift the sympathies towards the protagonist. Also, nope, not all the students involved were from MIT, some were from Harvard and Princeton.
Where Are the Members Now?
The famous MIT team portrayed in the book and movie are in different places now except for one. Jeff Ma, the real Ben, founded a sports stock market after his retirement from the team. The real Jane Willis is now a partner in a Boston Law firm. Aponte, the real Jacob is still not over his passion for Black Jack and has co-founded the BlackJack Institute.
Where Can We Stream Online?
21 is available on many streaming sites, including, – Netflix ($9.99/ month) or purchase/rent from AppleTV, google play, and Youtube.
Cast
Jim Sturgess as Ben Campbell, Kate Bosworth as Jill Taylor, Kevin Spacey as Micky Rosa, Aaron Yoo as Choi, Liza Lapira as Kianna.
Jacob Pitts as Fisher, Laurence Fishburne as Cole Williams, Jack McGee as Terry, Josh Gad as Miles, Sam Golzari as Cam, Helen Carey as Ellen Campbell, and Jack Gilpin as Bob Phillips.