Felicity Smoak was a minor D.C. character who wasn't initially intended for Arrow, but she quickly gained importance throughout the first season. She had a one-episode arrangement that turned into a seven-year narrative for her character.
By the time they got to season 2, the Firestorm-related character was a full-time character because of Emily Bett Rickards's performance and the response from the audience.
When just Oliver and Diggle were in the lair at the beginning of Season 1, it was gloomy. The moment Oliver started looking at Felicity, the show became its own.
Felicity, who initially had a minor role, eventually rose to become one of the main characters in the program and married Oliver. Felicity experienced a lot during seven seasons, both with the squad and alone.
Numerous significant events from Felicity's journey during Arrow still stand today. These are a few of Felicity's most memorable experiences in the program.
20. Suicide Squad (Season 2, Episode 16)
Season number: 2
Episode number: 16
Oliver concentrates on getting ready for combat with his old buddy after Slade returns and swears to carry out his threat to kill Oliver's loved ones. Oliver pushes Sara away as she attempts to assist because he worries for her safety.
Meanwhile, Amanda Waller and A.R.G.U.S. enlist Diggle to stop a warlord he was familiar with during his experience in Afghanistan.
Diggle, ever the soldier, consents to assist. However, he is unprepared when Amanda presents him to the other members of the squad, including Deadshot, Bronze Tiger, and Shrapnel. All of them, he and the Arrow assisted in apprehending.
Diggle isn't sure he agrees with Lyla's defense of the group and his explanation that the world is a confusing place. Diggle is shocked as the mission takes a dangerous turn.
19. The Huntress Returns (Season 1, Episode 17)
Season number: 1
Episode number: 17
With his nightclub set to open and a new romance brewing with McKenna, Oliver is as happy as he's been since returning to Starling City. But when Oliver's ex, The Huntress, suddenly returns to town, she threatens to destroy everything and everyone he cares about.
Meanwhile, Laurel and her father struggle with the return of Dinah Lance, who claims she has proof Sara is still alive.
Thea gets Roy Harper a job at Oliver's club, but he's not too inclined to stop his life of crime. Finally, Oliver and Tommy are thrilled they were able to get Steve Aoki to play at the opening of their new nightclub, Verdant.
18. So It Begins (Season 5, Episode 6)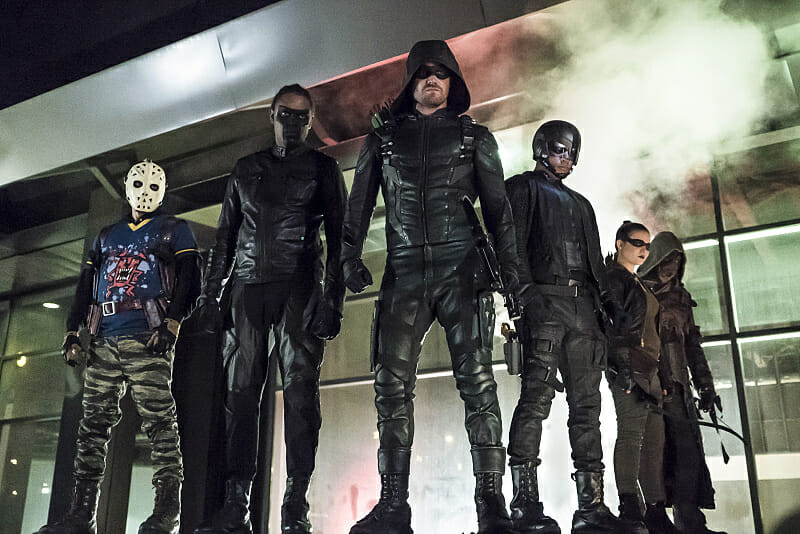 Season number: 5
Episode number: 6
Prometheus is killing seemingly random average people with throwing stars, and Oliver, Diggle, and Felicity are tracking him covertly. Due to their lack of education, the volunteers become incensed after hearing about the deaths in the news, which stresses the city.
Billy gives one of the stars to Felicity, who examines it. An illustration of one of the victims is Oliver's breakdown from when he first started as the Hood.
Oliver looks for links between the victims while Prometheus intensifies his murdering spree. Unfortunately, Oliver's new team may suffer due to the new mystery.
Felicity and Curtis learn about the victims' mysterious connection to Oliver's past. Felicity mulls telling Malone the truth about her job as Thea and Lance have a heart-to-heart.
17. Irreconcilable Differences (Season 6, Episode 9)
Season number: 6
Episode number: 9
"Irreconciliation Differences" starts with Oliver and Thea strolling with William at Oliver and Felicity's wedding gathering. Felicity and both of her folks, before long, join Oliver.
Oliver and Felicity are occupied conversing with the different visitors, while Dinah, Rene, and Curtis are having drinks at the bar as they share their common aversion to weddings. Dinah gets a text from an unknown number and leaves the bar to react.
Quentin Lance is kidnapped by Black Siren and Cayden James, who are looking to trade Lance's life for a weapon of mass destruction. Oliver and Team Green Arrow must figure out a way to save Lance while keeping the city safe.
16. Draw Back Your Bow (Season 3, Episode 17)
Season number: 3
Episode number: 17
Carrie Cutter, a serial murderer who has become fixated on The Arrow and would do anything to attract his focus, must be stopped by Cw Oliver Queen. Unfortunately, she uses murder to get his attention. In the meantime, Ray asks Felicity to go out with him for a business dinner with significant clients.
When Thea interviews prospective D.J.s for Verdant, she runs across the arrogant Chase.
15. Heir To The Demon (Season 2, Episode 13)
Season number: 2
Episode number: 13
Oliver and Lance attempt to persuade Sara to remain in Starling City so that she may eventually reconnect with Laurel and Dinah while Laurel continues to fall apart. Nyssa, a fellow League of Assassins member, arrives to reintegrate Sara, but she rejects, so Nyssa kidnaps Dinah. Sara thinks about re-joining the league after realizing that staying in town puts her family at risk.
14. An Innocent Man (Season 1, Episode 4)
Season number: 1
Episode number: 4
When John wakes up at Oliver's underground base, Oliver offers him the option to fight with him and support Starling City. John rejects him and calls him a killer. Afterward, while looking at the news, Oliver learns that Jason Brodeur, one of the persons on The List, and Peter Declan, a death sentence convict, are connected.
He enumerates Laurel's assistance in exonerating Peter before he would be put to death in the guise of his Hood identity. Collectively, the two find the truth, but before the couple can tell it, Jason has his security arrange a jail escape so that he may murder Laurel and Peter.
Oliver enters the Iron Heights Prison while wearing a ski mask and a guard's uniform to save Laurel and Peter.
Matt Istook, Peter's boss, eventually admits Peter is innocent. After meeting Oliver, John decides to collaborate with him to both defend the city and prevent Oliver from shedding his humanity.
Nonetheless, after watching a video of Oliver obtaining his cover from a trash can before the most recent Deadshot battle, Detective Lance detains Oliver because he is The Hood.
Walter, meantime, learns that Moira has already been hiding the family boat, which has been destroyed and recovered in a warehouse. Malcolm schedules a session with Moira after learning that The List rather than the wealthy was the aim of The Hood.
Read Mre: The 30 Best Episodes Of Law And Order Drama, Ranked
13. Broken Dolls (Season 2, Episode 3)
Season number: 2
Episode number: 3
Just after tremors, Quentin learns that Barton Mathis, a convict he had earlier condemned to prison, had fled and begun killing and torturing women. Once Felicity offers herself as a lure, the plan to capture Barton with the aid of Arrow, John, and Quentin falls apart.
As Mathis abducts Laurel out of wrath and is ready to kill her, Quentin cannot stop him. Thea and Oliver are shocked when Adam Donner, an associate district attorney, asks for Moira to be executed. Arrow requests that Roy find The Canary.
12. The Magician (Season 3, Episode 4)
Season number: 3
Episode number: 4
Nyssa confronts Oliver regarding Sara while furious. After learning Malcolm Merlyn is still breathing, Oliver thinks he murdered Sara. Oliver and Nyssa follow the Dark Archer together to uncover Sara's killer, even if doing so might result in Oliver killing his sister's dad.
Because of her alleged involvement with the League of Assassins in her sister's death, Laurel stays away from Nyssa.
Oliver and Roy are seeking to repair their damaged relationship with Thea now that she has returned home. When they arrive in Nanda Parbat, Nyssa discusses Oliver with her dad, Ra's al Ghul.
11. Lone Gunmen (Season 1, Episode 3)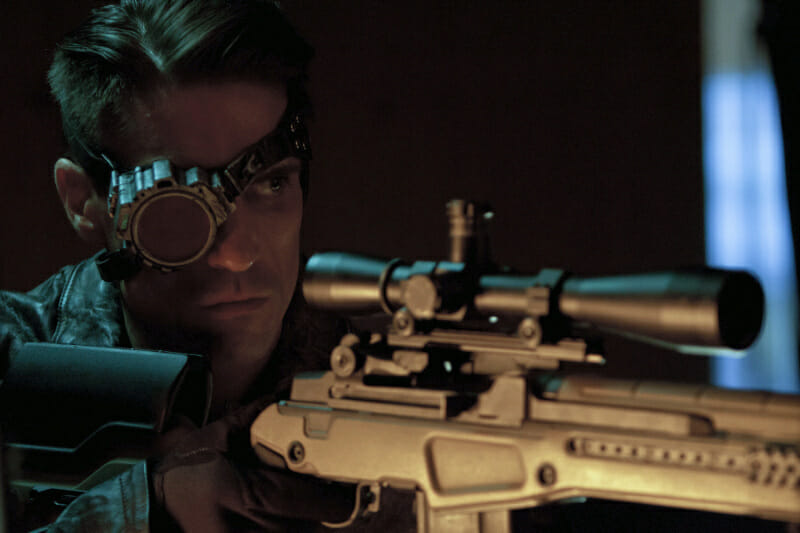 Season number: 1
Episode number: 3
Deadshot kills James Holder (Tobias Slezak), who Oliver Queen (Stephen Amell) discovers (Michael Rowe). Oliver searches for Floyd Lawton after learning that he is Deadshot, but Lawton escapes.
In the expectation that Felicity Smoak, an I.T. expert at Queen Consolidated, may be able to determine why Deadshot murdered Holder, Oliver discovers a shot-up laptop and brings it to her.
She gives Oliver the information he needs, preventing additional homicides. Felicity comes to us in this manner when she first sees Oliver, speaking apprehensively.
10. The Odyssey (Season 1, Episode 14)
Season number: 1
Episode number: 14
Oliver, who Is the Hood, gets shot by Susanna Thompson's Moira Queen, yet Oliver escapes. He gets into the back of Ms. Smoak's car in the garage below the structure. Oliver asks Felicity to drive him to his secret location when she learns who he is. While there, Diggle (David Ramsey) helps Oliver downstairs, where they work together to save Oliver.
This episode perfectly encapsulates Felicity's most outstanding qualities: she improves the computer systems inside the lair, fixes the defibrillator's circuitry, breaks into the cop's crime lab to steal damaging proof, and is ready to help them with their immediate goals.
9. Time Of Death (Season 2, Episode 14)
Season number: 2
Episode number: 14
Cw William Tockman, a protagonist, played by Robert Knepper, uses a Skeleton Key to open any bank vault. A short while afterward, a bank is robbed. Caity Lotz's The Canary and The Arrow hurry in to stop it, but technological genius Tockman distracts their attention.
The Canary injures Tockman for him to depart, and the Arrow takes advantage of the diversion. Tockman forces the systems at the Arrowcave to spontaneously combust through hacking, so the gang puts up a ruse at a bank to entice him.
When he and the two men arrive, Felicity can track them down and set off his phone, which surprises Tockman and enables Canary to apprehend him.
With Rickards portraying a range of emotions, the episode's underlying narrative tackles how incompetent Felicity feels upon this team until realizing that her abilities are needed.
8. City of Blood (Season 2, Episode 21)
Season number: 2
Episode number: 21
As Slade's army gets ready to seize Starling City, Sebastian Blood (Kevin Alejandro) & Cw Slade Wilson (Manu Bennett) are working together.
There is a personal score between Slade and Oliver. Oliver admits that the only way to stop the retaliation is to surrender and die at the hands of Slade.
Team Arrow convinces Oliver not to because he still has a chance to save the city. What function does Felicity have?
She proves that there are other methods to interrogate someone by informing one of Sebastian's thugs that she can ruin all of his wealth by pressing a button in a humorous conversation where Felicity is titled a "b**ch" before saying, "a b**ch with Wi-Fi.
7. Underneath (Season 5, Episode 20)
Season number: 5
Episode number: 20
Oliver and Felicity are imprisoned in the Arrowcave by a bomb set off by Josh Segarra's figure, Cw Adrian Chase. While the rest of the team works to liberate them, Oliver with Felicity discusses their issues. Felicity has always been there for Oliver, but he never returns the favor since he doesn't trust her.
Rickards and Amell have the opportunity to elicit strong feelings from the viewers throughout the Olicity-centered episode, and they do it to their satisfaction by bringing in a new phase of communication and reconciliation at the show's finale.
6. Due Process (Season 7, Episode 6)
Season number: 7
Episode number: 6
Oliver is currently incarcerated due to Diaz (Kirk Acevedo), and Team Arrow is looking for him. Diaz is taken into custody and placed in a holding facility. Felicity, who is enraged at Diaz, is permitted access to his prison, where she nearly murders him before being interrupted by Laurel (Katie Cassidy).
The latter has bargained for Oliver's freedom with the government in exchange for aid in building a case against Diaz. To convince audiences somebody as wonderful as Felicity may change, Rickards used the examples of villains with plans to destroy Star City in the coming years and someone you believe is capable of murdering a man.
5. The Secret Origin Of Felicity Smoak (Season 3, Episode 5)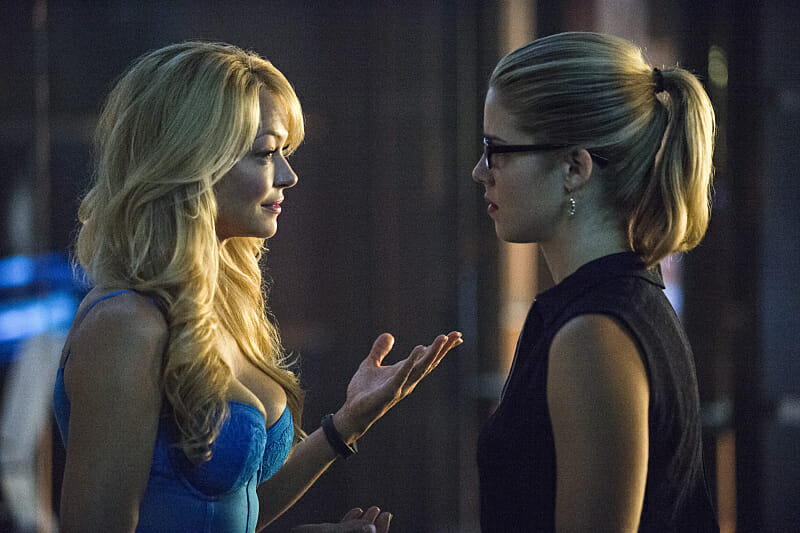 Season number: 3
Episode number: 5
The attention is on Felicity Megan Smoak, and it begins at M.I.T., where she is a student. She develops a computer virus for charitable purposes with her lover Cooper (Nolan Funk), plus his roommate Myron. She is indeed a dark-haired goth (Matthew McLellan).
The F.B.I. discovers them, and Cooper is taken into custody. Felicity alters her appearance, hairstyle, and clothing because she thinks Cooper committed suicide. However, Felicity finds Cooper is still breathing five years later.
Once her mom Donna (Charlotte Ross), is blackmailed, she is coerced into helping him hack into the Treasury Department, but she succeeds in delivering a warning to Oliver, who rushes to their aid.
Rickards demonstrates her ability to carry an entire episode on her own, so as a treat, we get a glimpse of Felicity and Donna's endearing friendship.
4. We Fall (Season 6, Episode 11)
Season number: 6
Episode number: 11
Cw Cayden James (Michael Emerson) seizes command of Star City's power system, resulting in anarchy. He contacts Oliver and wants $10 million every night in payments for the assaults to stop. Team Arrow learns Cayden's strategy: seal off all city exits.
Trapping Oliver's son William (Jack Moore) within the tunnel, Cayden suddenly detonates bombs inside. Diggle & Green Arrow show up to assist, but William learns that Oliver is Green Arrow. Unaware that Cayden has selected one, the populace is told to migrate to safe zones. When our heroes arrive at the secure area, a fight starts.
Felicity gives William a speech as they monitor the battle from the Arrowcave. She describes why Oliver has to be there, what he represents to the community, and why William should trust that he will return home. This touching piece repairs the bond between William and Oliver.
3. Uprising (Season 3, Episode 12)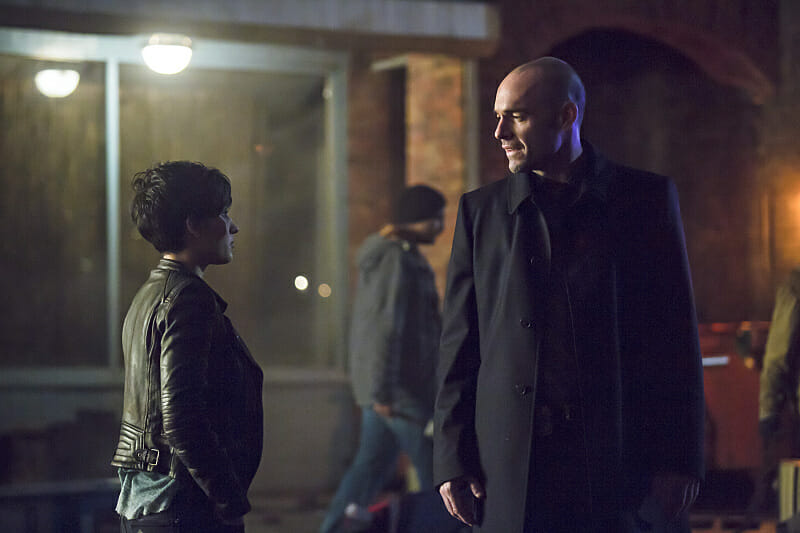 Season number: 3
Episode number: 12
Team Arrow is the only thing standing between Danny Brickwell/Brick (Vinnie Jones) and his friends retaking control of The Glades while Oliver is still absent. Malcolm Merlyn (John Barrowman) has volunteered to assist in the battle against Brick, although Felicity is convinced that Oliver would disapprove of their working with Merlyn.
Oliver appears out of nowhere as the team is about to enter battle. Brick is thwarted, and the gang warmly welcomes Oliver back. Oliver brings up partnering with Malcolm as they talk about the next moves. Felicity is surprised and outraged and leaves the room. Oliver comes over and joins her.
Nope. No all-is-pardoned reset exists. Felicity is furious, angry, and unable to comprehend that he desires to collaborate with the guy who made his sister a murderer and who then murdered the woman he once loved.
She displays a profound strength of character by stating unequivocally that she wishes no part of it if that's what transpires when he loves somebody.
2. You Have Saved This City (Season 7, Episode 22)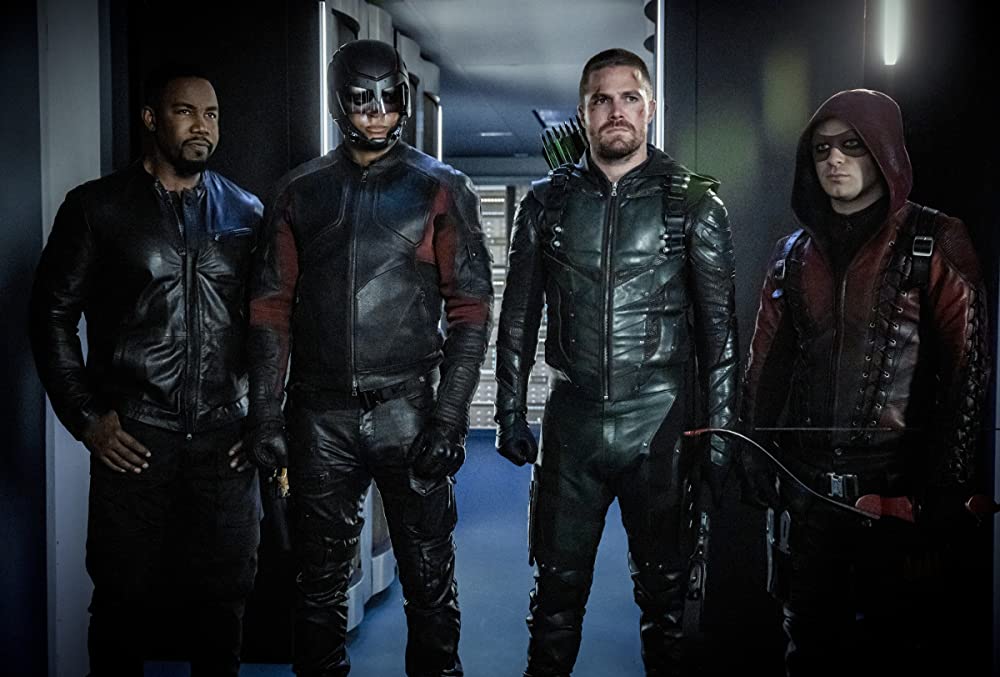 Season number: 7
Episode number: 22
Team Arrow is on the run. Drones bearing Cygnus-X are being sent out by Emiko (Sea Shimooka). The squad defeats the drones, Oliver, and a dying Emiko make-up, Team Arrow is hailed as a group of heroes, and so forth. This would be Rickards' final performance as Felicity (or is it? ), and it's the ideal send-off.
Oliver and Felicity are approached by Mar Novu (LaMonica Garrett), who arrives to retrieve Oliver from the approaching Crisis, following Oliver having spent months in a safe house. Oliver bids a stirring, heartfelt goodbye before departing.
The show then cuts to a future scene when Felicity, William (Ben Lewis), and Mia (Katherine McNamara) say their goodbyes at Oliver's tomb before Felicity leaves and is taken towards the afterlife by Mar Novu to be reconciled with Oliver.
1. Fadeout (Season 8, Episode 10)
Season number: 8
Episode number: 10
Just after the Crisis crossover event, the final season occurs. Inside a voiceover, Oliver takes the audience through his last moments before dying to rescue the universe. Then, we notice that the city has undergone a significant transformation. Injustice has been eliminated. New ones have replaced dead characters.
Team Arrow individuals are in better circumstances. They understand that Oliver only made the necessary repairs to secure a better future for the people he loved. Diggle pays homage to Oliver's heroic actions and supreme sacrifice during the burial.
At the episode's conclusion, we learn that Felicity visits the afterlife and is gratified by meeting Oliver there. They share a kiss as well as a hug and always stay together.