Sabrina was a well-beloved character from the Archies series but then again, never really the main character. Luckily, the same first turned into a comic of its own, followed by a show and a movie, and now, a modern twist in the same.
This modern version of Sabrina is so lucifer Lucifer in nature that it has been driving people crazy. People have been crushing away on Lucifer and cheering for the games of hell, which is why the spicy series is going right to the top on every point and everywhere. It is topping Netflix's charts, and all of us know where, how, and precisely why!
Chilling Adventures of Sabrina is again back with new stories. You might have heard! New Year comes with some great news. Yeah! Netflix is coming up with the fourth and final part of the Chilling Adventures of Sabrina closes out with the popular Archie Comics adaptation with Sabrina Spellman leading with family and friends to save Greendale from a sinister host.
The interesting part that has been found is filming the scenes where Roz was temporarily supposed to be blindly taken as a challenge. In an interview, it was confirmed that Watson and Sinclair confronted that they enjoyed most of the things about being starred in the series, especially the creative directions that stroke for their characters. The stars are heading up to the red carpet for the preview of the finale for the fans. Alas, in an interview, it was also declared that
Netflix canceled the show in 2020, which means that season 4 would be the finale, and there is a lot to talk about and to cover before we close off on Sabrina. Luckily for the fans- Netflix has come up with the official trailer of Part 4, aka the finale of Chilling Adventure of Sabrina. In the trailer, you can watch Sabrina's birthday celebration has been shortening when a band of malevolent spirits with Greendale; the official trailer has made clear expectations for the viewers for the end of all things. It will be interesting to watch it.
The trailer has actually put a lot of fans in confusion. Sabrina seems to be lost in a show with actors playing the people from her real life and Father Faustus Blackwood playing the director, and this is beyond just confusing. Sabrina is not going down without a fight; she sustains the hell to fight with the evil twin. Yeah! Revealing a bit about Sabrina's character.
Chilling Adventure of Sabrina has always been interesting with various episodes, but this time the endgame has made the fans cheer up more with the amazing ending. Would it be the ending, or will it come up with some new twists and turns? Would she be able to escape this fake life of hers? Is Faustus up to another blunder? Can Sabrina Spellman get out of this nest made by the dark lord once? These group of questions can only be answered once the show goes live, but when is it going to come on TV? Hmm… let's find out!
Best Episodes that You Must Watch
The entire Chilling Adventures of Sabrina series is an absolute must-watch if you live for horror and thriller, but there still are some episodes that will always take the award in this case, too, here's a curated list for you: –
1. Chapter one: October Country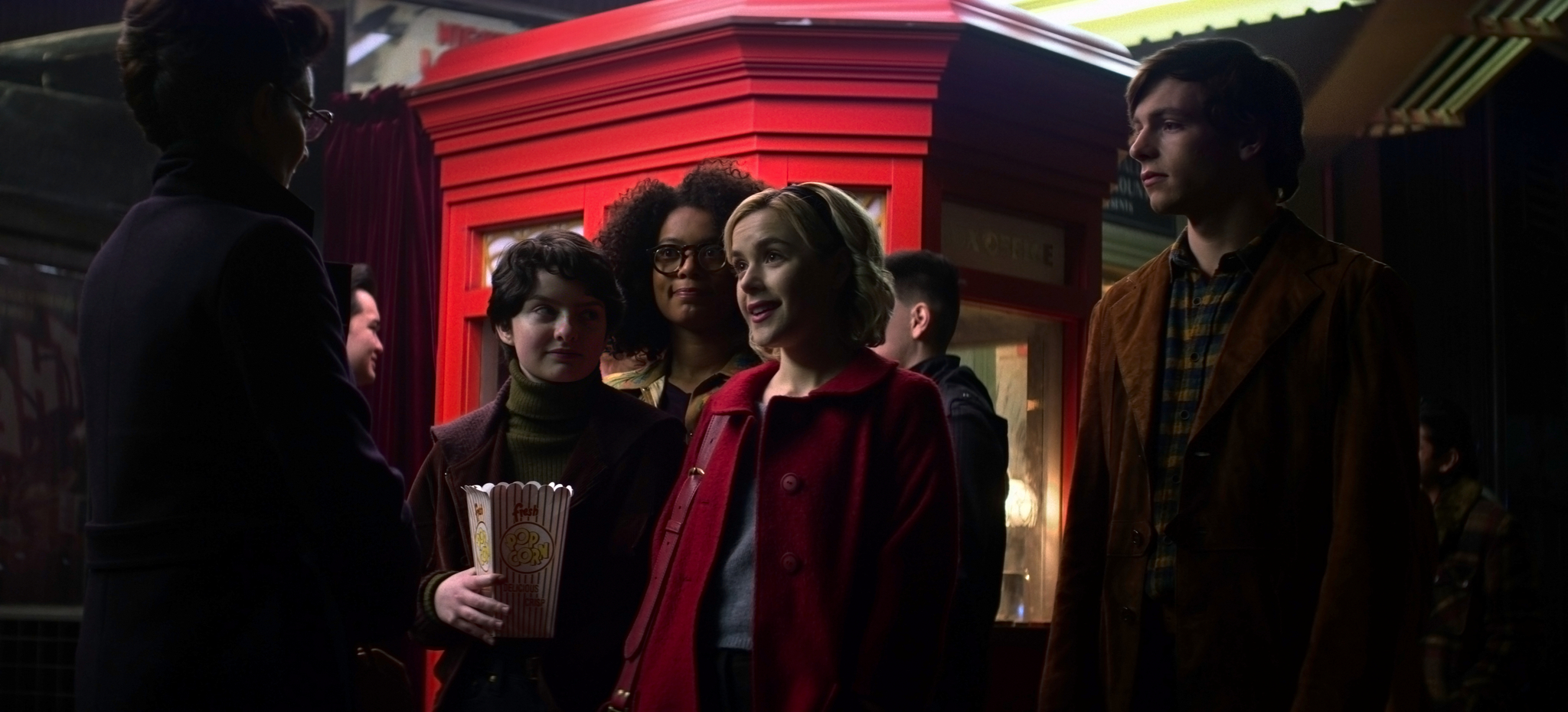 IMDb: 7.7/10
Rotten Tomatoes: 82%
Season: 1
This is a definite must-watch because this is basically where it all began if you want a detailed base of the show, this is the episode that would get you there.
2. Chapter Two: The Dark Baptism
IMDb: 8.1/10
Rotten Tomatoes: 92%
Season: 1
This is the first episode that will tell you all about the dark twist in the series, you will see the dark side of Sabrina's world along with the power of Faustus as well as the dark lord himself, for the very first time, and it is hence, an absolute must-watch!
3. Chapter Ten: The Witching Hour
IMDb: 8.6/10
Rotten Tomatoes: 91%
Season: 1
This episode is amazing to watch because it is very emotional in nature. Sabrina comes clean to all her fellow human friends about the dark arts and being a witch, along with the new school that her destiny might take her to. Madam Satan also ends up showing her true colors here, which is beyond just mesmerizing.
4. Chapter Eleven: A Midwinter's Tale
IMDb: 7.9/10
Rotten Tomatoes: 91%
Season: 1
This episode coincides with Christmas, the Spellman family celebrates the winter's solstice, and Zelda is left taking care of a newborn baby girl. The plot thickens when spirits begin to beckon their home, and they need help. Sabrina also plans to contact her mother, and well, not everything goes according to the plan.
5. Chapter Fifteen: Doctor Cerberus's House of Horror
IMDb: 7.6/10
Rotten Tomatoes: 81%
Season: 2
This episode is really amazing in terms of dark activity. The dark lord decides to prove a point and is willing to go to any means to win this game. Sabrina might submit to him this time because there is no other option, It's a dark game, and the dark lord might own it, after all.
6. Chapter Sixteen: Blackwood
IMDb: 8.3/10
Rotten Tomatoes: 81%
Season: 2
This episode is very essential to the story. Faustus' mask comes off, and Sabrina finds out that he might've been behind the death of her parents- thanks to Madam Satan! Zelda and Faustus decide to get married despite heavy opposition- will auntie commit the bloody sin? Who knows! Watch and learn.
7. Chapter Eighteen: The Miracles of Sabrina Spellman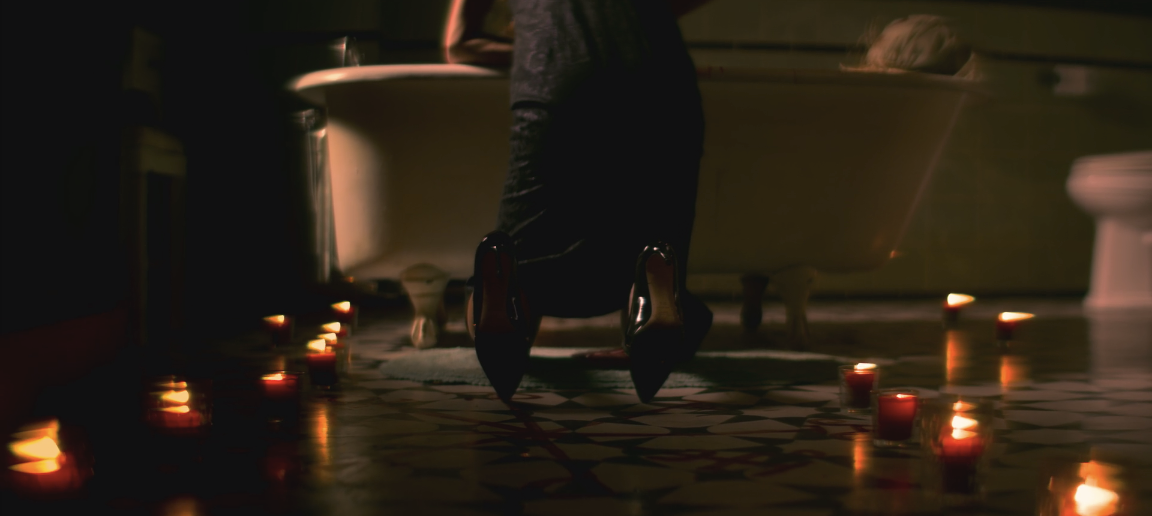 IMDb: 8.8/10
Rotten Tomatoes: 81%
Season: 2
This episode is just truly amazing, for it spells the magic of Sabrina. she defeats angels and saves most of her clan while she also flies in the sky with mystical hair and glowing eyes! Has the real herald of hell risen? Sabrina also resurrects and helps Ambrose survive death. Her crazy powers make everyone wonder- whom should they be praying to?
8. Chapter Twenty-One: The Hellbound Heart
IMDb: 7.5/10
Rotten Tomatoes: 90%
Season: 3
Zelda and Hilda reopen the academy, and the duo decides that the student will be praying to Lilith instead of the dark lord, which pleases Lilith. However, Nick had sacrificed himself and taken the dark lord inside himself. Sabrina and the gang get a way to go to hell and save Nick, and they also end up meeting the prince of hell; this chapter is incredibly interesting.
9. Chapter Twenty-Three: Heavy Is the Crown
IMDb: 7.6/10
Rotten Tomatoes: 90%
Season: 3
Sabrina brings back Nick, and he rests as well as tries to get over the trauma of hell by drinking his misery away at the bar while Sabrina must compete against the prince of hell for the throne. The Carnival arrives in town, and well, something isn't right!
10. Chapter Twenty-Eight: Sabrina Is Legend
IMDb: 7.8/10
Rotten Tomatoes: 90%
Season: 3
This episode is where everything unveils. Sabrina has to fight the Pagans and also become the queen of hell. So, what is going to happen? Would Faustus win? So, would Sabrina lose it all? Will Zelda and Hilda be able to help her? Is Faustus going to reach where he wants to? This episode is the most exciting part of the third season, and while we wait for the next installment, this is where the plot halts.
Release Date and other details for the Next season
The Chilling Adventure of Sabrina Part 4 was released on Netflix on 31st December 2020. Gavid Leatherwood filmed the final on Part 4 up to the end of February 2020.
The first and second parts of the series basically showed up with a gap of about six months, and in between the same time period, the Christmas special showed up. So, a similar pattern is probably to be expected from parts three and the fourth part.
The Chilling Adventures of Sabrina have reached its final episode after two seasons and four parts. But unfortunately, this means that we must bid farewell to our beloved coven and the people of Greendale as they battle their toughest opponents yet.
What Happens Next with Sabrina Spellman?
There is always something new that Chilling Adventures of Sabrina writers have added, and that is generally something that we would not have expected.
Moreover, at the end of Part 2, the crew decided to step in and go save Nick from the fiery pits of hell. Alas, People were expecting that it would take the whole of Part 3, but it has unexpectedly happened in Part 2 only. Well, one must applaud the writer for turning it around with a beautiful twist about going into Nick's psyche and the fight between him and the dark lord. We also saw an interesting perspective of PTSD with Nick while Sabrina, the lead character, was caught fulfilling her duties in hell and everything with pagans.
Moreover, after Part 3 came to an end, the story is again turning to a new part. Sabrina tries to pull another fast one on the universe. The two different Sabrinas and the only Queen of Hell while the other is living her mortal life on earth. So, what could go wrong?
Sabrina has been seen many times trying to walk this line in part, and for the most part, it has worked, which came with great sacrifice. The boldest move that Sabrina has made till now by assuming the results to be catastrophic. There is a lot more about Sabrina in Part 4. Will, there be two Sabrina, or will they remain separate, or will they have to go back in time to complete the loop? However, to find out more interesting things, you will have to watch Part 4 NOW!
A Battle is Brewing: Are you prepared?
It would be interesting was between hell and heaven. That's what the show has been building toward. What do you think happens next? So, are you waiting for the Chilling Adventure of Sabrina Episode 4, and do you miss the dark lord?
Will this be the endgame for Nick and Sabrina? It won't be a happy ending only but a thriller one at that, which might actually leave us wanting more. This is probably the last season of Sabrine, with so much to cover up. Also, will it actually satisfy all of us and our greedy ol' hearts? Is the dark lord up to something?