We all looked forward to a long and relaxing vacation the most when we were children. However, the long vacation very soon used to become boring too. Not for Dipper and Mabel, though. The twins from the popular show The Gravity Falls had a singularly exciting and adventurous vacation.
With a new mystery to solve every day, a new question to find answers to, and new allies in this quest, theirs was a dream vacation. And, of course, the viewers lived every mystery through them. Gravity Falls, an animated mystery cum comedy television series created by Alex Hirsch, originally premiered on the Disney channel and aired from June 15, 2015, till February 15, 2016.
Set in the fictional town of Gravity Falls, Roadkill County in Oregon, the show follows the story of two twins, Dipper and Mabel Pines, who are twelve-year-olds. For their summer vacations, their parents drop them off at Gravity Falls from their home in Piedmont, California, to spend time with their Great Uncle Stan Pines.
As the precocious twins notice supernatural happenings in the area and help in the managing of Grunkle Stan's ( as they affectionately called Stan) Mystery Shack, a tourist trap, they decide to investigate and find answers to these mysterious happenings with a healthy dose of suspense and humor. The show was very well received by its audience, including kids, teenagers, and even young adults.
Above and beyond being just a cartoon, it was critically acclaimed and even won BAFTA Children's Award and two Emmys, among others. While there have been no formal announcements of any other seasons, the fans miss the twins and their shenanigans. Fortunately, for Gravity Falls fans, we bring you a list of 20 shows like Gravity Falls.
20. Rick and Morty
Director – Dan Harmon
Creator – Justin Roiland and Dan Harmon
Voice Cast – Justin Roiland, Chris Parnell, Spencer Grammer, Sarah Chalke, Kari Wahlgren
IMDb Rating- 9.2
Rotten Tomatoes Score- 94
Streaming Platform- Netflix
An intergalactic slew of humourous adventures is what would define the American comedy animated series Rick and Morty.
The Smith family includes Beth and Jerry, who live with their two children, 14-year-old Morty and 17-year-old Summer, and Beth's father, Rick Sanchez. Rick, an eccentric scientist and not a believer in the societal norms of morals, marriages, etc., accompanies his grandson Morty to various dimensions and spaces, often creating humourous situations with mysterious elements incorporated for the correct measure. Sometimes, even Summer accompanies them with unbelievable experiences.
Would you care to join? Hop on the bandwagon of Rick and Morty.
19. Adventure Time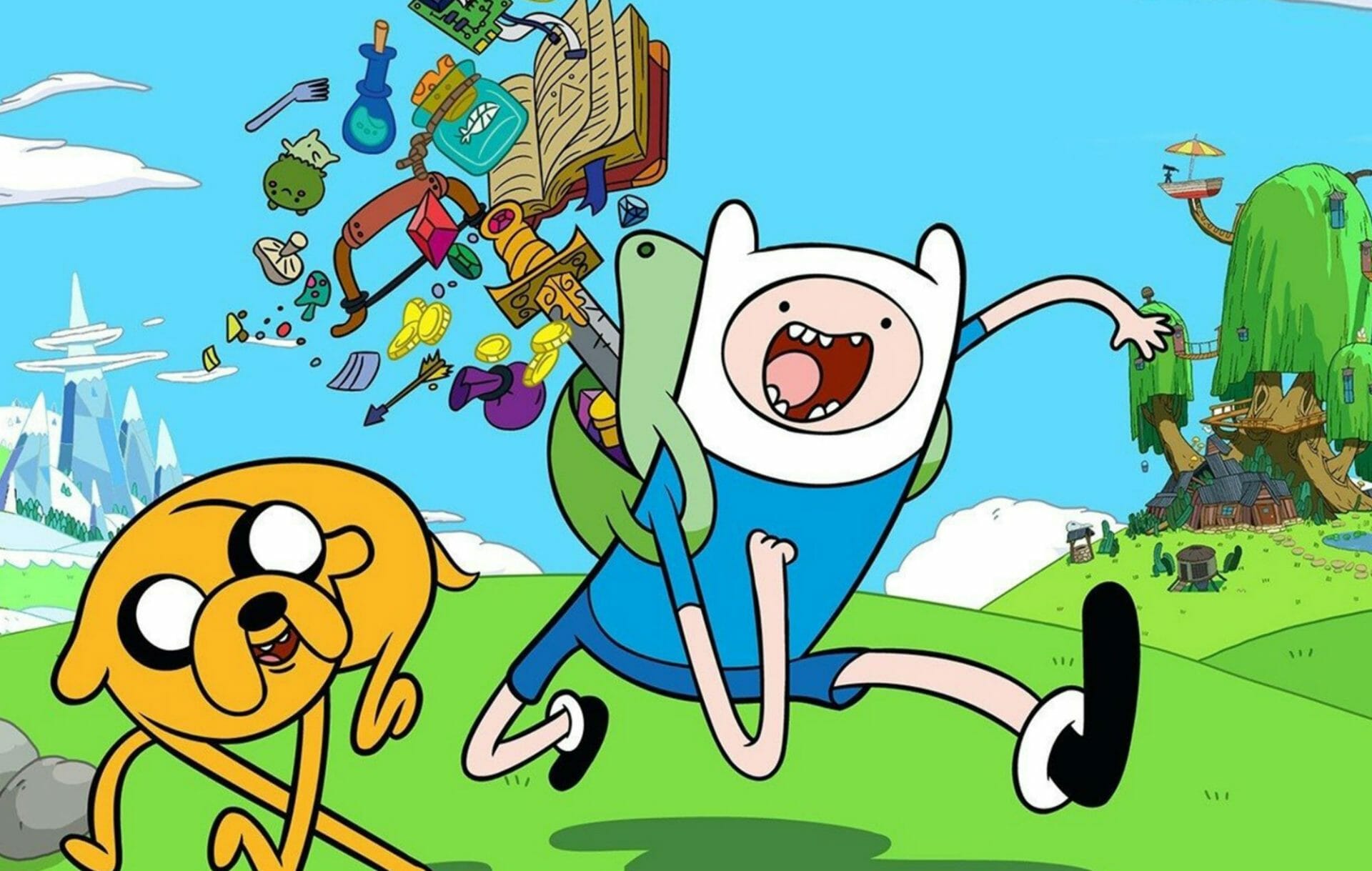 Director – Larry Leichliter, Nate Cash, and Adam Muto, among others
Creator – Pendleton Ward
Voice Cast – Jeremy Shada, John DiMaggio, Hynden Walch, Tom Kenny, Olivia Olson
IMDb Rating- 8.6
Rotten Tomatoes Score- 100
Streaming Platform- Hulu
Adventure Time is inspired by a plethora of sources like video games and role-playing games, and the episodes have been worked on diligently by the writer and storyboard artist.
An animated fantasy series, Adventure Time charts the adventures of Finn( A human) and his best friend cum adopted brother, Jake, who is a shape-shifting dog and live in a post-apocalyptic world that was ravaged by the life-altering event of 'mushroom war' a nuclear war.
However, the series takes place thousands of years later as Finn and Jake meet new magical creatures every day, including a Vampire queen, King Ice, a space princess, and a host of other magical creatures while on daily adventures just like Dipper and Mabel. Join in on the fun ride through their mishaps and laughter.
18. The Dragon Prince
Director – Villads Spangsberg, Giancarlo Volpe
Creator – Aaron Ehasz, Justin Richmond
Voice Cast – Jack De Sena, Paula Burrows, Sasha Rojen, Jason Simpson
IMDb Rating- 8.4
Rotten Tomatoes Score- 100
Streaming Platform- Netflix
An American Fantasy Animated Series, The Dragon Prince is high in drama, magic, and adventure. Set in a fantasy land of the continent of Xadia, the magic is prevalent. It is derived from major sources of The Sun, The Stars, The Moon, The Sky, The Earth, and the Ocean, and for centuries, humans, elves, and Dragons lined in Harmony.
However, the Greed of Humans has turned the tables and brought dark magic into the picture. It now depends on the half-brother duo of princes, Ezran and Callum, along with their elf ally Rayla to defy their father Harrow and his advisor Viren and his allies to defend the Dragon heir egg Azymondias and bridge the gaps between the creatures that threaten the existence of the planet and its beings.
17. Infinity Train
Director- Madeline Queripel, Owen Dennis
Creator- Owen Dennis
Voice Cast – Ashley Johnson, Jeremy Crutchley, Owen Dennis
IMDb Rating- 8.4
Rotten Tomatoes Score- 100
Streaming Platform- HBO MAX
A wild ride on an endless train is how one can define the American series Infinity Train.
The series begins with a girl named Tulip Olsen who gets stuck on the train with only her robot one as her Ally. As the train seems to be moving endlessly on a barren landscape, she finds that there are many more trapped in the train, too; the train cars act as different levels that all the passengers have to clear in order to deboard it.
16. Over the Garden Wall 
Creator – Patrick McHale
Voice Cast- Elijah Wood, Collin Dean, Melanie Lynskey
IMDb Rating- 8.8
Rotten Tomatoes Score- 93
Streaming Platform- Hulu, Amazon Prime
Based on the short film, The Time of The Unknown by Patrick McHale, Over The Garden Wall is an animated television miniseries created by Patrick McHale for The Cartoon Network.
It follows the story of two half brothers, Wirt, an indecisive and cautious teenager who writes poetry and plays clarinet, and Greg, a precocious and carefree free little boy who has a mishap on a Halloween and falls into a pond near their house getting transported into a mysterious forest, The Unknown. This is the story of how they persevere to return and get out of the forest while they meet new magical creatures like an irritable bluebird, Beatrice, and a frog Greg develops a fancy for.
How do they get past all the Beast that hounds them, threatening to turn them into a tree, and reach a famed woman Adelaide who is claimed to revert the magic that brought them here? Will she help? Or is she another one of the dangers? Join in on the fun and Adventures while it lasts.
15. Trollhunters: Tales of Arcadia 
Director- Rodrigo Blass, Elane Bogan, Andrew L. Schmidt
Creator – Guillermo del Toro
Voice Cast – Anton Yelchin, CharlieSaxton, Kelsey Grammer
IMDb Rating- 8.4
Rotten Tomatoes Score- 94
Streaming Platform- Netflix
A magical amulet is where it all started. The American computer Animated series tells the tale of a teen boy who finds a magical amulet, The Amulet, and then embarks on a quest with his two human friends, Toby and Claire, and giant friends Blinky, Aarrghh, and Drall to save their world from the dangerous creatures while maintaining their normal teenage lives. Will the three teenagers be able to defend the world and their normalcy together, or will their enemies hurt closer at home? Tune in to find out.
14. Kipo and the Age of Wonderbeasts
Director- Young Ki Yoon, among others
Creator – Radford Sechrist, based on the movie Kipo
Voice Cast – Karen Fukuhara, Sydney Mikayla, Coy Stewart, Deon Cole, Dee Bradley Baker
IMDb Rating- 8.3
Rotten Tomatoes Score- 100
Streaming Platform- Netflix
A young adult animated series, Kipo and the Age of the wonderful beasts is set in a post-apocalyptic world where the animals have mutated (now called mutes) and overcome the human race and force them to live in 'burrows' Underground. Set in sometime during the 23rd century, the series follows the quest of a 13-year-old human girl, Kipo Oak, to find her father, who she got separated from when a massive mute monkey attacked their burrow.
Now she has to return to the surface and face the plethora of wonder beasts along with her allies, Wolf, a betrayed human girl, Benson, insect Dave, and a pig, Mandu, to find her father's whereabouts. Will she succeed or succumb? Especially when a mandrill with mind-controlling pheromones is hatching plans to enslave humans? Tune in to find out.
13. The Owl House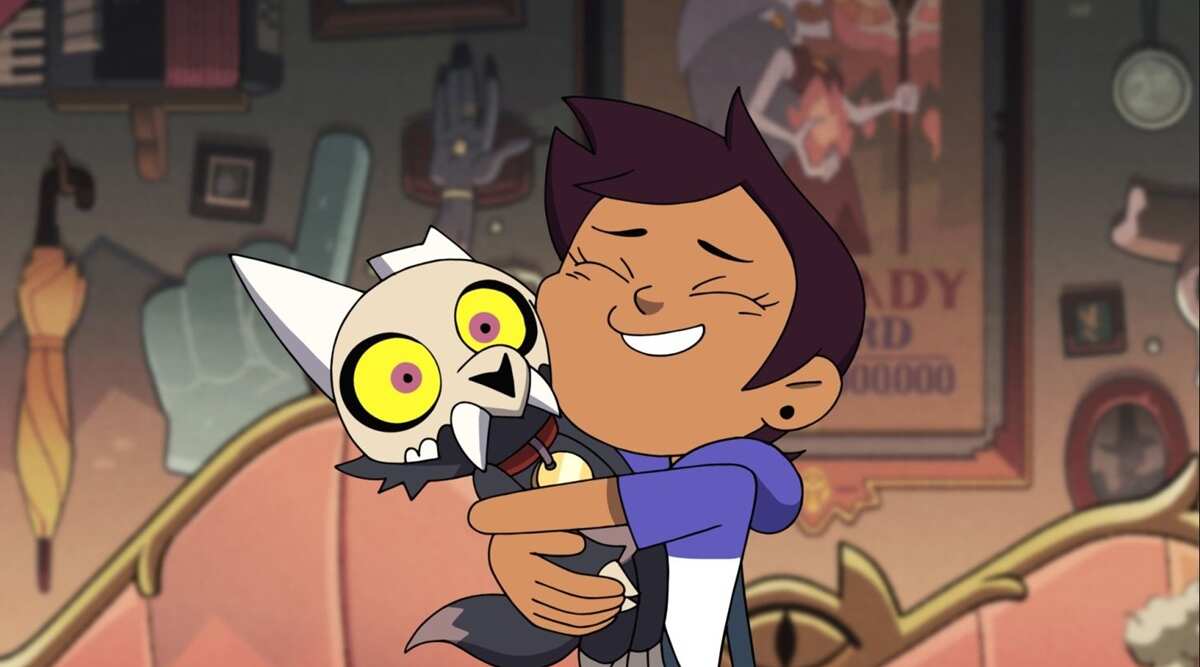 Director- Bosook Coburn, Amelia Lorenz
Creator- Dana Terrace
Cast- A voice cast of Sarah-Nicole Robles, Alex Hirsch, Wendie Malick, and Tati Gabrielle, among others
IMDb Rating- 8.2
Rotten Tomatoes Score – 100
Streaming Platform – Disney plus
The Owl House is an American animated television series of the fantasy genre. Following the story of a Dominican – American Teenager, Luz Noceda, it tells how Luz is transported by mistake into the Demon Realm, where she lands in the Boiling Isles, a group of Islands formed with the remains of a dead Titan. There she meets a rebellious witch, Eda Clawthorne, known as the Owl Lady, whom she quickly befriends and wants to emulate.
Excitedly, she joins Eda as her apprentice even though she has no borne magical powers. The Owl House is the series of her adventures while doing so. Packed with fantasy and a good measure of Humour, this is a must-watch series for the fans of Gravity Falls.
12.

Steven Universe
Director- Ian Jones Quartay, Kat Morris, Joseph D. Johnston, Alonso Ramirez Ramos, among others
Creator – Rebecca Sugar
Cast – Zach Callison, Estelle, Michaela Dietz, Deedee Magno Hall
IMDb Rating- 8.2
Rotten Tomatoes Score- 100
Streaming Platforms- Hulu, Netflix
An animated television series, Steven Universe, has a fairly unique concept. Originally airing on Cartoon Network, it follows the story of a boy, Steven Universe living in a fictional city, The Beach City, Delmarva, where Gems. Crystal Gems who live in a beachside temple are ageless aliens drawing energy from gems in the core of their being.
Steven Universe finds that he is a Half Crystal Gem inherited from his mother. While learning about his powers and their extent, he and the other Crystal Gems, Garnet, Amethyst, Pearl, and himself, protect the world from monsters, and Gems went rogue.
How did these aliens come to Earth? How is Steven Universe going to navigate his identity and powers? Tune in to find out.
11. Amphibia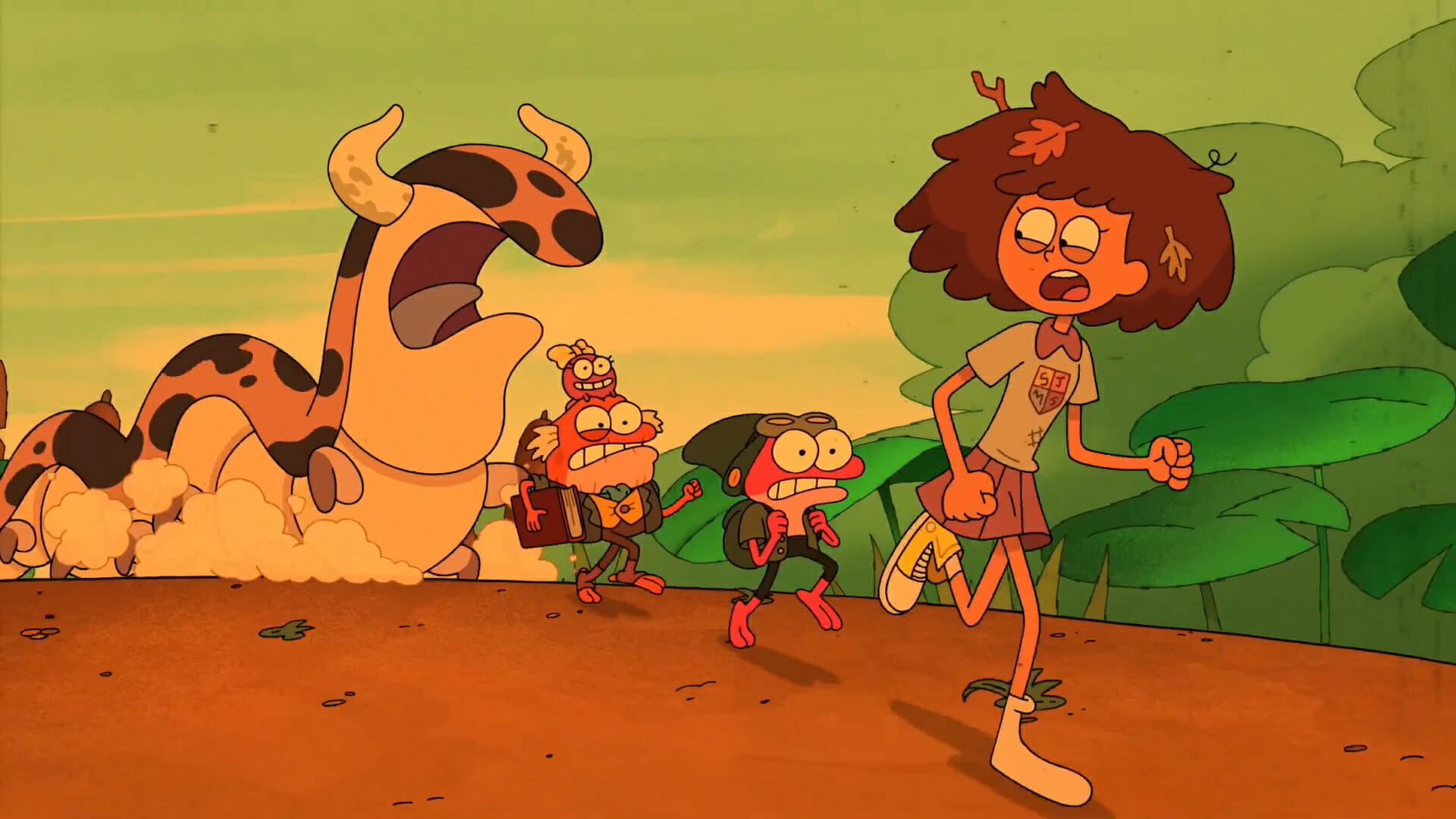 Director – Joseph D Johnston, Jennifer Strickland, Kyler Spears, Derek Kirk Kim, Bert Youn, Roxxan Cole
Creator- Matt Braly
Voice Cast -Brenda Song, Justin Felbinger, Bill Farmer, Amanda Leighton
IMDb Rating- 8.2
Rotten Tomatoes Score- 86
Streaming Platform- Disney plus
A Disney Channel animated series, Amphibia charts the adventures of a teenager who runs across a strange magical music box.
A 13-year-old brave and fearless girl named Anne Boonchuy is challenged to steal a musical box. However, the box reveals itself as a magical portal to another world and sucks her and her two best friends, Sasha Waybright, and Marcy Wu, into the strange world of Amphibia, an Island full of anthropomorphic sea animals who are all not so welcoming.
As she and her friends get separated, they persevere to join forces again to find out the mystery of the strange music box and the events that landed them in this unforeseen land. With talking frogs and sea animals, and multiverse conspiracies thrown in for good measure, hop on the bandwagon to see how Anne faces all the challenges and learns some valued life lessons in the process.
10. Scooby-Doo! Mystery Incorporated
Director-Victor Cook, Curt Geda
Creator – Mitch Watson
Spike Brandt and Tony Cervone based on originally created by Joe Ruby, Ken Spears
Voice Cast- Mindy Cohn, Grey DeLisle, Matthew Lillard, Frank Welker
IMDb Rating- 8.1
Rotten Tomatoes Score- 88
Streaming Platform- HBO MAX
Who doesn't like a good sinister, and suspenseful situation at the hands of capable detectives and their journey toward solving it?
Scooby-Doo Mystery Incorporated! is an American franchise of animated series based on the original, Scooby-doo Where Are You!, where a group of teenagers and their Great Dane, Scooby- doo solve mysteries supposedly involving supernatural and unusual happenings.
It's the lovable characters, the camaraderie between the main characters, and the humor with a healthy element of mystery that endears the show to the masses. For the Gravity Falls fans, this would be an absolute treat.
9. Solar Opposites
Director – Anthony Chunn, Kim Arndt, among others
Creator – Justin Roiland and Mike McMahan
Voice Cast- Justin Roiland, Thomas Middleditch, Sean Giambrone, Mary Mack
IMDb Rating- 8
Rotten Tomatoes- 96
Streaming Platform- Disney Plus, Hulu
This animated sitcom of the science fiction genre follows the adventures of a family of four aliens who land on American Land trying to evade the destruction on their planet. They move into a suburban house and have mixed reactions to Earth. While Korbo and Yamyulak only see rampant pollution and greed, Terry and Jess love Earth because of its junk food, TVs, video games, and whatnot.
While trying to fit into the human kingdom, they also guard and care for a live supercomputer Pupa, who will one day develop and complete their mission. Want to know how they adjust? What is their target? Well, hop in on their adventures.
8. P

hineas and Ferb 
Director – Robert Hughes, Zac Moncrief, George Elliot
Creator- Jeff "Swampy" Marsh, Dan Povenmire
Voice Cast- Vincent Martella, Thomas Sangster, Ashley Tisdale, Dee Bradley Baker, Jeff "Swampy" Marsh
IMDb Rating- 8
Rotten Tomatoes Score- 92
Streaming Platform- Disney plus
A refreshing take on animated comedy series, Phineas and Ferb is a series of adventures of Phineas Flynn and Ferb Fletcher, two half brothers who carry out extraordinary experiments during their summer vacation and often irritate their older sister Candace who tries to get them caught red-handed but fails regularly.
They even have a pet platypus Perry who is a secret agent against a recurring eccentric scientist comedic villain. Join in on the summer adventures of Phineas and Ferb.
7.

SpongeBob SquarePants
Director – Vincent Waller, Dave Cunningham, and Stephen Hillenburg, among others
Creator- Stephen Hillenburg
Developer – Derek Drymon, Tim Hill, Nick Jennings
Voice Cast- Tom Kenny, Bill Fagerbakke, Rodger Bumpass, Clancy Brown
IMDb Rating- 8
Streaming Platform- Netflix
When animated shows are the topic of discussion, no one can forget the favorite, Spongebob SquarePants.
Originally made by a marine science educator, Stephen Hillenburg, to teach students about undersea life, the series first aired on Nickelodeon and charts the various adventures of a sea SpongeBob, SpongeBob SquarePants, and his horde of aquatic animals like Patrick Star, Pearl plankton, Mr. Krabs, etc. who live in a fictional undersea city of Bikini Bottom.
It has become a cult and a hit among children and adults alike with its childish elements and adult life of work mixed with a good dose of humor. The critically acclaimed series has won a wide assortment of awards throughout its 14-season run and has even laid a base for three movies.
6. Star vs. the Forces of Evil 
Director – Aaron Hammersley, Dominic Bisignano, Brett Varon, among others
Creator- Daron Nefcy and developed by Jordana Arkin and Dave Wasson
Voice Cast – Eden Sher, Adam McArthur, Alan Tudyk, Jenny Slate
IMDb Rating- 7.9
Rotten Tomatoes Score- 76
Streaming Platform- Disney plus
Star Vs. The Forces of Evil is an American Fantasy Animated series based on the adventures of a magical girl sent to Earth. A magical princess named Star Butterfly, an heir to the throne of a magical dimension, Mewni, and to the Butterfly Kingdom is sent to Earth as a foreign exchange student to temper her recklessness and immaturity when they realize she is not yet ready to handle the magical powers of her magical wand.
On Earth, the magical princess has a lot to adjust to. She moves in with the Diaz family and makes friends with their son, Marco. Adjusting to a seemingly normal life, she lives in the Suburban part of Los Angeles. With a monster Ludo of evil forces at her heels for her magical wand and scissors that can cut through dimensions, join her on her 'misadventures while keeping her magic wand safe from Ludo and dealing with forces of evil with Marco and her best friend, Pony Head at her side.
5. She-Ra and the Princesses of Power
Director- Jen Bennett, Roy Burdine, Mandy Clotworthy
Creator – ND Stevenson based on the Movie She Ra, Princess of Power
Voice Cast- Aimee Carrero, AJ Michalka, Karen Fukuhara, Marcus Scribner, Keston John
IMDb Rating- 7.8
Rotten Tomatoes Score- 95
Streaming Platform- Netflix
An American Animated tv series, She Ra Princess of Power, chronicles the journey of an orphan, Adora, who is hired into the army of a despot, Hordak, who rules Etheria along with her best friend Catra, who is also an orphan.
On a fateful day, Adora comes across a magical sword that transforms her into a superhuman She Ra when she wields it. With newfound powers, she realizes that Hordok is evil and therefore reassembles the Princess Alliance with other Princesses of neighborhood kingdoms. Catra, who now wades into a pool of resentment over her personal ambitions and perceived betrayal, becomes Adora's Mortal Enemy and Hordok's second in command.
Will She Ra be able to face Hordok's evil and a friend turned for? Will this be her only battle? Or a far more devastating danger is in store for her? For those missing Gravity Falls, this journey spanning four seasons will be a terrific ride.
4. Little Witch Academia
Director- Yo Yoshinara, Yoshihiro Miyajima
Creator – Yoh Yoshinari
Voice Cast – Erica Mendez, Stephanie Sheh, Anastasia Muñoz, Alexis Nichols, Laura Post
IMDb Rating- 7.8
Rotten Tomatoes Score- 40
Streaming Platform-
Magic and Witches take the center stage with this Japanese anime franchise, Little Witch Academia. Inspired by a witch, Shiny Chariot, Atsuko Akko Kagari enrolls in the prestigious Luna Nova Magical Academy to learn to be a witch. Tune in to watch how her nonmagical background poses problems in her learning and how an unexpected relic of A 'Shiny' Past becomes a beacon of hope for her.
If magic is your kryptonite, anime is your cup of tea, and don't miss this extravagant ride through magic with this fantasy series.
3. The Hollow
Director- Josh Mepham, Kathy Antonsen Rocchio, Greg Sullivan, Vito Viscomi
Creator- Josh Mepham, Greg Sullivan
Voice Cast-
IMDb Rating- 7.1
Rotten Tomatoes Score- 100
Streaming Platform- Netflix
What if a game becomes a reality? How many levels would one be able to clear?
The Hollow, a Canadian animated mystery series, is a series airing on Netflix. The series begins with the three teenagers, Adam, Mira, and Kai, waking up in the room with no memories, not even their names but fund chits of paper with their names in their pockets.
Somehow landing up in video game-based reality, they have to face challenges and monsters while discovering their superpowers. Will they ever get back to reality? If so, then how? Hook in till the last, i.e., the second season, to know the answers.
2. C

amp Lazlo 
Director – Mark O'Hare
Creator – Joe Murray
Voice Cast – Carlos Alazraqui, Jeff Bennett, Tom Kenny, Mr. Lawrence
IMDb Rating- 6.4
Streaming Platform- Amazon Prime
Set in a world entirely inhabited by anthropomorphic animals, this American animated television series originally aired on Cartoon Network. It follows the adventures of an excited spider monkey Lazlo, a timid Indian Elephant, Raj, and a quiet albino pygmy, Rhinoceros, and Clam, while attending a boring summer camp, Camp Kidney, during their summer vacation.
As they interact with other fellow Camp members and the surly scouts master, under the umbrella of Lazlo's eccentricity, they get into a series of misadventures and funny situations, tickling the funny bones of the audience. For the daily dose of humor just like the twins Dipper and Mabel granted, tune in to this critically acclaimed series of indulgent five seasons.
Related:
1. Victor and Valentino
Director – Erik Wiese, and Ted Collyer, among others
Creator – Diego Molano
Voice Cast – Diego Molano, Sean-Ryan Petersen, Laura Patalano, Jason Hightower, Cristina Vee, Cristina Milizia
IMDb Rating- 6.2
Streaming Platform- Amazon Prime
Two precocious kids looking for adventure, with mythology in play and a dash of action, is a sure-shot recipe for a great show.
Victor and Valentino, an American animation series originally aired on Cartoon Network, is a basket of adventures of supernatural nature that two brothers who are polar opposites in disposition experience in their small town of Mount Macabre. With their supernatural grandmother Chata and Mesoamerican myths in motion, rowdy Victor and cautious Valentino explore other-worldly myths, beings, and happenings.