Animations are quite a unique genre. Not only does it allow the creator to exercise and channel their creativity, but it also efficiently brings out the audience's desired emotions.
The most acclaimed yet criticized, loved yet hated, enjoyed and debated cartoons of all time would undoubtedly be 'The Family Guy.'
Set in the fictional town of Quahog, Rhode Island, The Family Guy is an American animated adult comedy TV series originally aired in 1999.
It is a culmination of hilarious situations in which a family, including parents Peter and Lois Griffin, their children, the teenager's Meg and Chris, and toddler Stewie and their anthropomorphic pet dog, Brian, and A host of actors have lent their voices to these characters.
The TV series helmed by Fox Network has received worldwide fame through various media outlets and notoriety for its satirical comedy and a variety of jokes, including ones about race, sexual or other sensitive topics, and the portrayal of characters.
Apart from these mixed reactions, the series' fandom has been so enthusiastic and loyal through the years that the series has surpassed about 20 seasons and braved two decades and counting.
The credit for the success of the TV show goes not only to its concept and Stories but also to the Family Guy voice actors who have lent their voices and made the characters come to life and made them unique. Let us look at some of the main cast of voice actors who have immortalized the characters and contributed to the show.
10. SETH MacFarlane – The Brain And Voice Behind Stewie Griffin And Peter Griffin
The creator, developer, and original executive producer, Seth MacFarlane, has also been voicing four out there five main characters, Peter Griffin, Brian, Stewie Griffin, and Glenn Quagmire.
Peter Griffin is a clumsy, not-so-intelligent blue-collar worker and a descendant of the person who established the Quahog. He is the father of Chris Griffin, Meg Griffin, and the toddler Stewie Griffin and the husband of Lois Griffin. Brian is a dog with anthropomorphic characteristics.
He is the pet of the Griffin family, although he swills glasses of martini, converses in English, and spews witticisms and sarcastic comments regularly. Stewie Griffin is the criminal of the Griffen lot. He is the toddler son of Peter and Lois.
With a devilish wit quite surpassing the children of his infant age, he is a paragon of evil tendencies and cracks all sorts of sexual and adult jokes. Glenn Quagmire is the pilot friend of Griffins and a character known for his catchphrase 'Giggity.'
Seth MacFarlane decided to play the characters mentioned above with the opinion that he would be the best one to know what he expects from the personality of these characters that he had created. Seth also voices some one-time appearing characters like Lois' father, Carter Pewterschmidt; a host of other actors have lent their voices to other vital characters.
9. Alex Borstein
Alex Borstein is an American actress, Writer, and producer known for her work in Marvelous Mrs.Maisel and for voicing Lois Griffin in 'The Family Guy.' For lending her voice to Lois Griffin, Alex Borstein has also won a Primetime Emmy Award for the same.
Lois Griffin, in the series airing on Fox Network, is the wife of Peter Griffin and mother to Chris Griffin, Meg Griffin, and Stewie Griffin and also has Brian Griffin as her pet. She is a pretty woman and a stay-at-home mother who teaches piano and watches movies.
She belongs to the wealthy Pewterschmidt family, and although portrayed as a typical housewife, she has accepted to be a kleptomaniac and a recovering addict.
8. Mila Kunis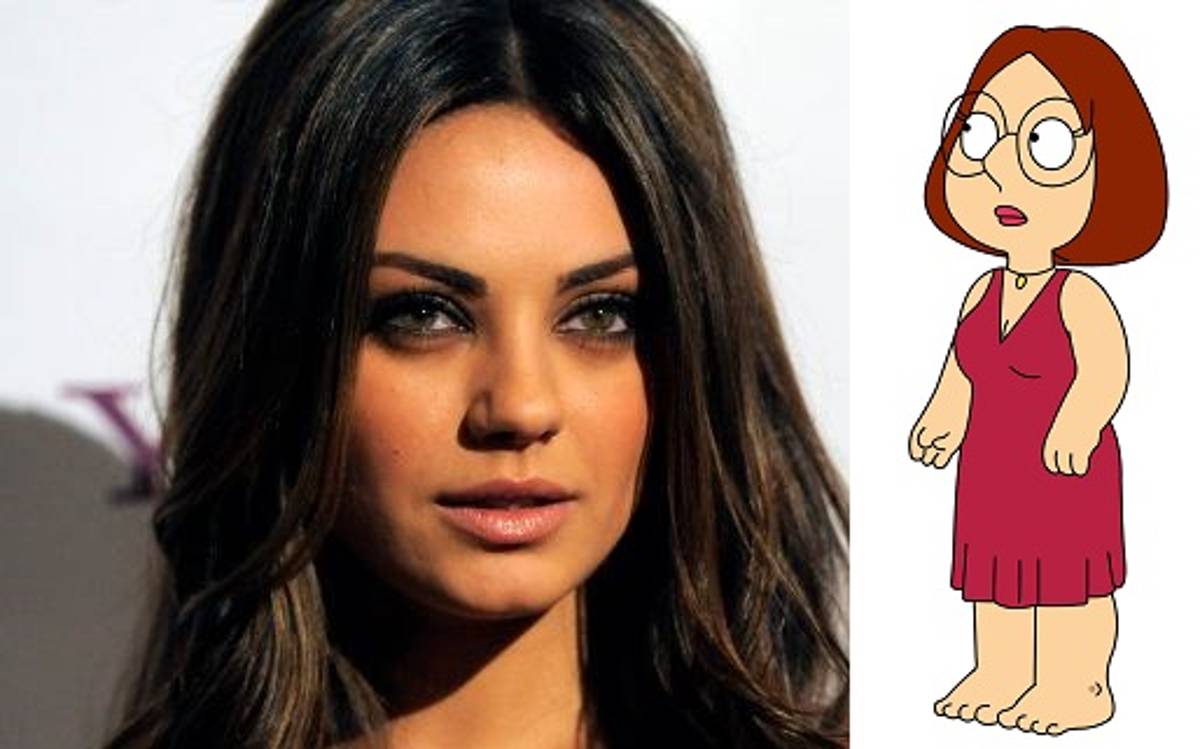 Mila Kunis is the voice actor for the character of Meg Griffin. Originally voiced by Lacey Chabert, she was replaced by Mila Kunis from season 2 to voice the Family Guy character. She was cast in the role partly due to her extraordinary eye-catching performance in That 70's show.
Meg Griffin is described as the scapegoated character. She is picked on, bullied, and ridiculed by almost all the surface of the show, especially so by her father, Peter Griffin, who calls her ugly and other rude names, and by Stewie Griffin and Chris Griffin, although behind her back.
She is constantly underconfident and neglected, but she voices opinions and denounces those who ridicule her. One such episode was 'Seahorse Seashell Party.'
7. Seth Green
Seth Green, an American writer, producer, and actor, is a voice actor mainly for the Family Guy characters of Chris Griffin and Neil Goldman.
Chris Griffin is the son of Peter Griffin and Lois Griffin. An overweight teenager, he is not particularly blessed in the intelligence department. He possesses just about the same level of intelligence as his father, which is not entirely up to the mark.
Neil Goldman, also voiced by Seth, is Chris's best friend at James Woods Regional High School and a nerdy teenager. He is also the only one who likes Meg and is infatuated with her.
Seth Green was also a co-creator of the show- Robot Chicken on Cartoon Network's Adult Swim, which consists of skits and cutaway gags similar to those in Family Guy.
6. Mike Henry
A Family Guy writer and producer, Mike Henry voice played the character of Cleveland Brown in the series Family Guy. He has also voiced Cleveland's stepson, Rallo Tubbs, and Herbert 'Pervert' among other recurring characters in the s telecasted by Fox Network.
Cleveland Brown is the neighbor and a family friend of Griffins and also appears in the Family Guy spinoff The Cleveland Show. He was initially a deli owner, but with multiple shifts in the occupation, he finally settled on a postal worker. He is married to Donna Tubbs-Brown in the Cleveland Show, and the entire family was again included in The Family Guy.
On June 26, 2020, Mike Henry announced on Twitter that he should not be acting as the voice actor for Cleveland Brown further after playing the role for about two decades. It was decided they he shall be replaced by Arif Zahir.
5. Adam West
Adam West was an American Actor known for his portrayal of Batman and Robinson Crusoe on Mars, along with his voice acting in The Simpsons, The Fairly Oddparents, and Family Guy. He plays the role of Adam West, the mayor of Quahog in the series.
A regularly occurring Family Guy character, Adam West, is soft-spoken but slightly cracked in the head. His nonsensical actions have created a fair share of troubles for the citizens of Quahog.
Arif Zahir
An American actor, rapper, voice impressionist, and singer, he has a formidable YouTube presence with 7 million and counting subscribers.
On September 25, 2020, it was announced that he should replace Mike Henry as the voice artist for the Family Guy character, Cleveland Brown, from season 20, episode 1 onwards. The show airs on Fox Network. The audience hopes that both actors manage to keep the surface intact.
3. Patrick Warburton
Patrick Warburton voices the role of Joseph "Joe" Swanson in the series Family Guy. he is an American Actor known for his baritone voice and robust physique. His baritone has successfully established him as a Voice Actor.
Joe Swanson, a Family Guy character, is a 46-year-old paraplegic with impotence and incontinence. He is a neighbor of Griffin's. Despite his drawbacks, he is a very enthusiastic and vigilant police officer who even participates in fieldwork of catching criminals. He is one of the most frequently occurring supporting characters in the show.
2. Jennifer Tilly
An American-Canadian Actress and poker player, Jennifer Tilly is one of the members of the cast of voice actors on Family Guy and has been voicing the character of Bonnie Swanson, the wife of Joe Swanson. She has been known for her unique voice and has various award nominations, including an Academy Award Nomination.
Bonnie Swanson in Family Guy is a soft-spoken wife of Joe Swanson and a neighbor to the Griffins. Her character has appeared regularly since the show's inception on Fox Network.
1. The Regulars
Apart from the voices of the prominent cast members, the show also includes many other actors who lend their voices to many miscellaneous characters. Rachel MacFarlane, who voiced the Family Guy character of Meg during its pilot phase, has since then expressed various female feelings and has appeared regularly in almost all seasons.
John Veiner is also one of the most frequent voice actors on TV episodes after Seth MacFarlane. He is also a writer for Family Guy. Danny Smith is also a Writer who has repeatedly lent his voice to various characters.
Conclusion
The TV show, a brainchild of Seth MacFarlane, airing on Fox Network, has a massive fanbase despite the choice of jokes and characterization. It has many positive reviews from renowned newspapers like The New York Times and The Sydney's Herald, among other media outlets, and is deemed a pop culture show.
Its viewership is in the millions. One must agree that the show is not biased toward one sensitive topic. It has jokes about everything. The best thing about the show is the comic timing of the Family Guy characters and the comic prowess of the actors.
In each episode, it is impossible not to laugh where the writers mean the audience to. Each episode required a lot of hard work. The cast of voice actors has also done their job commendably. The success is, therefore, a fruit of excellent writing, the efforts of the voice actors, and the animation. The fans eagerly await future seasons to air and indulge in them.