The American Neo Horror Movie Series Don't Breathe first came onto the big screen on August 26, 2016, and after a hiatus of almost 5 years, the Second Season dropped on August 13, 2021. Directed by Rodo Sayagues, to be precise, Rodo made his directorial debut through this sequel of Don't Breathe.
The Movie has the same character called "The Blind Man/ Norman Nordstorm," played by Stephen Lang, who has this extraordinary quality of using all other senses except his eyesight. The only change is that he has become a single father to his adopted daughter "Phoenix," played by Madelyn Grace. However, there is an entry of a new character named "Raylan," played by Brendan Sexton III. The Movie is the adaptation of Characters by Fede Álvarez and Rodo Sayagues.
Don't Breathe 2: Stream it or Skip it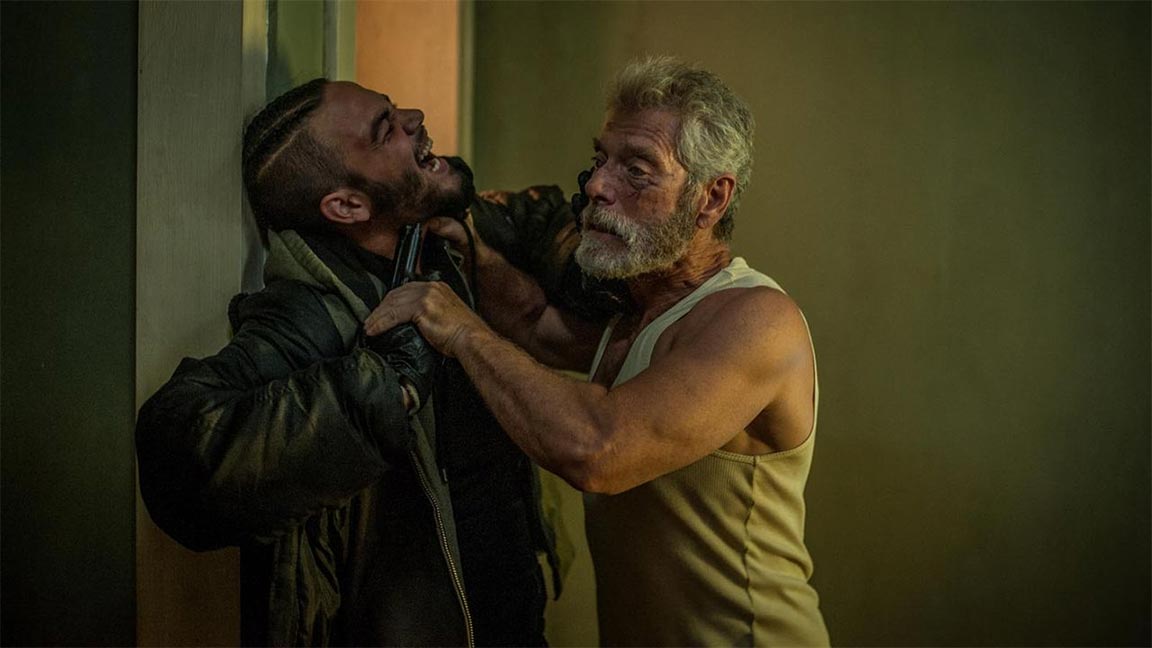 The Movie starts with a fire breaking out in an old shoddy house, and a small little girl crawls out of the house and is tossed out on the road. We can hear a voice calling the little girl "Phoenix" for obvious reasons symbolizing a mythical creature. Then a Subtitle reads as "8 Years Later". The Scene follows Phoenix, who is currently 10 to 11 years old, running all the way through the forests rescuing herself from a ferocious dog who would bite the bone out of Phoenix if she is caught.
Phoenix spontaneously ascends a very tall fence with significant and considerable agility and skill and eventually scuttles to an old discarded car, where she finds a big polished pistol. But an old man, who we are very well acquainted with as The Blind Man (Stephen Lang) from the first Movie, appears behind her and clenches the revolver. Nordstorm asks Phoenix if she failed again, and this discloses to the audience that Nordstorm is training the girl to survive in the toughest times with these survival techniques.
Apparently, because of Nordstorm's over possession, he is traditionally teaching Phoenix like the non-traditional homeschool curriculum. Initially, everything goes fine, but after time passes, Phoenix feels trapped within the four walls as our very own creepy Blind Man doesn't let her go outside the house or even let her have friends. Occasionally when Nordstorm lets Phoenix go outside, he constantly has his eyes attached to her.
Eventually, after a few scenes, the audience can feel that the old creepy criminal offender Nordstorm has turned into a nice person who is a decent human being now. Certainly, this time Nordstorm doesn't want to lose Phoenix, but evil doesn't take permission to come into your life, and something similar happens. A Random Bunch of Dangerous Goons, played by Brendan Sexton III (as Raylan), Rocci Williams(as Duke), Adam Young (as Jim Bob), and others, enters into the lives of this father-daughter duo.
The Hooligan's main ambition was to abduct Phoenix, who is later revealed to be the biological daughter of Raylan, and the very idea of abduction doesn't go along with our old avenger, The Blind Man. Nordstorm willingly does all manner of unsterilized tactics to get rid of the intruders. The only hope which resides in Phoenix should pass this very "survival" test because it might turn to be the final exam.
Well, this time, our old creepy, not so desirable The Blind Man has turned into a decent person doing all manner of things to save her adopted daughter, which makes it desirable and comfortable for everyone to watch this new avatar of him. So we suggest you definitely go and STREAM IT because it is worth watching, but one final statement that for sure that the sequel is not as effective as the first one, but it surely has a wonderfully scripted story.