Eternals is directed by Chloe Xhao and is the 26th movie in the MCU. The movie is distributed by Walt Disney Studios Motion Pictures and produced by Marvel Studios. Chloe Zhao has also written the screenplay along with Ryan Firpo, Kaz Firpo, and Patrick Burleigh. The cast of this MCU movie includes Richard Madden, Gemma Chan, Kumail Nanjiani, Brian Tyree Henry, Lia McHugh, Lauren Ridloff, Don Lee, Barry Keoghan, Harish Patel, Salma Hayek, Kit Harington, and Angelina Jolie.
In the movie the Eternals, an immortal race of aliens has come out of hiding after thousands of years with the motive to protect Earth from evil. The evil here is the Deviants.
Is Eternals Worth Watching or Not?
Eternals were sent to earth by Celestial Arishem so that they could fight with Deviants. In the 15th century, all the deviants were killed. After this, all the 10 Eternals waited to be sent back to Olympia, their home planet. Sersi, an Eternal, lives in London, and she lives with Sprite. Gemma Chan plays the role of Sersi, and Lia McHugh plays that of Sprite. Sprite is seeing Dane (played by Kit Harington).
Sersi works as a museum curator. They are attacked by a deviant, and then it is decided by Sersi that all the eternals must come back to fight the upcoming threat. Phastos (played by Brian Tyree Henry) is the first gay superhero, and Makkari (played by Lauren Ridloff) is the first deaf superhero. Sersi is an Eternal who is quite vulnerable and powerful at the same time. There was also a sex scene between Sersi and Ikaris (played by Richard Madden).
Angelina Jolie is seen in the role of Then, who has the ability to create weapons that glitter. These weapons are made with the help of cosmic energy. Salma Hayek is seen as Ajak, who is the leader of the Eternals. Kumail Nanjiani is seen as Kingo, who is a Bollywood actor. The role of this actor's manager Karun is played by Harish Patel. The mind control powers have been blessed to Druig (played by Barry Keoghan), and Gilgamesh (played by Don Lee) is the strongest one.
The movie is huge and full of philosophies. Sometimes the movie tests your patience as it is quite slow-paced. But it will be lovely to hear Nanjiani say Dishoom (especially for the Indian viewers) and Time by Pink Floyd. The movie is 157 minutes long. The movie is great in all, and you should WATCH it.
Where to Watch/Stream Eternals?
Eternal is currently available to watch in the theatres. It has a whole 45 days theatrical window. So, currently, it is not available on any streaming platform. Till 45 days of its release, the movie will only be available in theatres. After that period, it will be available on Disney+ just like the other MCU movies and shows. Looking at the current scenario, Eternals should be released on Disney+ by December 20, 2021.
Is there a Sequel Planned for Eternals?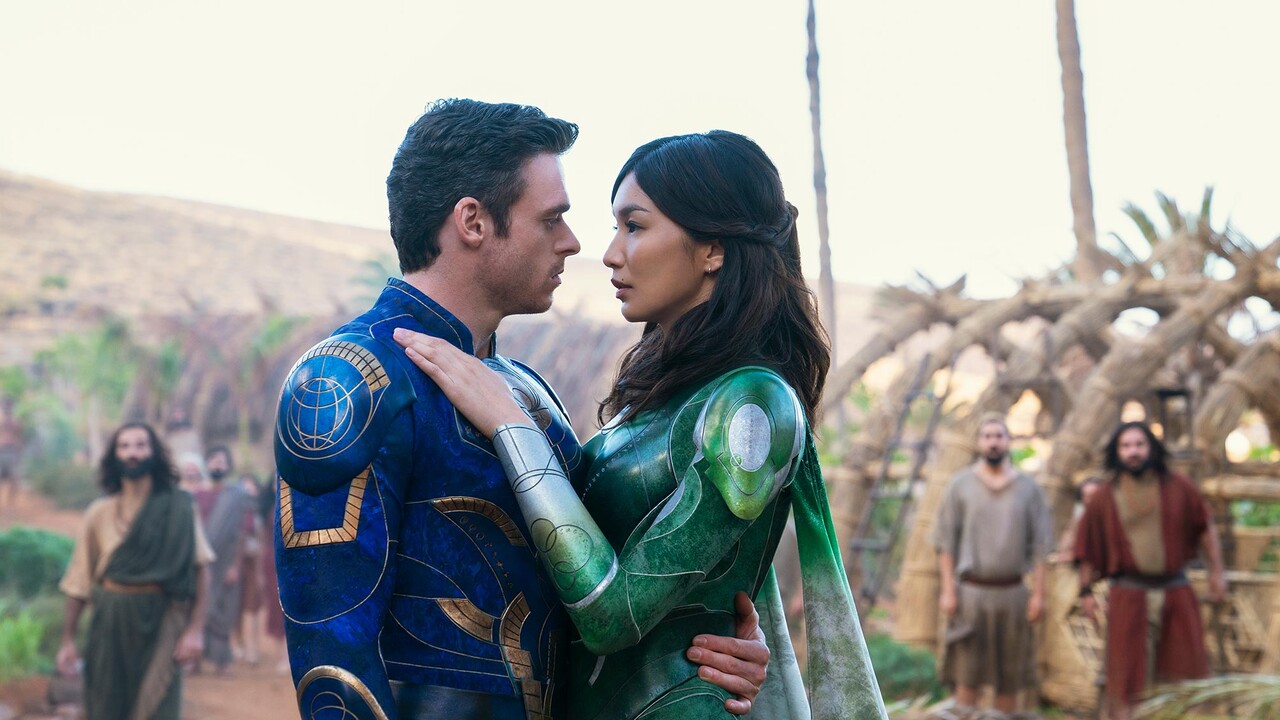 It would be too early to comment on a sequel for Eternals as the movie has just got released. While you wait for the news of a sequel to Eternals, you can enjoy other fabulous MCU films.