"Friends" is without a doubt the most beloved and popular sitcom of all time. A large number of people have probably watched the show at some point in their lives, as it is truly a classic. Through their witty jokes and making fans hooked from the first episode, the writers have made the show the masterpiece that it is.
The story of "Friends" revolves around six friends going through the ups and downs of life and how they manage their relationships and careers while making their lives entertaining. Despite the occasional argument, the six friends have an incredible bond, and their relationship only grows closer as they learn to rely on one another.
The show was created by Marta Kauffman and David Crane and had a total of ten seasons. It aired on NBC and is also available to watch on NETFLIX. Among the stellar cast members were Jennifer Aniston(Rachel), Courteney Cox(Monica), David Schwimmer(Ross), Lisa Kudrow(Phoebe), Matt LeBlanc(Joey), and Matthew Perry(Chandler).
The sitcom is great for anyone who enjoys a good laugh, seeing friendships and relationships, or just a show about the adventures and misadventures of 6 friends. Each character has a unique personality, and this is one of the reasons why the show is so popular.
Here, we have put together the list of 20 best Friends characters that fans love or hate but who have added so much to the show with their unique personalities.
20. Judy Geller
Character name: Judy Geller
Played by: Christina Pickles
Gender: Female
Profession: Unknown
Family: Jack Geller(Husband), Monica Geller(Daughter), Ross Geller(Son)
Ross and Monica's mother, Judy, is a truly unique character in Friends. She is openly very critical of her daughter's choice of men, or more so, her lack of men. Ross is quite visibly her favorite child, as can be seen in multiple episodes. She makes fun of Monika's ears and how she is never going to find a man to get married to. Even though she made a lot of rude and hurtful comments to Monica, she still added a lot to the show and brought a new dimension.
19. Charlie Wheeler
Character name: Charlie Wheeler
Played by: Aisha Tyler
Gender: Female
Profession: Paleontology Professor
Family: Mr. Wheeler(Father), Mrs. Wheeler(Mother)
Charlie Wheeler is a professor of Paleontology who briefly dated Ross after meeting him in central park. She first dated Joey, but their relationship didn't last too long, and after talking to Ross and finding out about their similarities, she decided to date him instead. Her character doesn't appear that much in the show, but still, she managed to make people love her because of her fun character.
18. Carol Willick
Character name: Carol Willick
Played by: Anita Barone, Jane Sibbett
Gender: Female
Profession: Sixth Grade Teacher
Family: Susan Bunch(Wife), George(Father), Adeline(Mother)
Carol Willick is a 6th-grade teacher and also Ross's first ex-wife. She is a fun and sporty character who plays lacrosse and golf. Carol met Ross in college in New York, which both of them attended, and later got married to him. She had a baby with Ross, but after meeting Susan, she realized that she is a lesbian and divorced him. Her character is quite funny and unique; she truly added to the show with her personality.
17. Estelle Leonard
Character name: Estelle Leonard
Played by: June Gable
Gender: Female
Profession: Acting Agent
Family: Unknown
Estelle Leonard is the acting agent of Joey, who is the main character of Friends from the agency called Estelle Leonard Talent Agency. She loved Joey's acting in a small musical he did and ended up hiring him. Estelle was not the best at her profession and got Joey roles as a side character, except for a few breakout roles. She was a heavy smoker and did not have a great personality, as seen in the episode where she tries to sabotage Joey's carrier after a misunderstanding that he left. She died at the very end of the show.
16. Gunther
Character name: Gunther
Played by: James Michael Tyler
Gender: Male
Profession: Manager at Central perk
Family: Unknown
Gunther is a close friend of our leading group of friends and the manager of their favorite hangout place, Central Perk. He is close to them but not necessarily part of the leading group. He is also a smoker and liked Rachel a lot, only to find out she was leaving for Paris. Gunther was also known for his bright blonder hair and was the ugly cute guy that the girls thought might be a candidate to date but never actually dated.
15. Emily Waltham
Character name: Emily Waltham
Played by: Helen Baxendale
Gender: Female
Profession: Unknown
Family: Stephen Waltham(Father), Mrs. Waltham(Mother)
Emily Waltham is the niece of Mr.Walthem and the ex-wife of Ross. She first came to New York on a two-week trip, where she met and fell in love With Ross. Emily also doesn't like Rachel because Ross likes her, and how he says Rachel's name on the alter instead and ends up embarrassing her. She mends her relationship with Ross but asks him to get rid of everything Rachel has touched, but she finally breaks off with him after he denies it. Fans quite hate her, but some might disagree with this. Overall she was a fun character that added quite a bit to the show.
14. Frank Buffay Jr.
Character name: Frank Buffay Jr.
Played by: Giovanni Ribisi
Gender: Male
Profession: Unknown
Family: Alice Knight(Wife), Frank Buffay(Father), Mrs. Buffay(Mother)
Frank Buffay Jr. is the half-brother of Phoebe and Ursula. He had no idea about them as he was his father's son with his second wife, which he had abandoned. Phoebe finds him and his twin sister in her search for her father, who had left them. Frank Buffay is a unique personality who thinks that her sister Phoebe is a prostitute. He had all sorts of weird hobbies, like stealing birds' eggs and melting random things. His weirdness is what makes him a great addition to the show.
13. Mr. Heckles
Character name: Mr. Heckles
Played by: Larry Hankin
Gender: Male
Profession: Retired
Family: Unknown
Mr. Heckles was the rude downstairs neighbor of Rachel and Monica and always made complaints about them being loud. He complained that they stomp and walk loudly to disturb him purposely, but the two friends have no idea about it. He is also a blatant liar and accused them of things they never did. His personality is not likable, and his demeanor and way of speaking are rude, but his personality and drama made watching the episodes entertaining.
12. Susan Bunch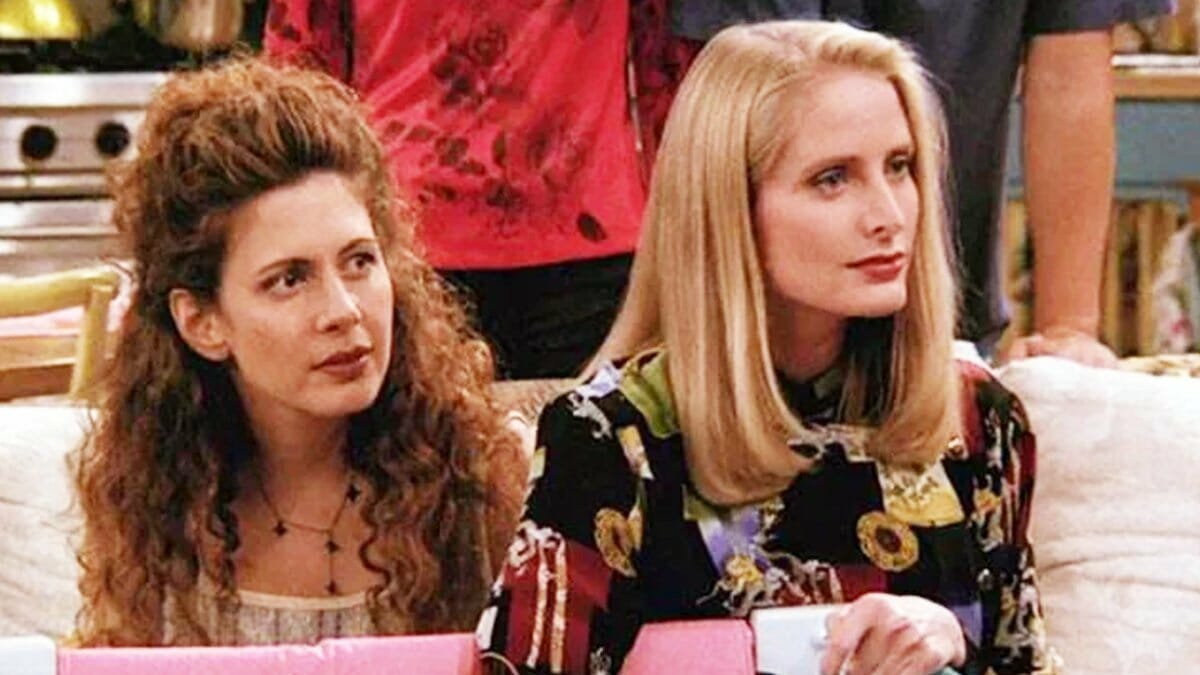 Character name: Susan Bunch
Played by: Jessica Hecht
Gender: Female
Profession: Commercial Director
Family: Carol Willick(Wife), Mr. Bunch(Father), Mrs.Bunch(Mother)
Susan is Carol Willick's wife, and they both had a secret relationship when Carol was still married to Ross. Initially, Ross and Susan did not like each other for obvious reasons, but later they reconciled when Ross supported their wedding while Carol's parents were at the wedding. Susan's parents, on the other hand, were very supportive. She works in advertising and is also a raging vegetarian.
11. Richard Burke
Character name: Richard Burke
Played by: Tom Selleck
Gender: Male
Profession: Ophthalmologist
Family: Timothy Burke(Son), Michelle Burke(Daughter)
Richard Burke is an MD in Ophthalmology. He was raised in California and got married to his high school sweetheart named Barbara. They were married for years and even had two kids together before eventually getting divorced. He is also a good friend of Monica's parents, Judy and Jack Geller. He also dated Monica, who is almost 22 years younger than him, and also his friend's daughter. His character was quite fun and unique, and he surely added to the show.
10. Jack Geller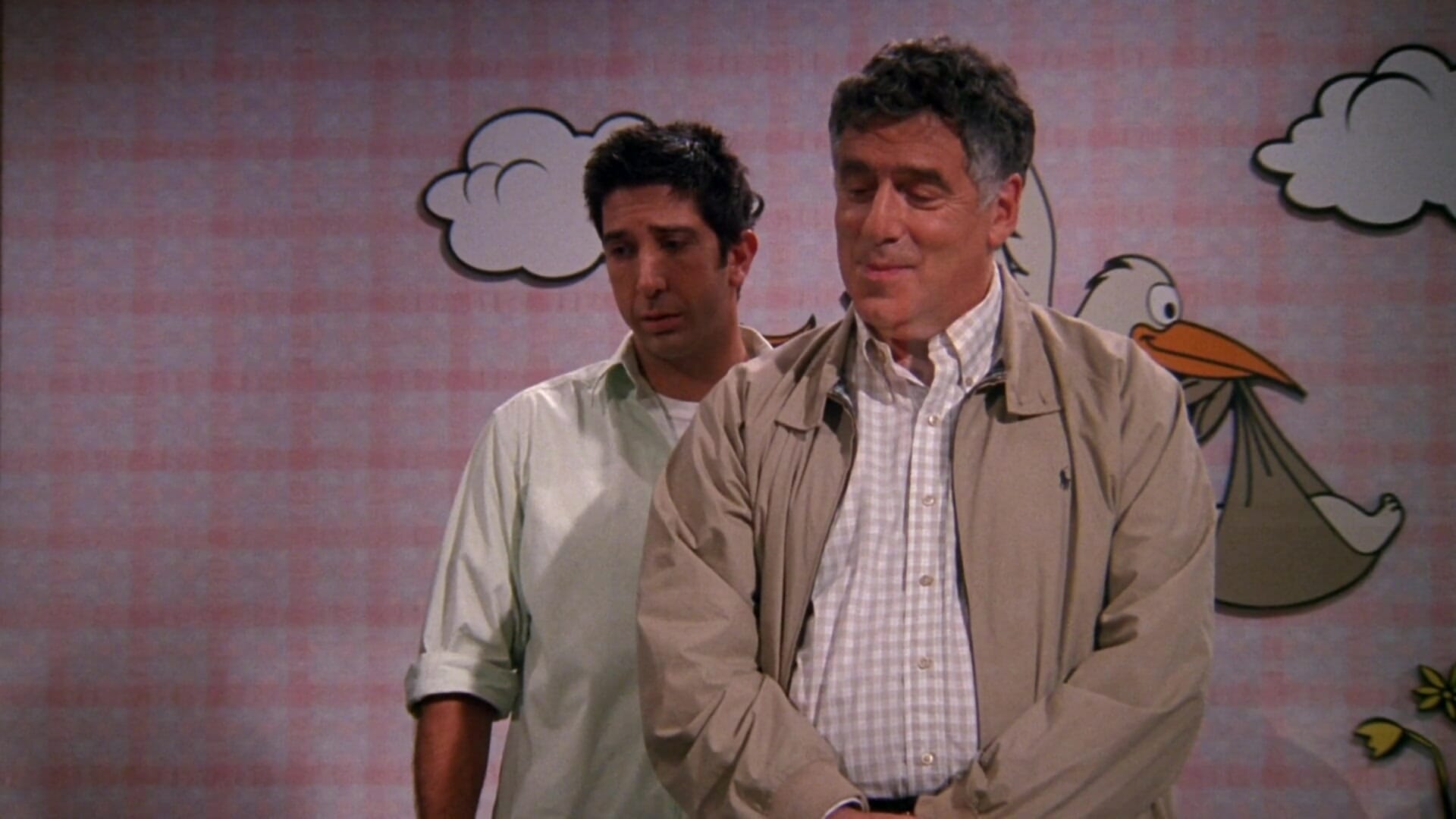 Character name: Jack Geller
Played by: Elliott Gould
Gender: Male
Profession: US Veteran, Businessman
Family: Judy Geller(Wife), Ross Geller(Son), Monica Geller(Daughter)
Jack Geller is happily married to Judy Geller and is also the father of Monica and Ross. He is known for making rude and inappropriate comments and also fooling his in-laws into believing that he is an attorney by profession. Despite all this, he has a pretty loving nature, and he adores his family a lot.
Unlike his wife, he is a lot more sympathetic toward her daughter, and even after not agreeing with her dating life, he consoled her whenever she goes through any hardships. Monica even named her son after him.
9. Mike Hannigan
Character name: Mike Hannigan
Played by: Paul Rudd
Gender: Male
Profession: Ex-Lawyer, Pianist
Family: Phoebe Buffay(Wife), Theodore Hannigan(Father), Bitsy Hannigan(Mother)
Mike Hannigan is the third husband of Phoebe, who is a main character in Friends and they met on a blind date that Joey had arranged. He falls for Phoebe, and they soon get married. Mike's personality is very similar to Phoebe's as she, too, is quite weird and funny. He even made his dog one of the groomsmen at his wedding.
Mike has a love for music and even left his job as an attorney to pursue his passion. He also comes from a well-off family who lives in upstate New York. Even though his family disapproved of his relationship with Phoebe, he still married her.
8. Ben Geller
Character name: Ben Geller
Played by: Michael Gunderson, Allen twins, Cole Sprouse
Gender: male
Profession: Student
Family: Ross Geller(Father), Carol Willick(Mother), Susan Bunch(Step-Mother)
Ben Geller is the son of Ross and Carol and was raised by Carol and her wife, Susan. His three parents very much loved Ben, and he can also be seen occasionally with friends. He also mixes up their names but is still spoiled by all of them. He definitely grew up to be a rascal but did not cause too much of a Ruckus. The friends babysat him sometimes but were terrible at it. He is quite a fun addition to the show but mysteriously disappeared between season 8.
7. Janice Litman
Character name: Janice Litman
Played by: Maggie Wheeler
Gender: Female
Profession: Unknown
Family: Sid Goralnik(Husband), Aaron Goralnik(Son)
Janice is the high-pitched and nasally voice girl from the show and also the ex-girlfriend of Ross and Chandler and is known for her signature " OH MY GOD"! She was on and off with Chandler but always seemed to be very annoying throughout their relationship. Chandler wanted to break up with her on multiple occasions but failed because she got manipulative and started crying.
Her character is definitely really annoying, but she did add a lot to the story of the show from the very first season.
6. Rachel Greene
Character name: Rachel Greene
Played by: Jennifer Aniston
Gender: Female
Profession: Waitress, Assistant, Personal shopper, Executive
Family: Leonard Greene(Father), Sandra Greene(Mother)
Rachel is one of the six friends of the group and plays a significant character in Friends. She came from a wealthy family and had two sisters, and due to her being spoilt with everything, she had difficulty being independent. She also knew Monica from a very young age, and they had been best friends since then.
As a kid, she was quite a bully and one of the mean girls in her school. She acted in an immature way when it came to Ross's feelings for her, so he started a hate group about her. In return, she did the same. She even changed college majors because she didn't have a parking space there. As an adult, she is a nice person but still has a lot of sass.
5. Ross
Character name: Ross Geller
Played by: David Schwimmer
Gender: Male
Profession: Paleontologist, College Professor
Family: Jack Geller(Father), Judy Geller(Mother)
Ross is the older brother of Monica and is one of the main characters in the show. He has a weird and witty personality but is also a nerd and extremely intelligent. People love him for being extremely lovable, and his relationship with Rachel is one of the most popular in the show.
He had a long-time crush on Rachel, but she never seemed to reciprocate his feelings. Ross also fell in love with Carol, who he eventually married and had a son with, but she turned out to be a Lesbian, and they ended up divorcing each other.
4. Monica
Character name: Monica Geller
Played by: Courteney Cox
Gender: Female
Profession: Head Chef, Food critic
Family: Chandler Bing(Husband), Jack Geller(Father), Judy Geller(Mother)
Monica is one of the main characters in Friends. She is the younger sister of Ross and the childhood best friend of Rachel. Monica did not have a great relationship with her parents, as they always taunted her and clearly favored Ross over her. She is also criticized for her bad choices with men and how she dated her dad's friend, who is 21 years older than her.
In high school, she was called the fat sister as she gained a bit of weight. Monica, played by Courteney Cox, is overall an amazing person with a sweet and kind personality. She is also a neat freak and has a tendency to talk loudly.
3. Phoebe
Character name: Phoebe Buffay
Played by: Lisa Kudrow
Gender: Female
Profession: Masseuse
Family: Frank Buffay Jr.(Father), Phoebe Abbott(Mother), Mike Hannigan(Husband)
Phoebe is the main character and one of the six friends of the group. She had a difficult childhood as her mother didn't plan on having her and her twin sister, and her stepfather abandoned them. Her mother committed suicide, and they were left homeless on the streets.
Phoebe is good with languages and also does boxing. Even after her troubled childhood, she is a sweetheart. She is also very straightforward and frank, which might catch people off guard. She also loves playing guitar and is a vegetarian.
2. Joey
Character name: Joey Tribbiani
Played by: Matt LeBlanc
Gender: Male
Profession: Actor
Family: Joey Tribbiani Sr.(Father), Gloria Tribbiani(Mother)
Joey is one of the main characters of Friends and comes from an Italian American family. He is an actor but is terrible at it. As a kid, he had an imaginary friend, was always met by accidents, and was even sexually assaulted as a kid. He is Chandler's best friend, and they even live together.
Joey has a fun personality and is a charming and kind person. He has an obsession with food and sex and is often seen as a person with a lack of common sense.
1. Chandler
Character name: Chandler Bing
Played by: Matthew Perry
Gender: Male
Profession: Vice president( IT procurement), Junior Advertising Copywriter
Family: Charles Bing(Father), Nora Tyler Bing(Mother), Monica Geller(Wife)
Chandler is one of the main characters of Friends and has high-level positions in his job. He is smart and is mainly known for his sarcastic and funny personality. Chandler is probably the richest in the group because of all his savings from the job. He is Ross's best friend and even married Monica. Even though he was the one having trouble in committed relationships, his marriage with Monica was the only one that lasted out of all the friends.
He is considered to be quite immature by his friends and uses sarcasm in his defense, often making bad first impressions. Despite all this, he is an amazing guy with a great personality and humor and is very much loved by fans. He is also one of the most popular friends characters.