Operation Mincemeat, a historical drama based on the British Intelligent services; is released in UK cinemas, and it aims to tell us the true story of a successful World War 2 fraud mission.
Several elements of the plot, from the plan to the involvement of Ian Fleming, seem a bit imaginary to be based on real occurrences. It may shock many viewers that the plot features a carcass with a fake identity and an attache with fake documents. For the major part, the movie is a true representation of the process with a couple of required alterations.
Based On A True Story?
Yes, Operation Mincemeat is a real mission and is lauded as one of the most victorious deceptions made in the history of the military as shown in the film, a couple of members of the British intelligence services, Matthew Macfadyen (Charles Cholmondeley) and Colin Firth (Ewen Montagu acquire a corpse that will use to fool their German rivals into thinking an allied onslaught on Greece was looming.
After forming a whole persona for a fake captain, they dressed the corpse as a Royal Marine office. It included the letter making a connection with the fictional attack.
 34-year-old dead body of Glyndwr Michael, who moved from London to Wales and died after eating rat poison, his real identity was kept hidden from the public until 1996, but it was fabricated and represented as a corpse of a dead marine, Major William Martin. The attache had a photo of a Major Martin's fiancee, a receipt for a ring, and a theatre ticket. It was all sowed to prove authenticity. As the Spanish found the marine's corpse and the suitcase with the belongings; they scrambled to convince the Nazis to confine documents to reality.
Did It Work?
The Spanish document was recovered and sent sent to Adolf Hitler. He ordered the nazi troops to defend the territory and in July 1943, the Nazis got off guard; and 160,000 allied troops invaded Sicily and took control in a month. The British received a telegram mentioning, "Mincemeat swallowed rod, line, and sinker".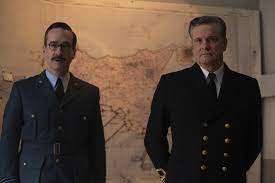 Streaming
As it is a controversial movie, Netflix only got the license to release it in six regions the USA, Mexico, Canada, Argentina, Brazil, and Ecuador.
There is no news on whether Operation Mincemeat will come to other regions or not in the future. Warner Bros holds the rights to the countries mentioned above; 2 years after the theatrical run, Netflix gets the streaming license from Warner Brothers.
We highly recommend this masterpiece of a movie to viewers; as it shows how a fabricated dead body duped the cruelest historian; and how it changed the destiny of the war.
Runtime
It has a runtime of 2 hours 8 minutes.