Love Strikes Twice is an upcoming movie produced by Lesley Demetriades, Anthony Fankhauser, Stan Spry, and Eric Scott Woods and directed by Jeff Beesley. It falls under the genre of romance and starts with the struggle and wish of a woman to make a fresh start to her life, eradicating all her mistakes. The movie is scripted by C. Jay Cox and is 1hour 30mins long.
She one day wakes up 15years in the past. Will she be able to redo her life? Will Maggie be able to choose or her husband for the second time and live with him again, or will she settle with another man?
Release Date
Hallmark Channel Website has confirmed that the film will be released on October 2, at 9 pm ET on the Hallmark Channel. The film falls under Hallmark's "Fall Harvest" series. October is a month of Halloween, so will the film be appreciated in such a frightening period of the year? Will it actually attract the audience to watch the film? Follow us to know more.
Cast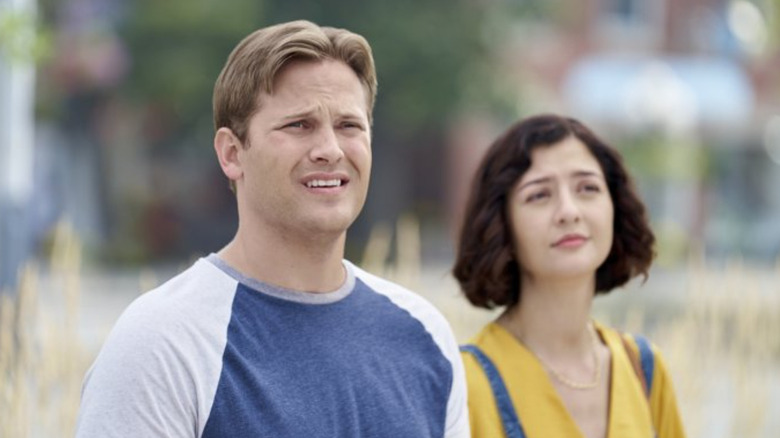 The story is basically a love triangle between a woman, Maggie, and her two companions, one her husband, Josh, and the other is her lover, Rick. The three characters will be played by Katie Findlay, Wyatt Nash, and Marshall Williams, respectively. Other characters include Alex Poch-Goldin as George, Sharon Bajer as Estelle Harman, Matthew Lupu as Ash Hartman, who will be seen accompanying the three main characters.
Few other characters include Erik Athavale as Malcolm Baxter, Brynn Godenir as Carrie Bowden, Kevin Mclntyre as John Morgan, and Henriette Ivanans as the unnamed judge.
Plot 
The storyline of the film revolves around Maggie and her wish to become young again. She embitters her relation with her husband and thus wants to become young once again so that she can better her life. Her wish is granted, and she one day wakes up 15 years in the past.
However, she has her knowledge and experience of her 15years afterlife and has to choose whether she will try her relationship with Josh once again and settle with him or choose Rick, her college friend. Love does really happen twice; it is only a decision that is to be made with whom to fall for. Who will Maggie choose then? Will Josh again become her partner? Stay tuned with us to know more.
Stream it or Skip it?
Not everyone gets a second chance, nor everyone wants it. People do try to settle once, whether being in love or not. Destiny is definitely unpredictable, yet sometimes gives a chance to those who are lucky to relive their life once more. Maggie is indeed lucky to have the chance to do so.
It seems quite interesting to see with whom Maggie settles and how well she uses her memory to excel happily in life. But will she learn from her mistakes and avoid troubles with her husband Josh in the coming days, or rather will she settle with Rick? What will the audience do if they are given this chance? Fans must watch the movie and share their valuable comments with us too. Till then, follow us for further updates.