Pretty Quick, I'll share a true-life incident that will somehow be similar to that of the current topic "Omo Ghetto: the Saga." So basically, I had a friend who was enjoying a rich, luxurious life, and suddenly in his mid-school phase, his dad passed away unnaturally. Lucky enough, his mommy was also a working lady, but her income wasn't enough to suffice the expenses of her two kids. Her mom worked a minimum of 18 hours to get a sound income.
Initially, my friend didn't feel any financial crisis because his mom never made him feel like that. However, with time when he was promoted for his high schooling, he didn't want to be a burden on his mom for his personal expenses. The Movie " Omo Ghetta- the Saga" also tells us about the struggling phase of the protagonist.
The Nollywood Movie Omo Ghetta- the Saga became the highest-grossing movie of all time in Nollywood, and recently on January 26, 2021, it broke the four-year living record of the movie "The Wedding Party " by Kemi Adetiba.
Starring Tina Mba, Femi Jacob, Deyemi Okanlawon, Timini Egbuson, Zubby Micheal, Alex Ekubo, Mercy Aigbe, Akah Nnani, and Nancy Isime, Funke Akindele-Bello, Adebayo Salami, Eniola Badmus, Bimbo Thomas in their respective roles, the movie was directed by Funke Akindele herself and JJC Skillz. The Movie was initially released on 25th December 2020.
Should You Stream it or Skip it?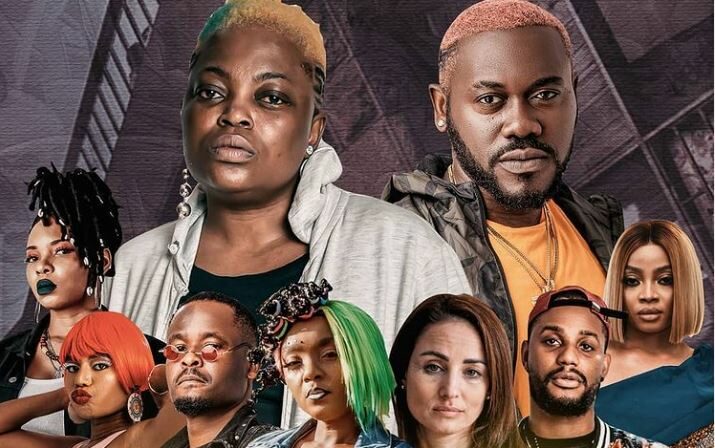 So to be pinpoint precise, I would just ask one question, Have you Ever Struggled in your life? Be it struggling to make ends meet or getting accustomed to a community, or even struggling to get passing marks in school. Every one of us in our lives has seen Struggle. The Omo Ghetta: the Saga shows how our main character Lefty (played by Funke Akindele) struggled through her transition period.
From being accustomed to a luxurious rich life that was afforded by her mother to moving back to her Ghetto Lifestyle. To those who don't know what Ghetto or Ghetto Lifestyle means, a Ghetto is a small part of a city where the minority community resides, minorities based on income, religion, legal, social, economic, etc. Life in Ghetto is quite disturbing as people struggle to make ends meet.
Unlike Lefty, aka Shalewa, her twin sister Ayomide isn't used to luxury or comfort because, during their childhood, they were distanced. Still, when Lefty returned to her Ghetto Lifestyle, there was the reunion of the twin sisters, and then troubles started arising in their lives. It's commendable to see how they react, solve and punch hard to the problems. Kudos to Funke Akindele as she reprised her dual role alongside her role of Director and Producer. Such a hard-working woman she is.
Our Final Call on the Movie
This 2020 Nollywood Movie has won critical acclamations and crossed every benchmark in the Nollywood Industry. Teaching Life lessons that includes persistent hard work, maintaining family relations, and vouch for the best career option even if you're struggling. Most importantly, when we choose a career that must be aligned with our interests, hobbies, and aim.
The record-breaking movie evolved into a huge box office success and outperformed Fate of Alakada as the highest-grossing Nigerian film for the year 2020. On 26 January 2021, when the film grossed ₦468 million at the box office, it transcended the 2016 film The Wedding Party record to become the highest-grossing film ever in the Nollywood film industry.
Our Final Call to viewers would be, you should definitely STREAM IT. The movie is worth watching and inspiring at the same time. The Movie got released on Netflix on 10th September 2021, and to the ones who already have the subscriptions, for them, it's the cherry on the cake, and to those who are eager to watch the movie, y'all must go and get the Netflix Subscription.