Attending high school at the age of 37 would be a nightmare for many people and a bold imagination for some. This unrealistic story has been brought to life by Netflix as the movie 'Senior Year,' which revolves around the need of every teenager in high school, the need to be popular.
Rebel Melanie Elizabeth Wilson is playing the role of adult Stephanie Conway; who wakes up from a 20-year coma at the age of 37 and decides to complete her senior year. Alex Hardcastle is the director and Andrew Knauer, Arthur Pielli, and Brandon Scott are the writers.
Cast
 The spectacular performance by Rebel Wilson, the Australian actress, comedian, writer, and singer known for her role as Fat Amy in the movie series. The others include the performance of Angourie Rice, Mary Hollan as adult Martha Reiser, Molly Brown as young Martha Reiser, Sam Richardson as adult Seth Novacelik, Zaire Adams as young Seth Novacelik, and Chris Parnell as Jim Conway. Zoe Chao and Ana Yi Puig play the antagonistic role of Tiffany. Justin Hartley and Tyler Barnhardt play the role of Blaine.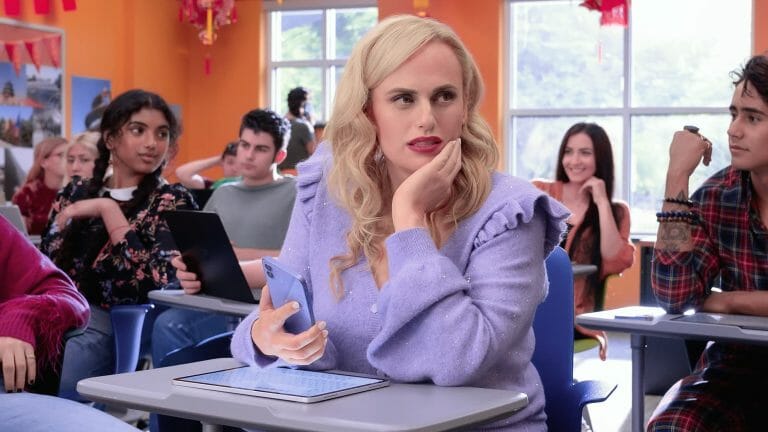 Plot
(Spoiler alert) The movie begins with young Stephanie Conway celebrating her birthday in a bowling alley with her friends Martha and Seth; when she spots her crush Blaine, who has bowling plans with his girlfriend Tiffany (the most popular girl). Stephanie is mocked by Tiffany when she approaches them and that's when she decides her only aim for high school is to be popular (how else will a teenager survive?).
She sets out her goals and completes them; after which she is seen to be the cheer captain in high school in her senior year. During one of the cheerleading stunts, the cheer captain suffers from an acciden;, after which she's seen to be waking up in a hospital as a 37-year-old, about 20 years later. It's a lot to digest, her friends and her family. Later on, she decides to complete high school senior year as an adult; and fulfill her dream of becoming a prom queen (which she does in the end).
Rating And Review
The movie has a 5.6/10 rating on IMDb, 24% on Rotten Tomatoes, and 47% on Metacritic. About 84% liked the movie. Rebel Wilson had also posted on Twitter about Senior Year being #1 on Netflix for the week of May 9-15, with the number of hours being watched as 55,940,000. Twitter comments on the post seem to be very positive;  the movie is a great source of entertainment.
Where To Stream?
The movie 'Senior year' is available on Netflix for online streaming and downloading.