An American thriller and mystery drama that has become known in 2019 is Serenity. Steven Knight is the mastermind behind this movie. He has formulated and worked even in the script of the film Serenity. Along with that, Steven Knight has also directed it. After serving in so many departments of the movie Serenity, Steven Knight, with Guy Heeley and Greg Shapiro, had taken the responsibility of the movie as producers.
Serenity has been produced under the banner of the companies such as Global Road Entertainment, Nebulastar,  Starlings Entertainment, and Shoebox Films. The makers of Serenity have formulated the movie with a budget of $25 million. In comparison, the movie has only earned $14.4 million because of negative reviews and comments from the viewers and critics as well.
When Did The Movie Serenity Come Out? 
In the United States, the creators of the movie Serenity released it on January 25, 2019. However, previously it was scheduled to appear on September 28, 2018, and later it was settled on October 19, 2018. Well, Aviron Pictures had the distribution rights of the movie Serenity.
Within April 30, 2019, Serenity had come out on Blu-ray and DVD.
Who Were All There In The Cast List Of The Movie Serenity? 
The main cast members of the movie Serenity include Matthew McConaughey as John Mason aka Baker Dill, Rafael Sayegh as Patrick Zariakas, Jason Clarke as Frank Zariakas, Djimon Hounsou as Duke. Along with them, Anne Hathaway as Karen Zariakas, Jeremy Strong as Reid Miller, Charlotte Butler as Lois, GarionDowds as Samson, Diane Lane as Constance, David Butler as Jack are also there.
On January 28, 2017, the makers of Serenity had announced officially that Anne Hathaway and Matthew McConaughey would be the main identity of the movie Serenity.
What Is The Storyline Of The Movie Serenity? 
The story of the movie Serenity revolves around Baker Dill, who is the captain of a fishing boat. However, due to some circumstances, he was stuck in Plymouth Island. Apart from all this, a shuffling happens to his life when his ex-wife begs in front of him to save her son from her vicious husband. Baker's ex-wife wanted to throw his husband over the shark to teach him a lesson. However, Baker was confused about what he should do or not.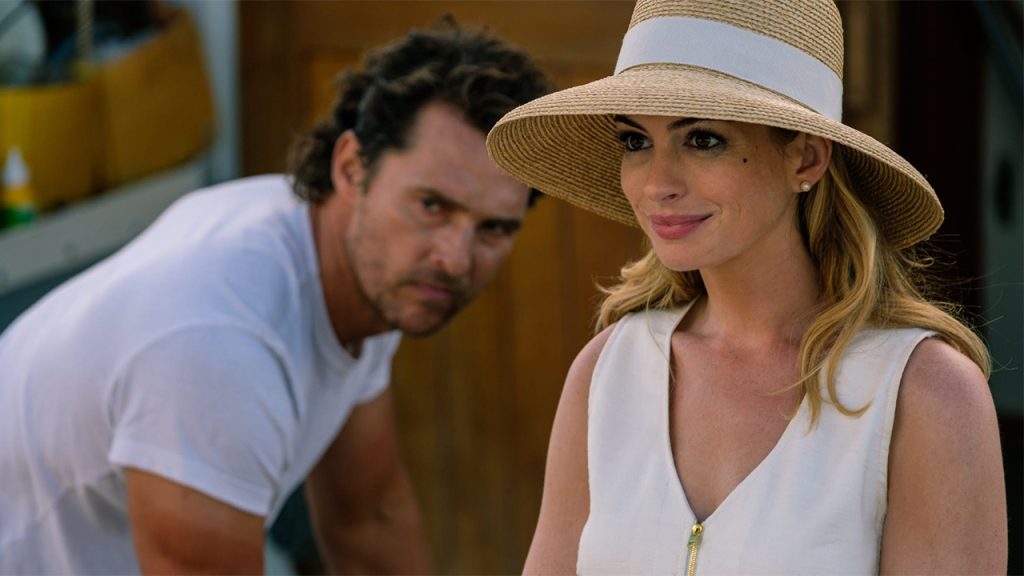 What About The Trailer Of The Movie Serenity? 
The trailer of the movie Serenity has already hit social media as the film premiered in 2019.
As is mentioned in the above paragraph that the critics have not provided positive reviews about the film Serenity. However, the film has earned 21% from Rotten Tomatoes. IMDb has given 5.4 out of 10. In comparison, 2 out of 5 ratings have been provided by Empire. From these ratings, it is clear why the critics have utter such negative reviews. But maybe the fans wanted to gain interest in the movie to judge it again.