Taika Waititi returns as the writer and director of Thor: Love and Thunder, in addition to appearing as Korg.
Though Marvel continues to introduce new superheroes to its MCU roster, in 2022's Thor: Love and Thunder, viewers will be rewarded to a new film featuring one of the original Avengers – Chris Hemsworth's Thor. Thor's fourth solo Marvel film.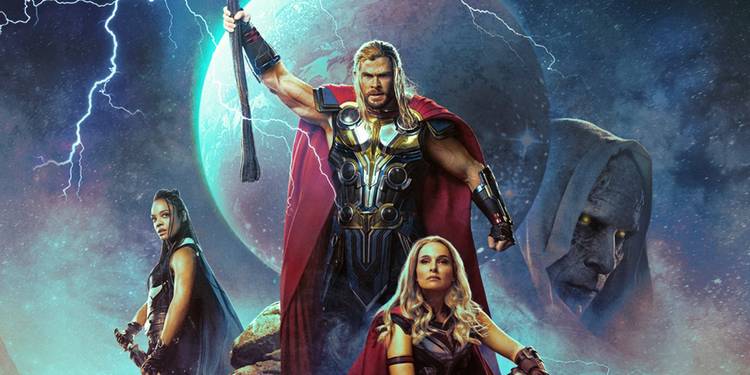 Thor: Love and Thunder is set to hit theatres on July 8, smack dab in the middle of the summer blockbuster season. The movie's advance tickets are now available.
If you are curious about the upcoming movie of MCU, keep reading the article to unfold more about the movie.
The official synopsis of 'Thor Love And Thunder'
The official synopsis has been, prior to a few weeks which states
"In the film, Thor (Chris Hemsworth) embarks on a journey unlike any he's ever undertaken: a quest for inner peace." However, his retirement is cut short by a cosmic assassin known as Gorr the God Butcher (Christian Bale), who desires the annihilation of the gods.
To counteract the menace, Thor enlists the assistance of King Valkyrie (Tessa Thompson), Korg (Taika Waititi), and ex-girlfriend Jane Foster (Natalie Portman), who, to Thor's amazement, wields his mystical hammer, Mjolnir, as the Mighty Thor." They go on a perilous cosmic journey together to solve the secret of the God Butcher's wrath and stop him before it's too late."
Will there be any post credits scene in the movie?
Yes! there will be post credits scene.
According to those who have seen the film, Thor: Love and Thunder has not one but two credits scenes, one of which is a mid-credits sequence and the other appearing at the conclusion as a post-credits scene.
According to the assessments, these sequences are among the best in recent memory, which suggests that Marvel Studios is going to hint something huge in the future of Thor or the MCU in general.
With only a few weeks until the film's release, fans are eager to see how the MCU will continue the Thor saga, which began 11 years ago.
About Mighty Thor
That is astrophysicist Jane Foster, the same lady who removed Thor from the film soon before Ragnarok's events. The teaser for Love and Thunder depicts her carrying a rebuilt Mjölnir, Thor's mystical hammer, which Thanos had shattered.
It's unclear how Jane became the Mighty Thor, but it's worth remembering that Jane originally assumed the mantle in a What If spinoff, a narrative set in a another reality.
She is also not Lady Thor or Female Thor. Waititi clarified in July 2019 through Twitter that Portman's character name does not allude to her gender. "Correction. She's known as Mighty Thor "At the time, he wrote.
Conclusion
The crucial thing to know about Thor: Love and Thunder's release date (and all forthcoming Marvel movies in general) is that it will have an exclusive run in cinemas for at least 45 days before going digital or streaming.
Thor: Love and Thunder, the much awaited sequel to 2017's Thor: Ragnarok, will finally hit theatres next month. With only a few weeks to go, we've been treated to a slew of teasers, trailers, and TV commercials that have shown Natalie Portman's Mjolnir-wielding Jane Foster and new MCU villain Gorr, the God Butcher (Christian Bale) in recent weeks.
Are you guys ready for the roller coaster ride with MCU?