In this latest release on Netflix- True Story, starring Kevin Hart in the role of a character named Kid. This series is a crime thriller about a rising stand-up comedian whose tour in Philadelphia takes a wrong turn. Kid's older brother Carlton asks him to give up his sobriety so that they can celebrate. The kid doesn't handle that well and passes out. Here we have brought everything you need to know about "True Story Explained."
The next morning he wakes up with a hangover. A woman named Daphne was lying in his bed beside him. But this woman called Daphne was dead, there was her dead body lying next to him. She overdosed on Oxycontin, and in panic, he calls Carlton and asks for his help to dispose of Daphne's dead body.
Kid's life gets filled with deaths and lies as he tries to conceal this incident from the man who writes his material- Billie (played by Tawny Newsome), his manager Todd (played by Paul Adelstein), and Hershel (played by Will Catlett) his bodyguard.
In the final episode of Netflix's True Story, fans will be exposed to a secret and watch Kid taking a stand for himself against the people trying to take his fame away. The plot involves Carlton being constantly involved, and his attempts to scam Kid are also visible.
Revelations That Were A Result Of Blackmail
Kid tells Carlton to handle the mess that has been created in the hotel room (Kid discovers a dead body, and Kid wakes next to her). Carlton takes the help of services provided by a gangster named Ari (played by Billy Zane) so that he can take care of Daphne's body. It looks like Kid's matter has been handled properly, and Ari did his job well. But, there's a twist as Ari didn't want just a few thousand dollars in payment from Kid. Ari gets to know that Kid will be a part of a superhero film- "Antiverse," and hence demands $6 million in cash from him. Kid wasn't willing to pay that much, and it resulted in him killing Ari by strangling him.
Now, Kid has to ask once more from Carlton for his help. These brothers pair up and decide to clean this mess themselves. Because of their sloppy disposal of Ari's body, Ari's brothers are now in the crosshairs with Kid. His brothers Nikos (played by John Ales) and Savvas (played by Chris Diamantopoulos) land Kid in a police investigation. To escape from this problem, Carlton plans to pin the blame on Gene (played by Theo Rossi).
He is an obsessive fan of Kid and is also a smart one, as he has the video of Kid and Carlton disposing of Ari's body in a dumpster. Ari's watch was planted on Gene by Carlton, and Ari's brothers tortured him to death. Soon, these brothers come to know about the truth, thanks to the video evidence Gene had.
Wanna know more?
Kid and Carlton were relieved as they thought that they had gotten away from their problems and decided to go out partying. Things change when Kid reads Carlton's text messages and learns that Daphne is actually Carlton's girlfriend. They cooked this scheme together with Ari so that they could dupe Kid for million dollars. Things escalate further and result in Carlton's death.
Why Kid killed Carlton?
Kid killed Carlton because he was the person responsible for every problem Kid faced. Carlton was the one who convinced Kid to break his sobriety and then had him have enough to make him pass out. He told Simone to play dead so that he could extort Kid. He was the one who told Kid that they could not call Ambulance as that would mean an end to his life and acting career.
Ari was roped into this plan by Carlton so that he could blackmail Kid. Gene was beaten to death because of Carlton, and also he took $6 million from Ari and his brothers, which he was not able to pay back. Carlton also asked Kid for huge sums of money, which he would waste.
The main motivation behind Kid killing his brother Carlton was to get a story for the cops that they could believe in after they killed Ari's brothers. After Kid killed Ari's brothers, Carlton told him that he was going to fix everything. He told him that he knew what story needed to be told to the cops, but it was these stories that landed Kid in trouble. He told him over and over again that he would fix everything, but it was these things that landed Kid in deeper problems.
In the end, Kid realizes that he was the one cleaning the mess his brother created, and he doesn't want to deal with another mess that Carlton will create.
Why Did Carlton Extort Kid?
Carlton was extorting Kid because of the 6 million dollars that he initially asked for because he was in his debt to Ari and wanted to pay it off. It is revealed later that Ari wanted this amount that Carlton would transfer, and he'll be playing the role of a middleman. Six million dollars is the amount that started these murders.
Carlton went to extreme lengths and even convinced Simone (played by Ash Santos) that she'll get a few hundred thousand dollars from it. But that was not possible because he owed every single penny to Ari's family. As a result, Carlton sets the plot as he knows that Kid wouldn't give him money any longer, and he has to pay off his debt one way or the other.
Why Kid Chose Not To Kill Herschel?
Kid decided not to kill Herschel because there was no need to do so, and if that had been done, then another mess would have been created that had to be later taken care of. Ari's murder, his brother's death, Carlton's, his girlfriend Simone's death, and Gene's also. All these loose ends were taken care of already, and if Herschel was also murdered, there would have been no one. His death would make Kid a key suspect as there would have been no one else on whom this blame could have been pinned.
Kid trusted him and wanted him around, as he helped him from Day 1. Herschel was obviously upset as Kid had put Billie in danger, but he wasn't aware of the whole story. It was also easier for him to accept that everything was Carlton's fault.
Why Kid Didn't Expose Carlton?
Kid chose not to expose Carlton in the television interview shown at the end of the show. If he chose to expose the negative relationship that he shared with his brother, then he would have been further pressurized to offer more explanations. Just like Kevin Hart, Kid has always been in the public spotlight. And it would have been an easier path for Kid to say that a gangster led him to do such things. Kid also doesn't want to destroy the memories he had with his brother. Only because he wished to see him again ever, it was rather easy for him to tell the story in this way.
Why Happens With Kid At The End Of Series?
It looks like Kid got away with all those murders. Ari's murder was pinned on Carlton. The comedian wanted to move forward in his life and career and show his best self. In the final moments of the show, Kid is seen in a television interview in which he talks about the extreme lengths people go to save themselves.
From Where Did Kevin Hart Get Inspiration?
His own real-life issues and Narcos inspired Kevin Hart. True Story's ending is twisted and leads to Kid killing his own brother Carlton.
We can call this a battle between Kid's past and present. Carlton was a representation of Kid's past life in Philadelphia when he was an addict. As per CBC News, Hart said that his own life inspires the plot of True Story. We can't see anyone in True Story that was willing to help Kid because he preferred to listen to his old voice rather than his team, whom he locked out.
Carlton was Kid from the past whom he tried to hide using his sober and new life in California. His misplaced loyalty to Carlton just dragged him down into a world of evil. Kid thinks that there is just one thing that he can do in order to get free of his temptation to do wrong things, and that was to kill his own brother.
What Is True Story About?
True Story is about letting go of your past. At the end of the show, we see an interview with Kid, who confesses to the triple murder of Ari's brothers and Carlton. The murder of Ari's brothers, Ari and Carlton, was blamed on their conflict. Kid denies having any knowledge about Carlton's criminal doings and portrays himself to be innocent in this interview.
True Story is not just about the triple murder but also the pressure cooker that the rising stars often face. This thing is common between Kid and Kevin Hart. Hart also had his fair share of controversies in life, stepping down at the 2018 Oscars ceremony after some of his homophobic tweets resurfaced.
Kid had to kill Ari and Carlton and then cover up their murder just to protect his image. During his interview scene at the end of the episode, he is seen telling the lengths to which a person can go to protect his image and save themselves. The kid is clearly affected by what all happened but doesn't regret killing his own brother Carlton. Whether the truth will come out or not depends on the sequel of True Story.
Is True Story Inspired From A Real-life Story?
Looking at the title of this show, many people would have thought that this story is related to true events. But, in reality, the answer is no. True Story is not based on a real-life story.
Kevin Hart's background as a comedian did inspire his character to some extent. But it is not based on a real-life murder.
Ending of True Story Explained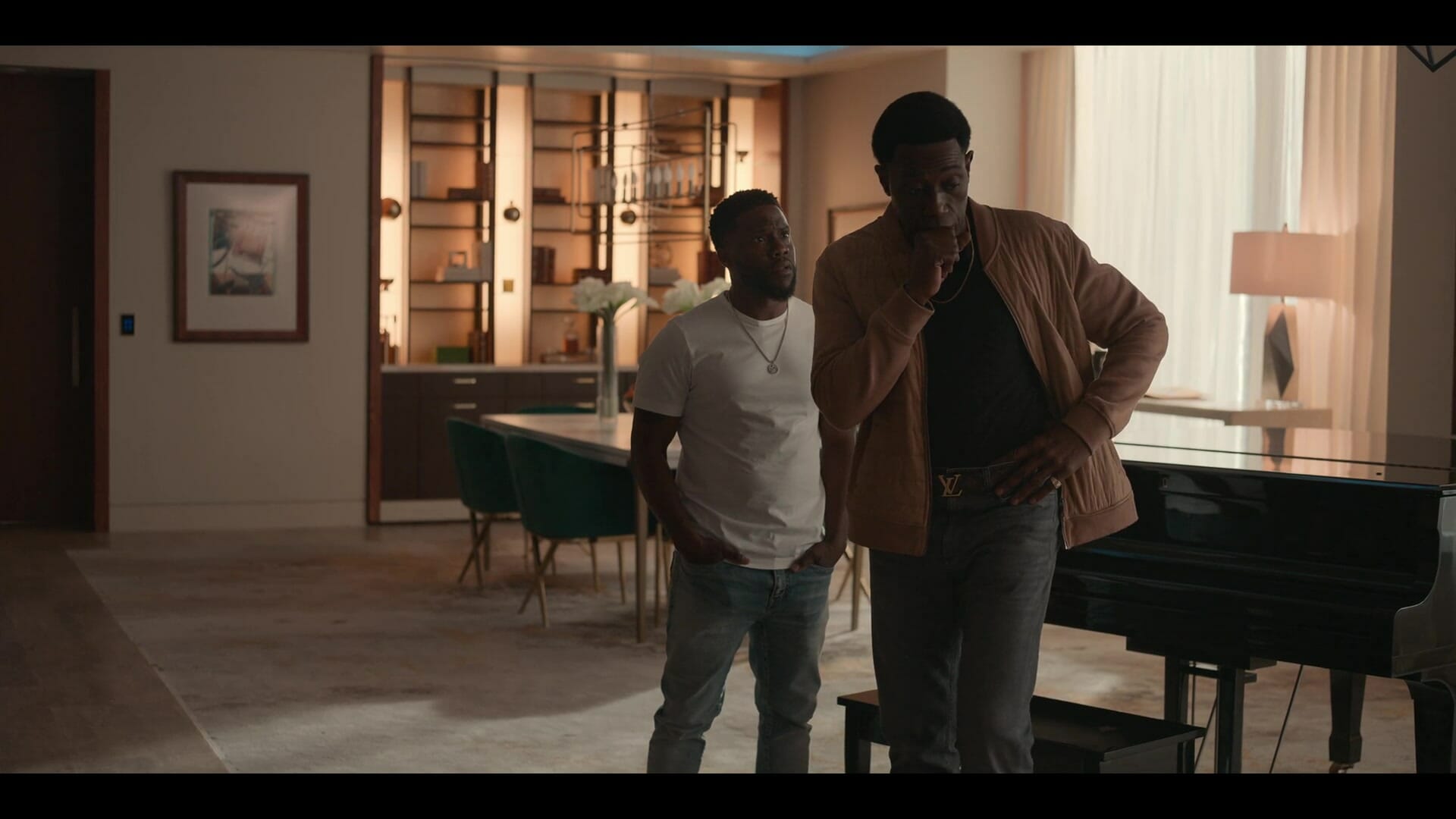 Kid was forced to make some hard decisions so that he could maintain his innocence. A major twist in the plot of the show comes when Daphne (played by Ash Santos) turns out to be actually alive. It becomes known that her real name is actually Simone.
Simone was involved in an off-and-on romance with Kid's older brother (played by Wesley Snipes). This pair was involved in scamming the comedian so that they could extort money from him. This plan was executed by involving Ari, who assures that he'll cover Simone's fake death. However, he asks for six million dollars in return for this favor. Kid believed that Simone was actually dead, but things didn't go as planned.
Kid ends up strangling Ari to death, and then his brother is forced to get rid of the body. And this time, he didn't employ any tricks. They together disposed of the body in a dumpster (as if it was really going to work out!). Police quickly find out about this and begin an investigation. Gene, an obsessed fan of Kid, gets all this recorded. Kid now had to do damage control. Hence he invited Gene to his inner circle in order to buy his silence. Carlton isn't convinced despite Gene being starstruck. Carlton, Kid's own brother, frames Gene by giving him the watch that belonged to Ari.
Ari's brothers took care of Gene. Meanwhile, Kid comes across a message that reveals the scam his brother had been running behind his back. Things really take a turn at this point. In the end, we see that Kid shoots his brother dead and then arranges a scene that depicts that Ari's brothers killed him.
Opinion of Fans About True Story's Ending
Fans are pretty shocked after watching True Story sending. Many are saying that it has a crazy ending and are highly recommending watching this one. Kevin Hart and Wesley Snipes are being appreciated for their incredible and versatile performances. The ending is called an intense one.