Based on a podcast of the same name, Netflix's Archive 81 unveils some dark terrors within itself. Archive 81 is a Netflix thriller series that horror fanatics keep on their bucket list to watch. Archive 81 began airing on January 14, 2022.
It was one of the most popular shows among viewers at the time of its release, securing a solid 7.3/10 by IMDb. Starring Mamoudou Athie as Daniel "Dan" Turner, this Netflix series offers some good chills with its supernatural elements and extensive plot.
Archive 81 is a supernatural thriller drama that is all about a video researcher doing his job restoring old tapes of a missing filmmaker in 1994. Oblivious to the fact that his life is going to be upside down, he soon finds out that there is something dark and sinister welding them together.
Archive 81 provides all those horrors we as viewers ask for; thanks to our curious minds and the life-resembling plot of the Netflix series, we often think about whether all of it is true. Is Archive 81 based on a true story? By the end of this article, you'll indeed find out.
Is Archive 81 Based On A True Story?
The short answer would be NO. It is not based on a true story. However, many speculations could emphasize it being based on a true story due to some of its elements, such as VHS tapes and demon-worshipping cults that exist in our natural world. But it is a sigh of relief that the Netflix show is just a work of fiction rather than being based on a true story.
The series, however, is a loose adaptation, or we can say it is based on a true podcast series named Archive 81, written by Daniel Powell and Marc Sollinger.
The series is heavily inspired by the original podcast, which is a work of fiction as well. So as you go on with the eight episodes of the series, you get thrilled and probably take out a sigh of relief that Archive 81 ain't real.
What Do The Creators Have To Say About It?
Netflix's Archive 81 is based on the works of Daniel Powell and Marc Sollinger, with Rebecca Sonnenshine and James Wan as its executive producers.
In discussion with TV Overmind over its inspiration, the co-creator Powell told them in his own words, "I've worked at a sound effects library for the past two years, and one of my jobs is reviewing and listening to all the sound effects that we acquire before they go live to the site.
" In addition, he said, "I do this job from home, so I've spent more time than anyone should alone in my apartment listening to weird noises. So that experience, plus a general appreciation for found footage style of horror storytelling, were a major inspiration."
One of the significant noticeable elements of the series was the demon Kaelego Speaking of him, showrunner Rebecca Sonnenshine explained to The Wrap, "This is kind of a Lovecraftian element to this show, which is an elder god or demon depending on how you look at it.
So it feels real, but it's an invention and draws upon many tropes and other ideas, but the monster or god or demon himself is our creation. So it is not anything except for my head."
Although Kaelego has a very realistic approach to its character, it is hardly mentioned in any existing mythology, concluding that it is as fictional as other aspects of the story.
Archive 81 was also inspired by the loneliness of big cities, the way tape recorders sound that urban areas transform over time, and our interest in stories about stories, as stated by Sollinger.
What Is Archive 81 All About?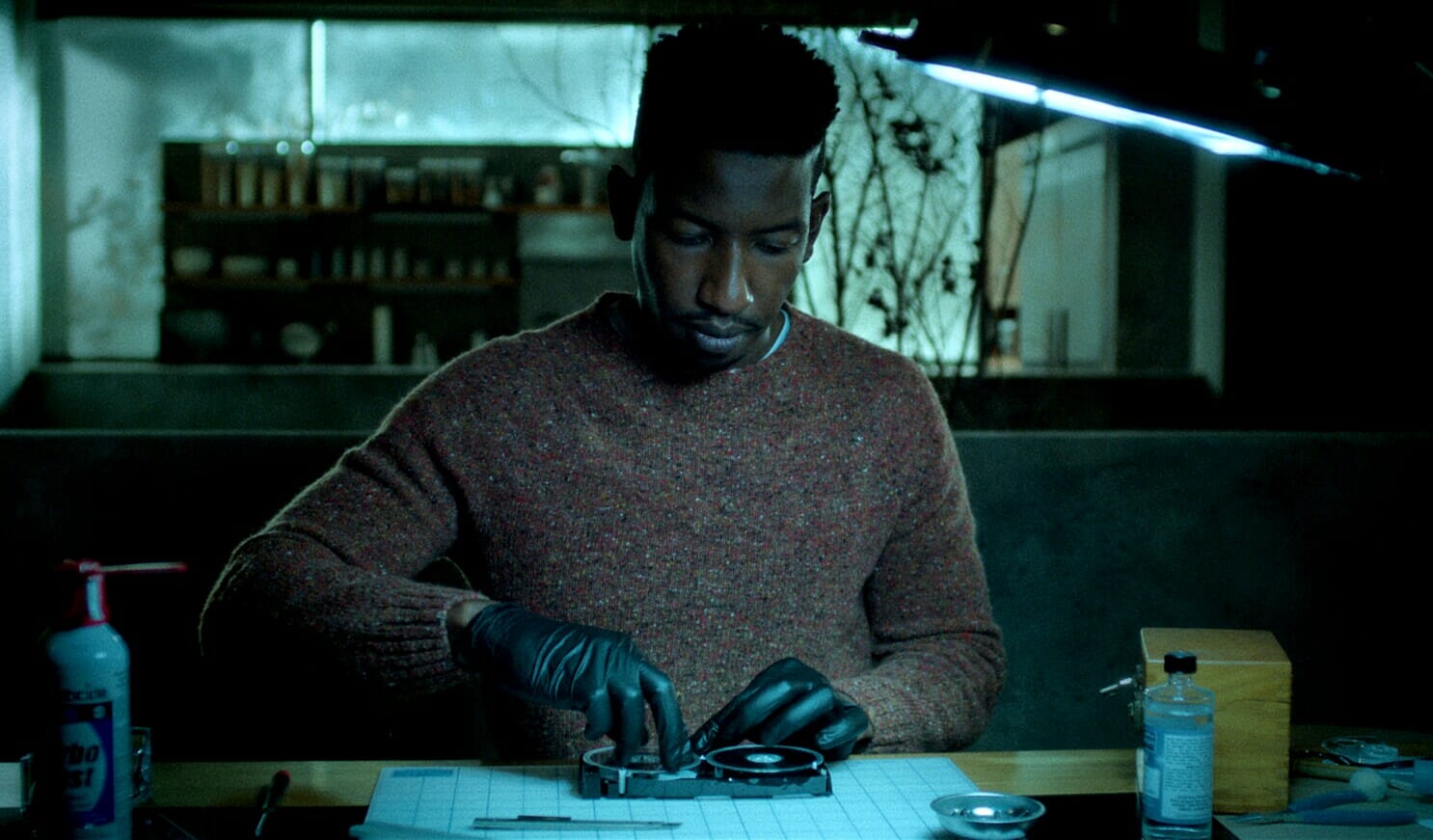 The Netflix show, as well as the podcast, features archivist Dan Turner as its protagonist. Archive 81 follows the journey of Dan and how he thrives on beholding the truth.
He is eventually hired by a mysterious man named Virgil for the task of restoring some footage related to a girl named Melody Pendras.
Melody and Dan exist in a different periods, but both thrive in the search for truth and unleash the mysteries of a demonic cult at the Visser building.
Dan begins to make a shocking discovery that Melody Pendras has not only got missing but is also trapped in another dimension, the Otherworld. As Dan thrives on discovering more about her, he travels to the extent of preventing Melody's apparent death, but it looks like fate has some other plans.
Why Is Archive 81 A Found Footage Horror Podcast?
One of the reasons for Archive 81 being all spooky and thrilly is the found footage technique in the podcast. The podcast by Dan Powell and Sollinger is a found footage horror podcast about rituals, stories, and sound on its official site.
Inspired by some actual events, the podcast aired its first season in April 2016 and has recently done its third season as of now.
Where Can We Find The Archive 81 podcast?
Archive 81 podcast is available to listen to on various platforms such as Apple Podcasts, Spotify, Google Play, or wherever else you usually get your podcasts from; it beholds an experience that is one of its kind but beware of the spoilers you'll find ahead for the Netflix show of the same name.
Where Is The Apartment Building Of Archive 81 Based?
The Netflix show Archive 81, based on an actual podcast, features a mysterious apartment named Visser, where the documentary filmmaker ought to have worked before her disappearance.
It'd be a massive disappointment for people to know that the Visser building doesn't exist in real life. Although Archive 81's spooky apartment is supposed to be set in New York, it got filmed in Pittsburgh.
As Matt McGorry, who plays the character of Higgins, told Pittsburgh Post-gazette that even if we're supposed to be in New York City, it will always be Pittsburgh and only Pittsburgh for him, along with saying, "The spirit of where something is filmed usually makes it into the DNA of the show, as he told Pittsburgh post-gazette.
Is There Going To Be A Season Two?
As the Netflix show gained much love from the viewers, many fans were anticipating the announcement of season two. But unfortunately, the season got canceled in March 2022 by Netflix, followed by numerous reasons.
Why Does Archive 81 Feel Like It Is Based On A True Story?
All thanks to its eerie atmosphere and surreal storyline, Archive 81 has all that is needed to provide a surreal experience to convince viewers to think of it as a true story.
The found footage videotapes, sinister visualization, and talk of a historic disappearance lend credence has laid the foundation for the idea that Archive 81 is based on actual events. Yet, despite not being a true story, it provides an experience that is life-like and impactful.