Did you like bridgerton? Do you like watching period dramas? Do you want to see something like bridgerton but don't know what to watch or are in confusion in making a decision? Well, then you can relax and stop worrying because we are here to give a solution and clear out the confusion you are having because in today's article , we will share with you some shows like bridgerton that you can watch.
Downtown Abbey
The series takes place on the timeline century later than Bridgerton but is still packaged with scandals, drama, history, classism, aristocracy, romance , fancy people and their problems and the changing scenario of social hierarchy in early 20th century England. It consists of six seasons and is available on Netflix and Amazon Prime.
Reign
It is set during the early life of Queen of Scots , Mary and her rule . It includes romance , love triangles ,and an amazing sound score. There is a contemporary take on the show. It consists of 4 seasons and can be seen on Netflix and Amazon Prime.
Outlander
It is a show with intimate romance that you would not like to miss at all. The series spans over continents, timelines , twists and dangers, relationship, sci-fi elements and the juicy and uncontrollable love and romance between Jamie and Claire. The series consists of 4 season that are available on Netflix and the 5th season is available on Starz.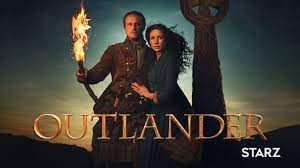 Harlots
A little more sparkly than Bridgerton and the story revolves around a brothel family relocating business in London for wealth but met with competition from another brothel owner. It includes competition, lot of scandal, romance and normalizing sex worker which is a unique take of this show and amking the show women oriented. The series consists if 3 seasons and can be watched on Hulu and Amazon Prime
The Pursuit of Love
A struggle between romance and pragmatism. Coming of age story with amazing sound score. A miniseries with three episodes is filled with friendship, crushes , and emotions. It is available on Amazon prime.
Vanity Fair
Deals with the effort of advancing among the elites. A tale of romance, high society and love. It is a miniseries consisting of seven episodes and is available on Amazon prime.
Dickinson
A story about a girl who becomes a famous writer but her family wants her to settle down and be a housewife. It is again a coming of age show with comedy, sweetness, thoughtfulness and A-list cast. It is available to be watched on Apple TV+ consisting if 3 seasons and 30 episodes.
Gentleman Jack
A period drama that has a different take on romance and sexuality. It breaks the stereotypical love between a man and a woman and shows the love of a lesbian which was difficult in the time it is set in. And again takes on the issue of normalising relationship irrespective of sex and gender. This is available to be watched on HBO and it consists of 2 seasons
Belgravia
The drama shows the rich upper class family of London and shows secrets and scandals. It can be watched on Epix and consists of 1 season.
Sandition
Last but not the least this series is based on the regency era . It has dramatic twists, romance with various characters living in the seaside town of sanditon. It can be watched on Amazon prime and PBS.
So what are you waiting for, go and stream these shows now till the time Bridgerton 3 is released. I am sure that you will love to watch the shows recommended here.