Anime series creators have been filling LGBT characters in their movies and shows for a long time. Some of them are mostly sexual and interesting, while others are majorly instrumental to the show's plot. In this article, we have attempted to compile some of the anime that have lesbian relationships in them. Most of these are Yuri anime, and from the Yuri genre, that said, here are the top 20 lesbian characters. If you are looking for a hot anime to freshen up your mood, you can start watching them. You can watch major of the Yuri anime on Netflix, Crunchyroll, or Youtube.
20. Mnemosyne: Mnemosyne no Musume-tachi (2008)
Well, If you like standard shoujo anime, then this anime is not for you, have a look at other options. This show is for those people who like violence and love a strange narrative and a good amount of fan service. Initially, you may find the setup a bit confusing and open, but as the story progresses, you will enjoy the plot. 'Mnemosyne:
Mnemosyne no Musume-Tachi heeds Rin Aogi, she is an attractive woman who runs a private detective company alongside her partner, Mimi. Apparently, Rin is immortal because of the "Time Fruit," and this fruit can only be found on the guardian tree on Yggdrasil. This fruit can turn any woman immortal if they eat it, and yes, Mimi is also immortal.
This show depicts 65 years of the life of Rin Asogi, she is still young, and all others around her have grown old. In the detective profession, she has faced a lot of bad situations, but as she is immortal, she always came out alive from them. But now, an unknown enemy has set a target on her, and this time, she actually faces a life-threatening danger. This series is available to stream on Funimation.
19. Strawberry Panic (2006)
If you are getting started in the shoujo-ai or Yuri genre, then you can definitely have a look at Strawberry Panic. The show is good for young teens, and it doesn't have any sexually explicit scenes. The plot is interesting, and you will be hooked and keep guessing who will end up with whom. The anime is based on an all-girls Catholic school, St. Miator's Girls Academy, located in Astraea Hill Region. The school is categorized into three groups, and each of them has different uniforms. Aoi Nagisa joins the academy and discovers the hierarchic place system.
The fourth-year student meets Shizuma Hanazono, and things go downhill for her. Shizuma is a charming beautiful kid, and she is very kind as she helps anyone in need. She kisses Nagisa on her forehead, due to which she passes out. As the show and her school life progress, she discovers Shizuma more, and they both help each other with their past. This series is available to stream on TubiTV.
18. Sakura Trick (2014)
The show revolves around Haruka Takayama and Yuu Sonoda, and both of them study at Misato West High School. As the show progresses, Yuu Sonoda gains popularity and starts to make new friends, and this makes Haruka jealous. To prevent Haruka from having bad feelings Yuu suggests that they have something special between them and asks for a kiss. Soon after the romantic kiss, feelings start to form between them both and they learn that they may be attracted to each other. You can watch their struggle in the show on HIDIVE.
17. Yuru Yuri (2011-2015)
Yuru Yuri anime has been adapted from the manga of the same name. The anime is based on the lives of some school girls. Yui Funami, Chinatsu Yoshikawa, Kyouko Toshinou, and Akari Akaza are normal teen girls with teen issues who wish to have a life full of leisure.
Kyouko and Yui are Akaza's seniors and friends. This is the main reason why she has to spend her last year of school without them. Everything alters when she gets to middle school. Yui, Kyouko, and Akaza are from an amusement club whose sole motive is to entertain the members of the group. Akari and her other friend, Chinatsu, joins the club, which marks the start of an extraordinary bond of friendship between them, and their life changes after that. You can watch the anime on Crunchyroll.
16. Riddle Story of Devil (2004)
The protagonist of the show is Tokaku Azuma, a high schooler student and an assassin. She, alongside 11 other girls who are also killers, is tasked to kill a kid named Haru Ichinose. Azuma is a skilled assassin, and she begins the task quickly, but she cannot kill Haru instead, she finds herself falling for her. Tokaku, who was set to kill Haru, is now protecting her from the other 11 assassins. You can stream Riddle Story of Devil on Funimation.
15. Sweet Blue Flowers (2009)
At Matsuoka Girl's High School, Fumi Manjoume is a first-year student. She has recently faced a serious breakup and is still going through the after-effects. Akira Okudaira is a student from Fujigatani Girl's Academy and also a childhood friend of Fumi. They both are reunited after a decade and help each other through tough times. Fumi falls in for Akira and tells her feelings. Akira is a bit tangled about her doings but she doesn't dismiss her feelings completely. You can watch this anime by renting it on Youtube.
14. Revolutionary Girl Utena (1997)
The anime 'Revolutionary Girl Utena' is based on the friendship between Anthy Himemiya and Utena Tenjou. After getting emotional support from a prince, Utena chooses to follow him and become a prince herself. The only antique that the prince has left was a rose crest ring. She was unable to find the importance of the ring, but years later, when she joined Ootori Academy then, she realized the ring's significance. In the academy, other students have the same rings, and they fight each other, and the winner gets the rose bride anthy. Has your curiosity risen, and wanna know the whole story? You can watch the anime on Funimation.
13. Citrus (2018)
This is another good anime from the same genre and is set in a high school. If you don't like this category, then you may get discomfort while watching the show. But for anyone else who want's to watch lesbian anime "Citrus" is a great show. Yuzu Aihara is a debutant and fashion icon. She has to attend a different school because of the remarriage of her mother, and she sees this as an opportunity to meet new people. She is also looking forward to falling in love and having a special kiss. But she is unaware of what this new school has stored for her. When she sees her new classmates, she realizes that they just follow the rules and study. Because of her different mindset, she stands out and gets the attention of the student council president, Mei Aihara, who tries to seize her phone.
When she comes home, she learns that her stepsister is the same as the council president, Mei. Yuzu tries to talk, but Mei turns her shoulder, which leads to some teasing by Yuzu. Mei also doesn't allow her to complete and pushes her onto the ground and kisses her. So yes, Yuzu gets her first kiss but in an unimaginable manner. You can stream the show on Funimation.
12. Asagao to Kase-san. (2018)
If you are into romantic shows, then you will find Asago to Kase-san entertaining irrespective of your liking of the genre. It is an original animation, and it revolves around Yui Yamada who is a high schooler who is not good at singing or sports. She loves plants, though, and has been given the job to take care of the saplings in the school greenery. She falls for a boy looking at Tomoka Kase and is hesitant about her feelings. As the story goes on, they both slowly get comfortable with each other's sexuality, but will they date each other?
11. Whispered Words (2018)
It is a romance anime based on Yuri manga of the same name and represents Ushio and Sumika openly in a lesbian romantic relationship. Sumika is a very popular, bright student, and she is secretly in love with Ushio, who is her classmate. She thinks Ushio is very selective about her decisions, and because of this, she is unable to confess her feelings to her crush. On the other hand, Ushio has not noticed anything and is hesitant, as other girls have rejected her before.
10. Konohana Kitan (2017)
This is a shoujo anime and has a lot of fantastical and magical elements. The show has a fantasy setup that mixes Japanese culture with mythical animals and elemental world formation. Various races live in the world, and each of them has its culture and authenticity. Konohanatei is a hot springs inn. A fox girl named Yuzu resides in the village of spirits.
She joins Konohanatei Inn as an attendant. Another fox girl, Kiri, helps Yuzu with all her duties. Yuzu is very eager to contribute, but in the process, she commits many mistakes because of her warm and pleasant nature customers and other workers overlook her mistakes. As time passes, Yuzu gets better at her work with the help of other fox girls, and she believes that she has found another family at Konohanatei Inn. She develops her first relationship there and gets closer. You can stream the show on Funimation.
9. Kiniro Mosaic (2013-2015)
The show is set on five closely related lesbians and tells a heartwarming story of growth and acceptance. When Shinobu Oomiya was staying in England, she met Alice and quickly befriends her. They were close friends, so close that it was thought for her to go back to Japan. Years later, Shinobu is in high school, and she gets a letter from Alice she will soon join Shinobu's School and will also live with her. When they both meet, it leads to a spark of old emotions and feelings that eventually teaches them life-altering lessons.
8. Inugami-san to Nekoyama-san (2014)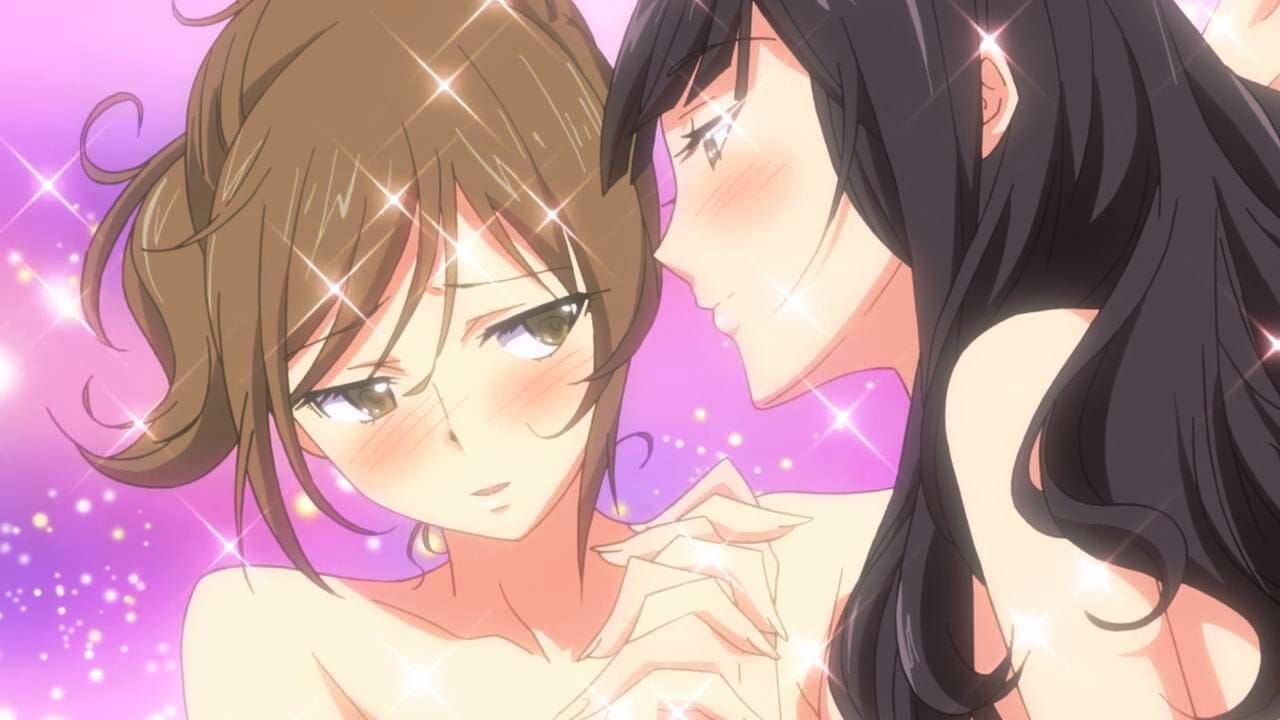 This show follows the verve of two high schoolers. Suzu Nekoyama and Yachiyo Inugami. The former likes cats person and the latter like dogs. Both of them have different abilities, but they start To get attracted to each other. They both can realize the tension between them, Yachiyo makes the first moves on Suzu, but Suzu is a bit reserved and shy. The anime focuses on the building of the relationship between the girls and how they eventually fall in love with each other. The show is available on Crunchyroll for streaming.
7. Sailor Moon (1992-1997)
If you believe Sailor Neptune and Sailor Uranus were the only LGBT characters in the show Sailor Moon, then you are wrong. The two of them were very strong generals and worked under Queen Beryl, and were openly involved with each other. In English dubbing, it looks like Zoisite's sex was changed to female to vanish the homosexual connection to form a heterosexual relationship. In other dubs, they are shown as close friends, which is a bit disappointing
It was perfect pair from their abilities to their looks, and they looked like Sailor Moon Crystal is going to stay loyal to their gay relationship just like Sailor Uranus and Sailor Neptune.
6. Paradise Kiss (2011)
Paradise Kiss is an original anime show about a responsible and focused young girl Yukari. She starts to doubt her choices in her life, and where it's headed, she finds a bunch of fashion students who have their own line of clothing known as "Paradise Kiss". Eventually, she joins them and discovers her own identity by engaging in her hobbies and passion, she went through all of the problems and trials that a normal college student goes through.
In the show, Yuraki's sexual address is never shown, she is in an open bisexual relationship with a high schooler named George. He is a grand guy who considers Yukari as his muse and lover. He is always helping and encouraging her to find her true identity as an adult.
A point that should be considered is that ParaKiss's mother in the fashion group is a dapper Isabella Yamamoto, she's transgender and is very inspiring and classy.
5. Wandering Son (2011)
This drama was released in 2011 and is very refreshing, and then it was one of the very few shows that openly showed a transgender boy in an intimate scene in a very honest way. In the show, we can see what a life of a transgender boy in school looks like. In some scenes, Yoshino faces harassment and other struggles like puberty and changes in the transition, and in a scene, he covers himself with ace bandages just like the media portrays trans men.
The majority of the series revolves around Yoshino Shuichi, his best friend, who identifies as a trans girl in the whole series. Both of them find their struggles with body dysphoria. When the series is about to end, Shuichi openly confesses her sexual feelings for Yoshino, but it is still unclear what happens after or what their sexual bases actually are. Overall the series shows the strangeness of puberty and what happens with trans kids when they're going through this phase.
4. Yagate Kimi ni Naru (2018)
"Yagate Kimi ni Naru" can be considered one of the best shoujo anime currently. Yuu is a fan of Shoujo anime and a deep reader. She is keenly waiting for her love story to begin. But when a boy asks her out, she should be happy, right? But sadly, she doesn't feel anything. She cannot understand and feel what her response should be.
Later she gets to a high school and finds a lovely Touko Nagami, who is the student council president turning down a boy respectfully, and she finds this trait of her impressive. She wants to learn how to turn someone down gracefully from Nagami. It sounds all good, right? But the next person who expresses her feelings is Nagami, what will she do now? Is her much-awaited love story started? Now to find out, you should watch the anime on HiDive.
3. Cardcaptor Sakura (1998-2000)
The publication artist of this show has been brave and unafraid to show same-sex couples in anime. One such pair is Yukito and Touya from Cardcaptor Sakura, who are a canon couple.
The show revolves around a young girl Sakura who mistakenly releases a set of magical cards that must be recovered to stop an uncertain apocalypse in the future. Yukito and Touya are magical friends. Yukito has expressed several times that he loves Touya. There are many scenes in the show that has openly shown them that they're clearly romantically involved and share mutual feelings for each other. Touya gave all her magical powers to save Yukito's life. Another queen character in the show is Tomoyo, and she also had a huge crush on Sakura
2. Mai-HiME (2004 – 2005)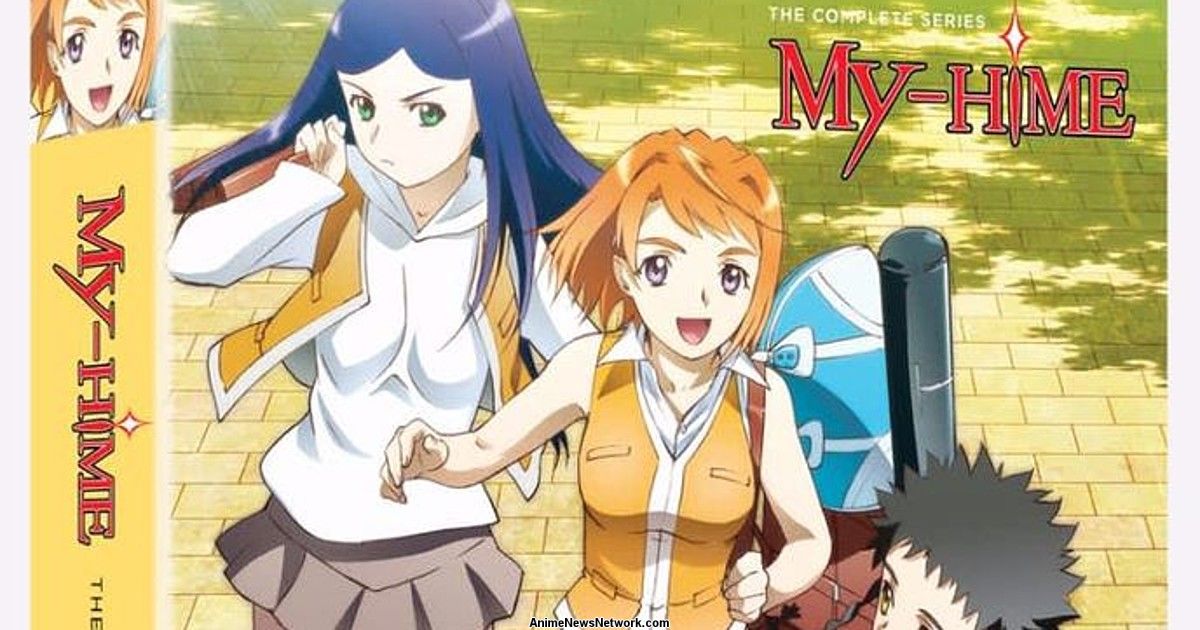 Mai-HiMe is one of those shows that is not very known, but it was a decent anime with an amazing premise and interesting characters. Initially, you may feel the storyline is a bit slow, but as the story progresses, you will like the story. People who like magic and sorcery will like this series. Mai looks like a normal girl who came as a transfer from Fuuka Academy. Takumi, her brother, is also present with her.
But he has a heart condition, and Mai supports her in every way. When Mai's mother was on her deathbed, she promised her that she will take care of her brother, and she is looking after him since then. But as she arrives at Fuuka Academy, she discovers that she has a Hime mark that allows her to call a half-human, half-spiritual kid wherever she likes.
But he is not alone with that Hime mark, 12 other girls also have the same mark. This power has been given to all of the 13 girls to protect humanity from monsters known as Orphans. At first, she was hesitant to get involved with orphans, but later, she get into the struggle as orphans became very strong. But later, the girls realize that orphans are not the only thing that they should worry about. This anime is available on Funimation.
1. Bleach (2004 – 2012)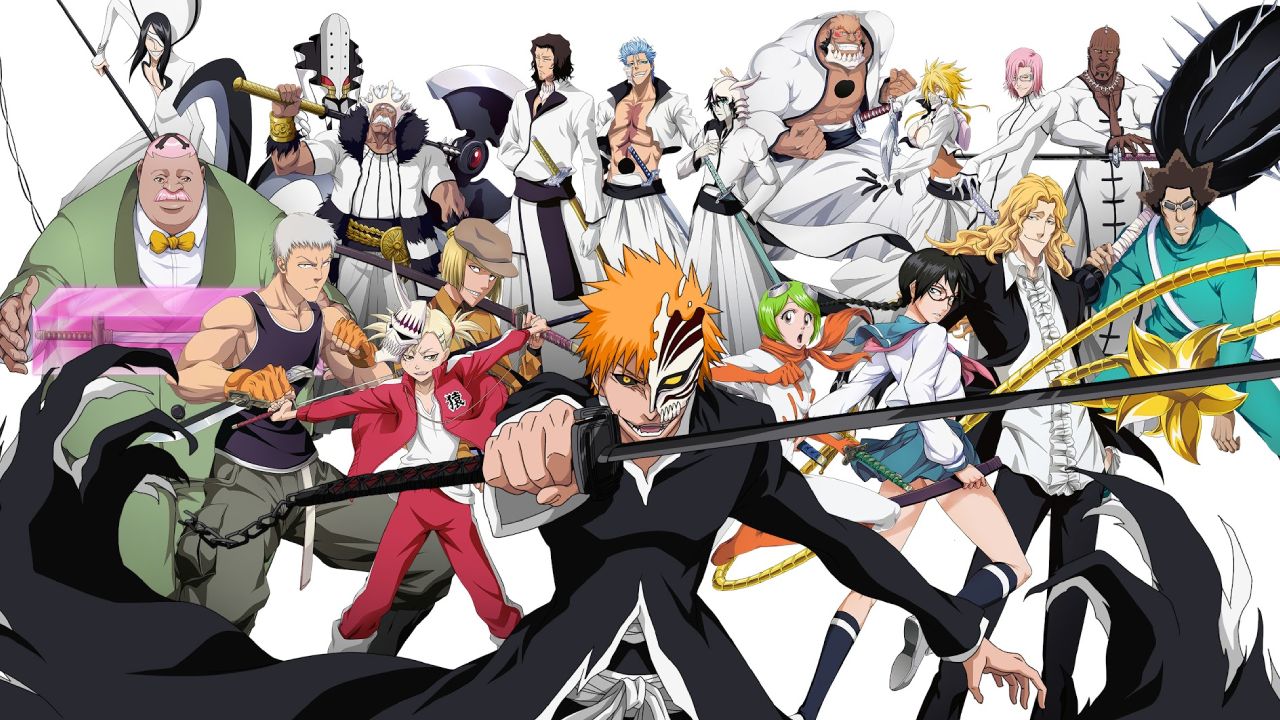 Well, everyone is familiar with the Anime Bleach, and it needs no introduction. It is based on the life of Ichigo, who apparently gets the power of a Shinigami. The Series is shown as Shounen, and Chizuru Honsho is lesbian and is highly obsessed with Orihime, she likes her big breasts a lot. She tries to attract Orihime by gaining her attention but is always hindered by Tatsuki, who is a friend from the past ad a classmate of Orihime, but she keeps making sexual tries on her. Their sexual chemistry is not only comedic, but at the same time, it is very exciting to watch. You can stream the anime on Funimation.