Demon Slayer (Kimetsu no Yaiba) is an unforgettable creation of one of the most mainstream anime series, and fans are always looking for anime like Demon Slayer The story of a young orphan boy named Tanjirou (the main character) who becomes a demon slayer as a demon slaughters his family.
His sister is changed into an evil spirit. Tanjirou demands saving her sister's life because he doesn't want to accept destiny. To transform her back from the demon world to human society. There is many other anime like Demon slayer (Kimetsu no Yaiba).
To examine between seasons in the event that they need to encounter some more shows that investigate dim.
40. Sirius: The Jaeger
Director: Masahiro Ando
Writer: Keigo Koyanagi
Cast: Yuto Uemura, Nanako Mori
IMDb Rating: 6.8/10
Rotten Tomatoes: 89%
Streaming Platform: Netflix
This anime is an action-packed thriller story of Vampires and Werewolves. The plot begins with A group of Vampires who escaped from China to Japan in 1930. A group of vampire hunters called "Jaegers" is following them under cover of being employees of the "V Shipping Company." Among them is Yuliy, a werewolf whose home village was destroyed by "Vampires." Not long ago, a member of the Sirius royal family was chosen as God's agent and allowed to possess a holy relic called "The Ark of Sirius," which, as a gift from God, exerted absolute power.
As a gift from God, a member of the Sirius royal family possessed a sacred relic called "The Ark of Sirius," which exerted absolute power as God's agent. As a result of its power, the Sirius people came under attack from groups seeking to use it, so they sealed it away in a secret location.
39. Hoozuki No Reitetsu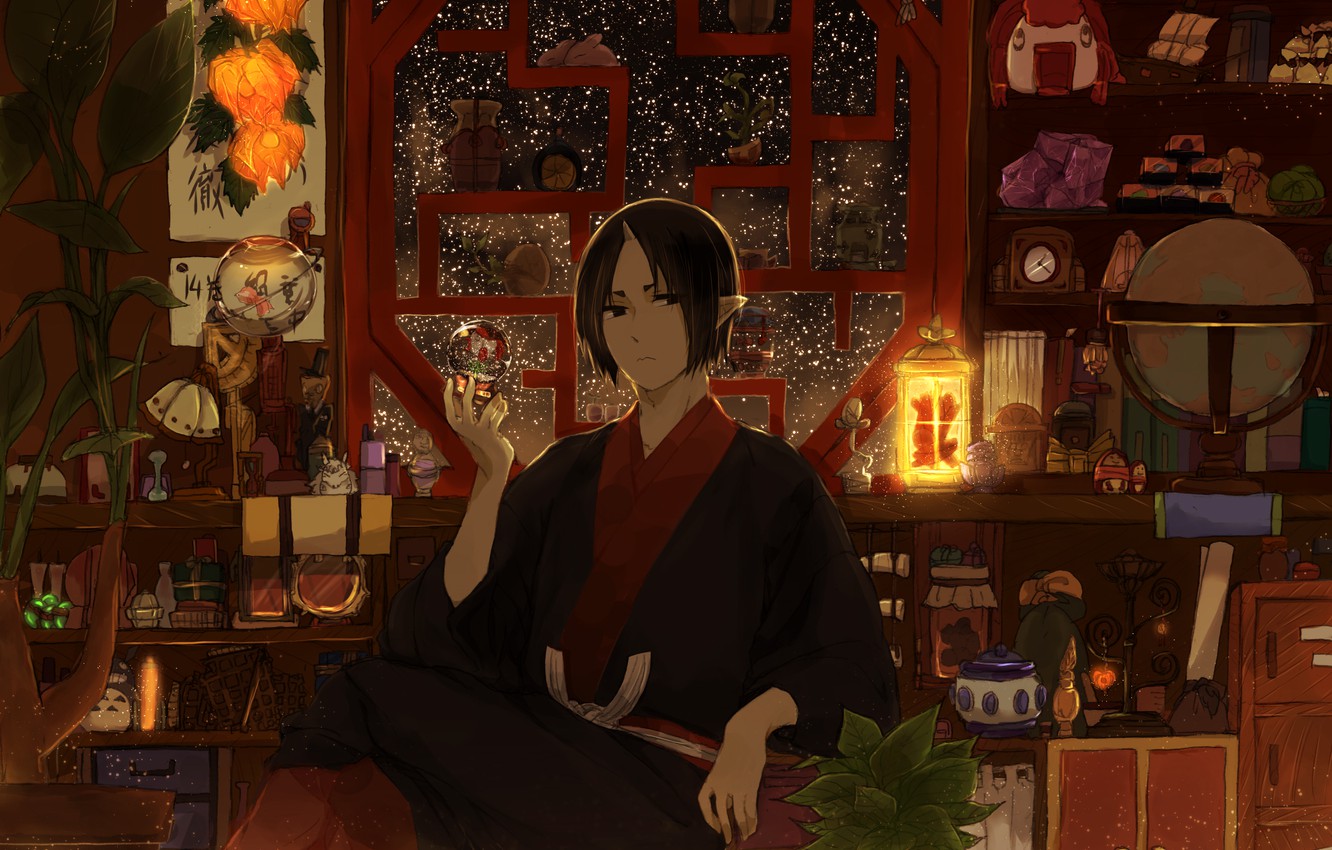 Director: Hiro Kaburaki
Writer: Midori Gotō
Cast: Hiroki Yasumoto, Yumiko Kobayashi
IMDb Rating: 7.2/10
Rotten Tomatoes:
Streaming Platform: Crunchyroll
Hoozuki works for a company that controls Hell. He is the Chief Deputy of the King named Lord Enma. They also get assignments from other places. These transactions are handled by Hoozuki, who also makes sure they are properly resolved. Hoozuki is Lord Enma's genuine strength. Thus, he has faith in him. But not many people are aware of what is within Hoozuki.
Things can sometimes spiral out of control and become challenging. In Hoozuki No Reitestsu, Hoozuki's life is portrayed in detail, including how he consistently approaches every challenge with enthusiasm.
38. Kabaneri of The Iron Fortress
Director: Tetsurō Araki
Writer: Ichirō Ōkouchi
Cast: Tasuku Hatanaka, Janice Kawaye, Sayaka Senbongi.
IMDb Rating: 7.2/10
Rotten Tomatoes: 100%
Streaming Platform: Netflix and Amazon Prime Video
In Japan during the period depicted in Kabaneri of the Iron Fortress, zombie-like monsters have come to rule over the nation. Some people are still living in fortified cities, while others are on armored trains. This anime only has one season and a single feature that rather adequately tells the entire tale.
If that is all these anime series have to offer the viewers, that is alright, but if there is more, that is fantastic.
37. Goblin Slayer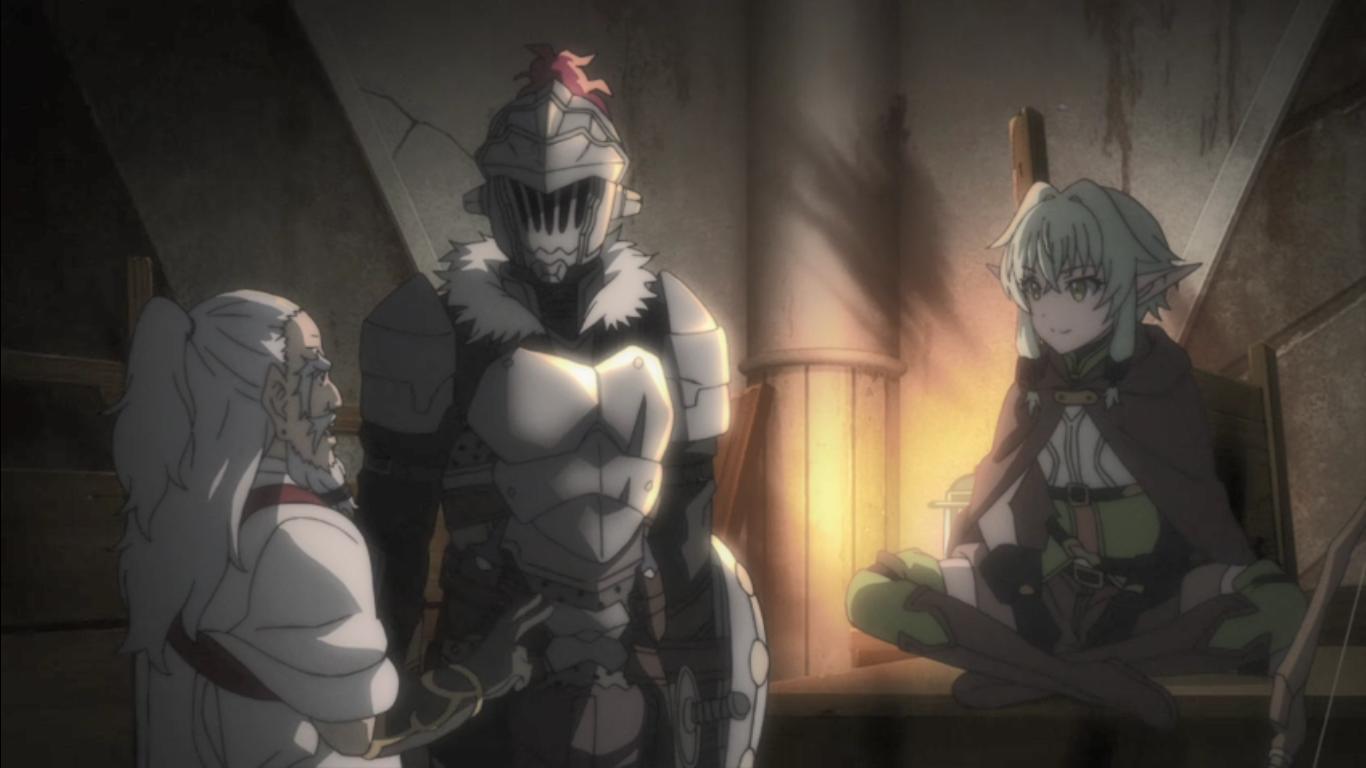 Director: Takaharu Ozaki
Writer: Hideyuki Kurata, Yōsuke Kuroda
Cast: Barry Yandell, Brittany Lauda, Josh Bangl, and others.
IMDb Rating: 7.5/10
Rotten Tomatoes: 89%
Streaming Platform: Netflix and Crunchyroll
Adventurers from all over the world travel to a fantasy land to join the League. They finish contracts to gain fame and money. A novice priestess embarks on her first adventure, but she finds herself in peril when her first deal with goblins fails. She is rescued by a guy described as Goblin Slayer, an explorer whose sole mission is the merciless destruction of goblins. The rest of her party is either destroyed or rendered inoperable.
36. Cells At Work!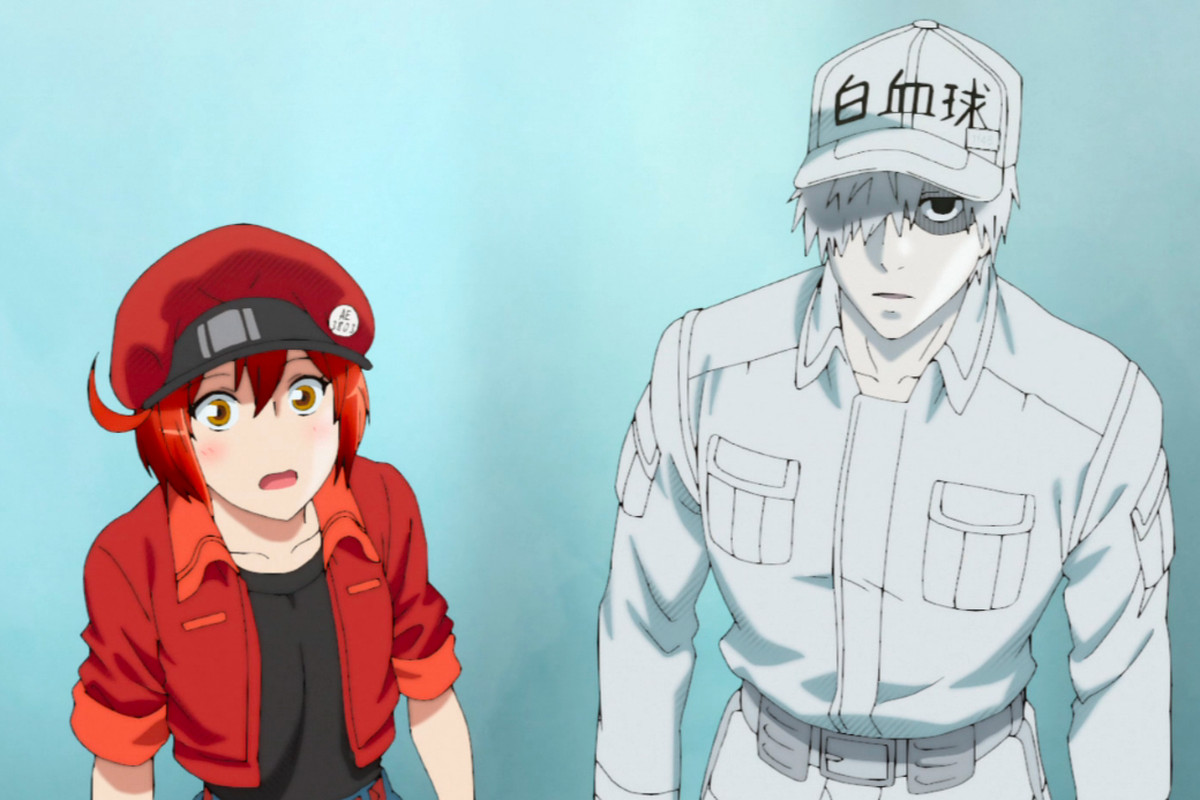 Director: Hirofumi Ogura
Writer: Akane Shimizu
Cast: Kana Hanazawa, Tomoaki Maeno, Daisuke Ono, Kikuko Inoue and others.
IMDb Rating: 7.5/10
Rotten Tomatoes: 50%
Streaming Platform: Netflix
The action of the novel occurs within the human body, where trillions of humanoid cells execute their individual tasks to preserve bodily health. The storyline primarily centers on two of these cells: U-1146, a tenacious white blood cell, and AE3803, a novice red blood cell that frequently gets misplaced during deliveries.
35. D.Gray-Man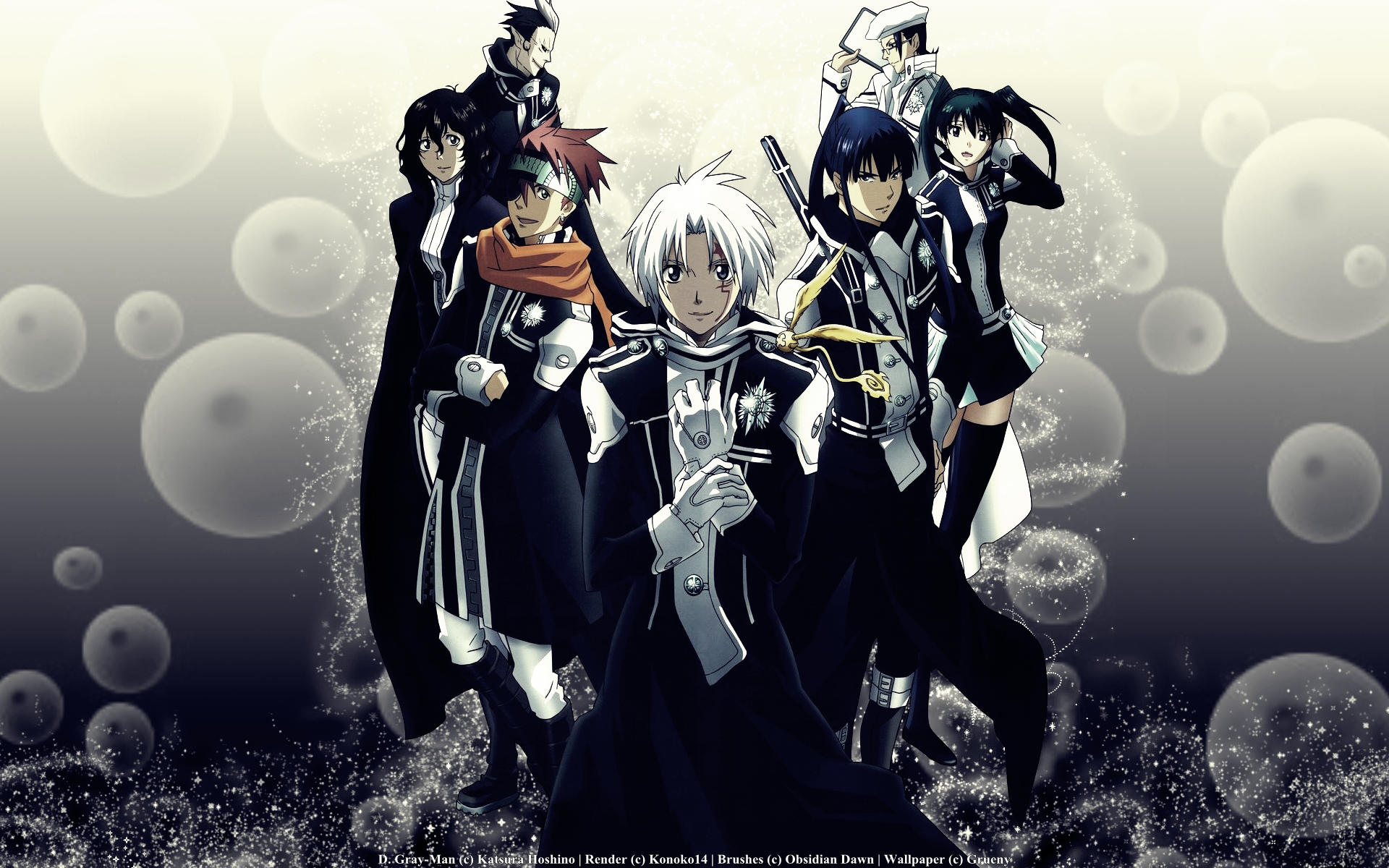 Director: Katsuro Hoshino
Writer: Katsuro Hoshino
Cast: Yu Kanda, Lavi, Allen Walker
IMDb Rating: 7.7/10
Rotten Tomatoes: NA
Streaming Platform: Amazon Prime
Katsura Hoshino entirely created a Japanese manga called D.Gray-Man. It tells the tale of a young man named Allen Walker who joins the Black Order and is set in a different period of the nineteenth century. Using the outdated substance, they fight a Millennium Earl man and his evil army of Akuma who want to wipe out humanity.
So many characters, including Zone, have been modified from Hoshino's earlier writings and draughts. The setup is infamous for having a boring tale; it Provides end to end once she changes a scenario she had overthought to be particularly fierce for her youthful followers.
34. Ushio and Tora
Director: Satoshi Nishimura
Writer: Toshiki Inoue, Kazuhiro Fujita
Cast: Brittney Karbowski, David Matranga, Greg Ayres and others.
IMDb Rating: 7.7/10
Rotten Tomatoes: NA
Streaming Platform: Hulu and Netflix
This anime depicts the tale of a young guy who discovers a demon. Ushio is the young fellow, while Tora is the devil beneath the temple. A spear that stays in its position is inside Tora's chest. As a result of the presence of numerous demons and monsters there, Ushio is compelled to set Tora free to combat them. Together, they take on a variety of supernatural foes.
33. Yu Yu Hakusho
Director: Noriyuki Abe
Writer: Yoshihiro Togashi
Starring: Nozomu Sasaki, Justin Cook
IMDb Rating: 8.4/10
Rotten Tomatoes Rating: 77%
Streaming Platform: Crunchyroll
Demon slayer, which is similar to this anime, was released in the 1990s and is among the related themes. This anime, which has themes related to both Bleach and Naruto, is a necessity for the list to be complete. High school student Yusuke Urameshi is killed in an accident but manages to save a child's life. The underworld boss hires him as a supernatural investigator after being impressed by his skills. He will combat evil with others.
32. Natsume's Book Of Friends
Director: Takahiro Omori
Writer: Ayako Yokoyama
Cast: Kazuhiko Inoue, Miki Itô
IMDb Rating: 8.3/10
Rotten Tomatoes:
Streaming Platform: Crunchyroll
Takashi Natsume, also fifteen, lived a strange and rewarding life, whereas other fifteen-year-olds were having fun. He was being hounded by ghosts and spirits all the time. They made some effort to talk to him. He had no idea why. One day, he finds out that his grandmother has given him the "Book of Friends," a book that has been around for 100 years.
Recently, he has been given more responsibility. The book contains a list of every spirit character that his grandmother had any effect over. Spirits are drawn to Natsume because of this. They yearn for freedom and peace.
31. Golden Kamuy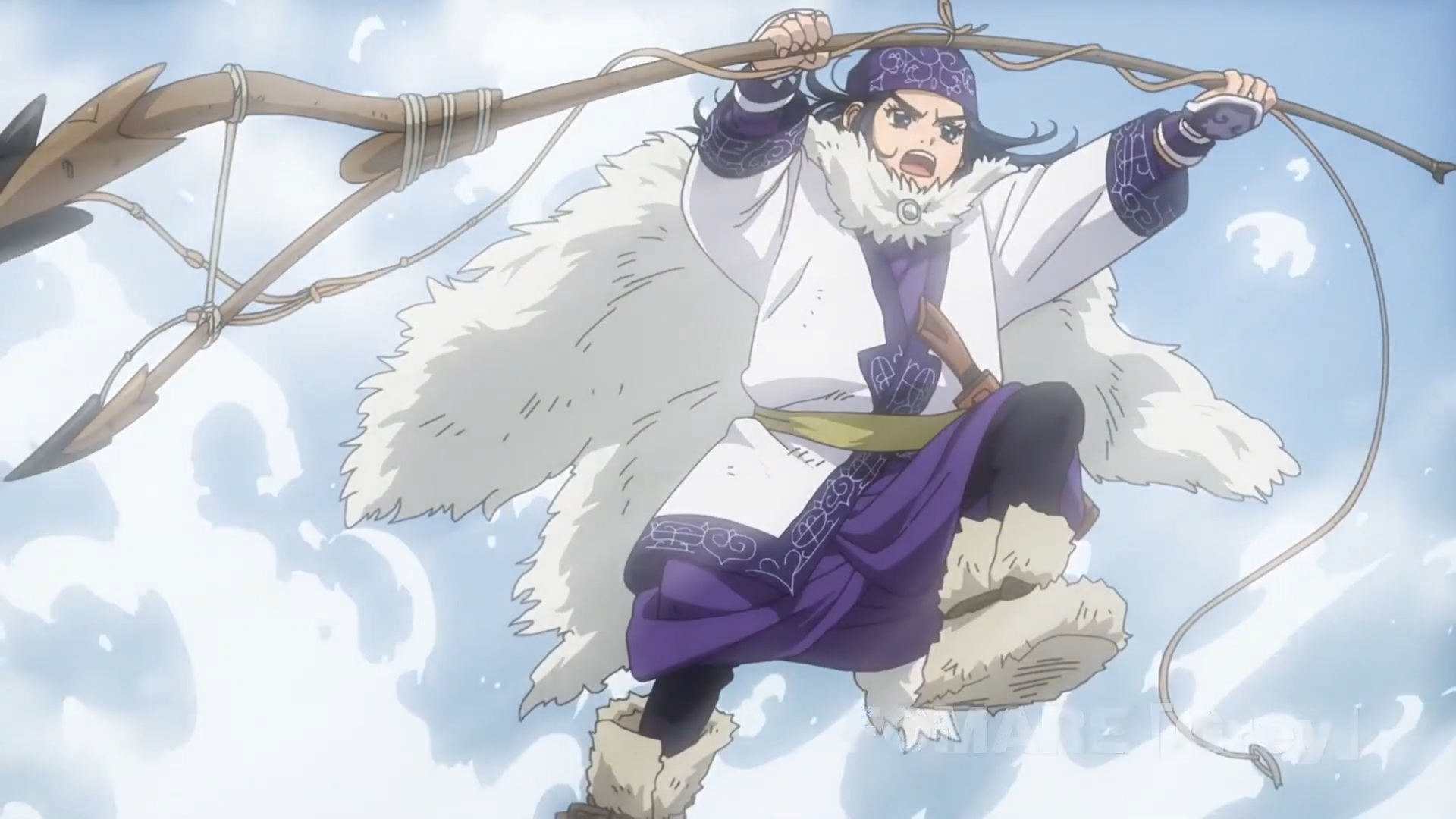 Director: Hitoshi Nanba
Writer: Satoru Noda
Cast: Ian Sinclair, Monica Rial
IMDb Rating: 8/10
Streaming Platform: Crunchyroll and Funimation
Golden Kamuy is another anime like demon slayer: Kimetsu no Yaiba. This anime is centered around the beginning of the 1900s and depicts historical events following the Russian–Japanese War. Saichi is frantically attempting to forget everything now that the conflict is done.
The maps necessary for Saichi's search for a gold treasure are tattooed on the backs of numerous men. The anime is quite realistic, and sometimes it seems like you're watching a trip program where survival advice is being given. Yet, there are also some action scenes in the extremely entertaining anime.
30. Fairy Gone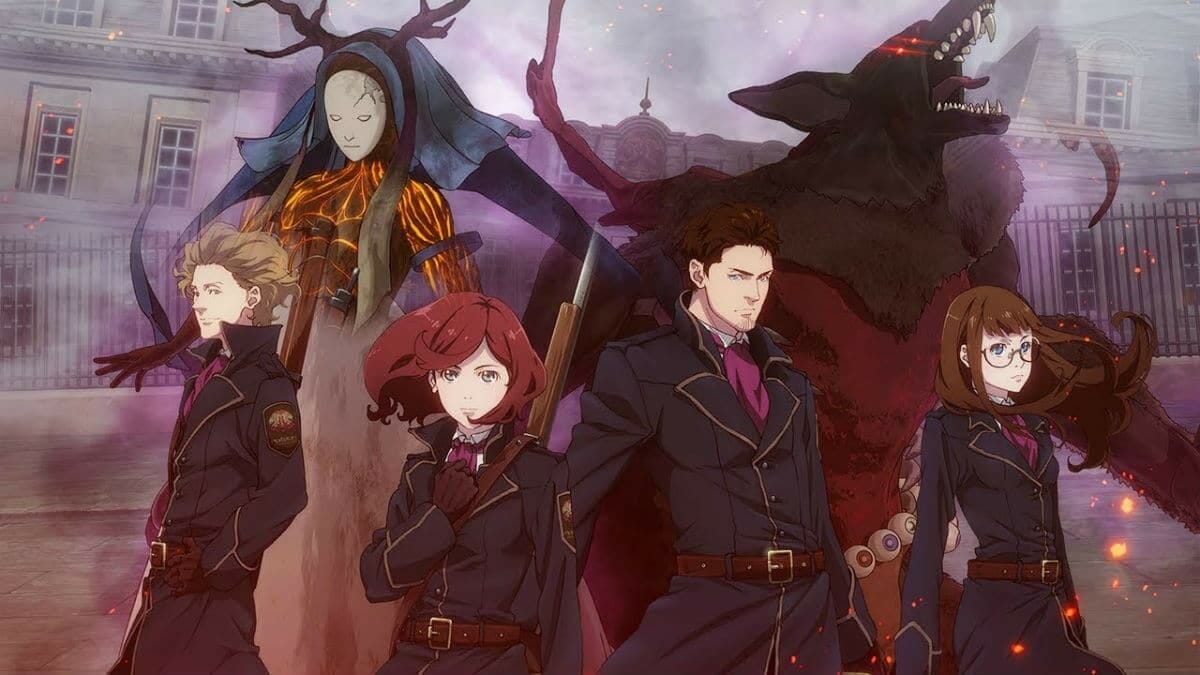 Director: Kenichi Suzuki
Writer: Ao Jūmonji Cast: Kana Ichinose, Tomoaki Maeno
IMDb Rating: 5.8/10
Rotten Tomatoes: 52
Streaming Platform: Hulu
Fairies are trapped inside the bodies of animals in this story, giving them superpowers. These animals' parts are transplanted into human bodies. Fairies gain alter egos and become a war weapon as a result of this behavior. These fairies had completed their mission by fighting in the war.
Many were unrecognized after the war, which pushed them into violent employment and even extremism. Mariya is recruited by Dorothea, an intelligence body, to work on a project to investigate the atrocities committed by demonized fairies.
29. Tales of Zestiria the X 
Director: Haruo Sotozaki
Writer: Hikaru Kondo
Cast: Robbie Daymond, Michael Johnston, Felecia Angelle.
IMDb Rating: 6.8/10
Streaming Platform: Netflix
Sorey is a human being who grew among the seraphim. Sorey has confidence in the fables that say, "sometime in the past, every human has the chance to see seraphim" and fantasies about unwinding the old secret to make a world where humans and seraphim can live in peace.
He entangled at some point. After that, he pulls out a heavenly sword inserted into a stone and turns into a shepherd. Then he puts away disaster from the earth. He starts to absorb the depth of his core goal and his fantasy of conjunction between humanity and the seraphim. That turned out to be more extreme, and the Shepherd left a mark to be remembered.
 28. 07-Ghost
Director: Norihiro Takamoto
Writer: Natsuko Takahashi
Cast: Mitsuki Saiga, Daisuke Namikawa
IMDb Rating: 7/10
Rotten Tomatoes:
Streaming Platform: Crunchyroll
Teito Klein is the key character in this tale. He has the power to alter the course of history. However, he was unaware of it at first. He has no recollection of his own self or family. Teito Klein is a student in the Military Academy of the Barsburg Empire.
This academy prepares elites to lead the kingdom to triumph. Both of them are about to begin their final examinations when Teito learns about his background and fails the exam. All throughout the film, Teito and Mikage's connection blossoms into something beautiful and powerful.
27. Fate Stay Night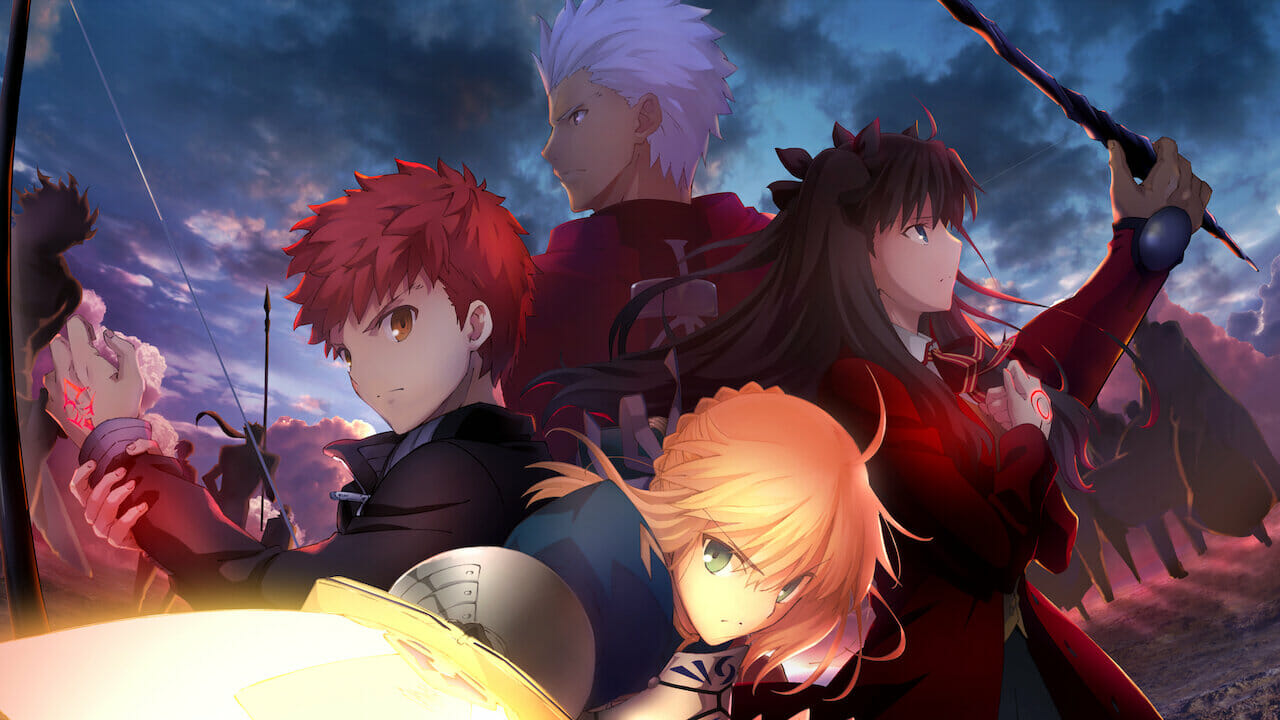 Director: Yuji Yamaguchi
Writer: Takuya Sato
Cast: Mela Lee, Bryce Papenbrook
IMDb Rating: 7.3/10
Streaming Platform: Netflix
The anime has a story around the Unlimited Blade Works storyline in the Fate/stay night visual novel on family bond, in which Shirou Emiya (character), a secondary school understudy living in Fuyuki City, Japan, is hauled into the Fifth Holy Grail War, a mysterious competition.
Seven members, known as "Experts" and their "Workers," take on a conflict royale for the Holy Grail, a mysterious supreme vessel that can satisfy any wish. But unfortunately, Shirou and his Servant Saber are compelled to collaborate with Rin, another Master in the Holy Grail War. However, Shirou procures the solid aversion of Rin's secretive Servant Archer, whose inspirations are obscure.
A must-watch on the list. An anime series is totally related to demon slayer.
26. Blue Exorcist
Director & Writer: Tensai Okamura
Cast: Nobuhiko Okamoto, Bryce Papenbrook, Jun Fukuyama.
IMDb Rating: 7.5/10
Streaming Platform: Amazon Prime
The arrangement "Blue Exorcist" had its beginnings in manga structure. People and evil spirits live in various domains – Assiah and Gehenna, individually- that typically don't converge. Be that as it may, presently, evil presences are beginning to enter the unmistakable universe of mankind and should be separated. Fortunately, some individuals can exorcise them
. Rin Okumura, a youngster of unusual roots and uncommon force, embarks to free the universe of the shrewd spirits with the end goal of being a definitive exorcist and legend. Achieving that would mean vanquishing his own dad, Satan.
25. Fire Force 
Director & Writer: Atsushi Okubo
Cast: Gakuto Kajiwara, Kazuya Nakai, Yusuke Kobayashi.
IMDb Rating: 7.7/10
Streaming Platform: Netflix and Amazon Prime
Fire Force story is about Shinra Kusakabe, who is a third-era pyrokinetic youth who picked up the moniker "Villain's Footprints" for his capacity to touch off his feet freely.
He joins Special Fire Force Company 8. Shinra starts to uncover that his more youthful sibling's snatching during the fire that killed their mom 12 years prior is brought about by a secretive Armageddon faction that is behind the Infernal assaults.
Organization 8 and its partners restrict the White Cloaks and their Knights of the Ashen Flame, who were looking for particular people like Shinra and his sibling (Sho) to create a plan to overcome the Great Disaster.
24. Soul Eater 
Director: Takuya Igarashi
Writer: Atsushi Ōkubo
Cast: Laura Bailey, Todd Haberkorn, Brittney Karbowski.
IMDb Rating: 7.8/10
Rotten Tomatoes: 100%
Streaming Platform: Hulu
Soul Eater is based on a fantasy world with monster hunters. There is a unique academy in which all the students have a weapon that has the ability to change at one's choice. The students aspire to be demon hunters, and the story focuses on Maka, who has a scythe as his weapon, and her partner, Soul.
Each hunter has a partner who can turn into a weapon. So they both have to fight together. Demon Slayer fans will enjoy soul Eater. It has the dark comedy dark fantasy genre and is an action anime.
23. Akame Ga kill 
Director & Writer: Takahiro Tashiro, Tetsuya Tashiro
Cast: Soma Saito, Corey Hartzog, Sora Amamiya.
IMDb Rating: 7.8/10
Streaming Platform: Netflix
Akame ga kill spawns with a youthful resident Tatsumi heading to the Imperial Capital to attempt to fund-raise for his town. Subsequent to showing up, he finds that there is defilement in the territory. Night Raid, a professional killer gathering, is enrolled to battle the Empire and end the debasement.
As a component of Night Raid, Tatsumi joins self-declared "virtuoso marksman" Mine, kind-hearted Sheele who can turn into a relentless executioner with regards to accomplishing her objective of disposing of "society's garbage"; and pioneer Najenda who went through years serving in the Empire before joining Night Raid.
22. Tokyo Ghoul 
Director & Writer: Sui Ishida
Cast: Natsuki Hanae, Austin Tindle, Sora Amamiya.
IMDb Rating: 7.8/10
Rotten Tomatoes: 100%
Streaming Platform: Netflix
In Tokyo Ghoul, This present reality where demons live among people is equivalent to ordinary individuals in practically every manner- other than their desire for human substance. Modest Ken Kaneki discovers the most challenging way possible when he goes out on the town with wonderful Rize, who he just inspires to eat him.
After an ethically flawed salvage, Ken turns into the primary half-human, half-devil crossover, which brings him into the dull, vicious universe of demons close to the universe of people. Tokyo Ghoul has always been in every anime fan's recommendations for anime similar to Kimetsu no Yaiba.
21. Ninja Scroll
Director: Yoshiaki Kawajiri
Writer: Yoshiaki Kawajiri
Cast: Toshihiko Seki, Masako Katsuki, Kōichi Yamadera.
IMDb Rating: 7.9/10
Rotten Tomatoes: 94%
Streaming Platform: Hulu
Those who are not sure what to start watching even after such a long list of recommendations should start with Ninja Scroll. It is an anime movie that was released in the 1990s and showed Kibagami Jubei's action and violence-filled battles against Ninjas who have very different and monstrous abilities.
This anime is not recommended for young audiences.
However, Demon Slayer fans will definitely enjoy this movie, and the action scenes are too good to miss. This movie got its sequel as anime series, and no more seasons or movies came further in the future.
20. Inuyasha
Director & Writer: Rumiko Takahashi
Cast: Kappei Yamaguchi, Richard Ian Cox, Darren Pleavin.
IMDb Rating: 7.9/10
Rotten Tomatoes: 100%
Streaming Platform: Netflix
The scenes of the Japanese anime arrangement Inuyasha depend on the initial 36 volumes for Rumiko Takahashi's manga arrangement of the equivalent name.
It follows a half-devil, Inuyasha, and a young secondary school lady Kagome Higurashi on an excursion. Close by their companions, a youthful fox evil presence, Shippo; a lustful priest, Miroku; a devil slayer, Sango; and a devil feline, Kirara, to acquire the parts of the broke Jewel of Four Souls, an incredible gem that had been covered up inside Kagome's body, and shield the shards from being utilized for evil, including by the half-evil spirit Naraku.
19. Fairy Tail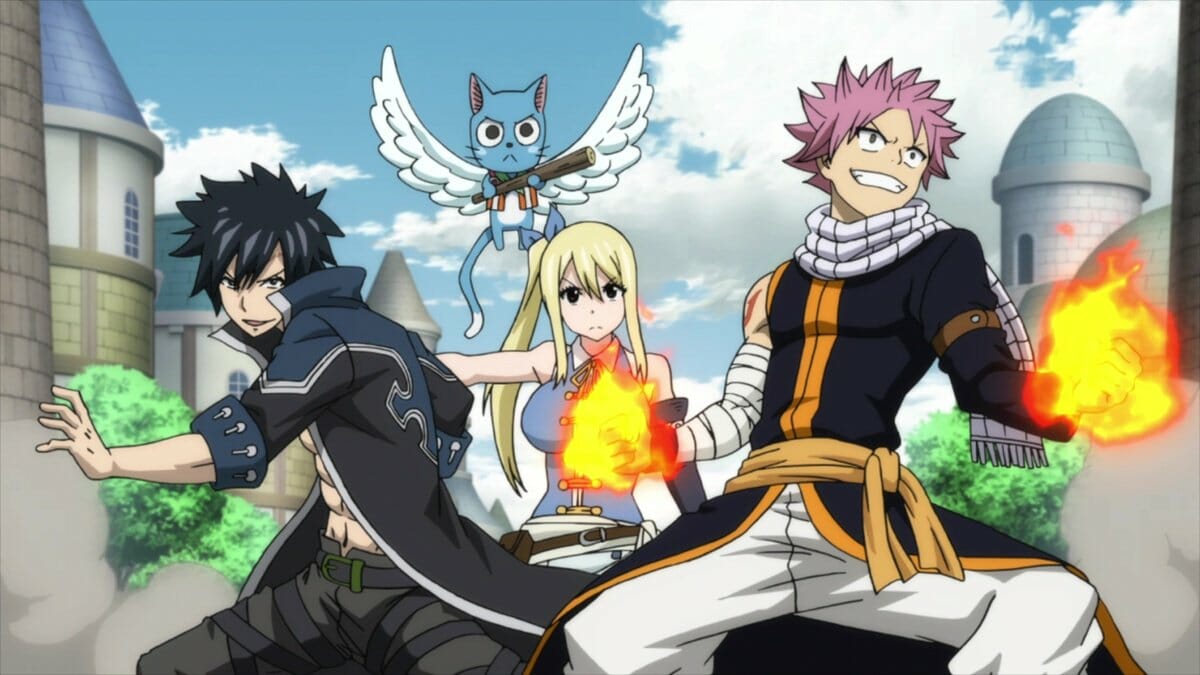 Director: Shinji Ishihira
Writer: Masashi Sogo
Starring: Natsu Dragneel, Lucy Heartfilia, and others.
IMDb Rating: 7.9/10
Rotten Tomatoes Rating: 65%
Streaming Platform: Hulu, Crunchyroll, Funimation, iTunes, Amazon Prime Video, Vudu.
In this popular anime, the heroes belong to Fairy Tail, and their single motive is to complete their job against all odds. The anime also has the theme of loyalty and friendship. Unlike Demon Slayer, this anime doesn't have any monsters or demons, but there are nail-biting fight scenes.
18. Claymore
Director & Writer: Norihiro Yagi
Cast: Todd Haberkorn, Stephaine Young, Houko Kuwashima.
IMDb Rating: 8/10
Streaming Platform: Amazon Prime
In a world overflowing with dangerous demons called "Youma," a youthful silver-looking lady, Clare, chips away at the sake of an association that trains female Youma mutts into heroes with the capacity to eradicate these demons.
Thought about a maverick for getting a wanderer youngster and nearly losing herself to her Youma side by "Arousing," she is continually relegated to somewhat perilous missions.
 17. Rising Of The Shield Hero
Director: Takao Abo, Masato Jinbo
Writer: Keigo Koyonagi
Cast: Billy Kametz, Kaito Ishikawa, Asami Seto, and others.
IMDb Rating: 8.1/10
Rotten Tomatoes: NA
Streaming Platform: Crunchyroll I
n this, Naofumi Iwatani is summoned by a fantasy world that is about to face deadly stress by undead and monsters. It is an isekai series, and the boy has magical shields.
The rest three heroes have a spear, bow, and sword. It is not easy for Naofumi to fight such creatures alone as he is an outcast among them. However, time is running out of his hands, and he has to fight the enemy somehow.
16. Re: Zero- Starting Life In Another World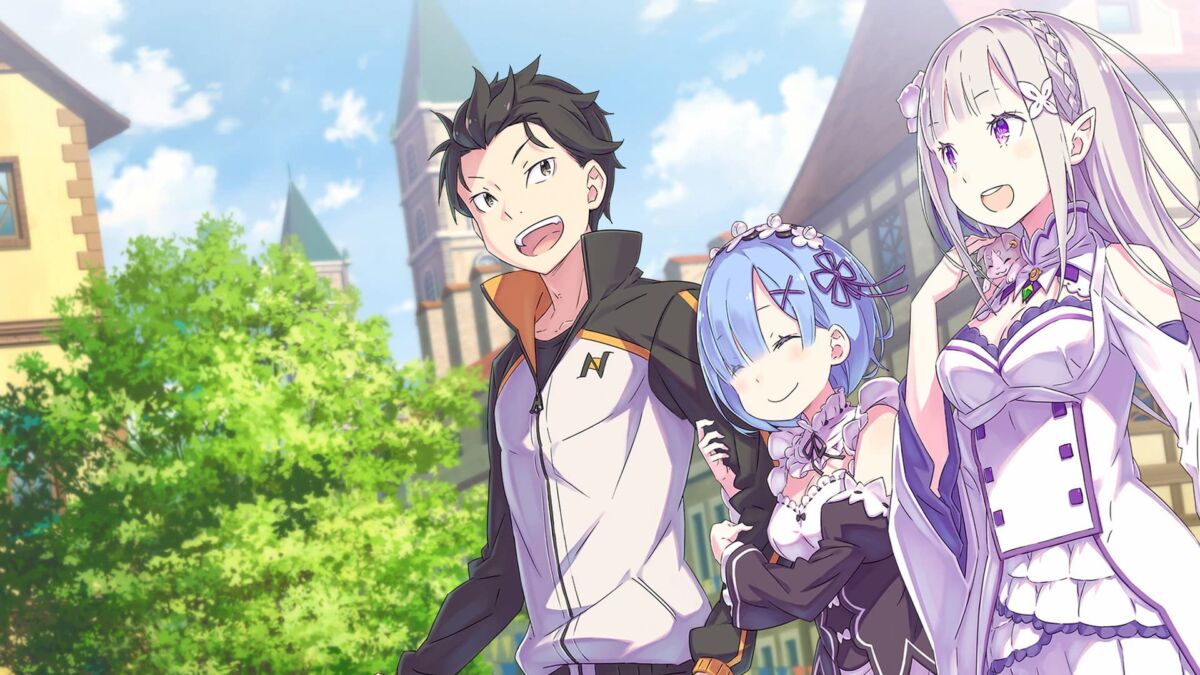 Director: Masaharu Watanabe
Writer: Masahiro Yokotani
Cast: Yûsuke Kobayashi, Rie Takahashi, Sean Chiplock and others.
IMDb Rating: 8.1/10
Rotten Tomatoes: NA Streaming Platform: Amazon Prime Video, HBO Max, Crunchyroll, Netflix.
Subaru, a young man from the modern world, gets transported to a fantasy world. Re: Zero tells his story. Subaru gets to know that he gets another chance at life whenever he dies. Re: Zero has only one season till now, but it is a good anime, and anime fans must watch it once.
The anime concept is unique and has one of the best characters. No doubt, it is one of the best anime.
15. Bleach 
Director & Writer: Tite Kubo
Cast: Johnny Yong Bosch, Michelle Ruff
IMDb Rating: 8.2/10
Streaming Platform: Netflix
Ichigo Kurosaki never requested the capacity to see apparitions. He was brought into the world with the blessing. When his family is assaulted by a Hollow, a noxious lost soul, Ichigo turns into a Soul Reaper (Demon Slayer). Devoting his life to securing the blameless and aiding the tormented spirits themselves to discover harmony.
May it is for the young man's story or the characters, there has always been something for every fan out there. From Ichigo as the demon slayer to the other demons. Something feels related to Demon Slayer (Kimetsu no Yaiba).
14. Black Clover
Director: Tatsuya Yoshihara, Ayataka Tanemura
Writer: Kazuyuki Fudeyasu, Kanichi Katou.
Cast: Dallas Reid, Micah Solusod, Jill Harris, and others.
IMDb Rating: 8.3/10
Rotten Tomatoes: 76%
Streaming Platform: Hulu, Amazon Prime, AnimeLab, Crunchyroll, Funimation.
Black Clover is an anime adaptation of popular manga of the same name. The story focuses on Asta, a baby boy who gets abandoned in front of a church. Almost everyone is capable of magic surrounding Asta but him.  because of his desire to become Wizard King, he goes on a journey.
13. Dragon Ball Z
Director: Daisuke Nishio
Writer: Takao Koyama
Cast: Doc Harris, Christopher Sabat
IMDb Rating: 8.8/10
Rotten Tomatoes: NA
Streaming Platform: Netflix
Gokuu is already enjoying a calm marital life and children five years after having won the Martial Arts Championship. This changes, though, when a strange foe named Raditz appears, claiming to be Gokuu's long-lost brother.
Gokuu's primary aim when he was sent to Earth as a newborn was to conquer and destroy the world, and he was instead nurtured as a loving and well-mannered youngster, now battling to defend others. Just the toughest will survive a battle for the seven legendary mythical dragon balls in Dragon Ball Z.
12. JoJo's Bizarre Adventure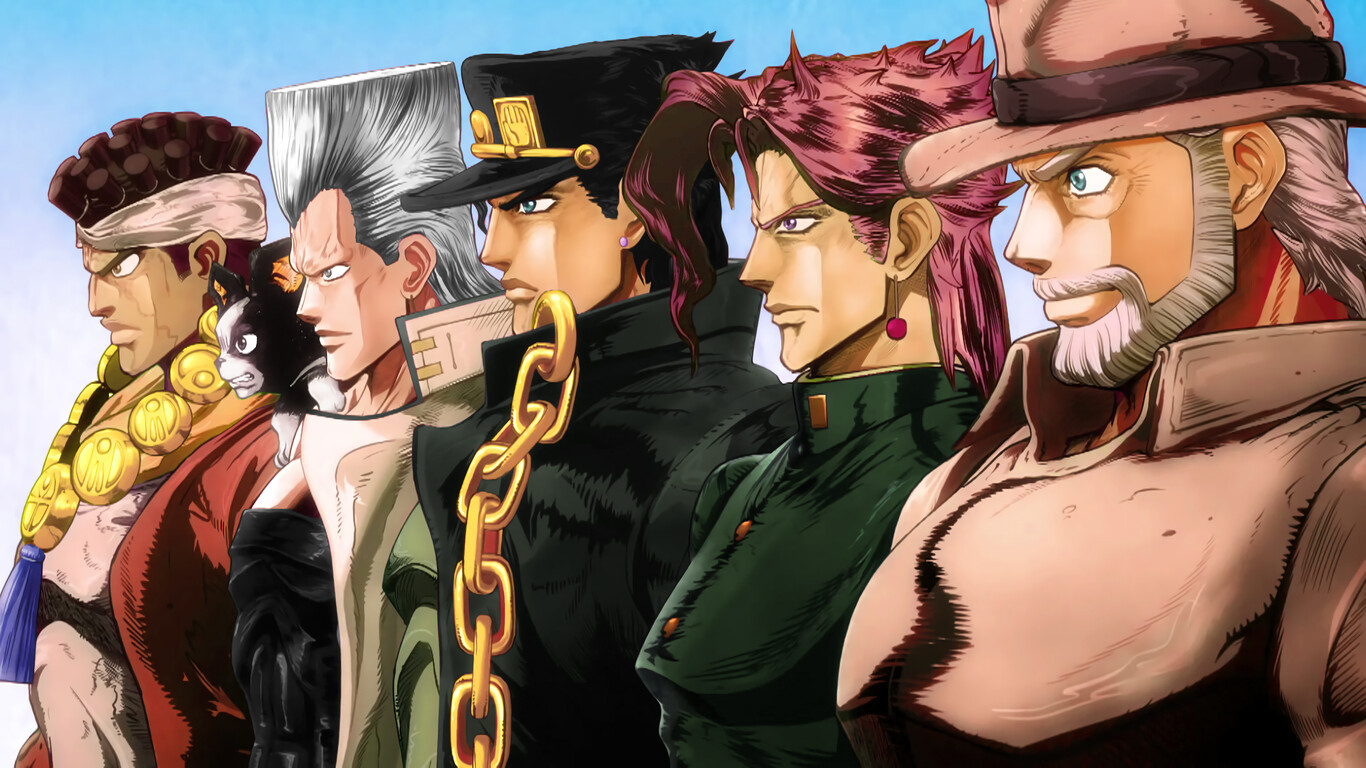 Director: Naokatsu Tsuda
Writer: Hirohiko Araki
Starring: Matthew Mercer, Daisuke Ono, and Fuminori Komatsu.
IMDb Rating: 8.4/10
Rotten Tomatoes Rating: 90%
Streaming Platform: Crunchyroll
Jojo's Bizarre Adventure has been a famous manga series among readers since 1987. In 2012, the anime adaptation of this manga series was launched. There is not just one hero in this anime, but the entire Joestar family is there.
There are very unique characters and magical scenes. The anime is great, and there is humor, so there is something for everyone in this anime.
11. Princess Mononoke 
Director: Hayao Miyazaki
Writer: Hayao Miyazaki
Cast: Billy Crudup, Claire Danes, Gillian Anderson, Minnie Driver, Lady Eboshi.
IMDb Rating: 8.4/10
Rotten Tomatoes: 93%
Streaming Platform: Netflix, Amazon Prime Video
This may be a little disputed, but this anime series does not follow the same vein as the other anime mentioned in the whole article. The demons are not violently killed, but they are slayed in the same manner as in Demon Slayer.
There are demons, and they are enough to keep the viewers invested. Princess Mononoke has a great narrative, fabulous animation, and memorable characters.
10. Rurouni Kenshin
Director: Kazuhiro Furuhashi
Writer: Nobuhiro Watsuki
Cast: Kenshin Himura, Kaoru Kamiya, Yahiko Myojin and others.
IMDb Rating: 8.4/10
Rotten Tomatoes: 84%
Streaming Platform: Hulu, Netflix, Crunchyroll.
It is an anime fantasy action anime like demon slayer Kimetsu no Yaiba and is set in the Meiji era in the year 1878. Himura Kenshin is the lead character and is also known as Hikokiri Battosai. Demon slayer fans will definitely develop a fondness for this anime.
9. My Hero Academia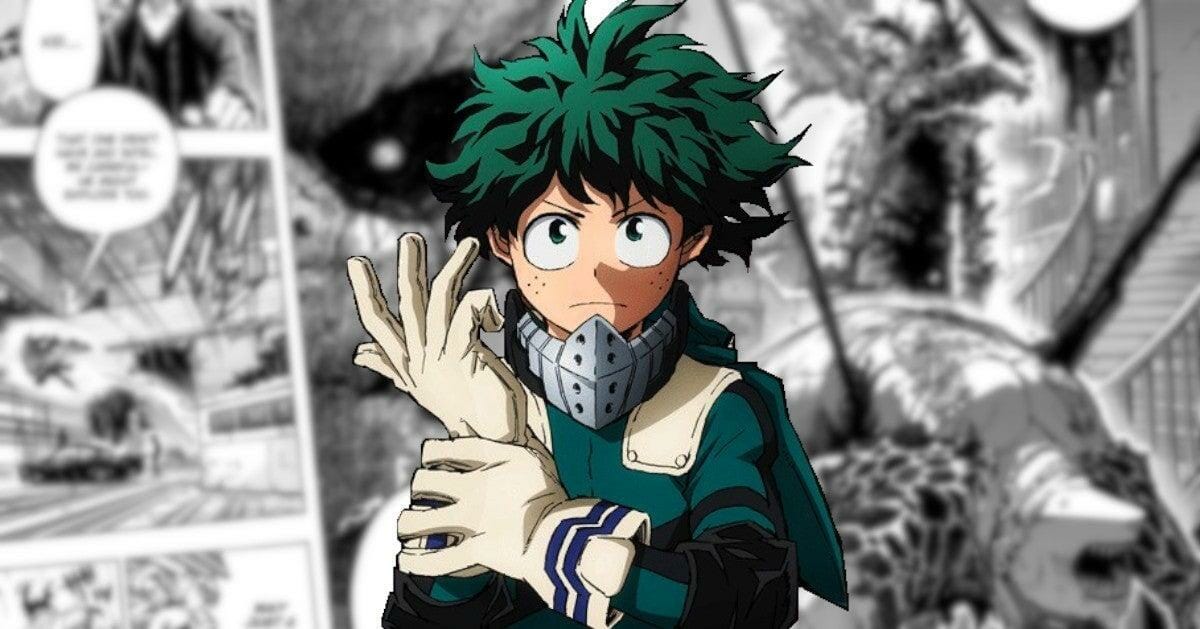 Director & Writer: Kohei Horikoshi
Cast: Daiki Yamashita, Justin Briner, Nobuhiko Okamoto
IMDb Rating: 8.4/10
Rotten Tomatoes: 100%
Streaming Platform: Amazon Prime
My Hero Academia is a Japanese superhuman fantasy world manga series. Bones make the anime adaptation. The anime shows with anime titles are the same as the book titles.
An anime similar to demon slayer Kimetsu no Yaiba, the story is related to Izuku Midoriya, a kid conceived without superpowers in this present reality where they have gotten ordinary.
Yet who actually fantasizes about turning into a superhuman himself? He is explored by Japan's most prominent saint, who gave away his skills to Izuku Midoriya in the wake of achieving his utmost capacity. He later assisted with selecting him for an esteemed secondary school for legends in preparation.
8. Dororo
Director & Writer: Kazuhiro Furuhashi
Cast: Rio Suzuki, Mugihito
IMDb Rating: 8.4/10
Streaming Platform: Amazon Prime Video
The 2019 Dororo anime arrangement depends on the manga of a similar name by Osamu Tezuka. The variation withdraws from the source material severally; however, it follows the fundamental reason of the manga. A youthful ronin named Hyakkimaru alongside a youthful imp.
Dororo should confront numerous evil-like demons present in Sengoku-period Japan who have taken his different body parts to get them back. It a one on the list for fans who like anime like demon slayer Kimetsu. Along with enemies and main characters in the fantasy world of human beings.
7. Samurai Champloo
Director: Shinichirō Watanabe
Writer: Shinji Obara and Yukihiko Tsutsumi
Cast: Steve BlumSteve Blum, Kirk Thornton, Kari WahlgrenKari Wahlgren.
IMDb Rating: 8.5/10
Rotten Tomatoes: 88%
Streaming Platform: Hulu
Samurai Champloo is a short anime that is similar to anime like demon slayer Kimetsu no Yaiba. The anime is literally a piece of art, and there are various life lessons given.
Three heroes go on a mission to find the missing samurai. The plot of this anime is very unexpected. There are many fight scenes. Therefore, it can be put under the category of action anime.
6. Dragon Ball Franchise
Director: Daisuke Nishio, Shigeyasu Yamauchi
Writer: Takao Koyama
Starring: Son Goku, Bulma, Krillin, and others.
IMDb Rating: 8.5/10
Rotten Tomatoes Rating: 91%
Streaming Platform: Funimation, AnimeLab, Hulu.
Dragon Ball Super and Dragon Ball Super are the descendants of the very famous anime Dragon Ball. In this popular anime, Goku and Gohan are seen fighting monsters that belong to outer space.
There are inspirational characters in this series, like Goku and his family. Evil will not have a chance to win until the world has these heroes.
 5. Beserk
Director: Shin Itagaki
Writer: Makoto Fukami
Cast: Hiroaki Iwanaga, Takahiro Sakurai, Toa Yukinari and others
IMDb Rating: 8.7/10
Rotten Tomatoes: 87%
Streaming Platform: Crunchyroll
The Berserk manga has various anime adaptations, and one should always start by watching Beserk, which was released in 1997. The series ran only from 1997 to 1998 and was a hit. Many praised the mature theme of the anime and found it to be one of the best anime.
The best in the genre of dark fantasy anime titles.
4. Jujutsu Kaisen
Director: Sunghoo Park
Writer: Gege Akutami
Starring: Junya Enoki, Adam McArthur, Yûichi Nakamura, Yuma Uchida, and others.
IMDb Rating: 8.7/10
Rotten Tomatoes Rating: 3.9/5
Streaming Platform: Crunchyroll
Both Jujutsu Kaisen and Demon Slayer are immensely popular manga anime series. Both rose to popularity at around the same time, and this led to these being linked together to each other.
They both are about the human world in which men are prone to supernatural threats. In Jujutsu Kaisen, some Curses originate from the inner energy that most people cannot handle. Jujutsu Kaisen and Demon Slayer are some of the best shonen anime that have come in the last few years.
Jujutsu Kaisen can give a tough battle to Demon Slayer in terms of its fight scenes and tough battles. Those who love demon slayer should definitely go for Jujutsu Kaisen, as it is worth watching. There is excellent animation in both of these anime.
3. Attack on Titan 
Director: Tetsuro Araki, Masachi Koizuka, Jun Shishido, Yuichiro Hayashi.
Writer: Yasuko Kobayasi, Hiroshi Seko
Cast: Marina Inoue, Yui Ishikawa
IMDb Rating: 9/10
Streaming Platform: Netflix
Attack on Titan is a dark fantasy anime show based on manga series. Series similar to demon slayer Kimetsu no Yaiba. At the point when man-eating Titans initially seemed 100 years prior. People discovered well-being behind enormous dividers that left the goliaths speechless.
Be that as it may, the well-being they have had for such a long time is compromised when a giant Titan crushes through the hindrances. This caused a surge of monsters into what had been the people's protected zone. During the savagery that follows, officer Eren Jaeger (anime character) sees one of the animals eat up his mom. It drives him to pledge that he will murder each Titan.
He enrolls a few companions who are made due to help him. The gathering is mankind's last trust in staying away from destruction because of the beasts.
2. Fullmetal Alchemist Brotherhood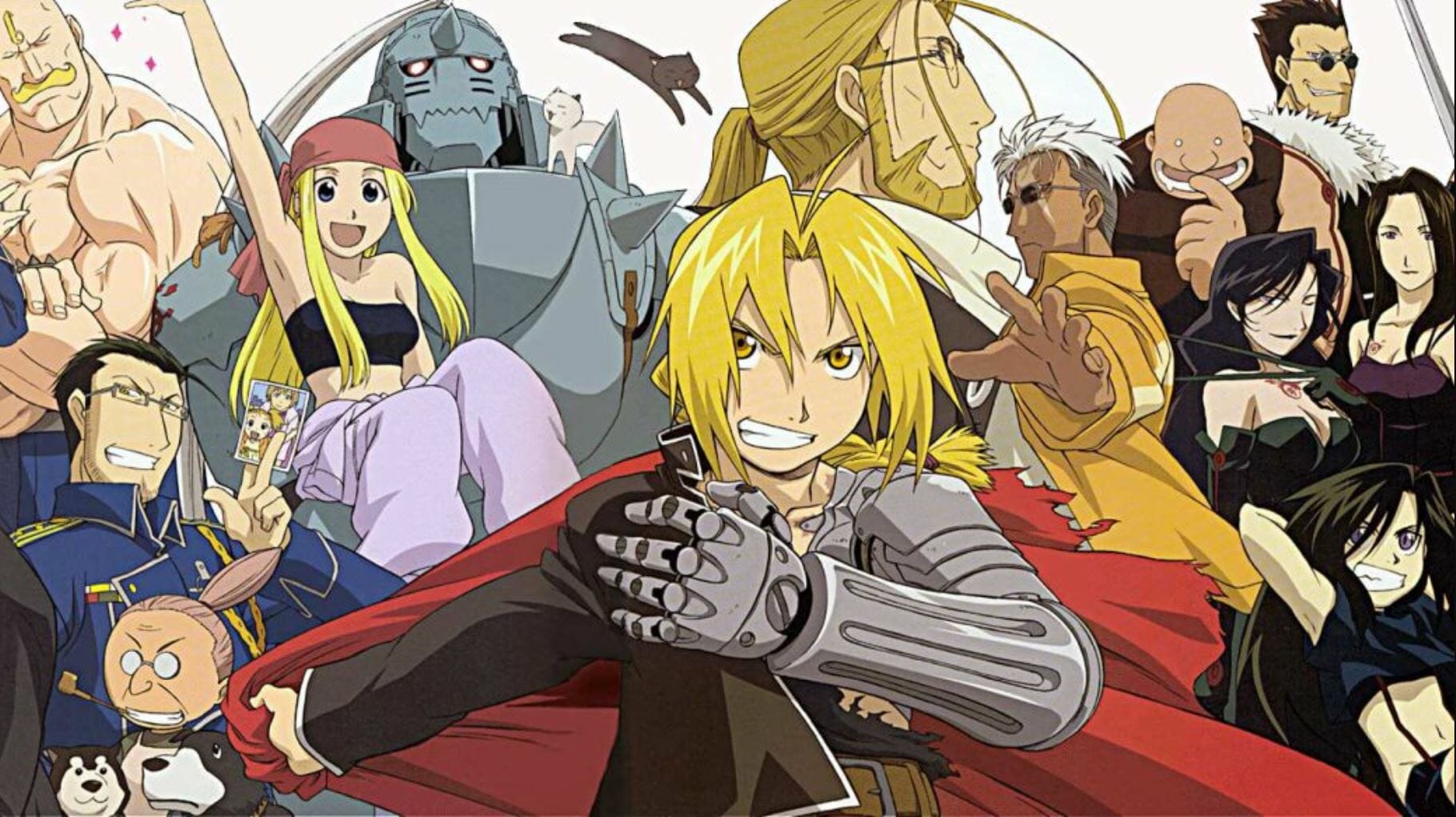 Director: Yasuhiro Irie
Writer: Hiroshi Onogi
Cast: Kent Williams, Lemasa Kayum
IMDb Rating: 9.1/10
Rotten Tomatoes: 100%
Streaming Platform: Netflix
Fullmetal Alchemist Brotherhood is a TV anime series show based on manga. A fantasy action anime where Brothers Edward and Alphonse (characters) look for the Philosopher's Stone. They want to re-establish their bodies. They were lost when they endeavored to utilize their speculative chemistry abilities to revive their perished mother.
Edward, who lost just appendages, joins the State Military. This allows him to proceed with the inquiry as he attempts to re-establish his sibling. His spirit is fastened to earth by a suit of protection. Nonetheless, Edward and Alphonse are not by any means the only ones looking for the fantastic stone.
What's more, as they search, they learn of a plot to change the whole nation for reasons they can't understand. Fullmetal Alchemist Brotherhood is the best anime. Just like demon slayer, Kimetsu no Yaiba has amazing sword fights and action scenes.
An anime series whose second season is more interesting.
1. Avatar: The Last Airbender
Director: Dave Filoni
Writer: Aaron Ehasz
Starring: Dee Bradley Baker, Zach Tyler Eisen, Mae Whitman, Jack De Sena, and others
IMDb Rating: 9.3/10
Rotten Tomatoes Rating: 98%
Streaming Platform: Paramount+, Netflix, Amazon Prime
This anime has been a favorite of fans since the 2000s and is produced by Western studios. Avatar can control all four Greek elements, and he aims to restore peace back into the world. According to the elements, The world is distributed into four nations.
There are many comedy, action, and moral lessons. In this anime, like demon slayer Kimetsu no Yaiba.
Here are the 10 Best Episodes of Demon Slayer (Kimetsu no Yaiba)
1. Together Forever (Season 1 – Episode 10)
An episode of Demon slayer ( Kimetsu no Yaiba ) where Tanjiro's emergency proceeds. He utilizes various water-breathing methods to hold out against Yahaba's last Blood Demon Art, the "Kouketsu Arrow." In the meantime, Susamaru and Nezuko are as yet engaging it out.
Stressed over the result, Tamayo releases her own Blood Demon Art.
2. Muzan Kibutsuji (Season 1 – Episode 7)
Muzan is a young man who will die before turning 20 years old. The devils have taken Tanjirou into a corner. But Nezuko assaults. She becomes evil herself. She's not so feeble that she needs security. So then Tanjirou follows one devil across the ground.
3. Pretend Family (Season 1 – Episode 20)
Rui attacks Tanjiro with his Blood Demon Art. He prepares for unavoidable passing. As his life flies away with a sense of finality. He abruptly recollects his father's dance kagura and releases another non-water breathing assault using which he cuts off Rui's head. As Tanjiro creeps towards Nezuko, somebody shows up before him.
4. Temari Demon & Arrow Demon (Season 1 – Episode 9)
Two demons named Tamayo and Yushiro acted as the hero. With the help of the "Eyeblind" spell, Tamayo sends Tanjirou and Nezuko to their home. There, through his discussion with Tamayo, Tanjiro discovers that there is an approach to restoring evil spirits to human structure. Suddenly, two devils in the quest for Tanjiro find the house and release an enraged attack.
5. You Must Master A Single Thing (Season 1 – Episode 17)
Among the Twelve Kizuki, an immediate subordinate of Muzan Kibutsuji is at someplace. When Tanjirou has killed the Mother Spider Demon of Mt. Natagumo, he discovers that an evil spirit who may hold the way to transforming Nezuko back into a human is someplace in the woods.
6. Letting Someone Else Go First (Season 1 – Episode 16)
Tanjiro and Inosuke fight the Demon Slayers caught by bug-catching networks. After slicing the strings and crushing the networks, they head further into the mountain.
Unfortunately, the farther they advance through the backwoods, the thicker the strings become, and those under their influence begin moving in manners inconceivable for an individual. Halting the Demon Slayers without harming them won't be simple, yet then Tanjiro takes a specific action.
7. New Mission (Season 1 – Episode 26)
As Tanjiro and the others are given their recovery preparation, the total export of the devils, Muzan Kibutsuji, assembles the Lower Ranks of the Twelve Kizuki.
The devils, as well, are getting ready to take their next action. As preparing attracts to a nearby, Tanjiro has improved to where he can battle on equivalent footing with Kanao. Then he gets an expression of another mission from his Kasugai Crow.
8. Final Selection (Season 1 – Episode 4)
To pass the Final Selection, one should make due for a week on Mt. Fujikasane, where evil presences caught by the Demon Slayers have been detained. So starts the fight for endurance between the youthful fighters and the devils.
Equipped with the breathing procedures and positions he'd gained from Sakonji Urokodaki, Tanjiro slices evil spirit after the devil. His two years of preparing have not been squandered. Then, however, a transformed evil presence shows up out of the blue all at once.
9. A Forged Bond (Season 1 – Episode 18)
Tanjiro and Inosuke go head to head against the Father Spider Demon of Mt. Natagumo. He releases an assault to run away. Arriving close to a waterway, he meets the evil spirit Rui tormenting the Sister Spider Demon.
10. Hinokami (Season 1 – Episode 19)
Fighters in the Demon Slayer Corps, known as Hashiras, have shown up on Mt. Natagumo. Inosuke, excited to see such a showcase of swordsmanship by somebody in an entirely unexpected alliance from himself, challenges Giyu to a duel. Suddenly the Insect Hashira appears before him.
Fans all over the anime world consider it to be the highlight of the series.
What Anime Genre is Demon Slayer?
Demon Slayer falls under the genre of martial arts and adventure. It is a dark fantasy anime. You can find a similar genre of anime in this article.
The above anime films are somewhere or the other related to, or like, demon slayer, may it be drama, anime fantasies, or action. The list will give goosebumps to fans who love anime and manga Demon Slayer fans. Happy watching!