Those who are fans of thriller dramas should definitely go for Angela Black. This show is ITV's latest thriller, and you are going just to love it. Jack Williams and Baptiste Harry write the series. Angela black is about Angela suffering at the hands of her husband, Olivier. Things don't change until she meets Ed and decides to act on all the unjust things she suffers from.
Angela Black Episode 1 Recap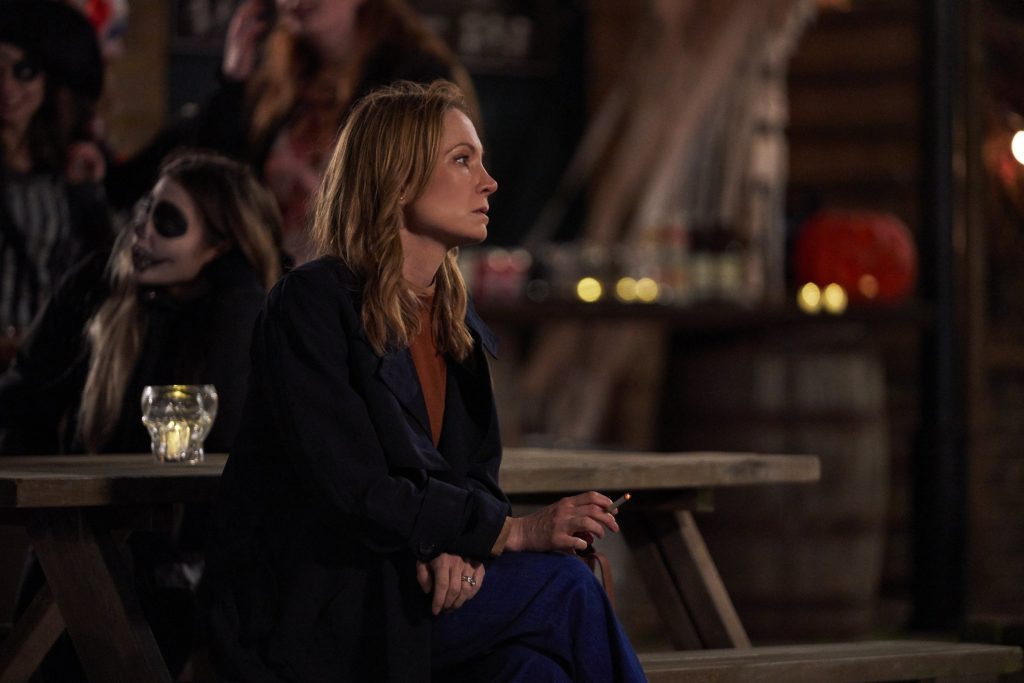 The first episode of the show came out on October 10, 2021. In this episode, the audience are introduced to Angela (played by Joanne Froggatt). She is a housewife, mother to two appears to be happy but is masking something. Her husband- Olivier, seems to be a nice guy and husband. He is completely opposite from his looks. In reality, he is brutal and cunning.
Angela hides her marks with the help of make-up which makes the audience aware that this is a usual incident of her life. After her husband's anger and violent bursts, Angela tries to get back to her normal life. Things take a turn when her sons ask to stay at their friend's house for the night. She leaves for a drink, and this move changes the path of her life.
She meets Ed (played by Samuel Adewunmi), a complete stranger who apparently has a lot to tell about her husband. Ed is a private investigator. Will she be able to trust him? Will Ed tell the truth?
Angela Black Episode 2 Plot Speculations
Episode 2 of the show will come out on October 17, 2021. After the revelations made by Ed, Angela tries to behave normal at home as if nothing had ever happened. Angela's paranoia is increasing with each passing day. Should she trust Ed? Or is it better to live like this? These are the questions she's struggling to find the answers to.
Olivier tries to apologize for his recent violent fight, Angela has to act like a perfect wife. Angela's knowledge of Olivier's past makes her understand more about his violent nature. 
Release Date of Episode 2 of Angela Black
The next episode of the show, episode 2, will come out on October 17, 2021. There will be a total of six episodes. The show will air its final episode on November 14, 2021.
The Cast of Angela Black
We'll be seeing Joanne Froggatt in the role of Angela Black. Michiel Huisman plays the role of Olivier. Samuel Adewunmi plays private Investigator Ed. Other casts of the series include Deidre Mullins (as Emma), Daniel Betts (as Mike), Seth Stokes (as Max Meyer), Clement Stokes (as Sam Meyer), Ashley McGuire (as Judy), Anil Goutam (as Dr.Peters) and Sara Houghton (as Marissa).
Where can You Watch Angela Black?
Angela Black premiered on ITV on October 10, 2021. This series will consist of a total of six episodes, and new episodes will come out every Sunday. If you somehow are unable to watch it on ITV then, you can also watch it on ITV hub. ITV is accessible in the UK, Ireland, Wales, and Switzerland. Viewers living outside these countries can use a VPN to have access to the show.