Fruits Basket is a Japanese manga series written and illustrated by Natsuki Takaya. The show was made into serials and published in the semi-monthly Japanese shojo manga magazine.
The series genre has a mix of romantic elements, comedic aspects, and supernatural secrets.
This anime was a great success; the audience loved the series's story and character development. The audience craves more, and this is a show that the audience is not tired of yet!
Due to the success of this anime, much other anime like fruits basket came up. This will give variety to the audience with different character-driven moments and a slightly different storyline. Here are 20 more Anime like Fruit Basket if you enjoyed watching it.
20. Oreimo
Director: Hiroyuki Kanbe
Writer: Hideyuki Kurata, Tsukasa Fushimi
Characters: Kousaka Kirino, Kousaka Kyousuke
IMDb Rating: 7/10
Rotten Tomatoes Rating: 66%
Platforms Available: Netflix
A diehard otaku named Kirino Kousaka returns to Japan from America and settles with her family and friends.
Her brother has always supported her and has done a lot for her, but one mistake he made was he kept convincing her to go back to America; from then, she started giving him the cold shoulder.
However, later on, their relationship does get better, and they work on their relationship to improve it with the help of their friends; in the meantime, Kirino also finds time for her Otaku needs.
19. Senryu Girl
Director: Masato Jinbo
Writer: Masato Jinbo
Characters: Nanako Yukishiro, Eiji Busujima, Amane Katagiri, Koto Otsuki, Kino Yakobe, Tao Hanakai, Hanabu Busujima
IMDb Rating: 7/10
Rotten Tomatoes Rating: 74%
Platforms Available: Hulu
A 16-year-old girl named Nanako Yukishiro could not speak; she communicated with the help of a 17-syllable long poem by Senryu.
Eiji Busujima had stopped being a delinquent after middle school and was trying to turn a new leaf.
Nanako and Eiji get involved in a Literature club, strengthening their bond; although Nanako cannot speak, they get along well. Senryu Girl has a very calm and relaxing story.
18.Kaguya Sama- Love is War
Director: Shinichi Omata
Writer: Yasuhiro Nakanishi
Characters: Kaguya Shinomiya, Miyuki Shirogane, Chika Fujiwara, Yu Ishigami, Ai Hayasaka, Miko Ino
IMDb Rating: 8.5/10
Rotten Tomatoes Rating: 94%
Platforms Available: Prime Video, Hulu
Kaguya Sama – Love War is about the story of two adorable students named Kaguya and Miyuki Shirogane, who have a lot of pride and fall head over heels for each other, but it is never expressed.
As the story progresses, we might want them to get together already, but this holds them back.
This brings the curiosity to discover who might confess their feelings first to the other.
17. Kono Oto Tomare! Sounds of Life
Director: Ryoma Mizuno
Writer: Ayumu Hisao
Characters: Chika Kudo, Takezo Kurata, Satowa Hozuki, Hiro Kurusu, Tetsuki Takaoka, Mio Kanzaki, Saneyasu Adachi, Michitaka Sakai, Kota Mizuhara, Suzuka Takinami
IMDb Rating: 8/10
Rotten Tomatoes Rating: 79%
Platforms Available: Netflix
The Koto Club of the Tokise High School is the main plot area of the story. Takezo Kurata is the only member left in the club after his seniors graduated.
He is working hard in recruiting new members into the club so that the club remains alive.
Chika Kudo applies to be a part of the club. However, there is a rumor that he is a delinquent; this makes Takeza apprehensive about whether he should be taken in.
As the movie goes ahead, some new members appear in the show. The end goal is to join the Koto Nationals Competition.
16. Wotakoi
Director: Yoshimasa Hiraike
Writer: Yoshimasa Hiraike
Characters: Narumi Momose, Hirotaka Nifuji, Hanako Koyanagi, Taro Kabakura, Naoya Nifuji, Ko Sakuragi
IMDb Rating: 7.5/10
Rotten Tomatoes Rating: 40%
Platforms Available: Amazon Prime
Momose Narumi is an adult woman who is a diehard Otaku and a hideous Yaoi fangirl geek. She transfers somewhere else by switching her job, hoping it might give her an image of a "competent woman."
But things do not go as expected, and her hopes are short-lived, as she sees her middle school classmate who knows her secret.
15. Re- Creators
Director: Ei Aoki
Writer: Ei Aoki, Rei Hiroe
Characters: Sota Mizushino, Altair, Setsuna Shimazaki, Yuna Shimazaki
IMDb Rating: 7/10
Rotten Tomatoes Rating: 73%
Platforms Available: Prime Video
The story is about a high school student battling with various characters in Manga, Anime, and video games, and the battle is not virtual but in real life!
Imagine fighting all the great warriors that can be defeated in video games, anime, and manga appearing in real life; it seems to be both scary and exciting.
14. Kakuriyo: Bed and Breakfast
Director: Yoshiko Okuda
Writer: Tomoko Konparu
Characters: Odana, Aoi Tsubaki, Oodanna, Ginji, Byakuya, Ranmaru, Hatori, Oryou, Chibi, Akatsuki
IMDb Rating: 7.5/10
Rotten Tomatoes Rating: 73%
Platforms Available: Prime Video
The Supernatural element, Food Obsession, and the waifu, which cannot be imagined getting hurt, contain everything that might chill the spine. If you love Fruits Basket, then Kakuriya will undoubtedly be loved too.
The story follows a world filled with demons, beds, breakfast, and drama of Kakuriyo, the foods available on the show might make your mouth water without a doubt.
13. One Week Friends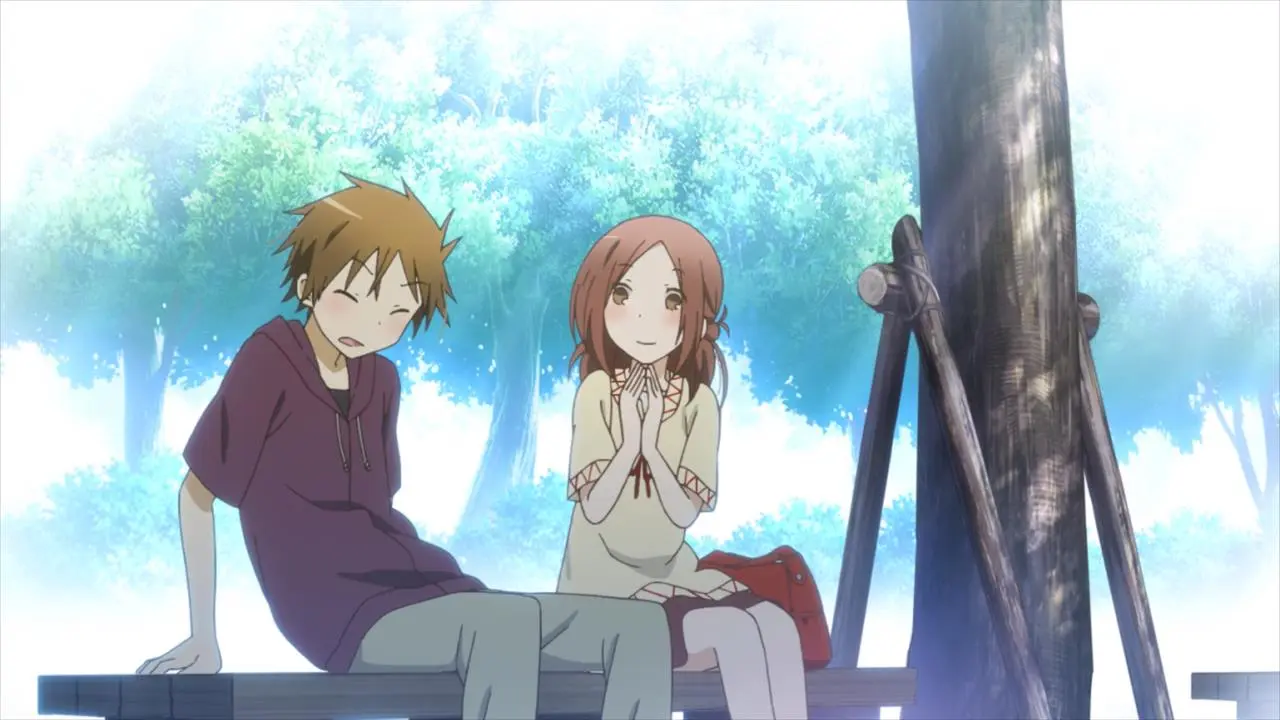 Director: Tarou Iwasaki
Writer: Shotaro Suga
Characters: Yuki Hase, Kaori Fujimiya, Shogo Kiryu, Hajime Kujo, Maiko Serizawa, Ai Nishimura, Shiho Fujimiya, Jun Inoue
IMDb Rating: 6.8/10
Rotten Tomatoes Rating: 79%
Platforms Available: Netflix
Yuki has a beautiful classmate, Kaori Fujimiya; she always seems alone and looks like she has no friends.
Seeing her sad plight, Yuki Hase goes to her to make friends with her. This is when Kaori reveals that she loses memory every Monday!
However, making her choice Yuki becomes Kaori's new friend anyhow. She reminds her friend every Monday that they were friends; how we all wish we had a friend as generous and empathetic as her!
12.Orange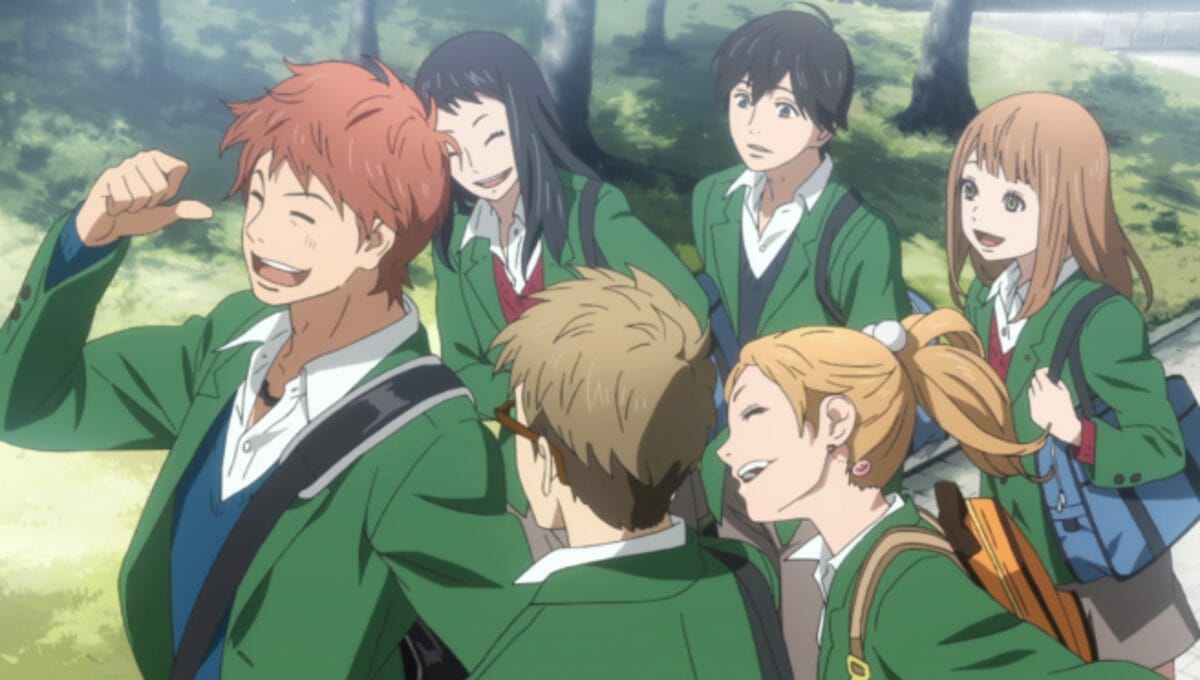 Director: Hiroshi Hamasaki, Naomi Nakayama
Writer: Yuka Kakihara
Characters: Naho Takamiya, Kakeru Naruse, Hiroto Suwa, Takako Chino, Saku Hagita, Azusa Murasaka, Rio Ueda
IMDb Rating: 7.2/10
Rotten Tomatoes Rating: 76%
Platforms Available: Netflix
The story is very soothing; it follows the story of a beautiful girl named Naho Takamiya; a mysterious letter warns her about the future that she will face.
It is an anime like Fruits Basket, where the storyline understands the world's questioning. The way the characters are placed in the movie keeps moving the story forward and gives the feel of a natural rhythm.
11.The Quintessential Quintuplets
Director: Satoshi Kuwabara
Writer: Keiichiro Ochi
Characters: Miku Nakano, Fuutarou Uesugi, Ichika Nakano, Yotsuba Nakano, Raiha Uesugi, Nino Nakano, Itsuki Nakano
IMDb Rating: 7.7/10
Rotten Tomatoes Rating: 66%
Platforms Available: Netflix
The story follows the story of quintuplets, the five sisters, the main character, named respectively as Ichika, Nino, Miku, Yotsuba, and Itsuki Nakano, who are not academically excellent.
Futaro Uesugi is a private tutor that came to train the quintuplets; he is constantly struggling around these kids.
These girls would not sit in one place while studying. However, the slice of life is relaxing and soothing; all will love the story.
10. Future Diary
Director: Naoto Hosoda
Writer: Katsuhiko Takayama
Characters: Yukiteru, Yuno Gasai, Minene Uryu, Aru Akise
IMDb Rating: 7.5/10
Rotten Tomatoes Rating: 73%
Platforms Available: Netflix
It is also called Mirai Nikki and is about a boy named Yukiteru Amano competing with the world with the help of a diary.
The story moves in a way where he even gets a chance to be the successor of God too. The show is entertaining and makes one feel the worth of watching it.
9. Toradora
Director: Tatsuyuki Nagai
Writer: Mari Okada
Characters: Ryuji Takasu, Taiga Aisaka, Minori Kushieda, Yusaku Kitamura, Ami Kawashima
IMDb Rating: 8/10
Rotten Tomatoes Rating: 79%
Platforms Available: Netflix
In this story, the main character is very irritated and frustrated but tries his best to give a good impression; he works on his look as he prepares to enter his second year of high school.
Though he has a kind personality, he has a very intimidating look in his eyes; on his life journey, he meets a teen model, Ami Kawashima.
8.The Ancient Magus Bride
Director: Norihiro Naganuma
Writer: Norihiro Naganuma, Aya Takaha
Characters: Chise Hatori, Elias Ainsworth, Ruth, Angelica Varley, Lindenbaum, Simon Kalm, Michael Renfred
IMDb Rating: 7.7/10
Rotten Tomatoes Rating: 78%
Platforms Available: Prime Video
Both relatives and society always ostracize Chise Hatori, an orphaned child. Being fed up with the nagging, Hatori decides to sell herself in an auction so that somebody would be there to take her in and she could finally have a place to call home.
As she wished, she gets auctioned in London for 5 million pounds to a man named Elias Ainsworth; this man is a tall seven-foot humanoid who has an animal skull.
She doesn't realize she is trapped by a magus who will drown her deep or bring light into her life. The series is a romantic slice of life with a supernatural touch to it, with magical and romantic elements.
7. Ouran High School Host Club
Director: Takuya Igarashi
Writer: Yoji Enokido
Characters: Haruhi Fujioka, Tamaki Suoh, Mitsukuni Haninozuka, Hikaru Hitachiin, Kyoya Ootari, Karo Hitachiin, Takashi Morinozuka, Ryouji Fujioka
IMDb Rating: 8.2/10
Rotten Tomatoes Rating: 81%
Platforms Available: Netflix
Ouran High School Host Club is a story about a prestigious school's host club, where the female lead dresses up as a boy to pay off the debt of the host club.
This is a pretty old series, but the storyline is exciting and grabs the viewers' attention, so if you have not watched it yet, do watch it.
6. Great Pretender
Director: Hiro Kaburagi
Writer: Ryota Kosawa
Characters: Makoto Edamura, Laurent Thierry, Abigail Jones, Cynthia Moore, Paula Dickins
IMDb Rating: 7.9/10
Rotten Tomatoes Rating: 83%
Platforms Available: Netflix
A big swindler gets tricked himself; he is from Japan. Makoto Edamura is depicted along with his partner Kudo who is trying to trick a Frenchman in Asakusa.
The Frenchman is a con artist of a considerable level working under the mafia agency. The anime is a light action comedy, and it adds the element of fun.
5. Assassination Classroom
Director: Tatsuyuki Nagai
Writer: Mari Okada
Characters: Nagisa Shiota, Akabane, Koro-sensei, Karma Akabane, Yuuma Isogai, Tadaomi Karasuma, Hiroto Maehara, Kaede Kayano, Rio Nakamura, Tomohito Sugino, Ryouma Terasaka, Kirara Hazama
IMDb Rating: 8.1/10
Rotten Tomatoes Rating: 79%
Platforms Available: Netflix
The Assassination Classroom is a funny series that shows many students who have to save their school from destruction by killing an octopus-like alien.
It is the need of the hour to kill the octopus alien. Otherwise, everything will eventually be doomed, including their school and the world.
4.Fairy Tail
Director: Shinji Ishihira
Writer: Masashi Sogo
Characters: Natsu Dragneel, Erza Scarlet, Lucy Heartfilia, Gray Fullbuster, Zeref Dragneel, Laxus Dreyar, Juvia Lockser
IMDb Rating: 8/10
Rotten Tomatoes Rating: 65%
Platforms Available: Netflix
The story is about a dragon slayer, Natsu Dragoneel, who travels to find his father and discover his true potential; his friends accompany him too.
The story is about a guild, and many members competently do their magic tricks.
He asks Lucy Hearfella to join the Fairy Tail Guild, and from here, we can see the heart-touching moments they share in their friendship.
An anime like Fruits Basket with certain magic makes the characters turn into different forms; in Fairy Tail, these magical moments can also be seen.
3. A Place Further Than The Universe
Director: Atsuko Ishizuka
Writer: Jukki Hanada
Characters: Mari Tamaki, Shirase Kobuchizawa, Hinata Miyake, Yuzuki Shiraishi
IMDb Rating: 8.2/10
Rotten Tomatoes Rating: 85%
Platforms Available: Netflix
Mari Tamaki, a second-year student at High School, wishes to enjoy every bit of her youth days. However, the obstacle stopping her from doing it is her fear.
One day she meets Shirase Kobuchizawa, who wants to travel to Antarctica and has been saving money. Her mother disappeared years ago, and she is hunting for her mother.
Shirase and Mari travel together; this place is beyond the universe for Mari!
2. Boarding School Juliet
Director: Seiki Takuno
Writer: Takao Yoshioka
Characters: Romio Inuzuka, Hasuki Komai, Chizuru Maru, Reon Inugami, Kento Tosa, Eigo Kohitsuji, Kougi Komai, Shuna Inuzuka
Rating: 7.1/10
Rotten Tomatoes Rating: 80%
Platforms Available: Prime Video
At a prestigious boarding school on an island named Dahlia Academy, students from two countries decide to start fighting against each other.
Romeo Inuzaka, the leader of Touwa Dorm, and Juliet Persia, the leader of West Drom, are friends, but their friendship remains a secret.
1. Spice and Wolf
Director: Takeo Takahashi
Writer: Naruhisa Arakawa
Characters: Kraft Lawrence, Holo, Yarei, Chloe, Nora Arendt, Fermi Amarti, Dian, Marc Cole, Eve Boland.
IMDb Rating: 7.9/10
Rotten Tomatoes Rating: 79%
Platforms Available: Netflix
Kraft Lawrence is a 25-year-old merchant; the story revolves around this young man; he sells goods from town to afford her daily living expenses in a world that seems to be very stylized.
The series has a historical setting with the influence of the Europeans. Like in the fruit basket, Spice and Wolf also spotlight European culture.
What Makes them Special?
The other anime, like Fruits Basket, are all unique in their way, as they have different storylines, and the roles of the characters vary in a wide range. Though some elements, like the magical and romantic elements, seem to repeat, watching anime like The Fruits Basket is like watching two different worlds.
There are elements of childhood friends, new transfer students, romantic comedy, prestigious schools, elite schools, love stories, anime looking for a new life, attraction to the opposite sex, genius students, dull students, distinct personalities, and many other aspects.
All these points are related topics in our day-to-day lives; we know how difficult it is for people who make friends cause it is tough for some of us. The series manages all the points of life chronologically and systematically, which makes them special to watch.
Anime is the new trend; most of them love watching anime more than any other movies that are available on television; fruits basket is one among the many anime that have been one that remains close to the heart of the audience. The pleasant faces of the anime provide a heartwarming atmosphere in the audience's hearts.
The anime, like the fruit basket, also is helpful for us to understand the difficulties that might seem silly but play a significant role in every individual's life, and these trivial matters shape an individual's meaningful experiences.