There is something special about car movies because this is the most flexible genre of film that can have all sorts of plots; there are some about the Grand Prix race, while some movies have the Le mans race, and there are some great racing movies.
So many films with action stars like Tom Cruise, James Garner, and Steve McQueen. Therefore, formulating a list containing all the marvelous and high-paced action films is difficult.
The list contains some of the best car movies with different plots, and all of them were selected based on popularity, story, and reviews. Check out the list to find the movie you would like to watch.
20. Back To The Future (1985)
Directed by: Robert Zemeckis

Written By: Robert Zemeckis, and Bob Gale

Cast: Michael J. Fox, Christopher Lloyd, and Lea Thompson

IMDB Rating: 8.5/ 10

Available on: Netflix
This 1985 film is a masterpiece where Marty Mc Fly, a 17-year-old teenager, is sent back to the past when he drives De Lorean, the time machine invented by his close friend, Doc Brown. This is one of the best car movies ever because it has an excellent 80s feel, which many people would like.
The video editing was remarkable, considering their technology during that time. Robert Zemeckis's direction was great, helping the film grab an Academy Award. If you are a fan of the time machine and Zemeki's filmmaking, check it out.
19. Rush (2013)
Directed by: Ron Howard

Written By: Peter Morgan

Cast: Daniel Bruhl, Chris Hemsworth, and Olivia Wilde

IMDB Rating: 8.1/ 10

Available on: Netflix
This movie showcases the relentless rivalry between Formula One rivals James Hunt and Niki Lauda. Rush is one of the best car movies ever, featuring the rivalry of two of the greatest Formula One racers.
The movie has some of the most outstanding cast and great directing. In addition, rush has one of the best sound editing and mixing, making the film more authentic.
If you are a fan of rivalries and movies showcasing such rivalries, then this is the one.
18. Ford Vs. Ferrari (2019)
Directed by: James Mangold

Written By: Jez Butterworth, John Henry Butterworth, and Jason Keller

Cast: Matt Damon, Christian Bale, Jon Bernthal

IMDB Rating: 8.1/ 10

Available on: Hulu
Ford v Ferrari is also known as Le Mans '66. This Le Man's Race movie is about Carroll Shelby, an American designer who, along with Ken Miles, a driver, builds a revolutionary car for Ford to defeat Ferrari at the Le Man's Race in 1966. If you enjoy watching important race events, you should check out Ford v Ferrari.
Ford struggled with car sales in the 1960s; they needed a boost to improve their car sales, and building a revolutionary car for racing gave them that boost. The movie tells different stories in a primary and easy-to-understand framework and sometimes uses actual racing footage.
This all-star cast has terrific actors, which includes Christian Bale, and he was excellent with his performance in this movie; never-ending momentum makes it the best car movie.
17. Mad Max Fury Road (2015)
Directed by: George Miller

Written By: George Miller, Brendan Mc Carthy, and Nick Lathouris

Cast: Tom Hardy, Charlize Theron, and Nicholas Hoult

IMDB Rating: 8.1/ 10

Available on: Netflix
Set in a post-apocalyptic world, this movie was the top-rated movie of 2021 and has won six Oscars. Mad Max Fury Road is the most delicate piece of pure action, and it is one of the best car movies and the best sequel in the Mad Max series.
There is little plot here, and the story is action-alone. It is one long chase film of a road warrior, with tons of suspense and great action scenes; this is the kind of film we have never seen before. The main cast and the film's co-stars are great and a perfect choice for this film.
16. Taste Of Cherry (1997)
Directed by: Abbas Kiarostami

Written By: Abbas Kiarostami

Cast: Homayoun Ershadi, Safar Ali Moradi, and Mir Hossein Noori

IMDB Rating: 7.7/ 10

Available on: Apple TV
This is one of the car movies I have watched recently, and "The Taste of Cherry" is a metaphor for the sweet taste of life when someone is on the brink of death. The movie is quite frank, and you would not be able to guess what the climax will be.
The film has complex characters with an easy-to-understand plot, and the audience members would understand the theme and the message of the movie as it concludes with subtle ambiguity.
15. Baby Driver (2017)
Directed by: Edgar Wright

Written By: Edgar Wright

Cast: Ansel Elgort, Jon Bernthal, and Jon Hamm

IMDB Rating: 7.6/ 10

Available on: Prime Video
Baby Driver is a movie about a getaway driver. Baby, a young and reckless driver, can escape from any situation if the right track is being played, he does several heists, and when he thinks he is free, he is assigned another heist doomed to fail.
Baby Driver is one of the car movies of all time, and it has some of the best real car chases featuring fantastic car stunts and car chases.
Baby Driver is the movie you have seen once and loved. You tend to return to that one-car movie because it has excellent music and actors who behave like the legendary Steve McQueen. Everything about this movie is perfect, and it will entertain you from the film's initial moments.
14. Once Upon A Time In Hollywood (2019)
Directed by: Quentin Tarantino

Written By: Quentin Tarantino

Cast: Leonardo Di Caprio, Brad Pitt, and Margot Robbie

IMDB Rating: 7.6/ 10

Available on: Netflix and Amazon Prime Video
Set in late 60s Hollywood, this is one of the best car movies by Quentin Tarantino. The cast's acting was terrific, and it is always a joy to watch Leonardo Di Caprio and Brad Pitt's exceptionally well-written characters.
The film is fast-paced, but the plot developed perfectly, the action scenes were fantastic, and it was a pleasure to watch.
13. Two For The Road (1967)
Directed by: Stanley Donen

Written By: Frederic Raphael

Cast: Audrey Hepburn, Albert Finney, and Eleanor Bron

IMDB Rating: 7.4/ 10

Available on: Apple Tv
This timeless classic is the best road movie I have ever watched. The film realistically portrays marriage and is not sugar-coated.
Since most classic movies have a romantic aspect, they have no bumps, but not this. Audrey Hepburn and Albert Finney did a great job playing their roles, and even though the two characters do not like each other, it was fun to watch this movie.
Not only is it a fun film to watch, but it is a realistic one, even though Two for the Road is a fictional romance movie that depicts a real glimpse of marriage and how it can resolve or destroy it.
12. Fast Five (2011)
Directed by: Justin Line

Written By: Chris Morgan, and Gary Scott Thompson

Cast: Vin Diesel, Paul Walker, Dwayne Johnson, and Jordana Brewster

IMDB Rating: 7.3/ 10

Available on: Amazon Prime Video
Very few franchises are highly renowned, like The Fast and Furious series, and in my opinion, this is the best series after Star Wars. Produced by Universal Pictures, Fast Five features an international cast of excellent drivers who perform heists and robberies to earn their freedom.
The movie features fantastic cars and has one of the best film editing one could ask for. Director Justin Lin is the mastermind behind this film, making this sequel from the series one of the greatest as it did great at the Box Office.
The film has earned legendary status among the fans, and the racing sequences are top-notch. In addition, the franchise has other popular sequels like Fast and Furious: Tokyo Drift, Fast X, and The Fast and The Furious.
In each movie, there will be jaw-dropping sports cars, and this is one of the best car movie series that has been watched and loved by billions of people, irrespective of their age and country.
11. Vanishing Point (1971)
Directed by: Richard C. Sarafian

Written By: Guillermo Cabrera Infante, Malcolm Hart, Barry Hall

Cast: Barry Newman, Cleavon Little, and Charlotte Rampling

IMDB Rating: 7.2/ 10

Available on: Amazon Prime Video
If you want to watch a classic movie with many chase sequences featuring muscle cars and one epic chase from one state to another, then Vanishing Point is the movie that you should check out immediately.
The 70s film has earned cult status, has everything from the 70s, and is robust, integrated with fantastic acting and a great script; it is one hell of a film and should be watched at least once.
10. Two-Lane Blacktop (1971)
Directed by: Monte Hellman

Written By: Rudy Wurlitzer, Will Corry, and Floyd Mutrux

Cast: James Taylor, Warren Oats, and Laurie Bird,

IMDB Rating: 7.2/ 10

Available on: Amazon Prime Video
Two-Lane Blacktop is a 1971 cult classic movie with one of the best and most original plots. It is a road movie about cars and the search for meaning in American life. The scenes are shot mainly from the inside, which was something unique I had never seen before.
The movie got all the love from the audience as the plot, and characters were solid and relatable. The film shows pure American: gas stations, diners, and drag strips—a great movie.
9. The Driver (1978)
Directed by: Walter Hill

Written By: Walter Hill

Cast: Ryan O Neal, Bruce Dern, and Isabelle Adjani

IMDB Rating: 7.1/ 10

Available on: Roku
If you enjoy car chases and impressive driving sequences, this movie is for you. It tells the story of a getaway driver whose driving skills are so excellent that he does not get caught by the police, and he works as a driver for robbers for his skills.
However, since "The Driver" is so skilled, a detective from the police department is determined to track him down.
The Driver is an exceptionally well-directed movie, and it is a classic, no-nonsense film about a professional driver and a determined detective.
The characters are very well-written, and the cast's acting was fantastic; the only weird thing about this movie is that it does not give names to its characters, and their characters call them, that is, 'The Driver,' 'The Detective.' However, it is one best movies of all time and a great watch.
8. Locke (2013)
Directed by: Steven Knight

Written By: Steven Knight

Cast: Tom Hardy, Olivia Colman, Ruth Wilson, Andrew Scott

IMDB Rating: 7.1/ 10

Available on: Amazon Prime Video
The movie tells the story of Ivan Locke, a successful construction manager, and a family man. One day he receives a phone call that turns his life upside down. Now, he has to make the necessary decisions to keep his life intact and face the choices he has to make.
If you have doubted Tom Hardy's acting career, then you should watch Locke, and you will understand how good of an actor he is. The movie is shot mainly in a car, and all the settings and dialogue of the film feel so natural and smooth that it feels like it is happening in real-time.
The actors' performance is marvelous; Ivan experiences dilemmas, and his reaction and expressions are breathtaking—a great movie with great acting.
7. Death Proof (2007)
Directed by: Quentin Tarantino

Written By: Quentin Tarantino

Cast: Kurt Russell, Zoe Bell, and Rosario Dawson

IMDB Rating: 7.0/ 10

Available on: Netflix
If you enjoy watching action movies where a man follows his victims and carries out his intentions, this movie is for you. It tells the story of a former Hollywood stuntman who now stunts and kills people in his "Death Proof" car. This killer stuntman targets some ladies who will get revenge on him.
The film is underrated as it is full of fun and excitement, and it is so brilliantly written that you can watch it repeatedly without getting bored.
Unfortunately, the film editing is not top-notch but not too wrong either, and this film has divided people into two sets, one who loves it and the other who hates it; watch the movie now to find out which group you would join.
6. The Italian Job (2003)
Directed by: F. Gary Gray

Written By: Donna Powers, Wayne Powers

Cast: Mark Wahlberg, Edward Norton, and Charlize Theron

IMDB Rating: 7.0/ 10

Available on: Netflix, Amazon Prime Video
This 2003 film is loosely based on Mini Coopers, about a team of robbers who plan to rob gold bars from a vault in Venice. The plan was flawless and executed perfectly, but they did not anticipate that they would be backstabbed by one of their own, and the remnant of the crew was out for revenge.
Despite the story not being original, it was a great film and one of the best car movies featuring unique cars and action scenes. The dialogue was fantastic, and the film was entertaining to watch.
5. Tucker: The Man And His Dream (1988)
Directed by: Francis Ford Coppola

Written By: Arnold Schulman, David Sedler

Cast: Jeff Bridges, Joan Allen, and Martin Landau

IMDB Rating: 6.9/ 10

Available on: Starz, Tubi TV
Nominated for Three Academy Awards, Tucker: The Man and His Dream tells the story of Preston Tucker, who got a deal from the big three car makers of modern times. The film showcases how Preston Tucker changed the car industry by providing safety and engineering far ahead of its time.
The film has a fantastic 1940s atmosphere, and the classical music used in this movie was pleasant to listen to. In addition to the atmosphere and music, the cinematography was also great, which displayed frequent vintage scenes that looked great. There are very few great movies, and this movie is one of them.
4. The Transporter
Directed by: Corey Yuen

Written By: Luc Besson, Robert Mark Kamen

Cast: Jason Statham, Shu Qi, Matt Schulze

IMDB Rating: 6.8/ 10

Available on: Netflix
The Transporter is a high-octane action thriller like Kill Bill, and just like the crazy action film, the audience will not believe what they are watching on the big screen. But they could not care because Jason Statham killed it with his performance in the Transporter series.
The movie tells the story of Frank Martin, who happens to save a girl, and this girl is the 'package' that he has to deliver to the client.
The movie is well-directed and well-edited. The film has a great cast, and Jason Statham is like the folk hero we read in stories, as he is a great action hero and a great protagonist. The film is an excellent watch with great characters and plot.
3. Dirty Mary, Crazy Larry (1974)
Directed by: John Hough

Written By: Leigh Chapman, Antonio Santean, and Richard Unekis

Cast: Peter Fonda, Susan George, and Adam Roarke

IMDB Rating: 6.6/ 10

Available on: Roku, Vudu
This movie does not have much plot, showing Larry and Deke robbing a grocery store to further their racing careers. The two robbers meet Mary, the three give a tough time to the police officers, and their dialogues are sharp and crazy.
The film features fantastic high-speed chases with the right amount cars crashing into each other. There are some plot holes, but they won't get too much of your attention.
2. Gone In 60 Seconds (2000)
Directed by: Dominic Sena

Written By: Scott Rosenberg

Cast: Nicolas Cage, Angelina Jolie, and Robert Duvall

IMDB Rating: 6.5/ 10

Available on: Disney Plus
Gone in 60 Seconds is an action film full of energy and style, with a high-octane cast and many excellent-looking cars. The cars featured in the movie are just a treat to the eyes. It tells the story of a veteran car thief who must steal several fancy vehicles in one night to save his brother's life.
The film does not have much character development, but the plot is solid and convincing, and it will put the audience on the edge of their seats; also, the audience can relate to them and their personalities.
In addition, the performance of Nicolas Cage was intense and convincing, and Angelina Jolie's style in the movie was studied and believable. In a nutshell, it is a good movie that you will return to.
1. Speed Racer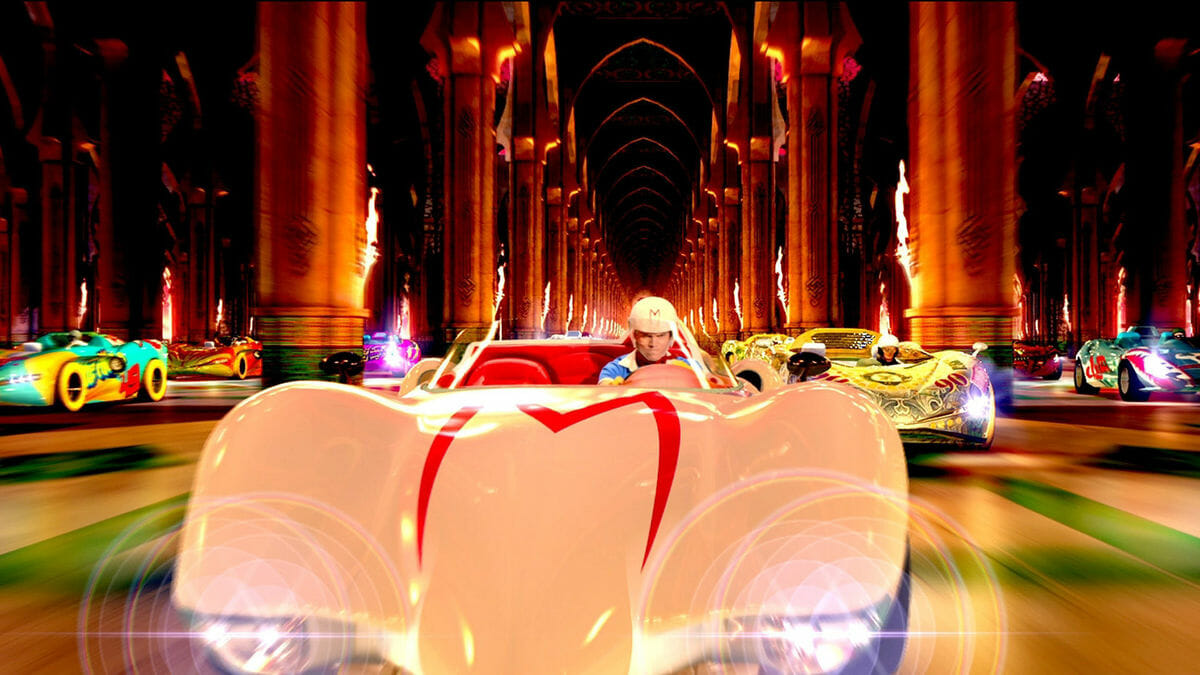 Directed by: Lilly Wachowski, and Lana Wachowski

Written By: Lilly Wachowski, Lana Wachowski, and Tatsuo Yoshida

Cast: Emile Hirsch, Matthew Fox, and Christina Ricci

IMDB Rating: 6.0/ 10

Available on: Vudu
This 2008 film is an adaptation of an anime of the same name, and it tells the story of a young driver who aspires to be the champion of a grand Prix that would help his family.
If you have watched the anime version of Speed Racer, then you know how good it was, and a similar review can be given in the case of the movie as well; this car movie covered all the aspects and details that were shown in the anime.
The actor did a great job playing his role, and I think it is one of the best racing movies adaptation.