Whether you are a teenager, a young adult, or in the prime of your life – friendships are always what keep us together on our darkest days. Here is a list of the best movies on friendship ever made.
Whether you are a teenager, a young adult, or in the prime of your life – friendships are always what keep us together on our darkest days. When nothing seems to be going right, we all have that person to turn back to and fall on to hold us up back to the light.
Of course, having strong friendships is more important than just ensuring a good social life, but studies have shown that healthy friendships are equally beneficial to a person's mental health.
So even though being busy and occupied with family and love – friendships are a staple need in everybody's life. And for something so important, it only makes sense that media caters to this beautiful aspect of our lives.
Here is a list of 25 of the best friendship movies from various years that have stood the test of time, much like most good friendships do. You may want to get yourself ready for a nostalgic trip down memory lane as these films mirror some elements of friendships you shared with people that you never forget.
1.  Stand By Me (1986)
The heartfelt movie "Stand By Me," helmed by Rob Reiner, is about a childhood relationship and the difficulties of maturation. It is an adaptation of Stephen King's "The Body," and it follows four lads as they search 1959 Castle Rock for the body of a missing boy.
Their weaknesses and strengths are revealed as they face worries and uncertainties during their experience, which is told by adult Gordie. The spirit of adolescent friendship is perfectly captured by Reiner's direction, which emphasizes its importance during formative years. The video offers a delightful and thought-provoking experience while sensitively examining the erosion of meaningful ties as we become older.
2. E.T. The Terrestrial (1982)
Director Steven Spielberg gave us the uplifting movie "E.T. The Extra" in 1982. It tells the captivating story of a boy named Elliott and his extraordinary encounter, with an alien named E.T., who finds himself stranded on Earth. The film beautifully explores their connection and their joint efforts to help E.T. find his way home delving into themes of friendship and empathy.
Set in a backdrop this movie expertly blends moments of drama and comedy showcasing practical effects that bring E.T. To life. Its inclusion, in the National Film Registry and its examination of cultural relationshis,  sspeaksto its lasting significance.
3. Thelma & Louise (1991)
"Thelma & Louise " released in 1991 and written by Callie Khouri is an adventure road comedcomedya directed by Ridley Scott. The story follows two characters portrayed by Susan Sarandon and Geena Davis as they embark on a road trip that takes unexpected turns.
Before hitting theaters this film had its world premiere at the Cannes Film Festival having been shot in Utah and California locations. It garnered praise from both critics and audiences receiving six Academy Award nominations while ultimately winning Best Original Screenplay.
Both Sarandon and Davis received nominations, for Best Actress along, with Ridley Scott being nominated for Best Director.
4.  The Intouchables (2011)
In the 2011 French buddy comedy-drama "The Intouchables," directed by Éric Toledano and Olivier Nakache, two people from very different social backgrounds develop an unexpected friendship. The film, starring François Cluzet and Omar Sy, examines the relationship between a quadriplegic aristocrat and his caregiver's transformative power.
The movie debuted in France on November 2, 2011, breaking box office records and receiving acclaim from critics. Omar Sy won the César Award for Best Actor, and it was recognized. Additionally, a portion of the movie's profits were used to aid paralyzed individuals.
With over 51.5 million tickets sold, "The Intouchables" surpassed all previous French films in terms of domestic and international viewership. Because of its theme of connection and transformation, it was selected as France's entry for the Best Foreign Language Film category at the 85th Academy Awards.
5. The Shawshank Redemption (1994)
The 1994 prison drama "The Shawshank Redemption," which Frank Darabont directed, is based on the Stephen King novella. The movie centers on Andy Dufresne (Tim Robbins), a banker who was falsely convicted of murder. The story revolves around his long-lasting friendship with prisoner Ellis "Red" Redding (Morgan Freeman) and his participation in a money-laundering scheme.
The movie received praise for its performances, direction, and screenplay despite initial box office struggles. It was primarily filmed in Ohio despite having a Maine setting. It grew in popularity as a result of repeat releases and TV airings over time.
The movie "The Shawshank Redemption" was nominated for Academy Awards and has become a classic. The Library of Congress included it in the National Film Registry in 2015. The movie's enduring resonance is proof of its compelling narrative and influence on viewers all over the world.
6. Bend it Like Beckham (2002)
The story of a young girl from an orthodox Indian family living in London tries to find a sweet spot between her love for the sport that she can't get enough of and her family's traditional values.
To the woe of her entire family, Jess is nothing like her elder sister Pinky. While the elder sister is ready to enter a lifelong commitment to a boy who is also of Indian descent, Jess wants to play soccer all day.
The reasons ter parents give her asking her to let soccer run deeper than skin deep, and rather than keeping her from her dreams, they want to make sure that she is not hurt while chasing after her dreams.
Jess is eventually pushed into a situation when she has to choose between her family's functions and traditions and the sport, she not only loves but is very talented at. What direction will her family let her go?
7. The Sisterhood of the Traveling Pants (2005)
Based on a very popular fiction book written by Anne Brashares for young adults and preteens, The Sisterhood of the Traveling Pants is the story of four best friends spending their first summer apart. As most teenagers do, they want to stay connected despite the distance between them.
As they look for ways to keep each other updated about their lives, they discover a magic pair of jeans. The magic about these pants? Although the girls are of different sizes, it miraculously fits each of them.
As the months of summer go on, the four friends take turns with the pants and pass on the jeans, along with the stories of their summer adventures and mishaps.
The pants have a journey of their own as they travel from Tibby (staying at home) to Bridget (in Baja California, Mexico for Soccer camp) to Carmen (with her father in North Carolina) to Lena (visiting her grandparents in Greece).
8. Miss You Already (2015)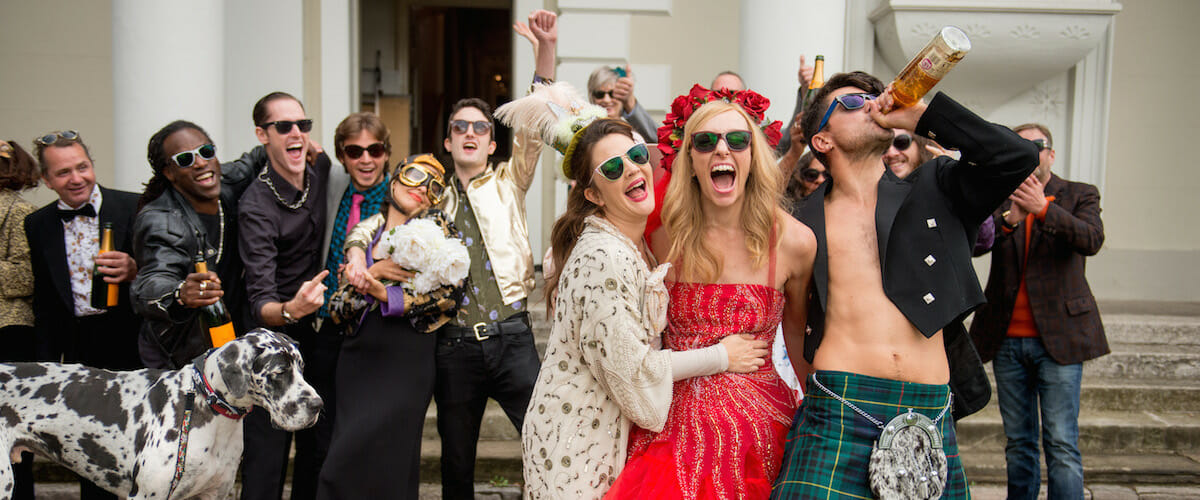 Jess (Drew Barrymore) and Milly (Toni Collette) have been best friends since they first met as kids and have since shared everything from secrets to clothes. But as they grow older, their struggles become far more serious. Will their friendship be able to survive this?
Milly has a great career a rockstar husband, Kit (Dominic Cooper), and two kids. Jess is a town planner who lives with their boyfriend Jago (Paddy Considine) on a houseboat. However, tragedy never leaves either of them alone as Jess tries hard to get pregnant but drains a couple of all their financial resources forcing Jago to have to take up work on a North Sea oil rig. Meanwhile, Milly is diagnosed with breast cancer and seems to be going downhill fast.
A great film based on the strength that friendship can give a person, this story will lleavejust he right amount of emotion as it ends.
9. Clueless (1995)
Cher (Alicia Silverstone) is more than just an average high school student in Beverly Hills. She is spoilt, and rich, and battles many assumptions and stereotypes as she gets through every day at her school. Lilike LikeEenagerer, she has her good and bad days, but her best friend Dionne (Stacey Dash) is the rock that helps her through it all, despite their many differences.
Her overall persona is charming coupled with her big heart and want to do good for everyone, even at the cost of her social status and popularity among her peers. She and her best friend befriend another much less popular girl and try to bring her to their 'coolness' level in school.
Every storyline inthe movievie th evenen elegantly provides a holistically enjoyable time, and reminds , asther as teenagers or adults, friends are all we have to get us throuh the goo bad, bad,, and ugly times.
10. Finding Nemo (2003)
Finding Nemo is an unusual pick for this list, and Finding Nemo is one of the best examples of a wholesome friendship between two very different fishes. In trying times, we tend to make the best of friends and lose those we don't need in our lives.
"Yes, trust. It's what friends do." So says Dory to Martin, and if this doesn't beautifully sum up a friendship in real life, I don't know what does.
Without the help of Dory and trusting her and her instincts, Marlin really couldn't have gotten to P. Sherman's address at 42 Wallaby Lane in Sydney. Even though there were plenty of reasons on the way for him to give up on her and her ideas, he kept at it.
Finally, despite the trying and winding path, he got there and found his son was sometimes dizzying; his trust in her – and her crazy antiled is what led to him finding his son, Nemo.
11. Romy and Michele's High School Reunion (1997)
Romy and Michele had had each other's back from high school when they were both the 'odd crowd' and bullied by the popular crowd. Now ten years from then, they get back together to plot a facade for each other that will hopefully impress their bullies; however far from the truth, it may be.
Although staying home may be the way to go if you did not enjoy the experience. But two slightly dim-witted best friends decide to live fake, highly desirable lives as they pack business outfits, phones, and more for their reunion.
What they do not expect is that their lies may cause their friendship to fall apart for good. As they as revealed to be liars in front of their schoolmates, the strong foundation of their friendship and not caring about what others think of them is shaken. Not only is this a fun story of friendship over the years, but it is also a great laugh on days you are feeling down.
12. 50/50 (2011)
50/50 is the story of a 27-year-old radio program writer, Adam, and his life as he is diagnosed with spinal cancer. His discovery of the important things in life comes at the point where nothing else matters, and he is left to do this with his best friend, mom, and therapist by his side.
The doctors tell Adam that he only has a 50% chance of living, and he is left to deal with the emotional turmoil and frustration on his own. Not only does he have his worries, but his girlfriend also can't seem to get off his back about how he should live his life. Although dying is an inevitable part of everybody's life, getting a prediction on one's life can throw anyone off their game.
The friendship between Adam and his best friend is so raw and real and, like most friendships, is limited by the communication gap and want for better words between two grown adults in emotional situations.
13. Pitch Perfect
College is a time when most make their strongest friendships, and Pitch Perfect tells the quirky tale of music and friendship in the lives of college students. Rivalry, friendship, competition, and companionship all beautifully mesh together in this movie that will surely keep you entertained.
The Barden Bellas are an all-girls a cappella singing group who have been trying to regroup their way to success after facing failure in the previous year's finals.
One of the new additions to the group is Beca, who initially has no interest in any part of college life. But after meeting Jesse, a member of the rival all-male a cappella group, she throws herself into preparing the Bellas to get their win.
From rock bottom, the new group excites each other into victory, and despite the differences between the people in the group, they form a sense of belonging. Taking down the all-male group who have always jeered at them brings them closer together, and as the movie progresses, you will find yourself rooting for this group of wildly different girls who have each other's back.
14. The Boy in the Striped Pajamas (2008)
An unlikely friendship in a time known for its tragic stories – The Boy in the Striped Pajamas tells the story of a connection between a young German boy and a young Jew.
Bruno is an eight-year-old from Berlin who comes with his entire family to the seemingly beautiful countryside in Europe. His reality is that his father is a Germwith  Commander top authority for the local concentration camp for Jews. One day Bruno befriends Shmuel, a Jew on the other side of the fence.
The connection between the two young boys who do not know of their differences and impending doom allows the audience to see the Holocaust through the eyes of innocence.
As the movie progresses, Bruno learns more and more about what is going on at the camp, and we see it cost him his childhood and naivety. Every character is complex and interesting, and their arcs are all equally gripping until the very end. This is a movie that will surely stay with you, fresh in your memory.
15. Hidden Figures (2016)
Based on the real lives of three incredible women who marked the history of the United States – the goosebumps you will get as the movie proceeds is undeniable. As they leap across norms and expectations, they always have each other's back.
When NASA was racing Russia in its mission to get a man into outer space, the genius of a group of African-American female mathematicians surprised many. They soon became the irreplaceable brains behind one of the most important missions in the United States history.
Popularly called 'human computers,' these women rose to the ranks at NASA and were tasked with the risky undertaking of launching astronaut John Glenn, as well as guaranteeing his safe journey back home.
Dorothy Vaughan, Mary Jackson, and Katherine Goble Johnson were more than just heroes; they worked alongside the greats of the United States at a time when they were denied almost anything to make a difference. Their shared intelligence, determination , and dreams took them farther than anyone else could've imagined.
Read More: The 20 Best Movies On Tubi You Can Watch Right Away
16. Bridesmaids
When one best friend is getting married, and the other is broke and in a rough spot, how will becoming a maid of honor and meeting other bridesmaids cause their friendship to be jeopardized? Bridesmaids is a hilarious tale of Lillian (Maya Rudolph) and Annie (Kristen Wiig) as they go through one of the most important moments in life – marriage.
As everything involved in the upcoming wedding of her best friend could potentially ruin their friendship forever, Annie struggles to balance her responsibilities and life, which seems to be falling apart. Helen, a much more recent friend of Lillian's, starts to take over, much to the dismay of Annie, and what follows is a fight for friendship. 
Although Annie's personal life is a mess – loveless and broke, she lies to make it seem like the expensive rituals she must undertake are no big deal. The perfect movie if you are looking for some laughs also shows how far you'll go for someone you love. 
17. Sex and the City: The Movie
The iconic story of the friendship between columnist Carrie Bradshaw, PR head Samantha Jones, lawyer Miranda Hobbes, and art gallery curator Charlotte York and how they deal with heartbreak, guilt and care,er is a must-watch.
As Mr. Big finally asks Carrie to marry him, the preparation starts to seem much more than the small wedding they had decided on. Carrie tries on wedding dresses from top designers and increases the guest list from 75 to 200.
Coupled with this, when Mr. Big hears Miranda say that marriage ruins everything, he starts doubting his decision and ultimately leaves Carrie at the altar. To help her take her mind off this, the girls go on a fun trip on what would have been their honeymoon.
Unfortunately, adult friendship is not always pretty, and throughout the movie, we can see that the girls support each other without a doubt and call each other out when they need to. When Miranda confesses that she might have been the catalyst in Big's decision, will their friendship survive? 
18. Steel Magnolias
When the going gets tough, your girlfriends will always have your back. For example, in Steel Magnolias, when one of the girls is scared her daughter may not make it into the world, the others come to her rescue and care for her through it all.
Set in a small parish in Louisiana, this movie happens almost entirely in Truvy's Beauty Parlor. The thickest friendships often come from the wildest places, and the beauty parlor is one such place.
When M'Lynn goes to get her hair done for a wedding, the good-natured Annelle Depuy Desoto is introduced to them as the in-house "glamor technician." Incidentally, ill-tempered and snappy Ouiser Boudreaux also shows up and is truly understood only by Clairee, a recent widow.
An intertwined tale of heartbreak, humor, and friendship – the girls keeps each other strong even when it doesn't seem possible to and will keep you entertained for the entirety of the movie. 
19. My Afternoons with Margueritte (2010)
When a well-learned older woman and a dull-witted man share a bench, a heart-warming tale of friendship spins a web around their lives. The entire movie will fill your heart with the familiar warmth that only friends can give you.
Set in the depths of a South-West French province, a 94-year-old lady's greatest joy is in good books and intellectual conversation. So when she meets Gérard Depardieu, she assists him in his seemingly impossible journey of discovering the joys and pleasures of reading.
Slowly he begins to read, and when Marguerite starts to lose her vision, he reads out loud to her – just as she once did for him. The friendship they form is gentle encouragement and want a better life for the other.
20. Thelma and Louise (1991)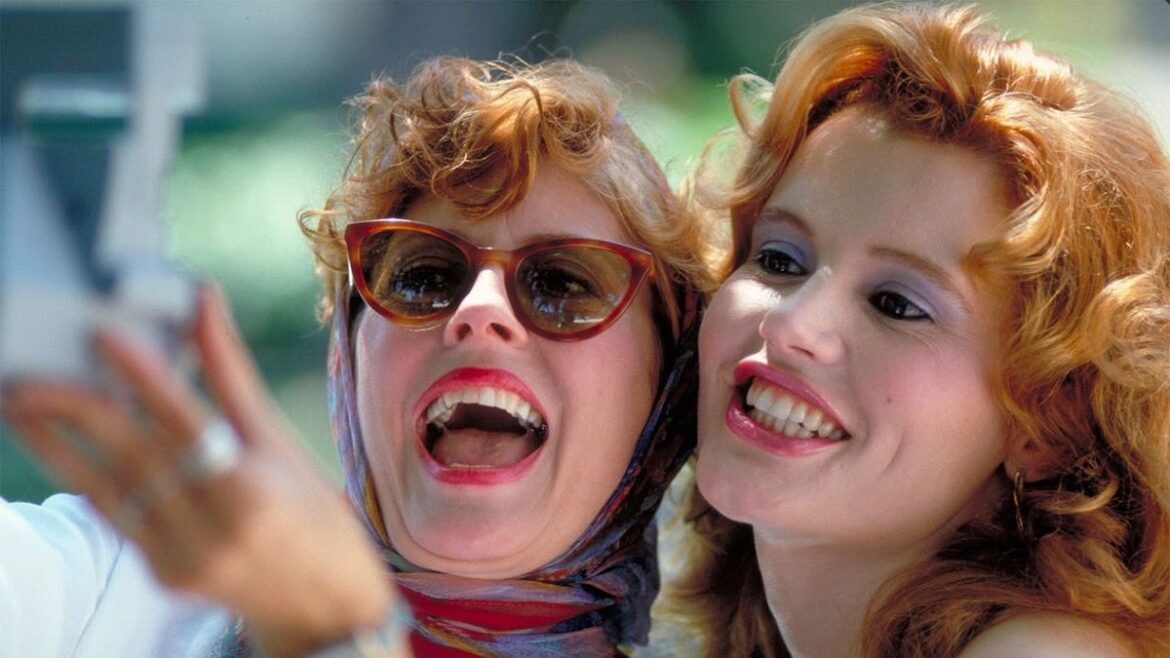 One of few women-based road trip movies, Thelma and Louise, takes female friendship on-screen to another level. But, when they only have each other, will that be enough?
Excited to get a weekend away from their responsibilities and husbands – the lifelong best friends from Arkansas, housewife Thelma Dickinson, and waitress, Louise Sawyer, sneak off to a weekend of fun and fishing. But this quickly becomes a tragic decision when Thelma is almost raped by a man she meets while intoxicated at a bar.
Their fun turns to fright and flight when Louis kills the man, and they are forced to take off and go as far away as they possibly can with a felony and raging husband looking for them.
Local and federal authorities soon brand them to be fugitives and criminals, and the only way out seems to be to run. In this bizarre journey, the girls discover so much more than they thought they would about themselves and each other.
21. Dead Poets Society (1989)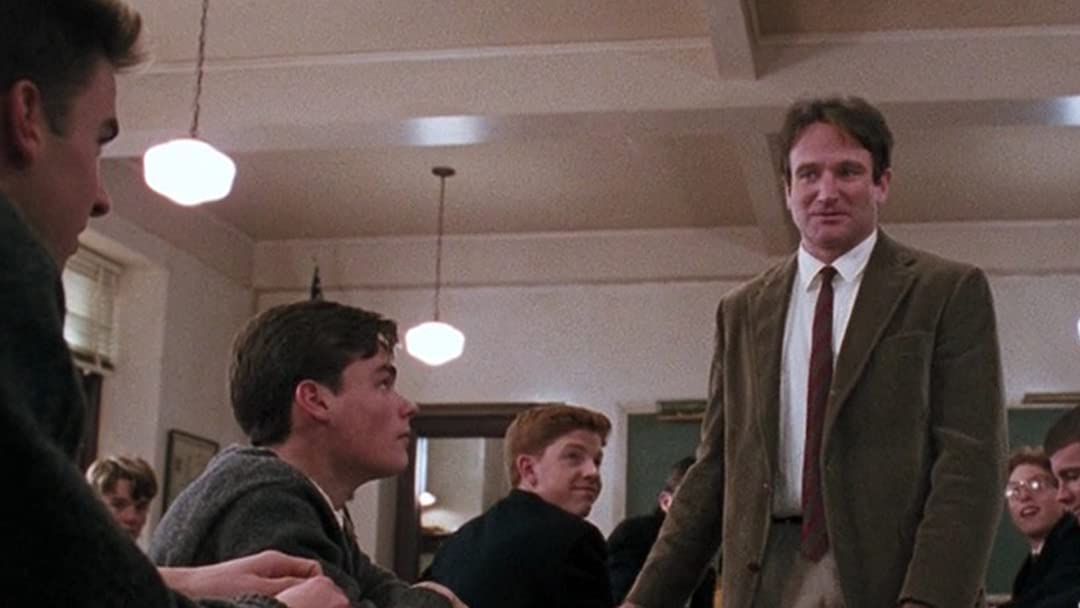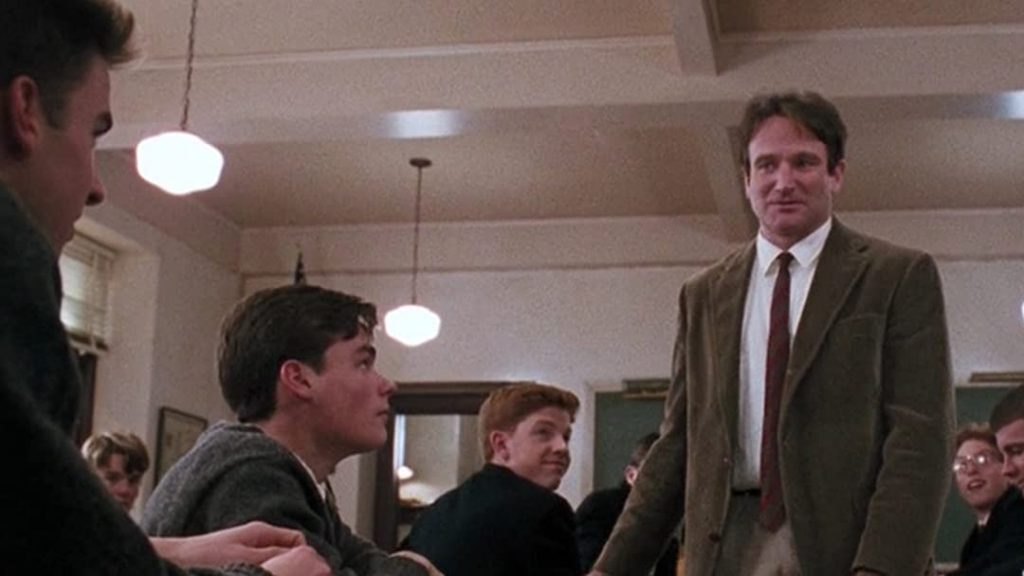 When John Keating, a new English teacher, comes to an all-boys school known for its traditions and high standards, he helps his students overcome their struggles and even encourages them to go against the norm when they want to.
To help his students break out of their shells and chase their dreams, John uses unorthodox ways to reach out and help them.  Each of his students is different and has their battles to fight.
Todd Anderson is shy and nervous; he has to uphold his older brother's name, who was valedictorian of the school. Neil Perry is smart, popular, and bright but is constantly shadowed by his father. Professor Keating tells them the ways of the Dead Poets Society and changes their perspectives on life.
22. Frances Ha (2012)
What happens to friendship when your best friend decides to move out and on to new, exciting things – leaving you behind to live the life you used to share? Fondly called 'straight lesbians, ' Frances and Sophie have been best friends since college.
Twenty-seven-year-old Frances Halladay is now trying to become a dancer in NYC and is currently an apprentice in a modern dance troupe. As she stumbles from one situation to the next, she realizes that other people seem to be moving on with life, including Sophie.
However, she is still misjudging herself and, even though she has feelings for her male friend, claims that she is undatable and keeps her feelings to herself. Finally, when reality hits her, she realizes that she needs to balance her work, life and dreams to keep her life going in the big city.
23. The Breakfast Club (1985)
A group of high school students discovers that they have so much more in common than they thought and so much more to themselves than they had never tthan hought about.
In Chicago's Shermer High School, five socially different students find themselves together on Saturday detention.
John Bender (Judd Nelson) "The Criminal," Claire Standish (Molly Ringwald) "The Princess," Brian Johnson (Anthony Michael Hall), "The Brain," Andy Clark (Emilio Estévez), "The Athlete," and Allison Reynolds (Ally Sheedy) "The Basket Case" – only know of each other's existence through class and not much else.
They all end up having to work on an assignment about who they are and why they ended up in detention that day. The movie portrays how the five students evolve in just a day with the help of the others and influence each other's perspectives.
24. The Perks of Being a Wallflower (2012)
When a teenager loses a friend most tragically, will the remnants of his school life still be rosy? Based on a book, The Perks of Being a Wallflower, is Charlie, a shy teen that is new to high school.
His only best friend in the world, committed suicide leaving a lonely Charlie to write letters to vent out his feelings to an imaginary friend. He soon finds solace in his newfound friendship with Patrick and his stepsister Sam, two seniors who take him under their wing.
As an aspiring author, he also connects well with his literature teacher, Mr. Anderson. Unconfident and lost, he must now navigate his new friendships, feelings and grief all on his own, with a gang of misfits by his side.
25. Beaches (1988)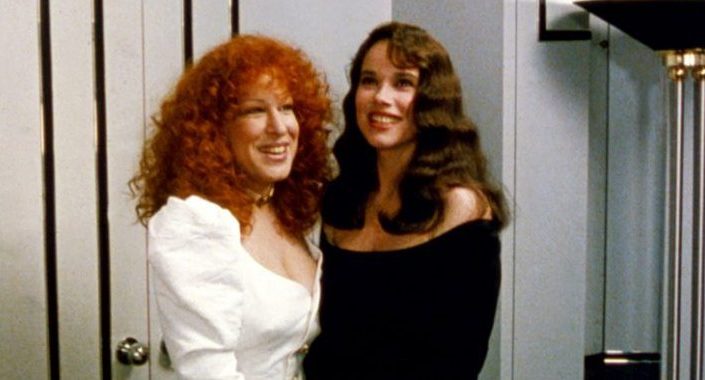 Some friendships outlast everything – fights, romance, careers, and even death and Beaches is the story of one such friendship
At 11, C.C. Bloom (Bette Midler) and Hilary Whitney (Barbara Hershey) meet in Atlantic City and thus begin their friendship. Even while apart, they share their secrets, dreams, and fears. Despite their wildly different upbringings, they finally find their way to each other – only to part again after a fight.
But eventually, they realize that their friendship means more to them than anything else ever could. At the very end, when nothing seems to stay in their lives, and even when life itself is uncertain, the bond that they share always remains steady and dependable.
You'll find yourself cheering, crying and even looking for your best friend to hug and appreciate at the end of the movie.
Good friends always have your back, even when they aren't around to hold you, and every one of these relationships has a bond beyond what two random strangers would share. That being mentioned, friendships are the magic of life, and whether you are having a fun night with your pals, getting together on a video call or just missing your old friends – any of these movies should scratch your itch.
So, pick one, sit back, and watch yourself relive the moments of happiness that only pure friendship and companionship can bring – at any stage of life, despite any differences. Love may be blind, but friendship sees, knows, and still loves unconditionally, from the very beginning to the very end and beyond.