If you are looking to explore new genres of television shows and series, Cyberpunk is one of the best choices. We have the perfect list of Cyberpunk anime series for all our Anime fans. Cyberpunk Anime is one of the most intriguing and exciting genres in the world of anime.
This is a great genre to explore as cyberpunk anime focuses on highly the most exciting sci-fi-based themes. Cyberpunk Anime leads the future and is excessive with storylines full of high-tech gadgets and unique technologies.
We have a list of the top 40 best cyberpunk anime series that every cyberpunk and anime fan should have watched at least once in their lives.
40. Texhnolyze
Director: Hiroshi Hamasaki
Writer: Chiaki J. Konaka
Cast: Satoshi Haga, Shizuka Itō, Shizumi Niki, Hiroshi Tsuchida
IMDb Rating: 7.6/10
Rotten Tomatoes Rating: NA
Platforms Available: Funimation Now, Apple TV
The Madhouse animation company created the psychological original cartoon Texhnolyze. The anime, which debuted in the spring of 2003, is set in the fictional city of Lux. There are three factions in charge of the underground city. Organo is an organization that controls Texhnolyze by collaborating with criminals. In the anime, prostheses are known as Texnolyze.
The Salvation Union is the second faction, and they frequently clash with Organo. Racan, a younger group of individuals that use their Texnolyze for personal benefit, is the third faction. Ichise, a fighter with a Texhnolyzed arm and leg, is the focus of the narrative. Ichise encounters Ran, a clairvoyant girl while working at Organo. They collaborate to prevent civil war in Lux. There are 22 episodes in one season of Texhnolyze.
39. Cyberpunk: Edgerunners
Director: Hiroyuki Imaishi
Writer: Bartosz Sztybor, Jan Bartkowicz, Łukasz Ludkowski
Cast: Kenn, Aoi Yūki, Hiroki Tōchi, Michiko Kaiden, Takako Honda
IMDb Rating: 8.3/10
Rotten Tomatoes Rating: 100%
Platforms Available: Netflix
The most current program on the list is at the bottom but has a lot of merits. The anime series Cyberpunk: Edgerunners is based on a video game that is obviously inspired by Japanese cyberpunk. As was to be expected, both aficionados of Cyberpunk 2077 and anime fans who had never played the game were taken on an incredible journey.
Although it may not have the same complexity as some of the others on this list, Edgerunners managed to develop a compelling plot and two adorably endearing characters in David Martinez and Lucy in just 10 episodes. The outcome is essentially a terrific cyberpunk anime, in addition to the outstanding animation work by Studio Trigger (Kill la Kill) and the effects of interfering with people's bodies.
38. Akudama Drive
Director: Tomohisa Taguchi
Writer: Norimitsu Kaihō, Tomohisa Taguchi
Cast: Tomoyo Kurosawa, Yūichirō Umehara, Megumi Ogata, Subaru Kimura
IMDb Rating: 7.3/10
Rotten Tomatoes Rating: NA
Platforms Available: Hulu, Disney+, and ESPN+
Another recently released program successfully persuaded the people. For a series with only 12 episodes, Akudama Drive excels at shifting the mood with brilliantly executed story twists. It takes place in a dystopian Japan that has been completely destroyed by a bloody Civil War that even left behind a sizable nuclear wasteland. The most dangerous criminals are referred to as "Akudama" within Kansai's totalitarian government. They banded up for a secret task that involved releasing a death row prisoner and was advertised by an unnamed contractor.
Yet the position will develop into much more than that. The 80s and 90s Hollywood are vividly seen at Akudama Drive, especially in movies like Reservoir Dogs and Blade Runner. Although the characters lack some depth, the world-building and utilization of cyberpunk ideas as a cultural critique of a police state make it a new and satisfying work. Accessible to American viewers on Hulu and Funimation.
37. Paprika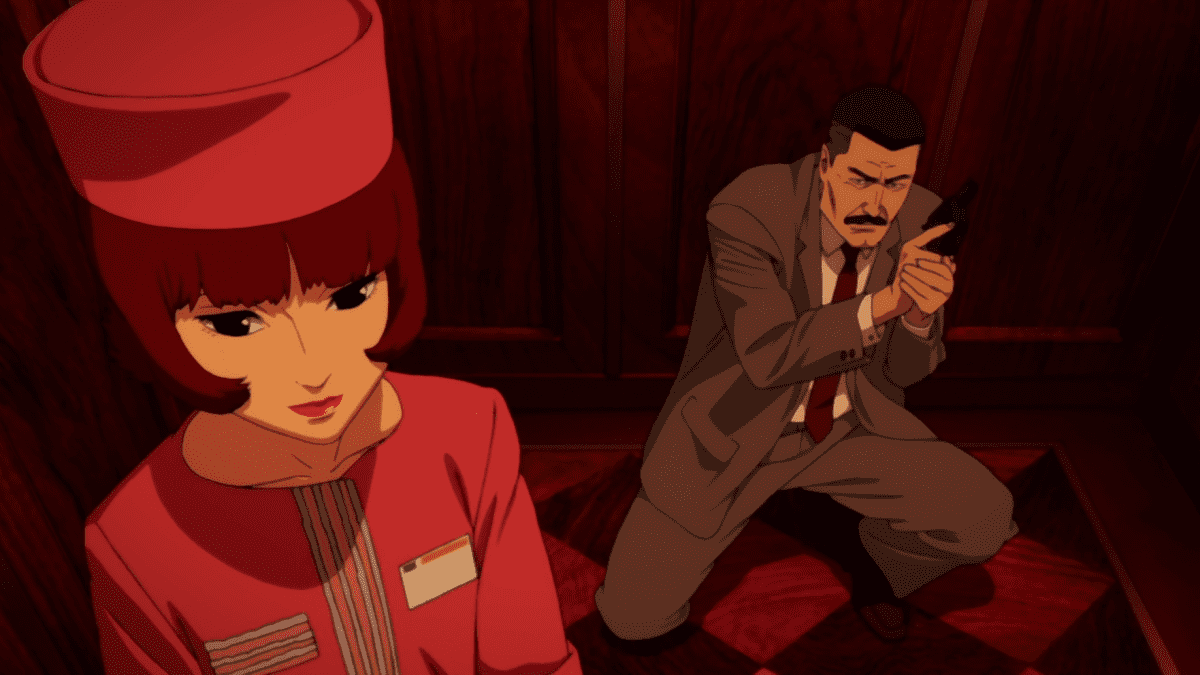 Director: Satoshi Kon
Writer: Satoshi Kon, Seishi Minakami
Cast: Megumi Hayashibara, Tōru Emori, Katsunosuke Hori, Tōru Furuya, Akio Ōtsuka
IMDb Rating: 7.7/10
Rotten Tomatoes Rating: 85%
Platforms Available: Netflix
This movie on our list is Satoshi Kon's unquestionable masterpiece. In Paprika, Atsuki Chiba, a psychiatrist, is described as working with a team of researchers to create the DC Mini, a tool that enables users to deliberately navigate dreams in order to aid in the identification and therapy of psychological traumas. Dr. Chiba discovers that someone has been tampering with the DC Mini and causing events in the real world while assisting detective Toshimi Konakawa as her alter-ego in the dream realm, Paprika.
36. Neon Genesis Evangelion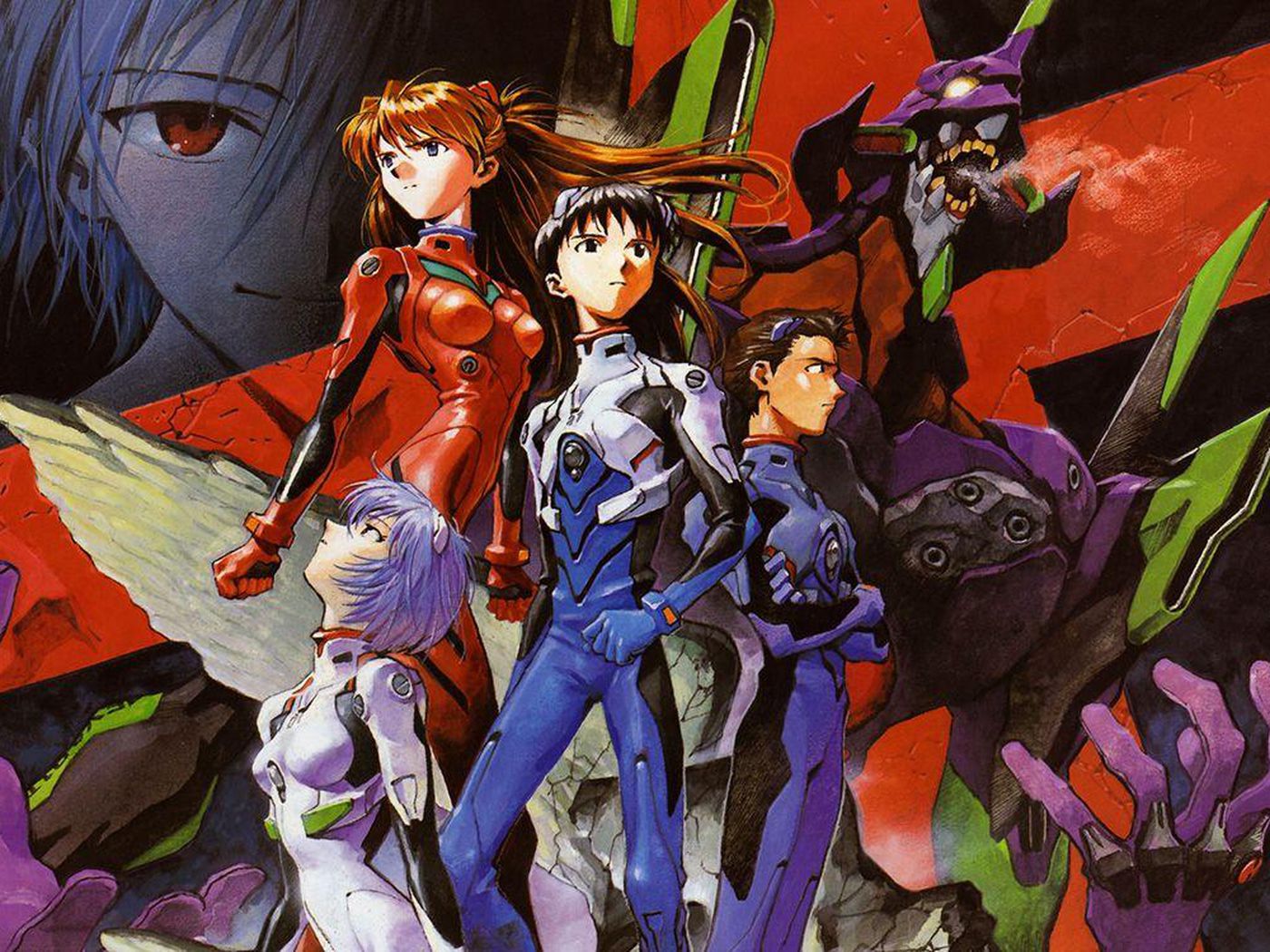 Director: Hideaki Anno
Writer: Hideaki Anno
Cast: Spike Spencer. Allison Keith, Megumi Ogata, Megumi Hayashibara, Kotono Mitsuishi, Spike Spencer
IMDb Rating: 8.5/10
Rotten Tomatoes Rating: 100%
Platforms Available: Netflix
Because of its intricacy and depth, there has always been discussion on whether Neon Genesis Evangelion belongs in the cyberpunk genre or even if it qualifies as a mecha work. It's obvious that Hideaki Anno revolutionized the idea of a mecha by giving it a cyberpunk-themed narrative that served as an inspiration for other anime like the acclaimed Code Geass. The futuristic metropolis of Tokyo-3, which is located in a post-apocalyptic environment, must defend itself from the onslaught of strong beings known as Angels.
The only means by which humanity can defend itself is through the use of EVAs, which resemble enormous weaponized robots that are held in the hands of a select few young children. Shinji Ikari is one of them; he was made to operate Unit-01 by his father, Gendo Ikari. What initially appears to be a straightforward robot conflict quickly develops into a psychological suspense novel filled with philosophical speculations that even include the concept of cyclical time. For anyone interested in the cyberpunk genre, either the original series or the films like The End of Evangelion and the reboot are required viewing.
35. Cyber City Oedo 808 (2000)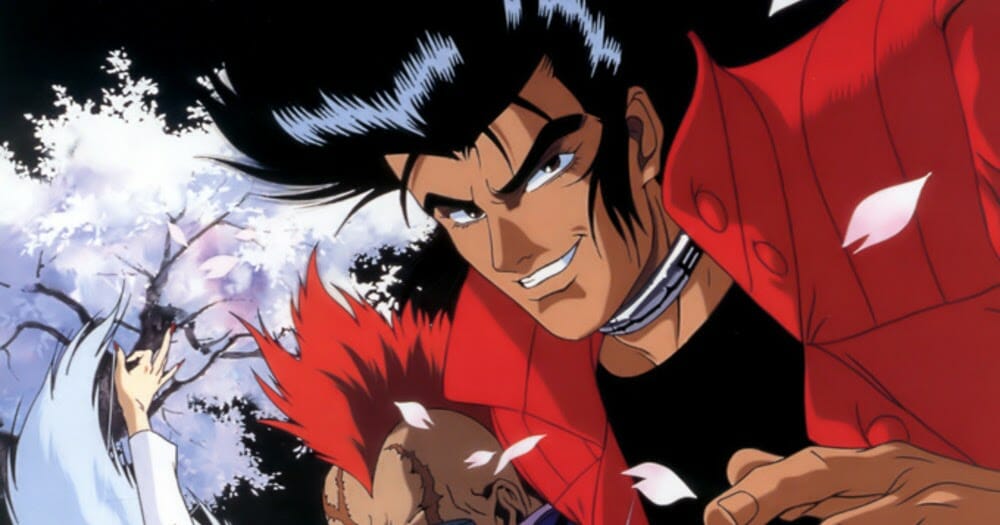 Director: Yoshiaki Kawajiri
Writer: Akinori Endo
Cast: Hiroya Ishimaru, Tessho Genda, Kaneto Shiozawa, Norio Wakamoto, Mitsuko Horie, Kyousei Tsukui
IMDb Rating: 7.6/10
Rotten Tomatoes Rating: 50%
Platforms Available: FantasyAnime
The series is from the cyber city Oedo where the police employ criminals as officers as a punishment. The story revolves around Sengoku, Benten, and Gogul, who served 300 years of imprisonment.
As the storyline revolves around giving the most vicarious criminals a second chance, these three accept the deal and start serving the police force and subsequently deal with some hi-tech and precarious situations.
34. Space Cobra (1982)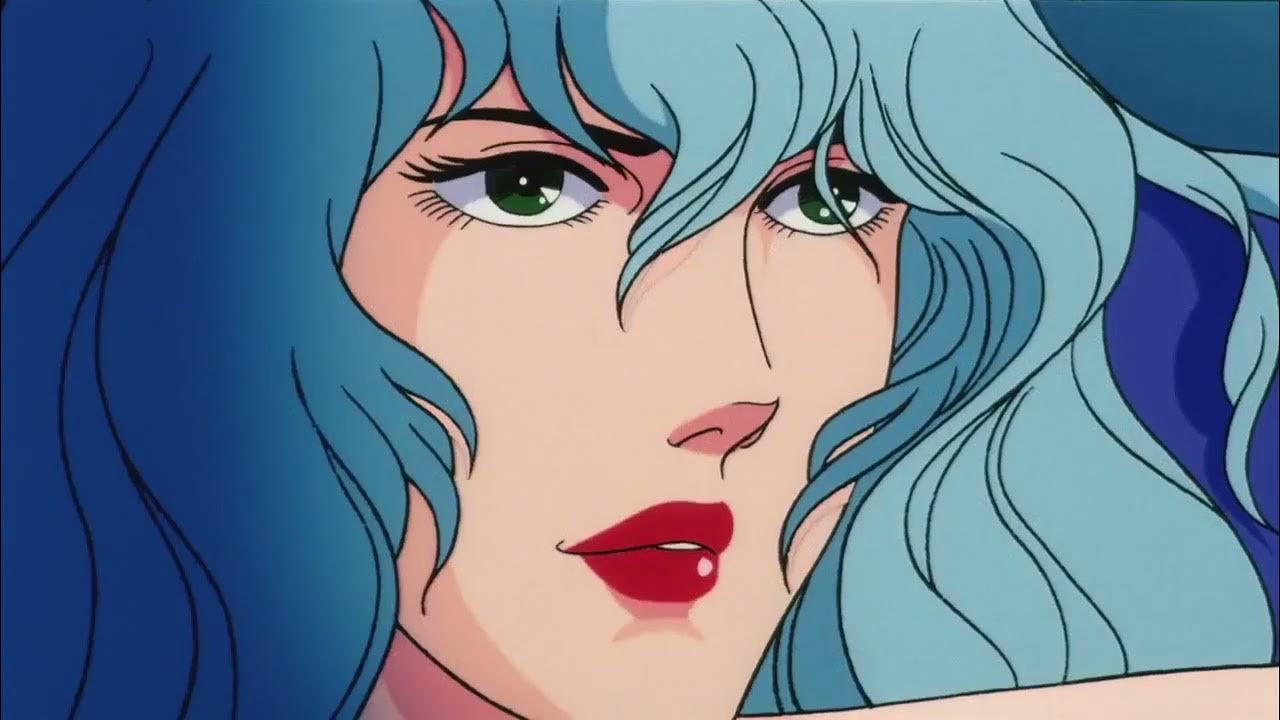 Director: Osamu Dezaki, Yoshio Takeuchi
Writer: Buichi Terasawa, Haruya Yamazaki, Kosuke Miki, Kenji Terada
Cast:Nachi Nozawa, Yoshiko Sakakibara, Gara Takashima, Kiyoshi Kobayashi, Reiko Tajima, Toshiko Fujita, Kazuko Sugiyama
IMDb Rating: 8.5/10
Rotten Tomatoes Rating: 74%
Platforms Available: Amazon Prime Video
The cyberpunk anime focuses on Cobra, a space adventurer who is quite charismatic and has a mysterious past. The charismatic cyborg takes on the Galactic Guild, a crime syndicate, with the help of his friend Lady Armaroid. Cobra has a powerful psycho gun as a hand and takes on the crime world to save people. Space Cobra is one of the best cyberpunk anime.
33. Seikai No Senki (2001)
Director: Yasuchika Nagaoka
Writer: Hiroyuki Morioka
Cast:Yuka Imai, Ayako Kawasumi,
IMDb Rating: 7.4/10
Rotten Tomatoes Rating: 94%
Platforms Available: GoGoAnime
Seikai No Senki is a cyberpunk anime that belongs to the subgenres of space opera and military science fiction. The story depicts the reunion of Lafiel Abriel and Jinto Linn,t two bounty hunters who are the most powerful.
The two reunite for a war between the Abh Empire and Triple Alliance. However, the war goes beyond physical combat as both sides fight for territories and inherent differences that separate them. You can see the unique concept of blending a variety of ideological and political themes in the movie.
32. Cyborg 009
Director: Jun Kawagoe
Writer: Shotaro Ishinomori
Cast: Takahiro Sakurai, Mugihito, Satsuki Yukino, Shotaro Morikubo, Nobuo Tobita, Mitsuo Iwata, Akio Otsuka
IMDb Rating: 7.5/10
Rotten Tomatoes Rating: 50%
Platforms Available: Netflix
The 2001 anime television series is based on a Japanese manga series of the same name, and it is one of the best cyberpunk anime series. The series revolves around nine cyborg soldiers who have superpowers. These super-powerful cyborgs come together to battle against the Black Ghost, a terrorist organization responsible for spreading chaos across the world.
A total of 9 cyborg soldiers take it upon themselves to save the world from the clutches of a deadly enemy. The series presents a perfect blend of various themes of sci-fi and cyberspace thrillers.
31. Armitage 111 (1995)
Director: Hiroyuki Ochi
Writer:Chiaki J Konaka
Cast: Hiroko Kasahara, Yasunori Masutani
IMDb Rating: 7/10
Rotten Tomatoes Rating: 74%
Platforms Available: Funimation
Armitage 111 is based on a Japanese manga series, and the series had music directed by Hiroyuki Namba. The 1995 Cyberpunk series is based on the life of Detective Ross Syllabus, who is sent to Mars after a famous singer's death. However, there is much more than what it seems, as there seems to be trouble brewing in Mars.
He suspects the Martian government of the murders, and what follows is a series of super sci-fi dramas that keeps the audience hooked all through the series.
30. Unbreakable Machine-Doll
Director: Kinji Yoshimoto
Writer: Yuko Kakiara
Cast: Hitomi Harada, Hiro Shimono, Kana Asumi, Megumi Takamoto, Nobuhito Okamoto, Jouji Nakata
IMDb Rating: 6.8/10
Rotten Tomatoes Rating: NA
Platforms Available: Funimation
The series is from the alternate historical reality of the United Kingdom. Through technology mixed with sorcery, scientists have created Machinart, which brings objects to life by providing them with AI. The story revolves around Raishin Aabane, who comes to Liverpool to study at the Royal School of Machinery.
However, he has hidden motives for his visit there. He goes to seek revenge on someone who killed his family. Will Raishin succeed in his motives?
29. Cyborg Kuro Chan (1999)
Director: Yoshihiro Takamoto
Writer: Yu Yamamoto, Takao Yotsuji
Cast: Chika Sakamoto, Toru Furusawa, Chiharu Tezuka, Makiko Ohmoto, Rika Komatsu
IMDb Rating: 7.2/10
Rotten Tomatoes Rating: NA
Platforms Available: GoGoAnime
Cyborg Kuro Chan is the story of a cat who is a pet to an old couple. However, Kuro is kidnapped by a mad scientist who experiments on him and transforms him into a cyborg and is the latest inclusion to an army of such cyborgs created to rule the world.
Kuro escapes from the clutches of Dr. Go and uses his powers to save the old couple and city from extraordinary situations and predicaments, Kuro Chan's life takes an impressive turn, and he goes on to become the savior of the people.
28. Project Arms (2001)
Director: Junichi Takaoka
Writer: Ryogi Minagawa, Kyoichi Nanatsuki
Cast: Shinichiro Miki, Megumi Ogata, Minami Takayama, Nobutoshi Kanna, Yuji Ueda
IMDb Rating: 6.8/10
Rotten Tomatoes Rating: NA
Platforms Available: 9Anime
The series is based on manga comics of the same name and revolves around teenagers who discover that they have supernatural abilities. However, the group is met by the government's top-secret organization that wants to use its powers, and what follows is a series of resistance from the group who fight to save themselves.
The series focuses on a young boy who injures his arm and discovers a supernatural ability of the arm that grabs the attention of the secret organization.
27. Terra E
Director:  Osamu Yamazaki
Writer: Satoru Nishizonu
Cast:Tomokazu Sugita, Noriaki Sugiyama, Hiroki Yasumoto, Fumie Mizusawa, Norio Wakamoto, Daisuke Namikawa, Wataru Hatano
IMDb Rating: 6.5/10
Rotten Tomatoes Rating: 50%
Platforms Available: GoGoAnime
Set in the future, the human race has been able to colonize other planets and live under the governance of a controlling computer system called Superior Dominance. However, due to technology being revolutionized, beings with superhuman abilities called Mu have taken birth and are threatened to be eliminated by the Superior Dominance group that controls the governance.
The Mu want to return to earth, a distant mystical land abandoned by humankind. The story revolves around a young boy called Jomy, who is not yet aware of the powers resting in him and the shared dream of returning to earth.
26. Ginga Eiyuu Densetsu (1988)
Director: Ishiguro Noburu
Writer: Yoshiki Tanaka
Cast:Yusaku Yara, Ryo Horikawa, Katsuji Mori, Nozomu Sasaki, Kei Tomiyama, Yoshiko Sakakibara, Norio Wakamoto
IMDb Rating: 8.2/10
Rotten Tomatoes Rating: 60%
Platforms Available: 9Anime
The infamous cyberpunk series Ginga EIyuu Densetsu revolves around the war between the monarchy and the democracy that has been happening for two centuries. The series focuses on the exploits and adventures of the two infamous rivals, Reinhard von Lohengramm and Yang Wen-ii, after their rise to power and fame.
Both of them belong to the Galactic Empire and the Planetes Alliance. As the series advances, there is an increase in conflict between the two interstellar nations.
25. Planetes (2003)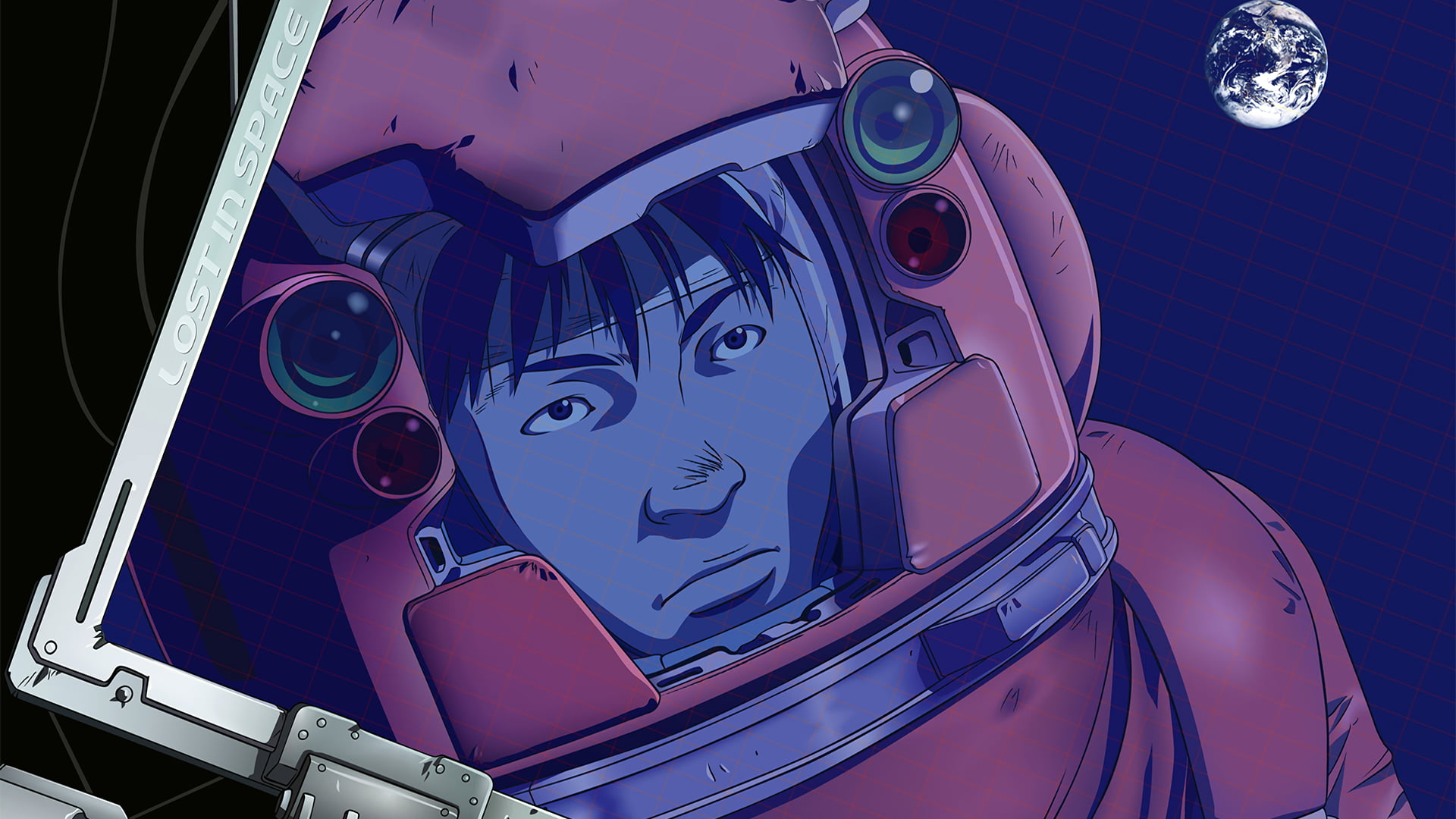 Director: Goro Taniguchi
Writer: Ichiro Okouchi
Cast: Kazunari Tanaka, Satsuki Yukino, Ai Orikasa, Ryo Kamon, Yoshiro Okada, Maiko Ito, Kumiko Watanabe, Shozo Lizuka
IMDb Rating: 8.2/10
Rotten Tomatoes Rating: 60%
Platforms Available: Hulu
Coming from the genres of hard science fiction and Cyberpunk, the plotline of the series revolves around the crew of the DE-12 Toy Box of the Space Debris Section of Technora Corporation, set in the year 2075.
The characters go on missions to remove the debris from space that might hamper the earth's satellites, space stations, and spaceships. The crew undergoes several risky missions to prove their mettle. You can see the themes of man-science relation, existential dread, and political riff-raffs.
24. Kanata No Astra (2019)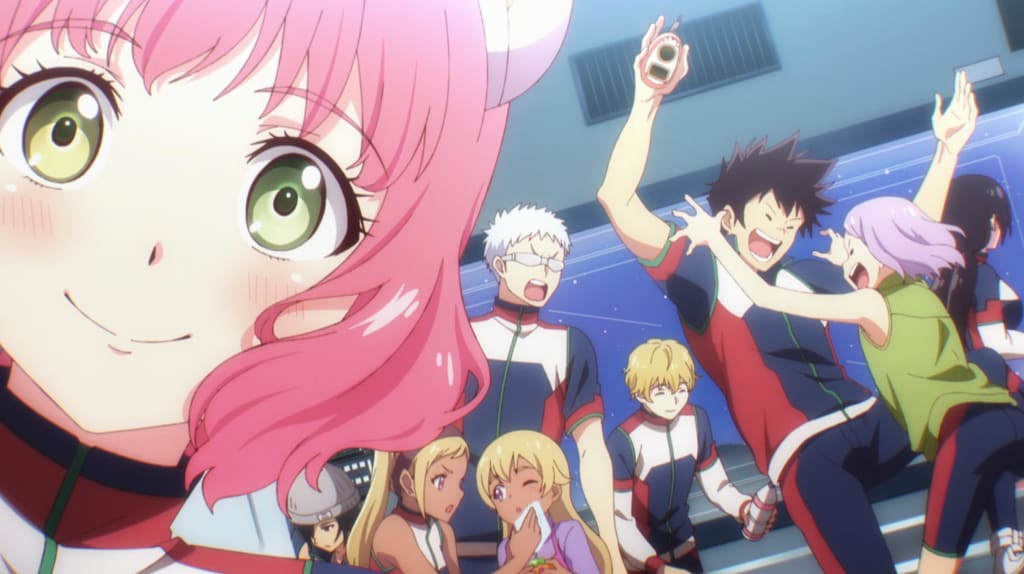 Director: Masaomi Ando
Writer: Norimitsu Kaiho
Cast: Yoshimasa Hosoya, Inori Minase, Risae Matsuda, Nobunaga Shimazaki, Tomoyo Kurisawa, Hina Kino, Koki Uchiyama, Saori Hayami
IMDb Rating: 8.1/10
Rotten Tomatoes Rating: 83%
Platforms Available: Hulu
Set in the year 2063, traveling to space is possible, and the students of a reputed school go to a nearby planet for a space camp. However, things take a dramatic turn as the students are encountered by a sphere of light that pushes them into the oblivion of space. With no means to return home, the students find an abandoned spaceship and call it Astra.
To return home, the group has to face some unforeseen circumstances on alien planets and other worlds away from home to return to earth. The big question is whether the group will finally return to earth on Astra or will be stranded forever.
23. Genocyber (1994)
Director: Koichi Ohata
Writer: Emu Arii, Koichi Ohata, Sho Aikawa
Cast: Akiko Hiramatsu, Emi Shinohara, Seizou Katou, Toshiharu Sakurai, Masako Katsuki, Kaoru Shimamura, Norio Wakamoto, Masayuki Omoro
IMDb Rating: 6.2/10
Rotten Tomatoes Rating: 53%
Platforms Available: 9Anime
The series is set shortly with all the World Organizations trying to form a Global Government. Exploring the genre of Body Horror and Cyberpunk, the series depicts how these organizations try to make an all-powerful biological weapon called the Genocyber. Genocyber is from combining the powers and consciousness of two psychic sisters.
Will the world falls into the clasps of the selfish motives of those in power, or is there a way out for the people of the earth are the questions that the audience will seek from the series.
22. Gunslinger Girl (2003)
Director: Morio Asaka
Writer: Jinki Takegami
Cast: Yuka Nanri, Hidenobu Kiuchi, Laura Bailey
IMDb Rating: 7.4/10
Rotten Tomatoes Rating: NA
Platforms Available: Funimation
Gunslinger Girl is set in Italy, where the Italian government-funded organization called the Social welfare agency employs cybernetic implanted young girls with past near-death trauma as agents. As these agents undergo training with their handlers, they are also exposed to the concept of conditioning, known as brainwashing.
These young girls are used as assassins to counter terrorists under the specifications of the Italian government. The series Gunslinger Girl looks into the themes of violence, exploitation, and politics in a highly cyberpunk society.
21. Accel World (2012)
Director: Masakazu Obara
Writer: Hiroyuki Yoshino
Cast: Sachika Misawa, Shintaro Asanuma, Yuki Kaji,Aki Toyosaki
IMDb Rating: 7.1 /10
Rotten Tomatoes Rating: NA
Platforms Available: Hulu, Amazon Prime Video
The plotline of the famous anime that comes from the genre of Cyberpunk and fantasy revolves around a young boy Haruyuki Arita who is bullied in school and uses virtual games to escape his reality. Kuroyukihime, a popular girl in school, introduces Arita to a human cognitive process-accelerating program called Brain Burst.
However, there is much more to the 'Accel World' that Kuroyukihime and Arita explore only to know more about the game's true purpose from the creator himself.
Arita and Kuroyukihime succeed in making trustworthy allies and try to get beyond the Accel World. But, will they win the game, or will they get trapped in the vicious cycle of the deadly augmented reality game? Is it something worth looking for?
20. Bubblegum Crisis Tokyo 2040 (1998)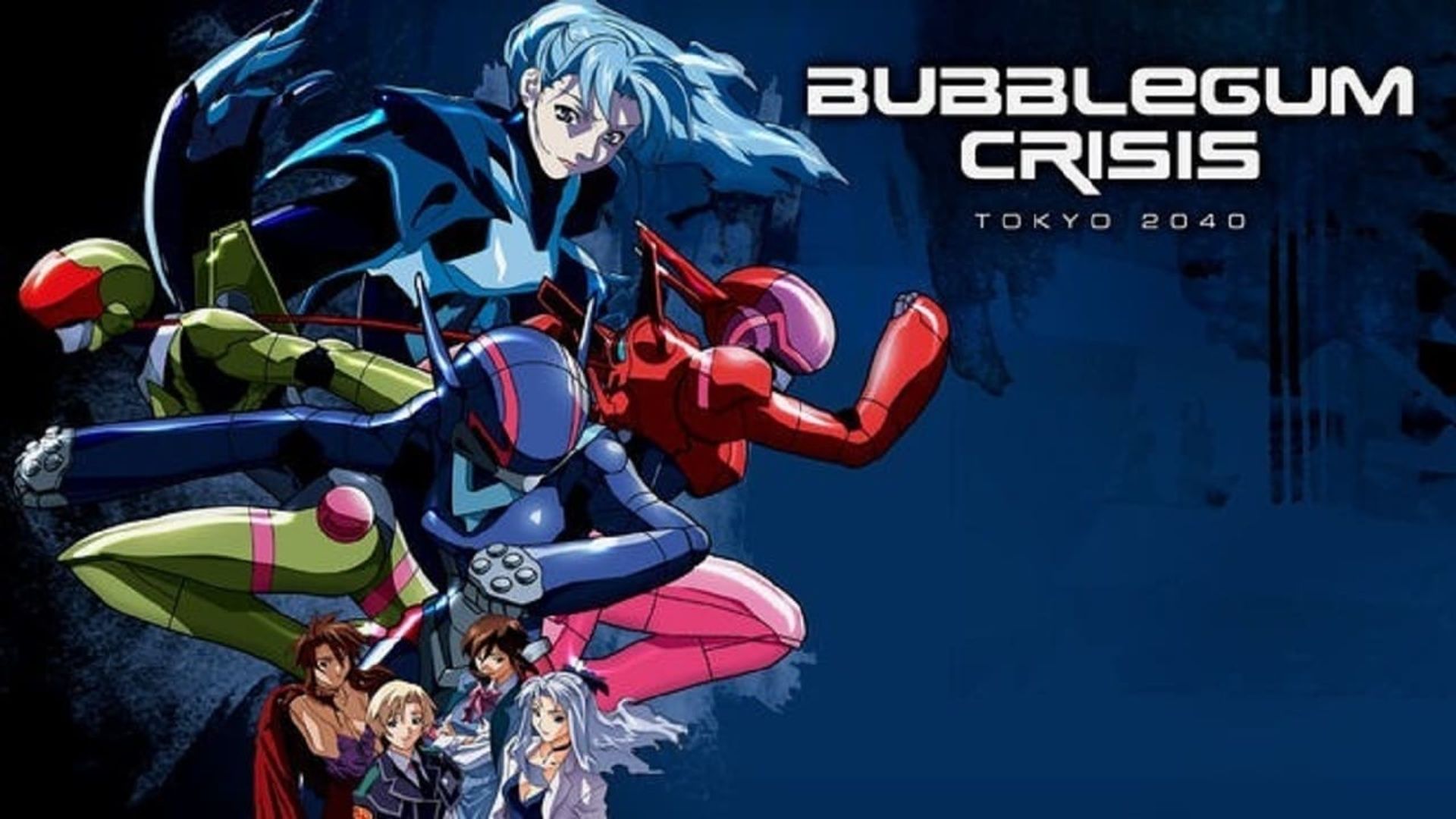 Director: Hiroki Hayashi
Writer: Chiaki J. Konaka, Sadayuki Murai
Cast: Yu Asakawa, Rio Natsuki, Satsuki Yukino, Hiroki Konishi, Kiyoyuki Yanada, Yuji Ueda, Ken Yamaguchi, Kouki Miayata
IMDb Rating: 7.2/10
Rotten Tomatoes Rating: 91%
Platforms Available: GoGoAnime
Bubblegum Crisis Tokyo 2040 takes place in a future Tokyo where Boomers do all the manual work. However, a robot goes rogue and starts to attack people and cause destruction, which has to be stopped. The legendary Knight Sabers are called upon to deal with the rogue Boomer crisis that becomes quite common in Bubblegum Crisis Tokyo 2040.
However, Genom, the company that owns Boomer, has its evil plans, and the Galatea, a satellite, makes all the Boomers go rogue. Will the Knight Sabers be able to save the earth from the Boomers, or will they end up being trapped in the evil plans of Genome?
19. No Guns Life (2019)
Director: Naoyuki Ito
Writer: Yukie Suagawara
Cast: Junichi Suwabe, Daiki Yamashita, Manami Namakura, Yoko HikasaYuya Uchida, Itohiro
IMDb Rating: 6.7/10
Rotten Tomatoes Rating: NA
Platforms Available: Netflix
The series is set shortly when humans transform into cyborgs. However, due to war, the Extended cyborgs, who have been soldiers previously, have resorted to crimes. The story progresses when Juno Inui, a Resolves, who seeks to solve the chaos caused by the Extended, is approached by an Extended. He asks him to save the life of a young boy called Tetsuro Arahabaki.
There is a sense of mystery around the story as there is not much known about the boy who needs to protect. It will be interesting to see what secrets are unveiled as the series progresses alongside lots of cyberpunk drama, full of a highly technologically advanced futuristic setting and scenes.
18. Metropolis (2021)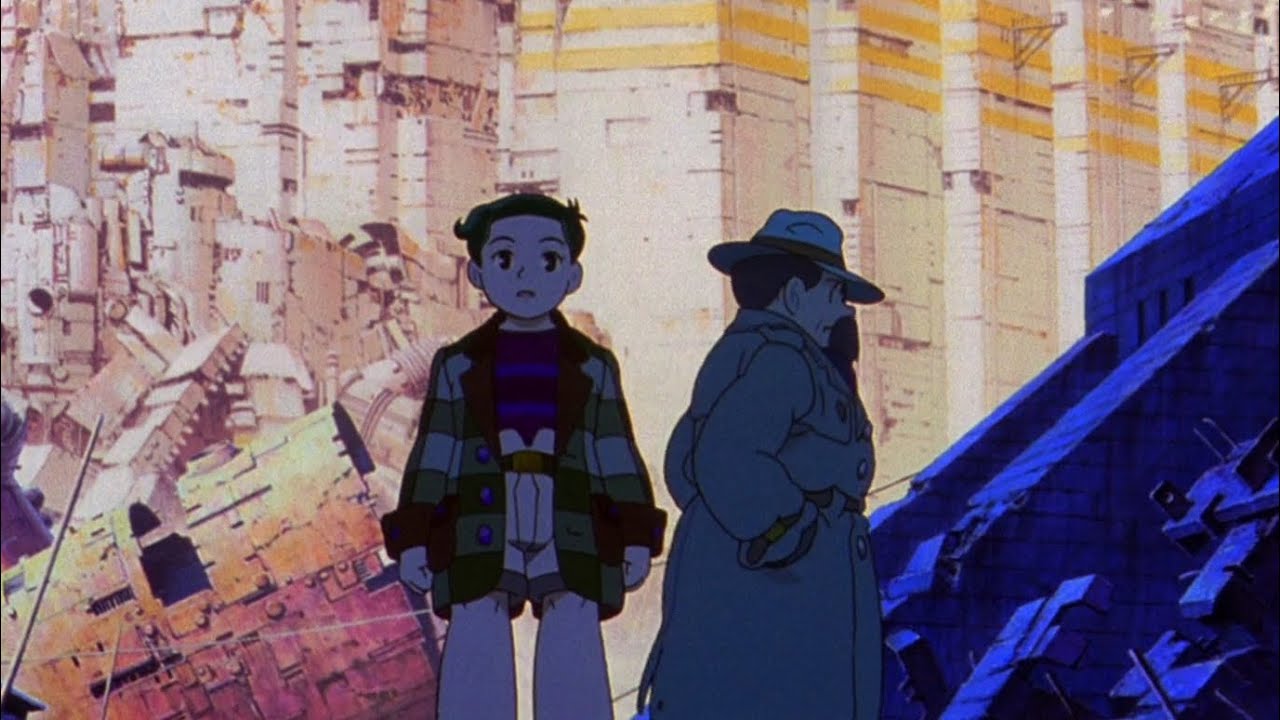 Director:  Rintaro
Writer: Katsuhiro Otomo
Cast: Yuka Imoto, Kei Kobayashi, Kosei Tomita, Norio Wakamoto, Junpei Takiguchi, Masaru Ikeda, Takay Hashi, Toshio Furukawa, Shigeru Chiba, Masashi Ebara
IMDb Rating: 7.2/10
Rotten Tomatoes Rating: NA
Platforms Available: Amazon Prime Video, KissAnime
Metropolis is set in a distant future where humans and robots live together, though the robots occupy the lower strata of society.
The plot of this famous cyberpunk movie revolves around the city of Metropolis, ruled unofficially by the powerful Duke Red, who has evil intentions and has hidden a powerful weapon that will be controlled by the 'superhuman' robot Tima, named after his daughter, on the top of his latest construction, Ziggurat. Detective Shunsaku Ban is set to arrest Dr. Laughton, Tima's creator, under Duke's protection.
The city of Metropolis is under threat as Tima malfunctions which causes robots from all over Metropolis to wage war against the humans. Will the humans survive, or will they establish a new rule that the plot of Metropolis circles around?
17. Trigun (1998)
Director: Satoshi Nishimura
Writer: Yosuke Kuroda
Cast: Masaya Onasaka, Hiromi Tsuru, Satsuki Yukino, Kazuyuki Ishikawa, Takashi Nagasako, Hiroaki Ishikawa
IMDb Rating: 8.2/10
Rotten Tomatoes Rating: 100%
Platforms Available: Netflix
Trigun is set in the 32nd century and revolves around Vash the Stampede, who has some extraordinary powers and is on the most wanted list as the Humanoid Typhoon.
The series revolves around Vash and his fight against his evil twin brother Knives after a fallout when they left earth. Trigun has an intriguing plot where a humanoid with extraordinary powers has its share of adventures and misadventures.
Will Vash be able to control his powers, and will the two brothers reconcile apart from the extraterrestrial adventures that happen across the film is what the audience would want to know. Trigun is one of the best cyberpunk anime to watch.
16. Mardock Scramble (2010)
Director:  Susumu Kudo
Writer: Tow Ubukata
Cast: Megumi Hayashibara, Norito Yashima, Hiroki Tochi, Kazuya Nakai, Mika Kanai, Masahiko Tanaka, Norio Wakamoto
IMDb Rating: 6.5/10
Rotten Tomatoes Rating: 65%
Platforms Available: KissAnime
Mardock Scramble is a cyberpunk anime movie series that follows the life of a young female vigilante called Rune Balot, whose life has been difficult with the sexual abuse she faced at the hands of her father and other men when she started working as a prostitute. The story is set in Mardock City, where Rune becomes a female cyborg with the help of Dr. Easter.
Rune is laden with advanced technology that will help her take down Shell. Whether or not she will be able to win against her biggest enemy might keep the fans hooked. The series comprises 3 parts, and all three seasons are a must-watch.
15. Bubblegum Crash (1991)
Director: Hiroshi Ishiodori, Hiroyuki Fukushima
Writer: Emu Arii, Toshimichi Suzuku
Cast: Yoshiko Sakakibara, Ryoko Tachikawa, Michie Tomizawa, Akiko Hiramatsu, Toshio Furukawa, Ken'yu Horiuchi, Kazuyuki Sogabe
IMDb Rating: 6.6/10
Rotten Tomatoes Rating: NA
Platforms Available: Just Watch
Bubblegum Crash is a miniseries that came out in the year 1991. The series depicts the adventures of the famous Knight Sabers group, a group of female fighters who take on the job of fighting against the cybernetic advancements made by the enhanced soldiers of Mega Tokyo in the year 2034.
The girls try to find the ruthless killers behind a string of spine-chilling murders and robberies. The anime takes place in years after the Bubblegum Crisis, and when things seemed to have settled down, there was a storm brewing somewhere.
With the Boomer malfunctioning and artificial intelligence of advanced level is the creation process, is it possible for the Knight Sabers to fight against the impending danger, or will they break up?
14. Blame!
Director: Hiroyuki Seshita
Writer: Sadayuki Murai
Cast:Takahiro Sakurai, Kana Hanazawa, Sora Amamiya, Mamoru Miyano, Aya Suzaki, Nobunaga Shimakazi
IMDb Rating: 6.7/10
Rotten Tomatoes Rating: 57%
Platforms Available: Netflix
Blame! is about Zuru, a young girl who sets out on a dangerous journey to search for food across a post-apocalyptic city under the control of machines.
Unfortunately, Zuru and her team are met with attacks from the AI's safety defense program when one of them accidentally triggers it. The team is Killy, a mysterious man who saves them and tells them that he knows about the Net Terminal Genes that might help the humans control the civilization.
Will Zuru and her team succeed in finding out the genes and saving mankind from the dystopic rule of the machines? The film is based on a manga series of the same name and is a definite must-watch for all anime lovers.
13. Battle Angel Alita (1993)
Director: Hiroshi Fukutomi
Writer: Yukito Kishiro, Akinori Endo
Cast: Miki Ito, Shunsuke Kariya, Kapei Yamaguchi
IMDb Rating: 7.3/10
Rotten Tomatoes Rating: 81%
Platforms Available: Hotstar
It is a movie based on the Japanese manga series of the same name and is one of the most loved cyberpunk anime series. Battle Angel Alita was aired in 1993 and revolved around the life of an amnesiac cyborg who a cyber physician restores.
What follows is a series of adventures and misadventures that Alita has to go through and some startling discoveries to be made.
Battle Angel Alita is considered a great watch that depicts the perks and downfalls of the excessive use of technology and how the advanced state of science will heavily surround the future of humankind.
12. Ghost in the Shell (2017)
Director: Momuro Oshii
Writer: Kazunori Ito
Cast: Atsuko Tanaka, Maaya Sakamoto, Akio Otsuka, Iemasa Kayumi, Koichi Yamadera, Tamio Oki, Yutaka Nakano, Tessho Genda, Mitsuru Miyamoto.
IMDb Rating: 8/10
Rotten Tomatoes Rating: 97%
Platforms Available: Sony Liv, Amazon Prime Video
Ghost in the Shell is a Japanese animated film that revolves around a female cyborg agent named Mokoto Kusanagi, a recruit in the police force. The young girl is all determined to catch the Puppet Master, a mastermind criminal hacking into the human-robot hybrids. However, even though she succeeds in catching the criminal, she questions her identity and consciousness.
The film is considered one of the best cyberpunk anime that depicts the relationship between humans and science and how technology will take over the world shortly.
11. Cowboy Bebop (2021)
Director:  Shinichiro Watanabe
Writer: Keiko Nobumoto
Cast:  Koichi Yamadera, Unsho Ishizuka, Megumi Hayashibara, Aoi Tada, Gara Takashima, Norio Wakamoto, Tsumoto Taruki, Miki Nagasawa
IMDb Rating: 8.9/10
Rotten Tomatoes Rating: 96%
Platforms Available: Netflix
Cowboy Bebop is a Japanese Neo-Noir science fiction anime that is considered one of the greatest animes of all time. The anime Coyboy Bebop takes place in 2071 after the earth becomes inhabitable for humanity, colonizing other planets and moons.
Cowboy Bebop revolves around a group of bounty hunters who work on a ship called Bebop and help the ISSP, an independently operating police unit, control the rising crime rates.
The series is mainly episodic and with the main characters having their share of ups and downs. However, cowboy Bebop is a definite must-watch for every anime fan out there. The action-filled anime series experiments with a lot of technology and science fiction content, and Cowboy Bebop is a must-watch.
10. Space Dandy (2014)
Director:  Shinichiro Watanabe, Shingo Natsume
Writer: Shinichiro Watanabe, Dai Sato, Kimiko Ueno, Ichiro Okochi, Keiko Nobumoto, Toh EnJoe, Masaaki Yuasa, Hayashi Mori, Kiyotaka Oshiyama
Cast: Junichi Suwabe, Uki Satake, Hiroyuki Yoshino, Unsho Ishizuka, Kosuke Hatakeyama
IMDb Rating: 8.1/10
Rotten Tomatoes Rating: 83%
Platforms Available: HULU, Netflix
Space Dandy is one of the best cyberpunk anime series based on a manga that revolves around the main character Dandy and his misadventures in space. Dandy goes to space to discover new and rare aliens along with QT, his robot assistant. However, Dandy is more often caught up in misadventures that lead to eventful adventures.
Dr. Gel of the Gogol Empire is pursuing Dandy. The episodes follow the characters being trapped in several life-and-death situations across different timelines, only to come back as standard in the new episodes.
9. Cashhern Sins (2008)
Director:  Shigeyasu Yamauchi
Writer:Yasuko Kobayashi
Cast: Tohru Furuya, Nami Miyahara, Yuko Minaguchi, Yuichi Nagashima, Akiko Yajima, Kenji Utsumi
IMDb Rating: 7.2/10
Rotten Tomatoes Rating: 69%
Platforms Available: Amazon Prime Video
Casshern Sins is an anime that depicts a world where robots have taken over human life, and the world is under the control of the robots. With the robot leader Braiking Boss ruling over the human population.
A girl Luna is seen as the last hope of the only ones left and is a direct threat to the world of robots. The cyborg warriors, Casshern, Dio, and Leda, kill Luna, which leads to the end of the world.
After 100 years, the world is in a dystopic state, with humans and robots on the verge of extinction. However, the return of Casshern, who is devoid of his memories, will things change, is something the viewers would want to know about the anime.
8. Megalo Box (2018)
Director: Yo Moriyama
Writer: Katsuhiko Manabe, Kensaku Kojima
Cast: Yoshimasa Hosoya, Shiro Saito, Hiroki Yasumoto, Michiyo Murase, Nanako Mori, Makoto Tamura
IMDb Rating: 7.8/10
Rotten Tomatoes Rating: NA
Platforms Available: Netflix
Megalo Box revolves around the life of Junk Dog, an underground fighter of an evolutionary boxing club called Megalo Box that uses mechanized limbs, which are called the gear that enhances the power and speed of the users.
This powerful weapon is quite lethal, and the clubs have lots of illegal activities that are foreshadowed by the extreme poverty of the unlicensed citizens of the city.
Uri challenges Junk Dog, the previous Megalo box champion, who challenges him under disguise. Junk Dog wants to become the best fighter and constantly tries to prove his worth by attending a prestigious competition called Megalonia, to which only licensed citizens have access.
7. Megazone 23 (1985)
Director: Noburo Ishiguro
Writer: Hiroyuki Hoshiyama
Cast: Masato Kubota, Maria Kawamura, Mina Tominaga, Mayumi Sho, Kaneto Shiozawa
IMDb Rating: 6.8/10
Rotten Tomatoes Rating: 80%
Platforms Available: 9Anime
Megazone 23 revolves around the life of Shougo Yahagi, who is very enthusiastic about motorcycles, and the society lives in peace with all the Hard rock, Japanese pop idols, and unique bikes.
However, the population is under the watchful eyes of Eve, who is, in reality, a computer program. The anime takes place after 500 years of humanity altogether leaving the earth.
Shugo's life takes an unexpected turn when Shinji, his friend, leads him to a top-secret project called 'Garland.' This highly advanced motorcycle can transform itself into a well-functioning robot. What follows is a series of wars between earth and Dezlag, along with countless adventures of Shougo. This science fiction film series is a must-watch anime for all anime fans.
6. Serial Experiments Lain (1998)
Director: Ryutaro Nakamura
Writer: Chiaki J Konaka
Cast: Kaori Shimizu, Ayako Kawasumi, Yoko Asada, Rei Igarashi, Patricia Ja Lee, Ryusuke Obayashi, Chiharu Tezuka
IMDb Rating: 8.1/10
Rotten Tomatoes Rating: NA
Platforms Available: Amazon Prime Video, Funimation
Serial Experiments Lain was released in 1998, and the plotline of this famous cyberpunk science fiction anime revolves around a young girl named Lain's revolution that focuses on attaining digital martyrdom.
The story of Serial Experiments Lain starts with young girls receiving mail from their classmate, Chisa, who committed suicide recently. Then, lain is confronted with bizarre vents that blur the distinction between the human and virtual worlds.
As she gets more involved with the virtual realm of The Wired, she is faced with questions of identity, perceptions, and consciousness that exist only as a concept. Serial Experiments Lain's story is intriguing and is one of the most loved cyberpunk animes.
5. Akira (1988)
Director: Katsuhiro Otomo
Writer: Izo Hashimoto and Katsuhiro Otomo
Cast: Mitsuo Iwata, Nozomu Sasaki, Mami Koyama, Taro Ishida, Mizuho Suzuki, Tetshsho Genda
IMDb Rating: 8/10
Rotten Tomatoes Rating: 90%
Platforms Available: Netflix
Akira is a 1988 cyberpunk anime film. The movie Akira depicts how the Japanese government bombs Tokyo with an Atomic bomb that leads to widespread devastation. Akira is based in the year 2019, Japan, years after the bombing, when a biker gang leader tries to save his friend in the city of Kaneda.
To save his childhood friend Tetsuo Shima, the biker gang leader, will have to take on the anti-government activists, politicians, and irresponsible scientists.
The bombings of 1988 were a result of an experiment on children, which is being borne by many in the future, and this is what Akira explores. Will the biker gang leader be able to save his friend and expose the dark secret behind the experiment of 1988? Akira
4. Psycho-Pass (2012)
Director: Naoyoshi Shiotani, Katsuyuki Motohiro
Writer: Gen Urobuchi, Makoto Fukami, Aya Takaha
Cast: Kana Hanazawa, Miyuki Sawashiro, Takahiro Sakurai, Shizuka Ito, Kenji Nojima
IMDb Rating: 8.2/10
Rotten Tomatoes Rating: 79%
Platforms Available: Netflix
Psycho pass is from a distant future Japan under the governance of the Sibyl System, a biomechatronic computer system. The plotline of this cyberpunk anime film revolves around Akane Tsunemori, who is a recruit in the police force.
However, the so-called perfect Sibyl system faces a challenge where a mastermind criminal can elude the system. Naturally, this challenges the authorities and Akane, who has now put her sense of justice before the system.
Will Akane face the mastermind criminal, or will she challenge the system she is a part of? These questions have created a sense of mystery that revolves around the series.
3. Ergo Proxy (2006)
Director: Shuko Murase
Writer: Dai Sato
Cast: Koji Yusa, Akiko Yajima, Rie Saito, Sanae Kobayashi, Houku Kuwashima, Hiraku Hanada, Hidekatsu Shibata, Yu Shimaka
IMDb Rating: 8/10
Rotten Tomatoes Rating: 86%
Platforms Available: Netflix
It is a Japanese anime-based manga series set in the post-apocalyptic dystopian future of Rondeau city. Ergo Proxy was released in 2006, and this Cyberpunk animated series focuses on the murders committed by AutoReivs, who has become self-aware because of a virus called Cogito.
The government conducts experiments on proxy beings, a type of humanoid that is immortal and the key to humanity's survival on the planet.
There is chaos that is growing behind their back and has disturbed the city's social order, and there are several secrets that are yet to get uncovered. Ergo Proxy is one of the most liked cyberpunk anime of all time.
2. One Punch Man (2015)
Director: Shingo Natsume (Season 1) and Chikara Sakurai (Season 2)
Writer: Tomohiro Suzuki
Cast: Makoto Furukawa, Kaito Ishikawa, Yuki Kaji, Aoi Yuki, Kazuhiro Yamaji, Kenjiro Tsuda, Minami Takayama, Tessho Genda, Hiroki Yasumoto, etc
IMDb Rating: 8.8 /10
Rotten Tomatoes Rating: 84%
Platforms Available: Netflix
The anime takes in the future when the world is full of superhuman entities. Saitama is one of the most powerful superheroes who can easily defeat anyone. However, Saitama is depressed because he cannot get any challenges in his life, and his life as his field is empty and pointless.
He believes himself to be an average Hero with an extraordinary life. He constantly searches for his opposition superhumans who can challenge him to his full potential.
The reality of his extraordinary life is very average. To what extent a scientifically advanced being will be bored of his existence has kept the viewers hooked to the show.
1. The Ghost in the Shell stand-alone complex (2017)
Director: Kenji Kamiyama
Writer: Kenji Kamiyama
Cast: Atsuko Tanaka, Akio Otsuka, Koichi Yamadera, and Osamu Saka
IMDb Rating: 8.5/10
Rotten Tomatoes Rating: 67%
Platforms Available: Netflix
The Ghost in the Shell: Stand Alone Complex is a cyberpunk anime series, out in the year 2017. Set in the distant future of Japan, the series revolves around an elite law enforcement group formed by the Japanese government to look into highly scientific cyber or virtual world crimes. The task force is the Public Security Section 9 and takes up the job of looking into some of the most severe crimes.
The series Ghost in the Shell: Stand Alone Complex has a total of two seasons, which depict how the lines between the real and the virtual world have blurred with mankind's advancement to the point where flesh-to-machine body transfers are possible.
The highly scientific society of future Japan needs to be safeguarded against rising crimes, and Public Security Section 9 has the responsibility to prevent it. Ghost in the Shell Stand Alone Complex depicts this with great precision.
Cyberpunk Anime has gained quite a lot of popularity due to its unique themes, the blending of various elements and genres together, and stories full of action, drama, high-technology, dystopic, space fiction, and futuristic settings. One should watch these great animes that will keep you hooked all through.